National parks free this weekend
Join the conversation
CNN iReport
April 21, 2014 -- Updated 1555 GMT (2355 HKT)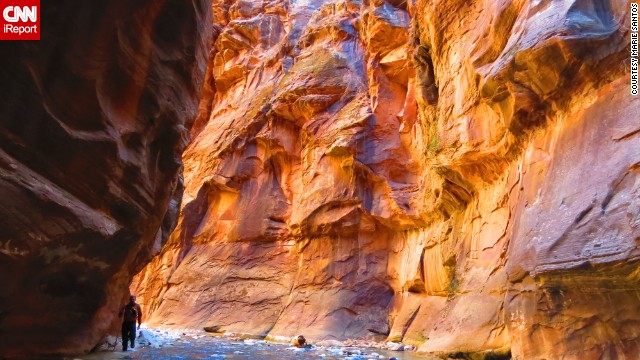 Some of the highlights of Utah's
Zion National Park
include a 2,000-foot-deep canyon and hiking areas known as the "The Narrows" and "The Subway," which is not a hike for the faint of heart. "As you go deeper into the canyon, the gap between the walls becomes narrower and the rays of sunlight that peek through the canyon made for an amazing experience,"
Marie Santos
said.
Haleakala National Park
on the island of Maui in Hawaii has an almost otherworldly beauty. The park preserves the Haleakala Crater and protects many fragile ecosystems in the surrounding area. "The colors reminded me of images of Mars,"
Kristi DeCourcy
said.
Wrangell-St. Elias National Park and Preserve
in Alaska is the largest in the National Park Service. Known as the "mountain kingdom of North America," the Chugach, Wrangell and St. Elias mountain ranges all converge at this park. "I was awestruck by the display of forces of nature and how we humans are so tiny and powerless" compared to them,"
Vivek Khare
said.
The
Sequoia National Park
, you are hiking among giants: giant mountains, giant canyons and giant trees. In fact, Sequoia is home to the world's largest tree, the
General Sherman
. While visiting the park, iReporter
Chris Morrow
met
Richard "Yogi" Bair
, who wrote a novel about backpacking in the Sierra Nevada Mountains. He is featured in this photo.
When you go hiking in California's
Grand Canyon
in Arizona was carved by the Colorado River and is 277 miles long. The western canyon is believed to be as much as 70 million years old. "It surrounded and consumed me, took breath away and left me at a loss for words,"
Juliet Swinger
said.
The
National Park Foundation
. "It did not take long for me to fall head over heals in love with the mountains, lakes, and hiking trails in and around the park,"
Stephan Ferry
said.
Glacier National Park in Montana contains what are considered to be 25 "active" glaciers because they move as a result of thawing and melting, according to the
Great Smoky Mountains
National Park is America's most visited national park, drawing more than 200,000 visitors per year to admire its waterfalls, animal and plant life and, of course, mountains. "The scenery around was a treat to the eyes. Just like, someone spilled shades of green all around but somehow made it perfect,"
Kumaran Alagesan
said of the Grotto Falls trail.
On the border of North Carolina and Tennessee,
Shenandoah National Park
in Virginia contains 101 miles of the Appalachian Trail and is home to a variety of wildlife such as deer, black bears and wild turkeys. Nature photographer
Candice Trimble
spends a lot of time at this park because of all there is to see and experience.
National parks from coast to coast
National parks from coast to coast
National parks from coast to coast
National parks from coast to coast
National parks from coast to coast
National parks from coast to coast
National parks from coast to coast
National parks from coast to coast
STORY HIGHLIGHTS
April 19-27 is National Park Week in the U.S.
All parks are free to enter Saturday and Sunday, April 19-20
Campground and concession fees still apply
What's the best national park in the world? Share your photos.
(CNN) -- Looking for something free to do this weekend? Check out a national park.
Entrance fees will be waived at all U.S. national park sites this Saturday and Sunday, April 19-20, to kick off National Park Week, which runs through April 27.
Visitors still have to pay the usual fees at campgrounds and concession stands.
With more than 400 National Park Service sites covering 84 million acres in the United States, there are plenty of spots to explore.
And if you think national parks are just places where you can take a hike or be one with nature, think again.
The Statue of Liberty is a national park. So is Gettysburg National Military Park. Parks and scenic trails like Yellowstone National Park in Montana are not the only areas that make up the National Park Service. Monuments, battlefields and historic sites are also given this distinction.
"National parks are closer than many people think; every state has at least one," said Kathy Kupper, a spokeswoman for the National Park Service. "These range from big natural parks to smaller historical sites."
In addition to free admission this weekend, many parks are offering special events throughout the week. You can participate in the "waterfall challenge" at California's Whiskeytown National Recreation Area, commemorate the opening battle of the American Revolutionary War at Minute Man National Historic Park in Massachusetts or experience how Civil War soldiers lived in a living history encampment weekend at Appomattox Court House National Historic Park in Virginia.
Many of the parks will have special activities for kids on National Junior Ranger Day on April 26.
In 2013, national parks across the country saw 273.6 million visitors, with an average of 784,000 visitors per day during the month of April when National Park Week is always observed.
"National Park Week definitely raises awareness of national parks as great places to visit," Kupper said. "April is a good time, as the weather gets better, to remind people of all the great opportunities to get up and get out in a park."
What do you consider the world's best national park? Share your photos with CNN iReport.