Avalanche kills 12 in single deadliest accident on Mount Everest
April 21, 2014 -- Updated 0319 GMT (1119 HKT)
STORY HIGHLIGHTS
NEW: Four people remain missing, Nepal Tourism Ministry official says
The deadliest year on Mount Everest was 1996, when 15 people died
More than 300 climbers have been given permission to tackle Everest this spring
About 400 Sherpas will help them make the grueling ascent
Kathmandu, Nepal (CNN) -- A high-altitude avalanche Friday killed 12 Sherpa guides and seriously wounded three in the single deadliest accident on Mount Everest, officials said.
Four others are missing, said Madhu Sudan Burlakoti of Nepal's Tourism Ministry, adding that six people were injured in total.
A group of about 50 people, mostly Nepali Sherpas, were hit by the avalanche at more than 20,000 feet, said Tilak Ram Pandey of the ministry's mountaineering department.
The avalanche took place just above base camp in the Khumbu Ice Fall.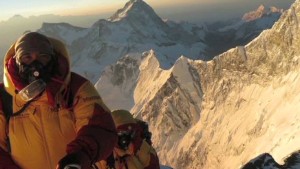 Deadliest accident on Mount Everest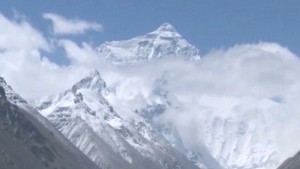 Climber: Avalanche victim was my equal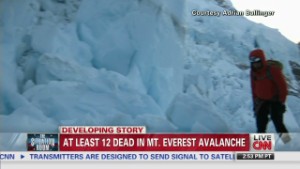 Deadliest day on Mount Everest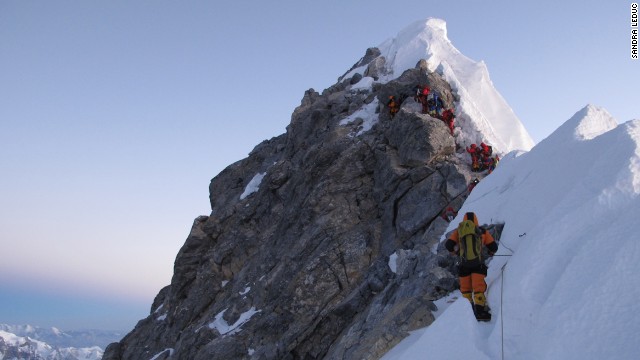 Mount Everest is a journey that challenges human nature on every level. Sandra LeDuc captured this photo as climbers approached the Hillary Step, before the Everest summit. Click through our gallery to see more photos from climbers taken on Everest during 2012.
Yak trains are used to carry the pounds of gear it requires to climb Everest. Jon Kedrowski's photo captured these yaks on the way to base camp.
A helicopter flies into base camp. Rescue helicopters can't fly above Camp 2 on Everest to reach stranded climbers.
A photo shows Jon Kedrowski crossing a crevasse in the Khumbu Icefall on a ladder.
Jon Kedrowski snapped this photo at 6:30 p.m. on May 19th, 2012, at 26,000 feet as he looked out from his tent. He thought the climbers were beginning their summit attempt, but many clustered at the top were just beginning to come down from the top.
The tents from Camp 1 appear incredibly small against the backdrop of Everest.
Nadav Ben Yehuda (left), Aydin Irmak and a Sherpa after Ben Yehuda rescued Irmak.
Ben Yehuda's hand after frostbite set in.
Ben Yehuda's photo of a lone tent at Camp 3 shows the loneliness that can reign on Everest.
The peak of Nuptse, just over a mile southwest of Everest, is visible amongst the clouds in the Nepalese Himalayas.
Climbers on Everest work to help someone in distress.
Sandra at Everest base camp with the team Sherpas.
The mesmerizing view from Everest's Pumori Camp 1, showing the visual effects of the atmosphere.
Sandra LeDuc captured this photo of a triumphant and relieved Jon Kedrowski reaching the summit of Mount Everest on May 26, 2012.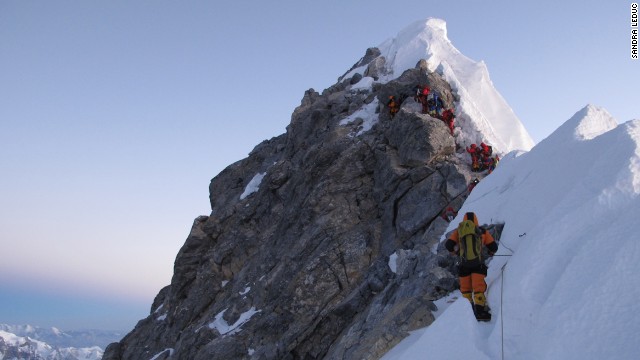 Everest: from base camp to the summit
The climbers were accounted for, Pandey said. "Rescue teams have gone ... to look for the missing."
Before Friday, the deadliest single-day toll was from an accident in May 1996, when eight climbers disappeared when a huge storm hit. Their tragic story was chronicled in Jon Krakauer's bestselling book "Into Thin Air."
Readying for the climb
Between May 15 and 30 is usually the best window for reaching the 29,028-foot peak.
Climbers and guides had been setting the ropes for the route, acclimating to the climate and preparing the camps along the route when the avalanche hit Friday, said Gordon Janow with Alpine Ascents International in Seattle.
Climbers arrive in April to acclimate to the altitude before heading toward the summit of the world's highest mountain.
Ethnic Sherpas acts as guides for the mostly foreign clients.
Busiest season
The spring climbing season is the busiest of the year.
About 334 foreign climbers have been given permission to climb Everest over the next couple of months, with an estimated 400 Sherpas helping them, mountaineering official Dipendra Poudel said.
Until the late 1970s, only a handful of climbers reached the top each year. The number topped 100 for the first time in 1993. By 2004, it was more than 300. In 2012, the number was more than 500.
The deadliest year on Everest was 1996, when 15 people died. Another 12 climbers were killed in 2006.
Climbers, widow recount deadly traffic jam on Everest
Journalist Manesh Shrestha reported from Kathmandu and CNN's Ed Payne reported from Atlanta. CNN's Dave Alsup contributed to this report.

Part of complete coverage on
September 18, 2014 -- Updated 1201 GMT (2001 HKT)

Put yourself in the shoes (and sixth-century black robes) of ISIS' Abu Bakr al-Baghdadi, the mysterious boss of the terror group.
September 18, 2014 -- Updated 0500 GMT (1300 HKT)

China's Xi Jinping and India's Narendra Modi, leaders of the most populous nations face similar challenges. Can they learn from each other?
September 17, 2014 -- Updated 2236 GMT (0636 HKT)

The U.S. is not returning combat troops to Iraq, President Barack Obama insists.
September 17, 2014 -- Updated 0038 GMT (0838 HKT)

A man abducted alongside killed U.S. journalist Steven Sotloff tells CNN that no one from the U.S. government has tried to talk with him.
September 17, 2014 -- Updated 1508 GMT (2308 HKT)

Mulatu Astatke is the founding father of ethio-jazz: a fusion of Ethiopian music with western jazz.
September 17, 2014 -- Updated 1311 GMT (2111 HKT)

Have you been to these? The global museum list, released Tuesday, ranks 25 of the world's best museums.
September 17, 2014 -- Updated 1703 GMT (0103 HKT)

iOS 8, the latest version of Apple's mobile operating system, comes with new features that you'll enjoy.
September 17, 2014 -- Updated 0927 GMT (1727 HKT)

Psychedelic drugs are being researched as a potential treatment for conditions ranging from anxiety to tobacco and alcohol addiction.
September 18, 2014 -- Updated 0142 GMT (0942 HKT)

It's a surfer's paradise -- but Diah Rahayu is out on her own when it comes to professional women's wave-riding in Bali.
September 18, 2014 -- Updated 1409 GMT (2209 HKT)

Even death couldn't part two skeletons excavated from a lost chapel in an English county, found with their fingers entwined.
September 18, 2014 -- Updated 1620 GMT (0020 HKT)

Each day, CNN brings you an image capturing a moment to remember, defining the present in our changing world.

Browse through images from CNN teams around the world that you don't always see on news reports.

Today's five most popular stories