STORY HIGHLIGHTS
Shin hasn't heard from the friends she was traveling with
She too wouldn't have survived if a young man hadn't helped her
She wants to find and thank him
Mokpo, South Korea (CNN) -- Tethered to an IV drip, 71-year-old Shin Young Ja lies under a thin fleece blanket, nursing a broken back and wracked with survivor's guilt.
"How could it be that an old woman like me survived and all these young people are still in there?" she says. "It's such a shame."
Shin is one of 13 survivors recuperating at the Mokpo Hankook Hospital.
She hasn't heard from the four friends she was traveling with on board the passenger ferry Sewol when it capsized in the frigid waters of the Yellow Sea on Wednesday morning.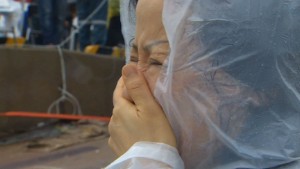 Ferry tragedy: Mother haunted by decision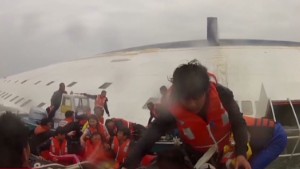 Divers face hazards in ferry rescue mission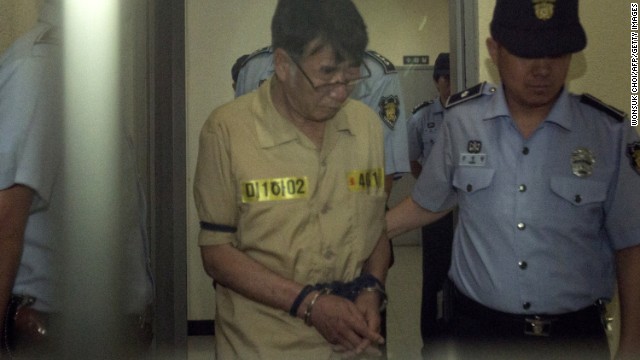 Sewol ferry captain Lee Joon-Seok was acquitted of murder, avoiding a death sentence, but was sentenced to 36 years in jail on November 11 for his role in the maritime disaster that killed more than 300.
Shoes believed to belong to the missing and the deceased are on display at the harbor.
Jindo harbor, where the search operation is based, has become a memorial for those who lost their lives. Yellow ribbons and photos are displayed as people come to pay their respects.
A joint government-civilian task force is still looking for the missing, but winter is fast approaching.
Ten are still missing from tragic ferry sinking last April, which killed more than 300. Six months later, families are still waiting for their loved ones to be found. The parents of 16-year-old Huh Da-yoon, pictured, are among them.
The families of the ten who remain missing have been waiting in Jindo Indoor Gymnasium since the first day. Families can watch search mission in real time on a large monitor in the gym.
South Korean President Park Geun-hye weeps while delivering a speech to the nation about the sunken ferry Sewol at the presidential Blue House in Seoul, South Korea, on Monday, May 19. More than 200 bodies have been found and nearly 100 people remain missing after the ferry sank April 16 off South Korea's southwest coast.
Police in Seoul detain a protester during a march Saturday, May 17, for victims of the Sewol.
A girl in Seoul holds a candle during a service paying tribute to the victims of the Sewol on Wednesday, April 30.
People pay tribute to victims at a memorial altar in Ansan, South Korea, on Tuesday, April 29.
A police officer holds an umbrella for a relative of a missing ferry passenger Monday, April 28, in Jindo, South Korea.
South Korean Buddhists carry lanterns in a parade in Seoul on Saturday, April 26, to honor the memory of the dead and the safe return of the missing.
Divers search for people in the waters near Jindo on April 26.
People in Ansan attend a memorial for the victims on April 26.
A diver jumps into the sea near the sunken ferry on Friday, April 25.
A relative of a passenger weeps while waiting for news of his missing loved one at a port in Jindo on April 25.
People attend a memorial for the victims at the Olympic Memorial Hall in Ansan on Thursday, April 24.
Yellow ribbons honoring the victims flap in the wind as a hearse carrying a victim's body leaves Danwon High School in Ansan on April 24. Most of the people on board the ferry were high school students on their way to the resort island of Jeju.
People attend a memorial for the victims at Olympic Memorial Hall in Ansan.
Search personnel dive into the sea on Wednesday, April 23.
Flares light up the search area on Tuesday, April 22.
The sun sets over the site of the sunken ferry on April 22.
A relative of a ferry passenger prays as she waits for news in Jindo on April 22.
The search for victims continues April 22 in the waters of the Yellow Sea.
Rescue workers in Jindo carry the body of a passenger on Monday, April 21.
Divers jump into the water on April 21 to search for passengers near the buoys that mark the site of the sunken ferry.
Search operations continue as flares illuminate the scene near Jindo on Sunday, April 20.
Relatives of missing passengers grieve April 20 in Jindo.
Relatives of passengers look out at the sea from Jindo on April 20.
Police officers in Jindo stand guard Saturday, April 19, to prevent relatives of the ferry's missing passengers from jumping in the water. Some relatives said they will swim to the shipwreck site and find their missing family members by themselves.
Family members of missing passengers hug as they await news of their missing relatives at Jindo Gymnasium on April 19.
South Korean Navy Ship Salvage Unit members prepare to salvage the sunken ferry and search for missing people on April 19.
Lee Joon Suk, the captain of the Sewol, is escorted to the court that issued his arrest warrant Friday, April 18, in Mokpo, South Korea.
A woman cries as she waits for news on missing passengers April 18 in Jindo.
A searchlight illuminates the capsized ferry on Thursday, April 17.
A woman cries during a candlelight vigil at Danwon High School in Ansan, South Korea, on April 17.
Family members of passengers aboard the sunken ferry gather at a gymnasium in Jindo on April 17.
The body of a victim is moved at a hospital in Mokpo on April 17.
Relatives of a passenger cry at a port in Jindo on April 17 as they wait for news on the rescue operation.
South Korean coast guard members and rescue teams search for passengers at the site of the sunken ferry on April 17.
A relative of a passenger cries as she waits for news on Wednesday, April 16.
Relatives check a list of survivors April 16 in Jindo.
Rescue crews attempt to save passengers from the ferry on April 16.
A relative waits for a missing loved one at the port in Jindo.
Parents at Danwon High School search for names of their children among the list of survivors. Ansan is a suburb of Seoul, the South Korean capital.
Helicopters hover over the ferry as rescue operations continue April 16.
Officials escort rescued passengers April 16 in Jindo.
A passenger is helped onto a rescue boat on April 16.
A passenger is rescued from the sinking ship on April 16.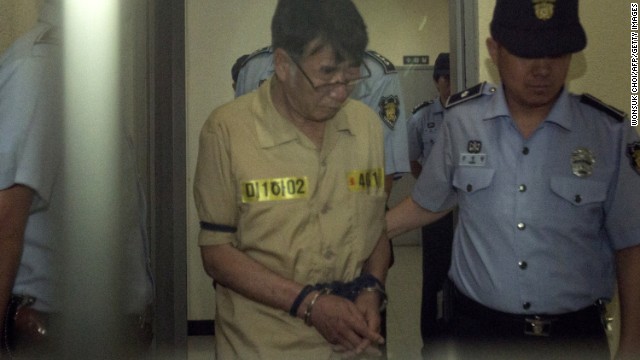 Photos: South Korean ferry sinks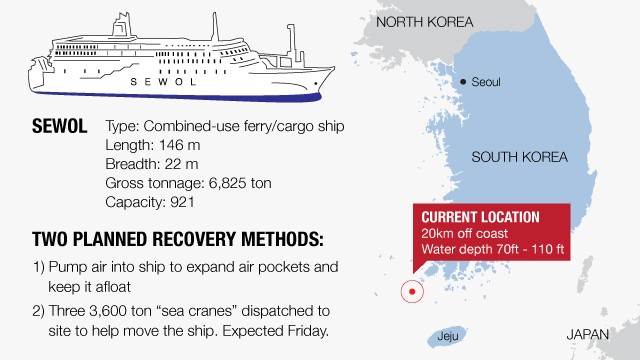 South Korean ferry rescue operation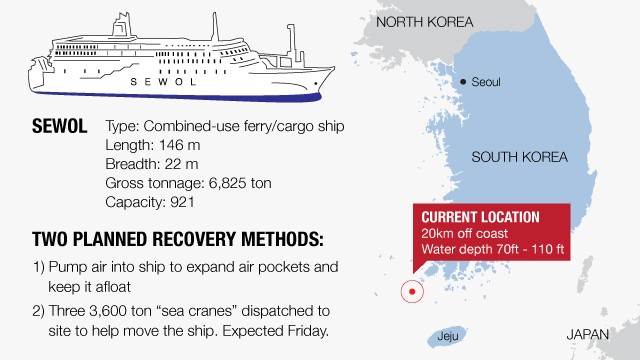 South Korean ferry rescue operation
"I don't think they made it out," Shin says, wiping away tears. "I didn't see their names on the list."
With each passing hour, hopes of finding more survivors have dimmed. By Friday, the death toll had climbed to 28. Rescue workers were scrambling furiously to find the roughly 270 who are still missing.
It's not lost on Shin that she could have been among the casualties had it not been for the determination of a young man who wouldn't give up when she did.
A young man she now wants to find and thank.
A few feet of difference
The only thing that separated Shin and her four friends was a matter of a few feet : where they sat on the third floor communal room of the ferry.
"The only reason I made it out was because I was on the other side (of the room) in front of the TV," she says.
Wednesday morning, after finishing breakfast, Shin sat away from her four friends to watch a soap opera. Then she heard screaming as people on one side of the room started "pouring down."
"Stacks of people" slid down the room as the boat tilted, she says
"So I grabbed onto a railing and they started sliding towards me."
Soon, she was swept along -- like a row of human dominoes.
"Everyone was swept to the one part of the hall."
The ship's announcement blared: "Do not move. Just stay where you are. It's dangerous if you move, so just stay where you are."
"If we don't move and do anything, it's more dangerous!" Shin recalls one of the men in the room say.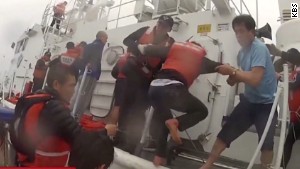 There's a chance for 'good' air pockets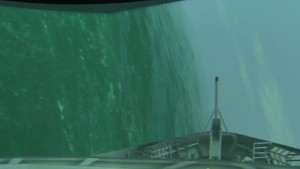 Scenario shows what sinking feels like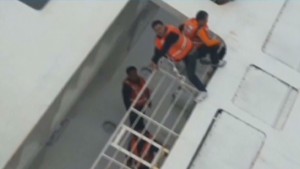 Divers struggle to reach ferry passengers
The announcement also advised that everyone put on life jackets.
Then the water came "in a flash."
"I was just sitting there and watching the water rising," Shin said.
Not giving up
Ignoring the pain shooting through her back, Shin donned a life jacket and swam across the room to get to those who sought refuge on top of a cabinet.
She was too exhausted to climb up. A young man noticed her and clutched her hand.
"Hold on to me tightly!" he told her.
"I can't hold on," Shin recalls telling him. She was too exhausted.
But he wouldn't give up.
He grabbed her hand and tried to pull her up. When he failed, he tried again. And again.
On his third try, he pulled her atop the furniture.
A crew spotted them banging against the window. They shattered the glass and pulled them through.
'I am grateful'
She spoke briefly to the young man on the rescue boat. She doesn't know his name, only that he's from Gimpo, an area in the capital Seoul.
Her family wants to find the man -- "even if we have to put up placards around neighborhood," she says.
"I'm grateful. I want to thank him. I want to buy him a meal at least or hold his hand or give him a hug.
"What else can I do?"
READ: How likely is it there are still survivors?
READ: Fake survivor posts add to nation's anguish
READ: Seaborne cranes called in as relatives fear end to ferry rescue operation