STORY HIGHLIGHTS
Passengers who get to an air pocket may still have a shot
Nigerian Harrison Okene's remarkable story of survival highlights that
He survived 60 hours in a tiny air bubble, where he'd taken shelter last year
(CNN) -- As rescuers take on the daunting task of finding survivors, family members of the missing passengers are pinning slim hopes on floundering air pockets in the capsized South Korean ferry.
They know the odds aren't in their favor, particularly after the entire ferry went underwater Friday. But they point to one especially miraculous tale of survival for their reason for not giving up.
In May 2013, a tug boat carrying a 12-person crew capsized off the coast of Nigeria. Two divers sent to recover the bodies assumed everyone aboard had died. After all, the boat was about 100 feet down under the Atlantic Ocean.
Three days had passed. And when a diver reached for a hand he thought belonged to a corpse, he discovered it was Harrison Okene, the boat's cook.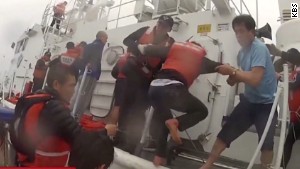 There's a chance for 'good' air pockets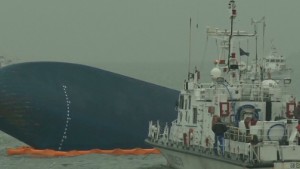 Staying alive in a sunken ship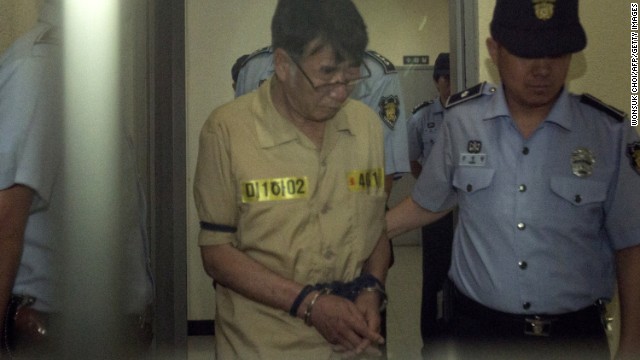 Sewol ferry captain Lee Joon-Seok was acquitted of murder, avoiding a death sentence, but was sentenced to 36 years in jail on November 11 for his role in the maritime disaster that killed more than 300.
Shoes believed to belong to the missing and the deceased are on display at the harbor.
Jindo harbor, where the search operation is based, has become a memorial for those who lost their lives. Yellow ribbons and photos are displayed as people come to pay their respects.
A joint government-civilian task force is still looking for the missing, but winter is fast approaching.
Ten are still missing from tragic ferry sinking last April, which killed more than 300. Six months later, families are still waiting for their loved ones to be found. The parents of 16-year-old Huh Da-yoon, pictured, are among them.
The families of the ten who remain missing have been waiting in Jindo Indoor Gymnasium since the first day. Families can watch search mission in real time on a large monitor in the gym.
South Korean President Park Geun-hye weeps while delivering a speech to the nation about the sunken ferry Sewol at the presidential Blue House in Seoul, South Korea, on Monday, May 19. More than 200 bodies have been found and nearly 100 people remain missing after the ferry sank April 16 off South Korea's southwest coast.
Police in Seoul detain a protester during a march Saturday, May 17, for victims of the Sewol.
A girl in Seoul holds a candle during a service paying tribute to the victims of the Sewol on Wednesday, April 30.
People pay tribute to victims at a memorial altar in Ansan, South Korea, on Tuesday, April 29.
A police officer holds an umbrella for a relative of a missing ferry passenger Monday, April 28, in Jindo, South Korea.
South Korean Buddhists carry lanterns in a parade in Seoul on Saturday, April 26, to honor the memory of the dead and the safe return of the missing.
Divers search for people in the waters near Jindo on April 26.
People in Ansan attend a memorial for the victims on April 26.
A diver jumps into the sea near the sunken ferry on Friday, April 25.
A relative of a passenger weeps while waiting for news of his missing loved one at a port in Jindo on April 25.
People attend a memorial for the victims at the Olympic Memorial Hall in Ansan on Thursday, April 24.
Yellow ribbons honoring the victims flap in the wind as a hearse carrying a victim's body leaves Danwon High School in Ansan on April 24. Most of the people on board the ferry were high school students on their way to the resort island of Jeju.
People attend a memorial for the victims at Olympic Memorial Hall in Ansan.
Search personnel dive into the sea on Wednesday, April 23.
Flares light up the search area on Tuesday, April 22.
The sun sets over the site of the sunken ferry on April 22.
A relative of a ferry passenger prays as she waits for news in Jindo on April 22.
The search for victims continues April 22 in the waters of the Yellow Sea.
Rescue workers in Jindo carry the body of a passenger on Monday, April 21.
Divers jump into the water on April 21 to search for passengers near the buoys that mark the site of the sunken ferry.
Search operations continue as flares illuminate the scene near Jindo on Sunday, April 20.
Relatives of missing passengers grieve April 20 in Jindo.
Relatives of passengers look out at the sea from Jindo on April 20.
Police officers in Jindo stand guard Saturday, April 19, to prevent relatives of the ferry's missing passengers from jumping in the water. Some relatives said they will swim to the shipwreck site and find their missing family members by themselves.
Family members of missing passengers hug as they await news of their missing relatives at Jindo Gymnasium on April 19.
South Korean Navy Ship Salvage Unit members prepare to salvage the sunken ferry and search for missing people on April 19.
Lee Joon Suk, the captain of the Sewol, is escorted to the court that issued his arrest warrant Friday, April 18, in Mokpo, South Korea.
A woman cries as she waits for news on missing passengers April 18 in Jindo.
A searchlight illuminates the capsized ferry on Thursday, April 17.
A woman cries during a candlelight vigil at Danwon High School in Ansan, South Korea, on April 17.
Family members of passengers aboard the sunken ferry gather at a gymnasium in Jindo on April 17.
The body of a victim is moved at a hospital in Mokpo on April 17.
Relatives of a passenger cry at a port in Jindo on April 17 as they wait for news on the rescue operation.
South Korean coast guard members and rescue teams search for passengers at the site of the sunken ferry on April 17.
A relative of a passenger cries as she waits for news on Wednesday, April 16.
Relatives check a list of survivors April 16 in Jindo.
Rescue crews attempt to save passengers from the ferry on April 16.
A relative waits for a missing loved one at the port in Jindo.
Parents at Danwon High School search for names of their children among the list of survivors. Ansan is a suburb of Seoul, the South Korean capital.
Helicopters hover over the ferry as rescue operations continue April 16.
Officials escort rescued passengers April 16 in Jindo.
A passenger is helped onto a rescue boat on April 16.
A passenger is rescued from the sinking ship on April 16.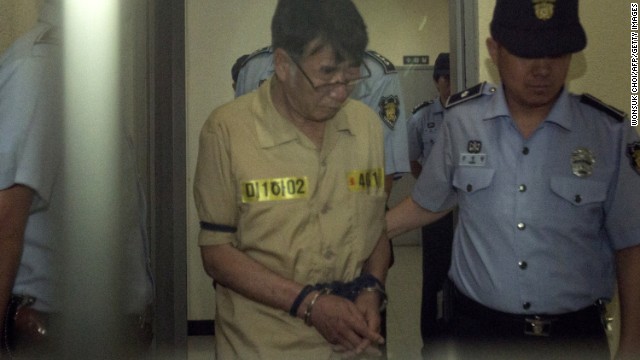 Photos: South Korean ferry sinks
Okene had survived 60 hours in a 4-foot space -- a tiny air bubble -- where he'd taken shelter.
"The rest of my life is not enough to thank God for this wonder, it is incredible," he told a local newspaper at the time.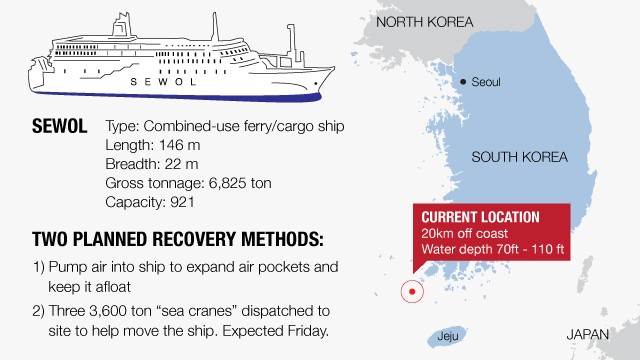 South Korean ferry rescue operation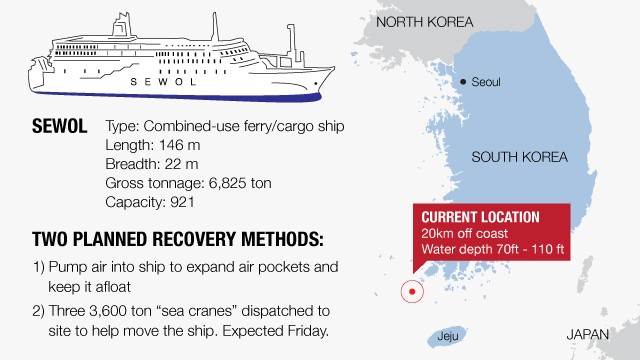 South Korean ferry rescue operation
Some have also pointed to the Italian cruise ship Costa Concordia, which ran aground and capsized in January 2012, killing dozens. Some survivors were pulled out after being trapped inside the ship for more than 30 hours.
Anguish over sinking amplified by misinformation
Comparing the incidents
Do those parallels apply to South Korean ferry, Sewol?
In the case of the Costa Concordia, the cruise ship was not fully submerged. Sewol is.
As for air pockets, also known as "voids," they could provide those on board with a chance of survival, said maritime expert Kim Petersen said.
"It's difficult to say since we don't know the cause of the vessel sinking," he said. "If it had been because of a problem with one of the vehicle doors, of course that could cause massive flooding very quickly and reduce the likelihood of voids.
"But the fact is that this is a vessel that is almost 500 feet in length and it's sitting in waters that we believe to be between 70 and 110 feet deep, so there is the strong possibility that there are voids and the possibility of survivors."
Potential air pockets offer hope
Many caveats
Trapped passengers, if there are any, also have to think ahead.
"When they're in a small compartment ... with an air bubble, they really have to stay calm and breathe shallow and conserve the oxygen in that space," former Navy diver Bobbie Scholley told CNN.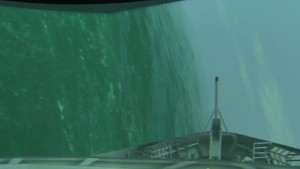 Scenario shows what sinking feels like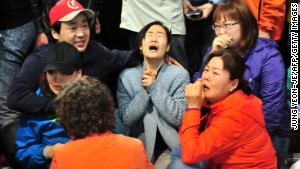 Outrage grows after ferry sinks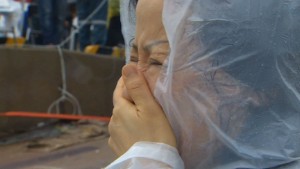 Ferry tragedy: Mother haunted by decision
However, Petersen warned that the effort to reach those trapped in potential voids will not be easy.
"The problem now is getting divers down into those areas and bringing those people to the surface," he said.
Divers must contend with fierce winds and rough waters.
"There are heavy currents in the area. So the vessel itself is not stable in the water. So you are, by default, putting divers at risk," U.S. Navy Capt. Heidi Agle told CNN's Wolf Blitzer. The U.S. Navy is assisting with the South Korean search.
The frigid waters
Then, there's the temperature.
The water is a frigid 50 F (10 C). At that temperature, exhaustion sets in within one to two hours. And the expected survival time is no more than six hours, CNN meteorologist Samantha Mohr said.
Still, rescue teams continued to pump air into the hull of the submerged ship Friday. Like the family members, they aren't ready to give up yet.
READ: Woman, 71, survives because stranger wouldn't give up on her
READ: Fake survivor posts add to nation's anguish
READ: Seaborne cranes called in as relatives fear end to ferry rescue operation
CNN's Euan McKirdy contributed to this report.