STORY HIGHLIGHTS
Tens of thousands turn out for first 420 celebration since Colorado began legal pot sales
"420 Rally," Cannabis Cup competition, Snoop Dogg concert among highlights
Many traveled from out of state, even abroad, to buy and smoke marijuana legally
CannaBUS takes hundreds to dispensaries; expo puts weed business on display
Denver, Colorado (CNN) -- Coming to the Mile High City this weekend was the perfect 65th birthday present for Karen Stevenson. She and her husband drove out of the Bible Belt to experience, for the first time, what it's like to buy and smoke weed legally.
She wore a T-shirt featuring an image of María Sabina, a late-Mexican shaman, puffing on a joint -- a shirt that, until this day, she never dared to wear outside her Cape Girardeau, Missouri, home.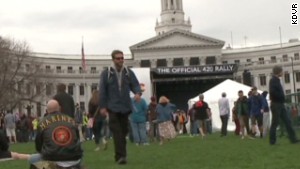 420 Rally celebrates pot legalization
"It's kind of like being a part of history," she said Saturday, while waiting for a bus in front of a marijuana-themed sandwich shop. "I used to want to go to Amsterdam. Now I don't have to."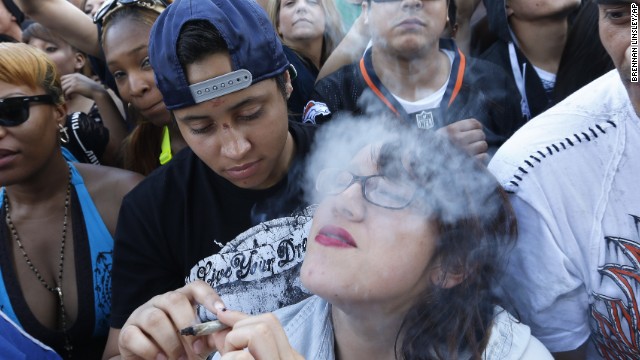 Partygoers listen to live music and smoke pot on day two of the annual 420 Rally in Denver on Sunday, April 20, 2014. 420 is a once clandestine term used in pot culture to refer to marijuana.
Fans react to the MTHDS as they preform during the 420 Rally in Denver's Civic Center Park on April 20.
Marijuana smoke fills the air at 4:20 p.m. in Civic Center Park in Denver on April 20.
Partygoers listen to live music and smoke pot at Denver's 420 Rally on April 20.
Ryme Windham smokes marijuana at 4:20 pm outside at Hempfest on April 20 in Seattle. Seattle Hempfest is an annual event for the purpose of educating the public about the benefits of marijuana and advocating for its decriminalization.
John the Freak teaches a joint rolling class at Seattle's Hempfest on April 20.
Attendees look at glass pipes used for smoking marijuana being sold at Hempfest on April 20 in Seattle.
A young woman smokes marijuana during a demonstration calling for cannabis to be legalized at a 420 Day event in Hyde Park in London on Sunday, April 20.
British police look on as a cloud of smoke rises over protesters in London's Hyde Park.
People gather on the lawns of Parliament Hill on April 20 during the Fill the Hill marijuana rally in Ottawa, Canada.
A man in a bear costume smokes a joint on April 20 at the Fill the Hill marijuana rally on Parliament Hill in Ottawa.
People gather on the lawns of Parliament Hill during the Fill the Hill marijuana rally in Ottawa on April 20.
Ed Forchion, a pro-marijuana activist known as NJ Weedman, carries a large cross with huge likeness of a marijuana leaf on April 20 as he walks in front of the New Jersey Statehouse in Trenton, New Jersey. Dozens of activists and community members gathered in front of Statehouse to show their support for legalizing marijuana.
Partygoers dance and smoke pot on the first of two days of The Official 420 Rally annual marijuana festival in Denver on Saturday, April 19. This is the first year of the festival where it has been legal to sell marijuana for recreational use in Colorado.
Sarah Rader of Colorado Springs hula-hoops in Civic Center Park in Denver on April 19.
Zion I performs at Denver's festival on April 19.
"Chaz" shows off his marijuana themed hat in Denver on April 19.
Police officers on bikes patrol Denver's Civic Center Park on April 19, the first day of the festival.
Partygoers listen to live music on April 19.
Denver hip-hop duo Bass Physics performs at Civic Center Park in Denver on April 19.
A glittery pot leaf adorns the cheek of an attendee in Denver on April 19.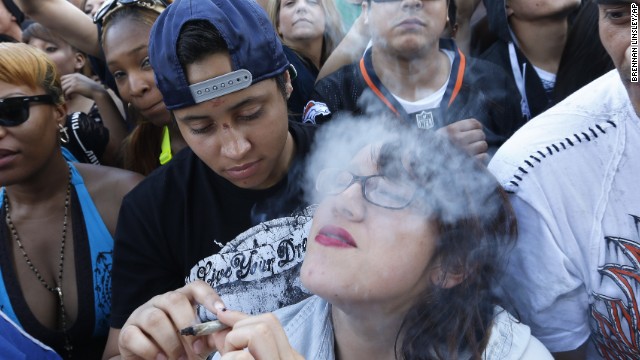 Photos: Celebrating 420
The Stevensons are among the tens of thousands of visitors -- by some estimates 80,000 -- who've come to Denver to mark 420 (April 20), a date that's emerged as a holiday among those steeped in cannabis culture.
Though the date has long been observed in Colorado, this is the first celebration since recreational sales of marijuana became legal here on New Year's Day. (Recreational use became legal in late 2012.)
Replete with the Denver "420 Rally" in Civic Center Park, the High Times Cannabis Cup -- an expo and a competition sponsored by the magazine -- and a 420 concert at Red Rocks Amphitheatre headlined by Snoop Dogg, the weekend has drawn the trappings one might expect. Dreadlocks. Tie-dye. T-shirts brandishing phrases like "Cheech & Chong for President."
Those predictable, or stereotypical, images, however, only tell part of the story.
They don't speak for the white-haired Mississippi man who looked like he'd walked out of a law firm on casual Friday. They don't reflect what drew a Crohn's disease patient from Missouri. Nor do they represent three older Texas women, one with her nails perfectly manicured in hot pink and her hair done just so, who advocate on behalf of seniors and are working to reform marijuana laws.
"We're not trying to force people to smoke pot," said Dawn Brooks, 62, of Austin, the one with the bright nails. "Cannabis is merely a plant. That's all it is. And more and more seniors are coming out of the closet."
This is a weekend that draws people of various backgrounds and with different needs and desires.
That said, for many of those who turned out Saturday, the vast majority it seemed from out-of-state, it was all about the smoking. And for some of them, it was in a frenzied way -- a mad rush to try everything because they couldn't take any of it home.
Kate, a 30-year-old from Kansas City, Missouri, was waiting with her boyfriend, Scott, for a free bus ride to the Cannabis Cup expo at Denver Mart.
"It's like his Super Bowl," said Kate, who, like many people we spoke to, didn't want her last name used. "He's been giddy about it for weeks. ... Super stoked is an understatement."
Bus to Show, a nonprofit that works to reduce intoxicated driving, partnered with High Times to offer transportation this weekend. It set up a downtown location for pickups and drop-offs outside Cheba Hut, a marijuana-themed sub shop.
Besides the free shuttles to and from the expo, the organization sold out a $20-a-day hop-on, hop-off shuttle tour of what it called The Cannabis Freedom Trail. The CannaBUS, as the tour shuttles are called, have been shepherding as many as 200 people a day to various cannabis dispensaries around town.
On one tour we joined, smoke wafted out windows. Strangers shared pipes and exchanged samples of weed and wax, a concentrated form of marijuana. Canisters of buds bearing names like "tangerine haze" and "strawberry cough," were passed around to smell. Nutella pancakes came up in conversations at least three times.
Wearing a neon green wig and green Power Ranger mini-dress, Teri Starbird, 50, who lives outside Wichita, Kansas, lit up some "Bruce Banner." It is one of the contenders in this year's Cannabis Cup competition.
Some of this stuff makes you plain stupid.
Teri Starbird
"Oh, that's very smooth," she said, passing the pipe to her friend. "But I'll tell you what, there are some mad scientists in this town. Some of this stuff makes you plain stupid."
While other groups actually visited dispensaries on the tour, no one in this crew bothered to get off the bus. Two guys from South Jersey sat dazed, staring out their windows.
"I'm too f**king stoned to get out," said a 22-year-old from New Mexico, who donned a Captain America baseball cap and heroically bounded over bus seats to take a hit of what others were smoking.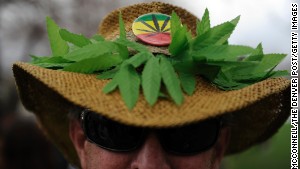 "Chaz" shows off his marijuana-themed hat during the 420 Rally at Civic Center Park in Denver.
Back at the sandwich shop, the final stop on the tour, he and the others had no choice but to stumble off the bus.
Inside Cheba Hut, where 12-inch subs are called "blunts," drinks are listed as "cotton mouth cures" and desserts and chips fall under "munchies," a woman from Brooklyn, New York, stared up at the menu board -- her eyes as wide as her smile.
"Oh, my God, that bread's crazy," she said loudly to no one. "Oh, my God, they have Kool-Aid here! What?"
Outside, bus driver Jody Stonebraker called us on board for the free ride to the expo. She offered lighters and bottles of water to her passengers as she drove them to Denver Mart, where tens of thousands gathered for the High Times Cannabis Cup. With bus windows open to keep her sober, she moved us on.
A guy from San Francisco struggled to roll a joint; when the bus stopped short, his weed went flying. A man from Florida looked around at the peaceful, smiling faces of his fellow passengers and wanted to know where else people were this happy. And a conversation across the aisle between two people began and ended like this:
"What was your favorite?"
"Green."
"What?"
Stonebraker, 54, said she's met people this weekend from all over the country, even the world -- including Germany, Japan and Mexico. She can't stop singing the praises of her cannabis-loving passengers.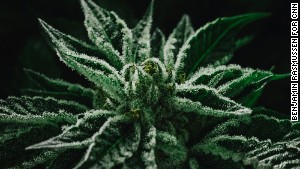 This is your body on weed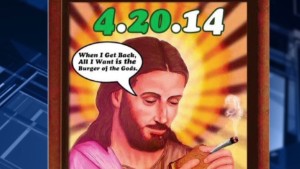 Restaurant ad depicts Jesus smoking pot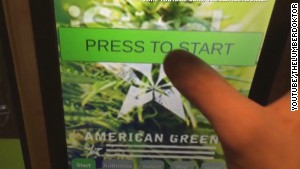 Want pot? Head to the vending machine
"It's been so fun, and I'm getting paid for this," she said. "I tended bar for 16 years, and they were all jerks. Every other person, you wanted to shoot. You guys are awesome!"
That sort of comparison to drinkers came up time and again. People who waited three hours to get into Denver Mart boasted that there were no fights, screaming or pushing.
A couple from Kansas City, Missouri, was among those who waited for hours to get in, but Sam, 58, and Joyce, 53, couldn't have looked less put out. They were draped in Mardi Gras beads. He wore a jester's hat; she a crown made of plastic marijuana leaves. They were simply thrilled.
"Nobody's tripping. Nobody's acting like you're from Mars," Joyce said. "There's freedom to smoke. You don't have to hide in a basement or under a blanket."
The couple, married for 32 years, raised children successfully. Sam spent 35 years working his tail off in the commercial roofing business.
"So don't tell me it makes me lazy," he said.
In hallways outside the exhibition hall, people sat on the floor, tossing back small bags of Cheetos and Doritos. A man was hunched over in a corner, taking a nap. Another guy greeted people just inside, offering patriotic-looking stickers that resembled those handed out on Election Day -- except these said "I Smoked."
A stroll past the booths in the packed hall offered a head-spinning glimpse into the big business that is cannabis.
There were hydrocarbon extraction machines, easy at-home growing systems, and high-powered leaf trimmers. There were academies offering certification courses, products to detoxify the body, and tips and tools to make edibles. There were cannabis-themed clothing companies, glass pipes available in all shapes -- including that of Mr. Potato Head -- and people sitting beneath lights and in front of cameras for a segment of The Plant Channel.
There was even an agency called Hemp Temps, to meet the staffing needs of the growing industry.
Behind the building, in a fenced-in outdoor area where 21-and-over wristbands were checked before entry, the smoke was thick.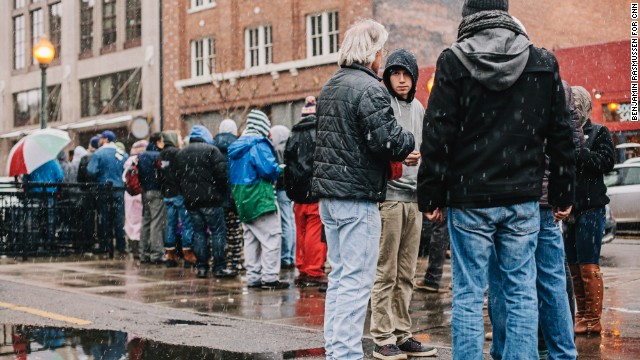 Customers wait in a long line for their turn to buy recreational marijuana outside the LoDo Wellness Center on Wednesday, January 1, in Denver. Colorado is the first state in the nation to allow retail pot shops.
Donald Andrews, whose family owns and runs the LoDo Wellness Center, hands out tickets marking customers' place in the line.
Hailey Andrews, who manages the LoDo Wellness Center, fills an order for a customer. Colorado residents can now buy marijuana like alcohol, but purchases are limited to an ounce at a time.
Andrews examines marijuana plants in the grow room of the LoDo Wellness Center. Pot is the third most popular recreational drug in America, after alcohol and tobacco, according to the National Organization for the Reform of Marijuana Laws.
Marijuana plants thrive in the grow room of the LoDo Wellness Center.
Marijuana dries next to a harvest calendar in the grow room of the LoDo Wellness Center.
Beej Jackson, left, and Amber Bacca serve customers in Evergreen Apothecary in Denver. In 2012, 55% of Colorado voters said yes to legalizing recreational marijuana.
Jackson fills a display with THC lollipops in the Evergreen Apothecary.
Different strains of marijuana are displayed in the Evergreen Apothecary.
Leica Zayat and Mark Harris serve customers in Evergreen Apothecary.
People line up to buy recreational marijuana outside of Evergreen Apothecary.
Customers wait to be served in the LoDo Wellness Center.
Pamphlets about the legal recreational use of marijuana sit on a desk at the LoDo Wellness Center.
People line up to buy recreational marijuana at the LoDo Wellness Center.
Marijuana plants sit under grow lights at the 3D Cannabis Center in Denver.
Sean Azzariti, an Iraq war veteran and marijuana activist, speaks to the media after becoming the first person to legally purchase recreational marijuana in Colorado. "It's huge," he said. "It hasn't even sunk in how big this is yet."
Customers buy edible marijuana products at the LoDo Wellness Center.
Marijuana paraphernalia sits on display at the LoDo Wellness Center. Communities and counties in Colorado can still choose not to allow marijuana stores in their local jurisdictions.
Mark Wootten, left, and Tom McCoy purchase marijuana products at the LoDo Wellness Center.
Marijuana prices are on display at the 3D Cannabis Center. Tax revenue from retail pot sales will initially amount to $67 million a year, with $27.5 million of it designated to build schools, state officials say.
Darren Austin, left, and his son Tyler line up outside the 3D Cannabis Center.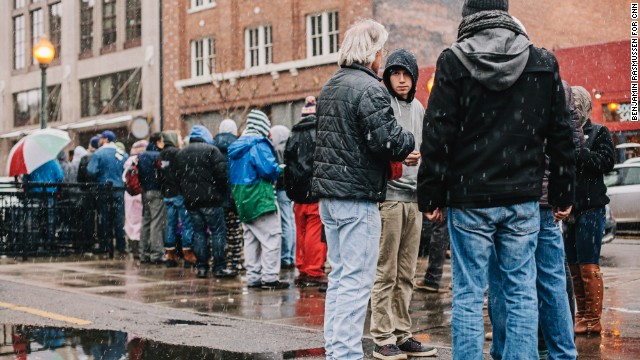 Photos: Retail pot shops open in Colorado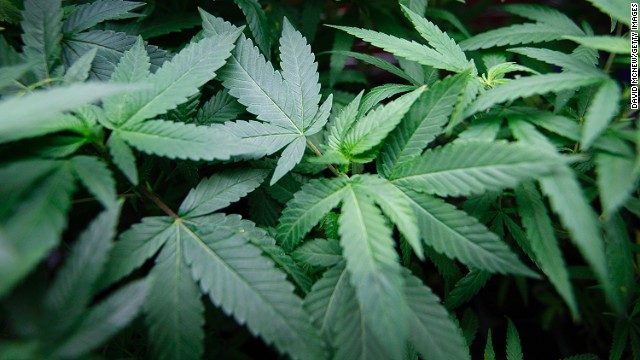 Public perceptions about pot have come a long way, from the dire warnings of "Reefer Madness" to growing acceptance of medical marijuana to the legalization of recreational weed use.
On July 27, the New York Times published "High Time: An Editorial Series on Marijuana Legalization," which called for the federal government to repeal its ban on marijuana.
Matt Figi's 7-year-old daughter Charlotte was once severely ill. But a special strain of medical marijuana known as Charlotte's Web, which was named after the girl early in her treatment, has significantly reduced her seizures. On July 28, Rep. Scott Perry, R-Pennsylvania, introduced a three-page bill that would amend the Controlled Substances Act -- the federal law that criminalizes marijuana -- to exempt plants like Charlotte's Web that have an extremely low percentage of THC, the chemical that makes users high.
While politicians and supporters look on, New York Governor Andrew Cuomo signs a ceremonial bill to establish a medical marijuana program in New York, on July 7, 2014. New York is the 23rd U.S. state to authorize medical marijuana.
In April, Maryland became the 18th state to decriminalize marijuana possession. Research published by the Pew Research Center in February showed 54% of Americans support legalization of marijuana.
Sean Azzariti, an Iraq war veteran and marijuana activist, becomes the first person to legally purchase recreational marijuana in Colorado on January 1. Colorado was the first state in the nation to allow retail pot shops. "It's huge," Azzariti said. "It hasn't even sunk in how big this is yet."
Members of a crowd numbering tens of thousands smoke and listen to live music at the Denver 420 Rally on April 20. Annual festivals celebrating marijuana are held around the world on April 20, a counterculture holiday.
A man smokes a joint during the official opening night of Club 64, a marijuana social club in Denver, on New Year's Eve 2012. Voters in Colorado and Washington state passed referendums to legalize recreational marijuana on November 6, 2012.
People light up near the Space Needle in Seattle after the law legalizing the recreational use of marijuana went into effect in Washington on December 6, 2012.
Nutrient products are placed on shelves in the weGrow marijuana cultivation supply store during its grand opening on March 30, 2012, in Washington, D.C. The store is a one-stop-shop for supplies and training to grow plants indoors, except for the actual marijuana plants or seeds. Legislation was enacted in 2010 authorizing the establishment of regulated medical marijuana dispensaries in the nation's capital.
Marijuana activist Steve DeAngelo wears a "Yes on Prop 19" button as he speaks during a news conference in Oakland, California, on October 12, 2010, to bring attention to the state measure to legalize marijuana for recreational purposes in California. Voters rejected the proposal.
Sonja Gibbins walks through her growing warehouse in Fort Collins, Colorado, on April 19, 2010. Since the state approved medical marijuana in 2000, Colorado has seen a boom in marijuana dispensaries, trade shows and related businesses. So far 20 states and the District of Columbia have made smoking marijuana for medical purposes legal.
A patient prepares to smoke at home in Portland, Maine, on October 22, 2009, a decade after the state approved a medical marijuana referendum.
Coffeeshop Blue Sky worker Jon Sarro, left, shows a customer different strains of medical marijuana on July 22, 2009, in Oakland, California. Voters in the city approved a measure during a vote-by-mail special election for a new tax on sales of medicinal marijuana at cannabis dispensaries.
Medicinal marijuana patient Angel Raich wipes her eyes during a press conference on March 14, 2007, in Oakland, California. The 9th circuit U.S. Court of Appeals in San Francisco ruled that 41-year-old Raich, who used medicinal marijuana to curb pain from a brain tumor as well as other ailments, did not have the legal right to claim medical necessity to avoid the possibility of prosecution under federal drug laws.
Different varieties of medical marijuana are seen at the Alternative Herbal Health Services cannabis dispensary in San Francisco on April 24, 2006. The Food and Drug Administration issued a controversial statement a week earlier rejecting the use of medical marijuana, declaring that there is no scientific evidence supporting use of the drug for medical treatment.
People in New York gather for a pro-cannabis rally on May 4, 2002. That same day, almost 200 similar events took place around the world to advocate for marijuana legalization. It was dubbed the "Million Marijuana March."
Dennis Peron takes notes during a phone interview while Gary Johnson lights up at the Proposition 215 headquarters in San Francisco on October 11, 1996. The ballot measure was approved when voters went to the polls in November, allowing medical marijuana in California.
A television ad aired in 1996 by Republican presidential candidate Bob Dole's campaign included footage from a 1992 MTV interview of a laughing President Clinton saying he would inhale marijuana if given the chance to relive his college days.
President George H. Bush holds up a copy of the National Drug Control Strategy during a meeting in the Oval Office on September 5, 1989. In a televised address to the nation, Bush asked Americans to join the war on drugs.
Robert Randall smokes marijuana that was prescribed to treat his glaucoma in 1988. He became the first legal medical marijuana patient in modern America after winning a landmark case in 1976.
First lady Nancy Reagan participates in a drug education class at Island Park Elementary School on Mercer Island, Washington, on February 14, 1984. She later recalled, "A little girl raised her hand and said, 'Mrs. Reagan, what do you do if somebody offers you drugs?' And I said, 'Well, you just say no.' And there it was born." She became known for her involvement in the "Just Say No" campaign.
President Jimmy Carter, with his special assistant for health issues, Dr. Peter Bourne, beside him, talks to reporters at the White House about his drug abuse control message to Congress on August 2, 1977. Among other things, he called for the elimination of all federal criminal penalties for the possession of up to one ounce of marijuana.
Panel members of the National Commission on Marijuana and Drug Abuse attend a hearing In Denver on January 10, 1972. From left, Dr. J. Thomas Ungerleider, psychiatrist; Michael R. Sonnenreich, commission executive director; Raymond P. Shafer, commission chairman; Mitchell Ware, Chicago attorney; Charles O. Galvin, Dallas law school dean. The commission's findings favored ending marijuana prohibition and adopting other methods to discourage use, but the Nixon administration refused to implement its recommendations.
Protesters wade in the Reflecting Pool at the National Mall in Washington during the "Honor America Day Smoke-In" thrown by marijuana activists in response to the official "Honor America Day" rally organized by President Nixon supporters at the Lincoln Memorial on July 4, 1970.
Marijuana reform was the Life magazine cover story in October 1969. The banner read: "At least 12 million Americans have now tried it. Are penalties too severe? Should it be legalized?"
Police dogs trained to smell out hidden marijuana examine U.S. soldiers' luggage at the airport during the Vietnam War in 1969. Drug use was widespread during the war.
People share a joint during a 1969 concert in Portland, Oregon. In 1973, Oregon became the first state to decriminalize cannabis.
Marijuana use became more widespread in the 1960s, reflecting the rising counterculture movement.
Research scientist Dr. Reese T. Jones, right, adjusts the electrodes monitoring a volunteer's brain response to sound during an experiment in 1969 that used a controlled dosage of marijuana. The tests were conducted at the Langley Porter Institute at the University of California, San Francisco.
U.S. Customs agents track the nationwide marijuana market during Operation Intercept, an anti-drug measure announced by President Nixon in 1969. The initiative intended to keep Mexican marijuana from entering the United States.
Members of the Grateful Dead talk with reporters from their home in San Francisco on October 5, 1967. The band was protesting being arrested for marijuana possession.
A woman buys ready-rolled marijuana cigarettes from a dealer at her door circa 1955.
Even after Congress cracked down on marijuana in 1937, farmers were encouraged to grow the crop for rope, sails and parachutes during World War II. The "Hemp for Victory" film was released in 1942 by the U.S. Department of Agriculture.
Marijuana cigarettes are hidden in a book circa 1940. Congress passed the Marijuana Tax Act in 1937, effectively criminalizing the drug.
A poster advertises the 1936 scare film "Reefer Madness," which described marijuana as a "violent narcotic" that first renders "sudden, violent, uncontrollable laughter" on its users before "dangerous hallucinations" and then "acts of shocking violence ... ending often in incurable insanity."
Harry Anslinger was named commissioner of the Federal Bureau of Narcotics when it was established in 1930. While arguing for marijuana prohibition, he played on Americans' fear of crime and foreigners. He spun tales of people driven to insanity or murder after ingesting the drug and spoke of the 2 to 3 tons of grass being produced in Mexico. "This, the Mexicans make into cigarettes, which they sell at two for 25 cents, mostly to white high school students," Anslinger told Congress.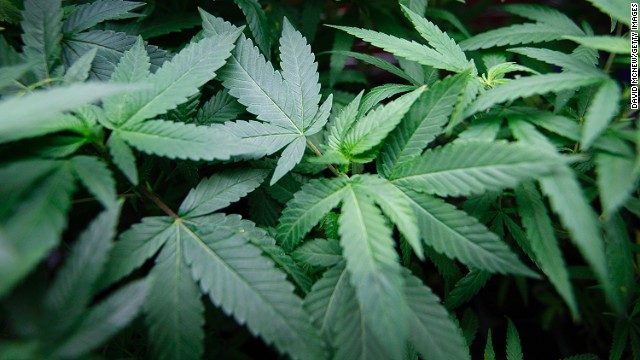 Photos: History of marijuana in America
Attendees crowded couches beneath tents, sampling wares. A grown man, dressed as an Oompa-Loompa, walked by as another guy inhaled smoke from a three-foot-long bong. An emergency medical team tended to an older man who passed out, his head bleeding from when it hit the pavement after he smoked a dab, or high-grade hash oil.
The young woman who gave it to him cried, her hand trembling as she held a cigarette.
While some pulled out cell phones to take pictures of the man on the ground, others flocked to the shaken woman.
"It's not your fault. It's not your fault," they said. "He chose to take a dab."
Amid this scare, and across town, there were reminders of the good that many say cannabis does when people are educated and use it responsibly.
At The Giving Tree of Denver, a dispensary, one of the managers prepared to close for the day. Dina Compassion marveled about the people she'd met so far this weekend.
They'd come from all over the United States. They were people suffering from PTSD, seizures and arthritis. They were cancer survivors. They were parents worried about their sick children. They were residents of other states who are thinking of moving to Colorado so they can "manage pain in a safe way and not be carted off to jail," she said.
Compassion, 29, understands the benefits as much as anyone. After a serious car accident left her with nerve damage along the entire right side of her body, nothing seemed to help her regain feeling and movement -- until she tried cannabis.
"It was a huge game changer," she said. "I'm now planning a rock climbing trip for this summer."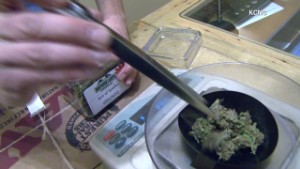 Colorado marijuana sales? Not that high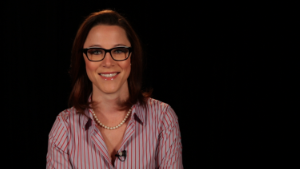 Is Colorado getting too high?
What she sees in her dispensary, what she sees in the crowds of people who've descended upon Denver this weekend, is a growing sense of community, a feeling that's expanding nationwide.
So even though some might think the 420 fight is over in Colorado, now that it's legal, Compassion says rallying behind the cause is as important as ever.
"It's now a statement to other states, to the United States, a way to support the community," she said. "This isn't going away."
While medical marijuana use is legal in 21 states and the District of Columbia, Washington is the only other state that has legalized recreational use.
For those afraid to speak out themselves, she said, what happens in Denver "gives them a voice."