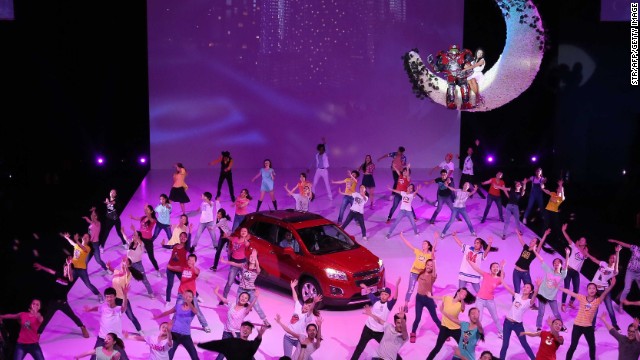 Dancers perform during Chevrolet's gala evening held ahead of the Beijing Auto Show. The exhibition of fashionable high-end cars features more than a thousand vehicles and is open to the public until April 29.
The Bugatti Veyron 16.4 Grand Sport Vitesse "Black Bess" revives a legendary pre-war model that was one of the fastest on the road during its time. It was unveiled at the Beijing Auto Show.
Rolls-Royce CEO Torsten Muller-Otvos unveils the Pinnacle Travel Phantom in Beijng. The car has many bespoke touches that appeal to the super-rich, starting with a two-tone exterior.
Denza was one of the most photographed cars at the preview of the Beijing Auto Show. The electric vehicle is a joint venture between Daimler and China's BYD, developed outside of Germany. It will go on sale in China in September.
Several other green car models are showcased at the Beijing Auto Show this year, including the Nissan Zero Emission car.
Ferrari's California T made its Chinese debut at the Beijing Auto Show with the revolutionary V8 turbo engine which promises "the performance, torque and sound" synonymous with Ferrari, but with fuel efficiency to boot.
SUVs are a strong category at the Beijing Auto Show. The Citroen DS6WR is a China-only model based on the Wild Rubis concept car and measures 1.6 meters tall.
The Concept Coupe SUV by Mercedes-Benz has a sleek look for a big car standing more than 1.7 meters tall.
Great Wall Motor Co. reported a profit growth slump in the first quarter of 2014. Despite this, Chinese appetite for SUVs, which Great Wall is known for, proves strong. It unveiled its Haval Coupe, Coupe C, and H9 at the Beijing Auto Show.
Many brands went all-out to attract media attention. Infiniti invited Hong Kong pop star GEM to promote their cars, while Hyundai snagged South Korean actor Kim Soo Hyun, who has a lot of fans in China. This image show a McLaren car on display at Beijing Auto Show.
Beijing police estimate an average of 120,000 people will visit the exhibition each day. This image shows a Koenigsegg car being installed at the venue.
Motor mad at the 2014 Beijing Auto Show
Motor mad at the 2014 Beijing Auto Show
Motor mad at the 2014 Beijing Auto Show
Motor mad at the 2014 Beijing Auto Show
Motor mad at the 2014 Beijing Auto Show
Motor mad at the 2014 Beijing Auto Show
Motor mad at the 2014 Beijing Auto Show
Motor mad at the 2014 Beijing Auto Show
Motor mad at the 2014 Beijing Auto Show
Motor mad at the 2014 Beijing Auto Show
Motor mad at the 2014 Beijing Auto Show