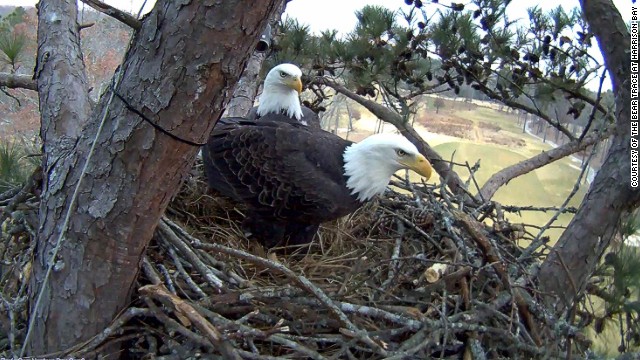 This pair of bald eagles are a familiar sight at the Bear Trace golf course at Harrison Bay in Tennessee. They arrived at the end of 2010 and since 2012 have been the stars of the club's Eagle Cam. Two eaglets hatched in March and can be
watched online
round the clock.
The pair's nest can be found behind the 10th green in a 125-foot (38-meter) pine tree.
Carter says the nest is about 8.5 feet wide and about five feet deep. "They've pretty big! When you've got a couple of adults and some food and two eagles, you've got to have some room," he explains.
The bald eagle has a distinctive plumage -- white head and tail -- with a yellow beak and feet. As of 2012, there were more than 175 nesting pairs of bald eagles in Tennessee, according to Tennessee's Watchable Wildlife.
Bald eagle numbers declined during from the 1950s to the mid-1970s due to the use of a pesticide called DDT which affected the birds' ability to reproduce.
The bald eagles may be the star attraction at Bear Trace at Harrison Bay, but other wildlife is also flourishing, like these deer. "We are trying to show that golf courses can be a sustainable habitat for wildlife," Carter says.
In addition to measures that protect wildlife populations, Carter has overseen a program which has reduced the amount of mowing and water use. He estimates that in the last decade, the course has returned 50 acres to a more natural state, saving over seven million gallons of water annually.
The club has also introduced native planting beds. Carter has been recognized for his environmental efforts with several awards in recent years, including the 2013 Environmental Leaders in Golf Award.
The changes haven't affected the quality of the golf on offer at the course, which was designed by one of the game's legends, Jack Nicklaus.
Conservation efforts even extend to the green-keeping tools, with electric-powered lawnmowers being used by Carter and his staff.
Eagles guaranteed at Tennessee golf club
Eagles guaranteed at Tennessee golf club
Eagles guaranteed at Tennessee golf club
Eagles guaranteed at Tennessee golf club
Eagles guaranteed at Tennessee golf club
Eagles guaranteed at Tennessee golf club
Eagles guaranteed at Tennessee golf club
Eagles guaranteed at Tennessee golf club
Eagles guaranteed at Tennessee golf club
Eagles guaranteed at Tennessee golf club
Eagles guaranteed at Tennessee golf club
STORY HIGHLIGHTS
A Tennessee golf club is home to two nesting bald eagles
Pair named Elliott and Eloise recently joined by two eaglets
Eagle Cam set up in 2012 has been viewed by nearly one million worldwide
Course has been recipient of several environmental awards
Follow us at @WorldSportCNN and like us on Facebook
(CNN) -- Eagles may be thin on the ground for most golfers at the Bear Trace course at Harrison Bay. But up in the treetops, it's a different matter.
Bald eagles Elliott and Eloise have been par for the course at the Tennessee club for the past three and a half years, scoring highly with both local and global audiences thanks to a camera installed by their nest in a pine tree behind the 10th green.
"The eagles came in and started building a nest in December 2010," explains golf course superintendent Paul Carter.
"The first year they had two eaglets and both fledged successfully. We were just watching them from the ground not really knowing what was going on until about mid-May when two black heads popped up out of the nest."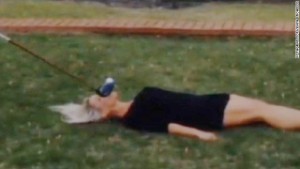 Hold still! Golfer tries dangerous shot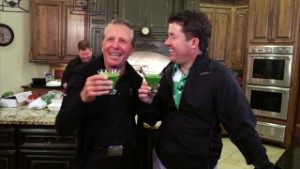 Gary Player on the Masters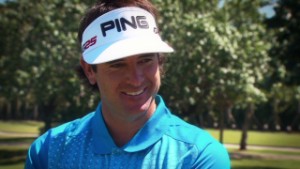 Secret behind the 'Bubba Long'
The discovery prompted Carter to install an Eagle Cam which has been live since early 2012. This year, the pair -- who were given their names by Carter's daughter -- welcomed two more eaglets who go by the more functional names of HB5 and HB6.
Bald eagles were once on the U.S. endangered species list, but numbers of the nation's symbol have risen since the government banned the pesticide DDT -- which contaminated the birds' food sources.
The wingspans of the female eagles, which are larger than the males, can be up to eight feet.
"Tennessee has had some good success with its eagle population, but this is the only one on a golf course that I know of. We are trying to show that golf courses can be a sustainable habitat for wildlife," Carter told CNN ahead of Earth Day -- an initiative started in 1970 aimed at improving the world's environment, and marked globally this year on April 22.
Bear Trace's round-the-clock live feed has received almost a million views to date. The virtual presence has also helped business at the club.
"I've been in the pro shop several times and people come in and ask which hole Eagle Cam is on," Carter says. "We've definitely had a considerable amount of play off it."
The project is one of many environmentally-minded measures Carter and his colleagues have tended to in recent years.
"It's not just about how we mow the grass or what fertilizer we're putting down. We have an education center which has environmental information, awards and pictures of the course," he says.
Carter, who also writes about environmental improvements on a blog and gives talks, was recently recognized for his green leadership.
Last November, Golf Digest magazine awarded the course its Green Star Award and in February Carter was crowned overall winner of the Environmental Leaders in Golf Award for 2013.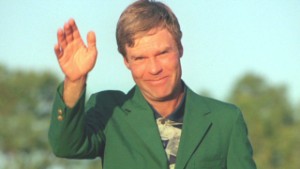 Crenshaw's best Augusta moments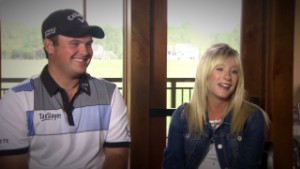 PGA's new young gun: Patrick Reed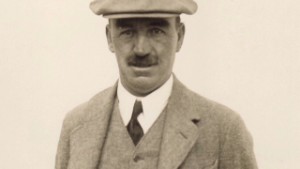 Alister MacKenzie's road to Augusta
The prestigious prize, which is open to golf courses around the world, is jointly run by the Golf Course Superintendents Association of America and Golf Digest.
Historically, golf courses haven't attracted praise for their green credentials but rather criticism, often being held up as examples of resource profligacy for over-watering and widespread use of chemicals.
But this view may now be outdated says Ray Semlitsch, curators professor of biological sciences at the University of Missouri.
"Golf courses are aware of some of these negative things and actually they have done a very good job over the last 10-20 years of trying to improve environmental practices," says Semlitsch, who recently led a study on the effects of golf course development on salamander populations in the southern Appalachians.
"We studied 10 golf courses interviewing golf superintendents and managers. These were young, highly educated people -- many had degrees in biology, turf science or wildlife management.
"They are well aware of these problems and very excited and very willing to make changes and use environmentally sound practices."
Carter says things have shifted "180 degrees" since 2001 when he started at Bear Trace, a Jack Nicklaus-designed course -- noting that the club has substantially reduced mowing, fertilizer use and water consumption.
"We've removed over 50 acres of highly maintained earth in the last decade. When you figure that out from a water standpoint, we save 7.39 million gallons annually."
As individuals and organizations around the globe mark Earth Day, it's good to know that people like Carter are keeping an eagle eye on the environment not just today but all-year-round.
Read more: How many more majors can Bubba win?
Read more: Hornet attack 'my scariest moment'