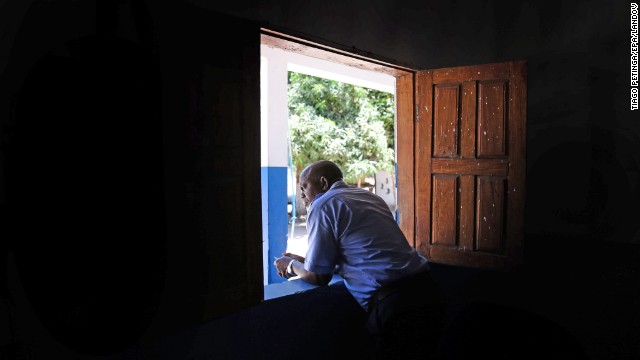 A Guinea-Bissau customs official watches arrivals from Conakry, the capital of Guinea, on Tuesday, April 8. Conakry is being ravaged by an Ebola virus epidemic, and Guinea-Bissau officials are concerned about a possible case inside their borders.
Guinea-Bissau nurse Egidia Almeida scans a Guinean citizen coming from Conakry on April 8. Dozens of people have died from an Ebola outbreak in coastal West Africa, aid workers reported.
A scientist separates blood cells from plasma cells to isolate any Ebola RNA in order to test for the virus at the European Mobile Laboratory in Gueckedou, Guinea, near the borders of Sierra Leone and Liberia, on Thursday, April 3. Ebola is one of the world's deadliest viruses, causing a hemorrhagic fever that kills up to 90% of those infected. It spreads in the blood and shuts down the immune system, causing high fever, headache and muscle pain, often accompanied by bleeding.
Members of the medical aid organization Medecins sans Frontieres carry a dead body in Gueckedou on Friday, April 1.
Gloves and boots used by medical personnel dry in the sun April 1 outside a center for Ebola victims in Gueckedou.
A health specialist works Monday, March 31, in a tent laboratory set up at a Medecins sans Frontieres facility in southern Guinea.
Health specialists work March 31 at an isolation ward for patients at the facility in southern Guinea.
Workers associated with Medecins sans Frontieres prepare isolation and treatment areas Friday, March 28, in Guinea.
Ebola outbreak in West Africa
Ebola outbreak in West Africa
Ebola outbreak in West Africa
Ebola outbreak in West Africa
Ebola outbreak in West Africa
Ebola outbreak in West Africa
Ebola outbreak in West Africa
Ebola outbreak in West Africa