Lupita Nyong'o named People's most beautiful person of 2014
April 24, 2014 -- Updated 0121 GMT (0921 HKT)
In yet another honor for Lupita Nyong'o, the actress was named one of Glamour's Women of the Year. She's had a busy 2014, as the following images show.
Nyong'o's striking looks have wowed audiences and critics, who have singled her out for her wardrobe and beauty.
Nyong'o hugs "12 Years a Slave" director Steve McQueen after winning the best supporting actress Oscar.
She won multiple accolades for "12 Years," including best supporting actress at the 19th Annual Critics' Choice Movie Awards.
"12 Years A Slave" was Nyong'o's first feature film.
The actress delivers an emotional performance with her portrayal of Patsey.
"12 Years A Slave" chronicles the true story of Solomon Northup, a free black man who was kidnapped and sold into slavery (played by Chiwetel Ejiofor, right).
"There is something about acting that's mysterious and magical, because there is only so much I can do to prepare, and then I have to just let go and breathe and believe that it will come through," Nyong'o said.
In the film, Nyongo's character is a young slave who has a volatile relationship with her erratic slave master.
Nyong'o poses after her win at the annual Screen Actors Guild Awards as best female actor in a supporting role award on January 18.
Nyong'o attends the 14th annual AFI Awards Luncheon in Beverly Hills, California, on January 10.
"In praising me, I feel like (Patsey's) spirit is being uplifted," Nyong'o said, "because what I met in those pages of Solomon Northup's book was heartbreaking."
Breaks were crucial on the set. "Having those moments of lightness and separation from the work we were doing on set was very important," Nyong'o said.
"12 Years A Slave" has been hailed by many as one of the best movies of the year.
Lupita Nyong'o
Lupita Nyong'o
Lupita Nyong'o
Lupita Nyong'o
Lupita Nyong'o
Lupita Nyong'o
Lupita Nyong'o
Lupita Nyong'o
Lupita Nyong'o
Lupita Nyong'o
Lupita Nyong'o
Lupita Nyong'o
Lupita Nyong'o
Lupita Nyong'o
Lupita Nyong'o
STORY HIGHLIGHTS
The actress was a fashion star during the awards season
She has spoken of feeling "unbeautiful"
She told "Today" she is flattered by the honor
(CNN) -- Lupita Nyong'o is having quite the ride.
The "12 Years a Slave" actress has won an Oscar for best supporting actress, signed a deal with cosmetics giant Lancôme to become its first black ambassador, and now People magazine has bestowed one of its highest honors on her - "Most Beautiful person for 2014."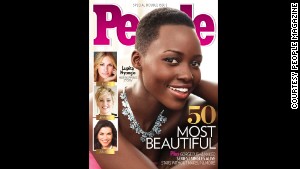 Nyong'o is People's most beautiful
The Mexican-born Kenyan beauty joins a cast of Hollywood A-listers who have headed the list, including Julia Roberts, Cindy Crawford, Tom Cruise and Beyonce. This year she topped others on the list including "The Americans" star Keri Russell, singer Pink and Johnny Depp's future wife, actress Amber Heard.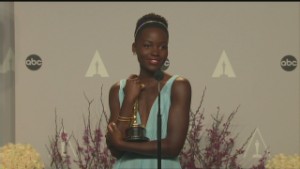 Lupita Nyong'o: Impossible is possible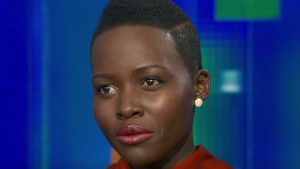 Lupita Nyong'o gets her big break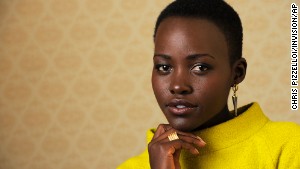 Lupita Nyong'o: Race doesn't define me
During the 2014 awards season Nyong'o was often hailed for being one of the most fashionable on the red carpet. She made headlines in February for a moving speech she gave while accepting the best breakthrough performance award at the 7th annual Black Women in Hollywood luncheon.
"I remember a time when I too felt unbeautiful," she said. "I put on the TV and only saw pale skin. I got teased and taunted about my night-shaded skin."
The actress told "Today's" Savannah Guthrie that she was moved by People naming her the most beautiful.
"I'm flattered, but flattered sounds like such a flighty word, you know? I'm flattered with, like, gravitas under it," she said.
This year's most beautiful cover issue is the 25th annual for People magazine. The first honor went to actress Michelle Pfeiffer in 1990, and last year's most beautiful person was Gwyneth Paltrow.
Lupita, a Cinderella for everybody
'Mysterious and magical': Lupita on the power of performance
Lupita is one of the The CNN 10: Fresh Faces