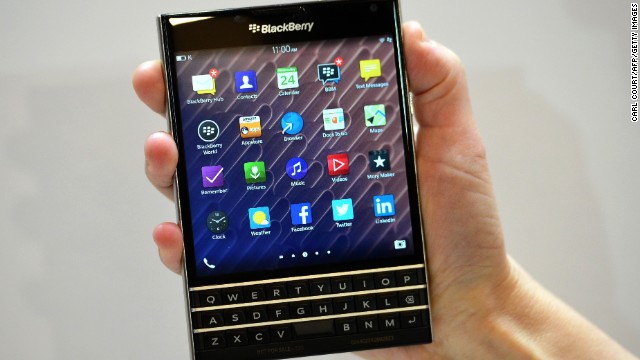 BlackBerry on Wednesday unveiled its newest smartphone with a full physical keyboard and a large screen, aiming to return to its roots targeting business users. The Passport is designed to win back users after BlackBerry was knocked out of the highly competitive consumer smartphone market dominated by Apple and Samsung. Here's a look at some other top smartphones on the market now or coming soon.
Amazon's Fire Phone, which was released this summer, has a 5-inch screen that displays 3-D images. A feature called Firefly offers instant image, text and audio recognition and reportedly can recognize more than 100 million songs, videos and consumer products.
The Galaxy S5 is the latest in Samsung's line of big-screen, feature-laden phones. Considered an improvement, but not radical departure from, the S4, the phone features a 5.1-inch screen, 16-megapixel camera with ultra-fast shutter speed and a fingerprint sensor for added security.
Apple CEO Tim Cook unveiled two new iPhones early this fall. The iPhone 6 and iPhone 6 Plus are bigger, rounder and faster and feature an 8 megapixel camera that comes with a new sensor that Apple claims will help the camera focus faster.
Hailed by some critics as the best Android phone yet, HTC's latest offering has a sleek, brushed-metal design that has charmed reviewers. It boasts a 5-inch screen, a dual-camera setup that lets users refocus even after they take an image, and a hefty 2GB of RAM.
Google has sold Motorola to Lenovo, but the Moto X still has its admirers. The Moto X claims to be the first phone manufactured in the U.S. Hands-free voice controls allow you to operate the phone without touching it -- a handy trick if you're across the room -- and it's highly customizable.
Samsung released their latest "phablet," the Galaxy Note 4, which has a vivid, 5.7-inch screen and a fingerprint scanner, and comes equipped with a stylus.
Some reviewers have called the Nokia Lumia Icon, with a fast processor, 5-inch display screen and 20-megapixel camera, the best Windows phone yet.
This is the second generation of the Sony phone with an unusual claim to fame: The company says it's water-resistant, for up to 30 minutes. It also boasts a 20-megapixel camera, which Sony claims has the industry's largest sensor.
The big-name smartphones
Amazon Fire Phone
Samsung Galaxy S5
iPhone 6 and iPhone 6 Plus
HTC One M8
Moto X
Samsung Galaxy Note 4
Nokia Lumia Icon
Sony Experia Z1s
STORY HIGHLIGHTS
Multiple reports suggest a new smartphone from Amazon is coming soon
The phone will offer hologram-like 3-D images, according to reports
Once known for Web sales, Amazon has increasingly become a hardware company
The Kindle line of tablets and e-readers has been a success for Amazon
(CNN) -- After more than two years of hints and leaks, the long-awaited Amazon phone appears to be almost ready for its debut.
The device has been a prime example of "vaporware," the term for rumored tech gadgets that everybody loves talking about despite the fact they don't officially exist. And Amazon has never confirmed that it's making a smartphone.
But the drumbeat is getting louder, and recent reports suggest the handset will hit the market soon.
In the past week, tech blog Boy Genius Report has posted images of what it says is that very phone, along with a report that users will control some features of the device just by tilting it at certain angles.
That followed a report from The Wall Street Journal that Amazon will roll out the phone by June and it will be on sale by September.
Both articles say the phone will include a groundbreaking technology: a screen that uses four cameras to produce hologram-like 3-D images without the need for special glasses.
In the BGR photos, the phone is cloaked in a protective shell that hides details of its design. The blog did not say how it acquired those images, but reported speaking with "multiple trusted sources." In the past, BGR has accurately reported details about unannounced Amazon products like its Kindle Fire tablets and Kindle e-readers.
The 3-D model is one of two phones Amazon plans to announce, the reports say, the other being a cheaper, less fancy one.
The company that made its name in online retailing has been working on the phone for several years, according to reports. And, indeed, rumors of its existence have been floating around since at least 2011.
Amazon was long thought of primarily as a website. But since the success of its e-reader, the Kindle, the company has increasingly become known for its hardware, too. The original Kindle in 2007 was followed by the Kindle Fire tablet and, most recently, by Amazon Fire TV, a device that streams Web content to your television.
With the Fire TV, Amazon has reaffirmed its products as competitors to similar hardware from Apple and Google, as well as more targeted companies like Roku and TiVo.
It makes sense that a phone would follow. And Amazon appears to have chosen to take its time to roll out something unique instead of just jumping into a crowded market dominated by the iPhone and a small handful of handsets running Google's Android operating system.
"Congratulations to Amazon.com for thinking outside the box. If this is a hit it could be great news for both Amazon.com and their customers," wireless analyst Jeff Kagan said. "It could be another Kindle-like business."
But that success isn't guaranteed, even with Amazon's expansive resources behind it, he said in a media release.
"Some companies like Apple, Google and Samsung are very successful in the smartphone space. However many more companies are trying with very little success," Kagan added. "The next biggest player is Microsoft Nokia and they only have a few percent market share."