World's fastest elevator: Like riding a train into the sky
April 24, 2014 -- Updated 0213 GMT (1013 HKT)
STORY HIGHLIGHTS
Hitachi's new lift climbs 95 floors in 43 seconds
Technology limits elevator shake, regulates air pressure
Elevator will be in new Guangzhou skyscraper, opening in 2016
(CNN) -- In the time it takes you to skim this piece, you could travel 95 stories into the clouds on the world's new fastest elevator.
The elevator will operate in a new supertall skyscraper being built in Guangzhou, China. With a top speed of 45 mph (72 km/h), this lift will fling you nearly half a kilometer in just 43 seconds.
That's like riding a speeding commuter train -- into the sky.
The elevator incorporates high-tech wizardry to give you a comfortable ride even as you're shooting vertically toward the heavens.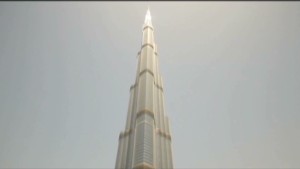 Building even taller than the Burj?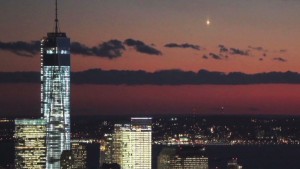 One WTC deemed U.S's tallest building
According to manufacturer Hitachi, special technology will regulate air pressure within the car to keep your ears from getting blocked as you fly skywards. "Rollers" will keep the car from swinging wildly from side to side.
And in case something goes wrong on the way down? Newly developed brakes are high able to resist extreme heat -- up to 300 degrees Celsius, says Hitachi.
Can't wait to ride it? Too bad -- the Guangzhou CTF Financial Centre skyscraper doesn't officially open until 2016.
At 1,739 feet (530 meters) tall, the building will be one of the world's tallest -- though not as tall as the current record-holder Burj Khalifa, which stands at 2,717 feet (828 meters).
And even that building will be dwarfed by the upcoming Kingdom Tower in Saudi Arabia, expected to pierce the skies at 3,281 feet (1 kilometer) high.

Today's five most popular stories
September 19, 2014 -- Updated 0321 GMT (1121 HKT)

A new kind of location service could change the way we look at the world.
September 5, 2014 -- Updated 0258 GMT (1058 HKT)

It's the townhouse that twists like a Rubik's cube, to bask in the summer sun and shield itself when winter bites.
August 20, 2014 -- Updated 1438 GMT (2238 HKT)

Could you fit your life into 300 square feet? Developers are betting on it, with new, tiny living spaces for urban millennials.
August 18, 2014 -- Updated 1716 GMT (0116 HKT)

Luxury hotels pry open Oman's parched but beautiful Jabal Akhdar mountain.
August 14, 2014 -- Updated 1320 GMT (2120 HKT)

Is the creative class ruining urban communities?
August 7, 2014 -- Updated 0925 GMT (1725 HKT)

Dubai is gearing up to host Expo 2020, but could a property bust spoil the party?
August 1, 2014 -- Updated 0821 GMT (1621 HKT)

Sanctions empty Tehran's poshest properties as prices sky rocket.
July 18, 2014 -- Updated 0441 GMT (1241 HKT)

Where are the world's tallest skyscrapers being built?
July 11, 2014 -- Updated 0423 GMT (1223 HKT)

How do you feel about buying property? Scared of a bubble emerging where you live? Add your voice to our mood map.
July 7, 2014 -- Updated 0057 GMT (0857 HKT)

The garden is overflowing with weeds and trash is strewn across the lower floors. And it could be yours for $1.1 million.