Andy Warhol's lost computer art found 30 years later
April 27, 2014 -- Updated 1525 GMT (2325 HKT)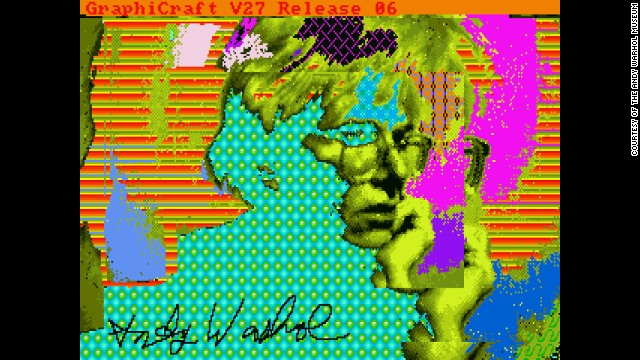 The Andy Warhol Museum released images that were recently recovered from an Amiga computer. Warhol created the images as part of a commission by the Commodore computer company, which made the Amiga, to demonstrate the computer's graphic arts capabilities. The images had been trapped on floppy discs in an obsolete format. One of the images released is this self-portrait titled "Andy2."
Warhol used the Amiga to create this version of a Campbell's soup can.
Warhol created his vision of "Venus" with three eyes.
The Commodore Amiga computer, software and other equipment used by Warhol.
Art recovered from Andy Warhol's computer
Art recovered from Andy Warhol's computer
Art recovered from Andy Warhol's computer
Art recovered from Andy Warhol's computer
STORY HIGHLIGHTS
The works, created on an Amiga computer, were trapped on floppy disks
They include doodles and experiments with the pop artist's iconic images
Archivist: "We can only wonder how he would explore and exploit" today's technologies
(CNN) -- The soup can looks familiar in an unfamiliar way, but the name at the bottom of the image is unmistakable: Andy Warhol.
The Andy Warhol Museum announced Thursday the discovery of new works by the pop artist, works which had been trapped on floppy disks for close to 30 years.
They were made on an Amiga computer in 1985 and were unlocked by the Carnegie Mellon University Computer Club and its Frank-Ratchye STUDIO for Creative Inquiry, according to a statement from the museum.
"Warhol saw no limits to his art practice. These computer-generated images underscore his spirit of experimentation and his willingness to embrace new media -- qualities which, in many ways, defined his practice from the early 1960s onwards," said Eric Shiner, The Warhol's director.
The works were commissioned by the now-defunct Commodore International to showcase the computer's capabilities. They include doodles and experiments with Warhol's iconic images, like the Campbell's soup can.
The works might have been lost forever if it had not been for Cory Arcangel, an artist who watched a YouTube clip showing Warhol promoting the release of the Amiga 1000 in 1985.
He started to poke around, eventually approaching the museum's chief archivist to talk about the possibility of searching for the files amid The Warhol's archives collection.
"In the images, we see a mature artist who had spent about 50 years developing a specific hand-to-eye coordination now suddenly grappling with the bizarre new sensation of a mouse in his palm held several inches from the screen," said Matt Wrbican, the archivist.
The works have since been extracted and backed up so they can be saved, even if the floppy disks fail.
"We can only wonder how he would explore and exploit the technologies that are so ubiquitous today," Wrbican said about Warhol.
Warhol painting sold for $105.4 million

Part of complete coverage on
CNN Style
September 2, 2014 -- Updated 1703 GMT (0103 HKT)

Ever since it appeared on the cover of Animals, Pink Floyd's 1977 album, Battersea Power Station in London has been famous around the world.
August 29, 2014 -- Updated 1323 GMT (2123 HKT)

Despite the dominance of digital tools, a new wave of artists are using paper to make mind-blowing art.
August 29, 2014 -- Updated 1037 GMT (1837 HKT)

Glowing trees and carnivorous tables? Why creepiness is the secret to sustainability.
August 28, 2014 -- Updated 1113 GMT (1913 HKT)

Matthew Malkiewicz takes beautiful photos of historic steam trains whose nostalgic romance transports you to a bygone era.
September 2, 2014 -- Updated 1331 GMT (2131 HKT)

Imagine watching the northern lights through the transparent roof of your own glass igloo. CNN takes a look at the most awe-inspiring hideouts.
August 19, 2014 -- Updated 1001 GMT (1801 HKT)

Photographer Romain Jacquet-Lagrѐze captures the giant skyscrapers swamping Hong Kong
August 28, 2014 -- Updated 0439 GMT (1239 HKT)

It's largely devoid of human life -- the Arctic is surely the worst possible destination for an arts festival.
August 11, 2014 -- Updated 1039 GMT (1839 HKT)

Beauty with purpose - these impressive clocks stun with their intricacy, history and grandeur.
August 6, 2014 -- Updated 0722 GMT (1522 HKT)

Opening in December 2016, The Krystall Hotel might melt hearts as guests check into this giant floating snowflake
August 5, 2014 -- Updated 1337 GMT (2137 HKT)

Wim Noorduin, a Harvard scientist, creates delicate micro-sculptures of flowers using a chemical reaction.
July 30, 2014 -- Updated 1235 GMT (2035 HKT)

Designer Justin Plunkett layers photos and computer-generated illustration to create Mad Max-like images of post-apocalyptic architecture.
July 24, 2014 -- Updated 2054 GMT (0454 HKT)

CNN went to the International Talent Support contest in Trieste, Italy, to find out who will be the next big name in fashion design.
Today's five most popular stories