Andy Warhol's lost computer art found 30 years later
April 27, 2014 -- Updated 1525 GMT (2325 HKT)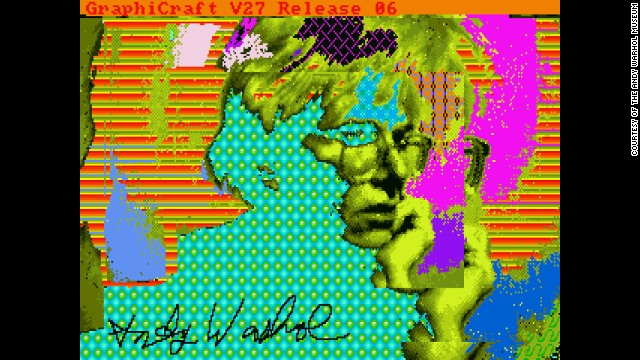 The Andy Warhol Museum released images that were recently recovered from an Amiga computer. Warhol created the images as part of a commission by the Commodore computer company, which made the Amiga, to demonstrate the computer's graphic arts capabilities. The images had been trapped on floppy discs in an obsolete format. One of the images released is this self-portrait titled "Andy2."
Warhol used the Amiga to create this version of a Campbell's soup can.
Warhol created his vision of "Venus" with three eyes.
The Commodore Amiga computer, software and other equipment used by Warhol.
Art recovered from Andy Warhol's computer
Art recovered from Andy Warhol's computer
Art recovered from Andy Warhol's computer
Art recovered from Andy Warhol's computer
STORY HIGHLIGHTS
The works, created on an Amiga computer, were trapped on floppy disks
They include doodles and experiments with the pop artist's iconic images
Archivist: "We can only wonder how he would explore and exploit" today's technologies
(CNN) -- The soup can looks familiar in an unfamiliar way, but the name at the bottom of the image is unmistakable: Andy Warhol.
The Andy Warhol Museum announced Thursday the discovery of new works by the pop artist, works which had been trapped on floppy disks for close to 30 years.
They were made on an Amiga computer in 1985 and were unlocked by the Carnegie Mellon University Computer Club and its Frank-Ratchye STUDIO for Creative Inquiry, according to a statement from the museum.
"Warhol saw no limits to his art practice. These computer-generated images underscore his spirit of experimentation and his willingness to embrace new media -- qualities which, in many ways, defined his practice from the early 1960s onwards," said Eric Shiner, The Warhol's director.
The works were commissioned by the now-defunct Commodore International to showcase the computer's capabilities. They include doodles and experiments with Warhol's iconic images, like the Campbell's soup can.
The works might have been lost forever if it had not been for Cory Arcangel, an artist who watched a YouTube clip showing Warhol promoting the release of the Amiga 1000 in 1985.
He started to poke around, eventually approaching the museum's chief archivist to talk about the possibility of searching for the files amid The Warhol's archives collection.
"In the images, we see a mature artist who had spent about 50 years developing a specific hand-to-eye coordination now suddenly grappling with the bizarre new sensation of a mouse in his palm held several inches from the screen," said Matt Wrbican, the archivist.
The works have since been extracted and backed up so they can be saved, even if the floppy disks fail.
"We can only wonder how he would explore and exploit the technologies that are so ubiquitous today," Wrbican said about Warhol.
Warhol painting sold for $105.4 million

Today's five most popular stories
Part of complete coverage on
CNN Style
December 19, 2014 -- Updated 1602 GMT (0002 HKT)

After surviving Vichy prisons and Nazi concentration camps, Brian Stonehouse became one of the most prominent fashion illustrators of his age.
December 16, 2014 -- Updated 2203 GMT (0603 HKT)

Award-winning photographer Phil Stern captured everything from the battlefield to Hollywood Boulevard. These are his most iconic images.
December 16, 2014 -- Updated 0216 GMT (1016 HKT)

The Sony World Photography Awards has released a collection of some of the competition's most beautiful entrants.
December 15, 2014 -- Updated 2242 GMT (0642 HKT)

Are sports stadiums modern-day cathedrals? Leading architects say arenas will soon become our most important social spaces.
December 9, 2014 -- Updated 1104 GMT (1904 HKT)

Whether you think stuffed animals are cool, beautiful, or downright disturbing, this is taxidermy like you've never seen it before.
December 4, 2014 -- Updated 1434 GMT (2234 HKT)

Studio 54 has become synonymous with the glamor and excess of the late Seventies. These rare images capture its debauched side.
December 3, 2014 -- Updated 1325 GMT (2125 HKT)

It's official: London's getting another landmark. This time it's a stunning plant-covered bridge partly inspired by Leonardo DiCaprio.
December 3, 2014 -- Updated 0747 GMT (1547 HKT)

For fans of Ferrari, Maserati, Lamborghini and Pagani, this corner of Europe is a petrol-powered promised land.
December 3, 2014 -- Updated 1013 GMT (1813 HKT)

Victoria Beckham and Emma Watson were among the designers, models and taste-makers recognized at this year's British Fashion Awards.
December 2, 2014 -- Updated 1648 GMT (0048 HKT)

Duncan Campbell's It For Others, which features a dance inspired by Karl Marx and examines African art, has won the prestigious art prize.
December 1, 2014 -- Updated 1633 GMT (0033 HKT)

Simon Beck decorates snow-covered lakes and mountainsides with massive geometric designs using his footsteps as his implement.
November 25, 2014 -- Updated 1524 GMT (2324 HKT)

Houses that melt, float and flip upside down? Alex Chinneck's playful architecture sparks the imagination and begs for a photo-op.