Andy Warhol's lost computer art found 30 years later
April 27, 2014 -- Updated 1525 GMT (2325 HKT)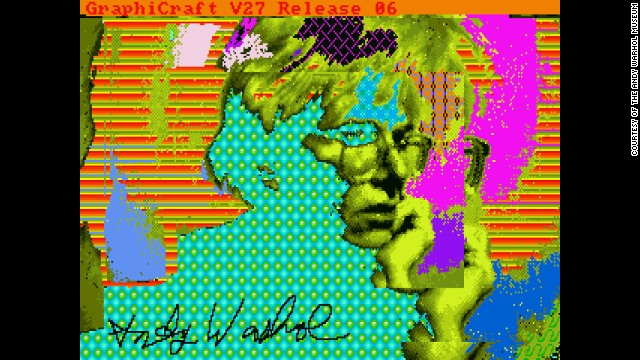 The Andy Warhol Museum released images that were recently recovered from an Amiga computer. Warhol created the images as part of a commission by the Commodore computer company, which made the Amiga, to demonstrate the computer's graphic arts capabilities. The images had been trapped on floppy discs in an obsolete format. One of the images released is this self-portrait titled "Andy2."
Warhol used the Amiga to create this version of a Campbell's soup can.
Warhol created his vision of "Venus" with three eyes.
The Commodore Amiga computer, software and other equipment used by Warhol.
Art recovered from Andy Warhol's computer
Art recovered from Andy Warhol's computer
Art recovered from Andy Warhol's computer
Art recovered from Andy Warhol's computer
STORY HIGHLIGHTS
The works, created on an Amiga computer, were trapped on floppy disks
They include doodles and experiments with the pop artist's iconic images
Archivist: "We can only wonder how he would explore and exploit" today's technologies
(CNN) -- The soup can looks familiar in an unfamiliar way, but the name at the bottom of the image is unmistakable: Andy Warhol.
The Andy Warhol Museum announced Thursday the discovery of new works by the pop artist, works which had been trapped on floppy disks for close to 30 years.
They were made on an Amiga computer in 1985 and were unlocked by the Carnegie Mellon University Computer Club and its Frank-Ratchye STUDIO for Creative Inquiry, according to a statement from the museum.
"Warhol saw no limits to his art practice. These computer-generated images underscore his spirit of experimentation and his willingness to embrace new media -- qualities which, in many ways, defined his practice from the early 1960s onwards," said Eric Shiner, The Warhol's director.
The works were commissioned by the now-defunct Commodore International to showcase the computer's capabilities. They include doodles and experiments with Warhol's iconic images, like the Campbell's soup can.
The works might have been lost forever if it had not been for Cory Arcangel, an artist who watched a YouTube clip showing Warhol promoting the release of the Amiga 1000 in 1985.
He started to poke around, eventually approaching the museum's chief archivist to talk about the possibility of searching for the files amid The Warhol's archives collection.
"In the images, we see a mature artist who had spent about 50 years developing a specific hand-to-eye coordination now suddenly grappling with the bizarre new sensation of a mouse in his palm held several inches from the screen," said Matt Wrbican, the archivist.
The works have since been extracted and backed up so they can be saved, even if the floppy disks fail.
"We can only wonder how he would explore and exploit the technologies that are so ubiquitous today," Wrbican said about Warhol.
Warhol painting sold for $105.4 million

Today's five most popular stories
Part of complete coverage on
CNN Style
October 22, 2014 -- Updated 1422 GMT (2222 HKT)

Contemporary Chinese art can be a thorny jungle for the uninitiated. Here are the movements and artists you need to know.
October 22, 2014 -- Updated 1334 GMT (2134 HKT)

Today, mourning a loved one means donning the most formal black outfit in one's closet. But 150 years ago, it meant buying a whole new wardrobe.
October 20, 2014 -- Updated 1427 GMT (2227 HKT)

Some artists are obsessed with making things tiny. Others are into vastness. Here are incredible works from both ends of the size spectrum.
October 17, 2014 -- Updated 1221 GMT (2021 HKT)

Close one eye, and it could almost -- almost -- pass for a regular underground train. Close the other, and it looks like a space shuttle from Star Trek.
October 16, 2014 -- Updated 1431 GMT (2231 HKT)

Soup that is rumored to be radioactive; 10 people sharing a single silk hat. It could only be Frieze London, one of the world's leading art fairs.
October 17, 2014 -- Updated 0939 GMT (1739 HKT)

In spite of all the sexier pictures around us, the titillating pin-ups of the early 20th century are still in demand.
October 9, 2014 -- Updated 1150 GMT (1950 HKT)

Iris has autism and cannot speak, but her stunning paintings sell for thousands of dollars.
October 8, 2014 -- Updated 1055 GMT (1855 HKT)

Here's a look at the world's finest feats of facial hair, from sculpted sideburns to manicured mustaches.
October 6, 2014 -- Updated 1502 GMT (2302 HKT)

The finest buildings in the world have been named at the World Architecture Festival in Singapore.
October 1, 2014 -- Updated 2332 GMT (0732 HKT)

For some, these beautiful train stations are part of the everyday commute. For others, they're must-see travel destinations.
October 1, 2014 -- Updated 1343 GMT (2143 HKT)

As the Turner Prize turns 30 years old, we look at the formula for controversy and what the work we hate says about our society.
September 29, 2014 -- Updated 1249 GMT (2049 HKT)

From the most controversial to the most iconic, these are the book covers that have defined our times