STORY HIGHLIGHTS
Yoo Byung-un's company denies he has any involvement in ferry company
2 sons are investors in a related company, are among those under travel bans
He goes by "AHAE" and is focused on photography, official at his company says
Yoo is rarely seen in public and is known as the "millionaire without a face"
(CNN) -- He's known as "the millionaire with no face."
And South Korean officials apparently have questions for him.
Yoo Byung-un -- businessman, artist, ex-con and religious figure -- does not appear to have a direct financial stake in the Cheonghaejin Marine Co, which runs the ill-fated South Korean ferry Sewol.
But South Korean media have reported that some believe he controls the company through two of his sons, who own stakes in the firm through subsidiaries.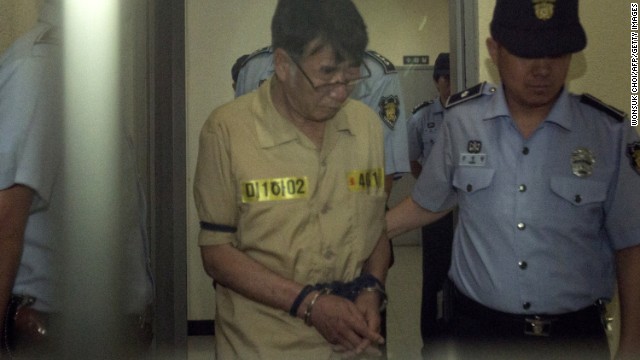 Sewol ferry captain Lee Joon-Seok was acquitted of murder, avoiding a death sentence, but was sentenced to 36 years in jail on November 11 for his role in the maritime disaster that killed more than 300.
Shoes believed to belong to the missing and the deceased are on display at the harbor.
Jindo harbor, where the search operation is based, has become a memorial for those who lost their lives. Yellow ribbons and photos are displayed as people come to pay their respects.
A joint government-civilian task force is still looking for the missing, but winter is fast approaching.
Ten are still missing from tragic ferry sinking last April, which killed more than 300. Six months later, families are still waiting for their loved ones to be found. The parents of 16-year-old Huh Da-yoon, pictured, are among them.
The families of the ten who remain missing have been waiting in Jindo Indoor Gymnasium since the first day. Families can watch search mission in real time on a large monitor in the gym.
South Korean President Park Geun-hye weeps while delivering a speech to the nation about the sunken ferry Sewol at the presidential Blue House in Seoul, South Korea, on Monday, May 19. More than 200 bodies have been found and nearly 100 people remain missing after the ferry sank April 16 off South Korea's southwest coast.
Police in Seoul detain a protester during a march Saturday, May 17, for victims of the Sewol.
A girl in Seoul holds a candle during a service paying tribute to the victims of the Sewol on Wednesday, April 30.
People pay tribute to victims at a memorial altar in Ansan, South Korea, on Tuesday, April 29.
A police officer holds an umbrella for a relative of a missing ferry passenger Monday, April 28, in Jindo, South Korea.
South Korean Buddhists carry lanterns in a parade in Seoul on Saturday, April 26, to honor the memory of the dead and the safe return of the missing.
Divers search for people in the waters near Jindo on April 26.
People in Ansan attend a memorial for the victims on April 26.
A diver jumps into the sea near the sunken ferry on Friday, April 25.
A relative of a passenger weeps while waiting for news of his missing loved one at a port in Jindo on April 25.
People attend a memorial for the victims at the Olympic Memorial Hall in Ansan on Thursday, April 24.
Yellow ribbons honoring the victims flap in the wind as a hearse carrying a victim's body leaves Danwon High School in Ansan on April 24. Most of the people on board the ferry were high school students on their way to the resort island of Jeju.
People attend a memorial for the victims at Olympic Memorial Hall in Ansan.
Search personnel dive into the sea on Wednesday, April 23.
Flares light up the search area on Tuesday, April 22.
The sun sets over the site of the sunken ferry on April 22.
A relative of a ferry passenger prays as she waits for news in Jindo on April 22.
The search for victims continues April 22 in the waters of the Yellow Sea.
Rescue workers in Jindo carry the body of a passenger on Monday, April 21.
Divers jump into the water on April 21 to search for passengers near the buoys that mark the site of the sunken ferry.
Search operations continue as flares illuminate the scene near Jindo on Sunday, April 20.
Relatives of missing passengers grieve April 20 in Jindo.
Relatives of passengers look out at the sea from Jindo on April 20.
Police officers in Jindo stand guard Saturday, April 19, to prevent relatives of the ferry's missing passengers from jumping in the water. Some relatives said they will swim to the shipwreck site and find their missing family members by themselves.
Family members of missing passengers hug as they await news of their missing relatives at Jindo Gymnasium on April 19.
South Korean Navy Ship Salvage Unit members prepare to salvage the sunken ferry and search for missing people on April 19.
Lee Joon Suk, the captain of the Sewol, is escorted to the court that issued his arrest warrant Friday, April 18, in Mokpo, South Korea.
A woman cries as she waits for news on missing passengers April 18 in Jindo.
A searchlight illuminates the capsized ferry on Thursday, April 17.
A woman cries during a candlelight vigil at Danwon High School in Ansan, South Korea, on April 17.
Family members of passengers aboard the sunken ferry gather at a gymnasium in Jindo on April 17.
The body of a victim is moved at a hospital in Mokpo on April 17.
Relatives of a passenger cry at a port in Jindo on April 17 as they wait for news on the rescue operation.
South Korean coast guard members and rescue teams search for passengers at the site of the sunken ferry on April 17.
A relative of a passenger cries as she waits for news on Wednesday, April 16.
Relatives check a list of survivors April 16 in Jindo.
Rescue crews attempt to save passengers from the ferry on April 16.
A relative waits for a missing loved one at the port in Jindo.
Parents at Danwon High School search for names of their children among the list of survivors. Ansan is a suburb of Seoul, the South Korean capital.
Helicopters hover over the ferry as rescue operations continue April 16.
Officials escort rescued passengers April 16 in Jindo.
A passenger is helped onto a rescue boat on April 16.
A passenger is rescued from the sinking ship on April 16.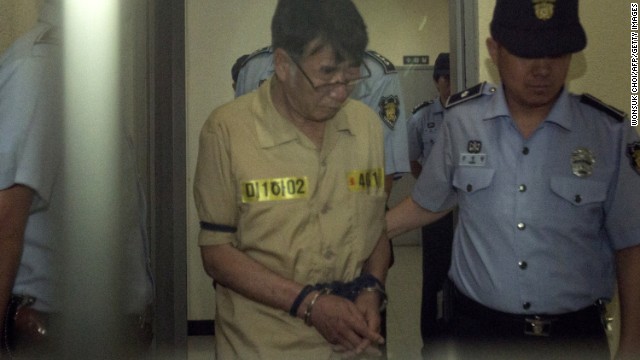 Photos: South Korean ferry sinks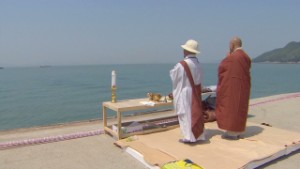 See where passenger families wait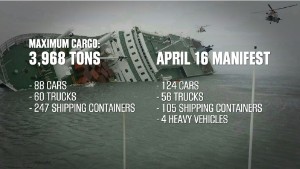 Did heavy cargo lead to ferry disaster?
Yoo's allies strongly deny his involvement. A release issued Friday by a public relations agency representing Yoo insists that he doesn't have anything to do with any company tied to the ferry disaster.
Michael Ham, managing director of Ahae Press, said he knows Yoo "has been spending every single day of the past four to five years focusing on his photography work," not directing any firm tied to the sunken ferry.
"I am dismayed at the media reports linking him to the Sewol incident and suggesting that he is directly responsible for this tragedy," Ham said. "These claims cannot be further from the truth."
Authorities searched Yoo's home this week, plus offices of the company that owns the ferry, prosecutors told CNN. The Ahae Press release notes Yoo's sons are among dozens subject to travel bans in light of the ferry incident, calling this "blanket approach ... standard for investigations by Korean regulators."
Investigators have also searched 20 of the ferry owner's affiliates and a religious organization linked to Yoo, according to the semiofficial Yonhap News Agency.
The religious group and a private organization that conducts ship safety investigations are also facing probes in the disaster, Yonhap reported.
Prosecutors are looking for evidence of wrongdoing that might have contributed to the Sewol disaster.
How Yoo fits into that picture remains murky.
Little is officially known about Yoo, who earned his nickname as "the millionaire with no face" by making few public appearances.
He was convicted on fraud charges in the 1990s and spent four years in prison for tax evasion. He also headed a now-defunct ferry company that operated on the Han River.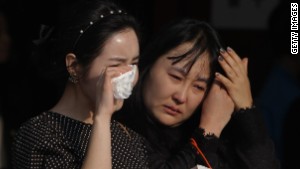 Families grieve as ferry death toll rises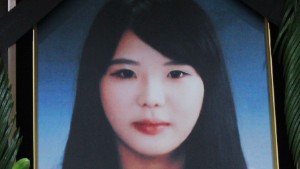 Ferry crew member honored as a hero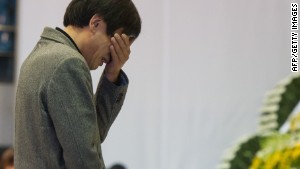 Memorial stirs raw emotions for families
Yoo is now believed to be involved with the Evangelical Baptist Church, a Korean religious group founded by his father-in-law. It now has 20,000 members, according to Yonhap.
More recently, he assumed a new identity of sorts as a photographer and artist who goes by the name "AHAE." The news release out Friday indicates his work has gone on display in the Louvre and the Palace of Versailles.
A biography on Ahae.com says he has an interest in organic farming and also describes him as an entrepreneur who once designed ships that traveled the Han River.
True to Yoo's nickname, Ahae doesn't show his face on the website. He only appears from behind, photographing nature scenes in his trademark style -- out an open window of his South Korean studio.
According the website bio, Ahae was born in 1941 in Japan, where his family was during Japanese colonial rule of Korea. That would make him 72 or 73.
The biography describes Ahae as "an inventor, entrepreneur, philanthropist, environmental activist, martial artist, painter, sculptor, poet, and photographer."
"Ahae has been a conservationist all his life and has done everything within his power to ensure that his business activities do not conflict with his endeavors to maintain the purity of the natural world," the biography reads. "His focus on organic products is a natural extension of his concern for the environment, and the individual in particular."
READ: South Korean authorities search ferry owner's offices as probe widens
READ: Abandon ship? In recent maritime disasters, captains don't hang around
READ: Ferry disaster: Yellow ribbons become symbol of hope, solidarity
CNN's Michael Pearson reported and wrote from Atlanta; CNN's Kyung Lah reported from Jindo, South Korea. CNN's Steven Jiang and Greg Botelho contributed to this report.