STORY HIGHLIGHTS
NEW: Fatalities are reported in Oklahoma and Arkansas
Vilonia mayor: I'm seeing "a lot of damage"; a subdivision has been leveled
Damage is "widespread" in Mayflower, Arkansas, an official says
Buildings are damaged in Quapaw, Oklahoma, a state emergency official says
Are you there? Please send your videos, pictures and text to iReport, but please stay safe.
Mayflower, Arkansas (CNN) -- Tornadoes tore through several states Sunday evening as severe weather slammed into parts of the central United States.
Authorities confirmed at least nine fatalities: eight in Arkansas and one in Oklahoma.
Damage is "widespread" after a tornado hit Mayflower, Arkansas, and there are numerous reports of injuries, said Matt DeCample, a spokesman for the state's governor.
Damage is also widespread in Vilonia, north of Little Rock, he said.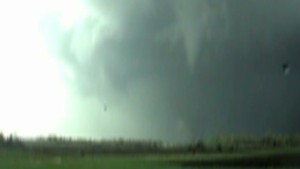 Funnel cloud spotted in Kansas?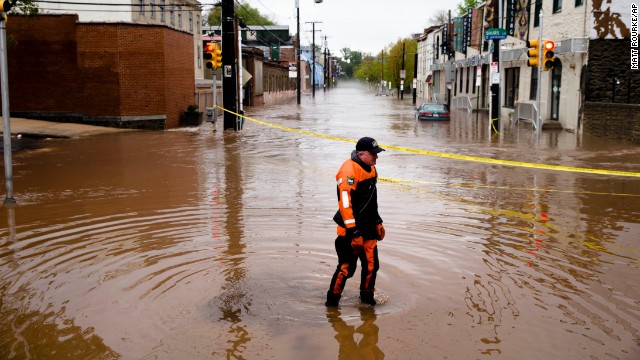 Police officer Robert Jonah walks through floodwaters in the Manayunk neighborhood of Philadelphia on Thursday, May 1. A powerful storm system, including a series of tornadoes, has claimed at least three dozen lives in several states this week.
People look for items to salvage from a relative's tornado-ravaged home in Louisville, Mississippi, on Wednesday, April 30.
On Florida's Gulf Coast, torrential rains reduced some streets to rubble, gouged huge gashes in others and left stretches of others submerged. Here, vehicles rest at the bottom of a ravine after part of the Scenic Highway collapsed near Pensacola, Florida, on April 30.
A truck is stuck in the middle of a flooded street after heavy rains in Pensacola on April 30.
Volunteers throw tornado debris on a burn pile in Vilonia, Arkansas, on April 30.
Jerry Estes salvages food items April 30 from the kitchen of his home that was damaged by a tornado in Louisville.
A large tree smashes a car in Tupelo, Mississippi, on April 30.
A tornado-damaged home near Fayetteville, Tennessee, is seen on April 30.
Faye Busby shows where a tornado ripped off part of her home's roof in Graysville, Alabama, on Tuesday, April 29.
A kitchen shelf stands in what remains of a home in Louisville on April 29.
People work to clear a tree off a shed after a storm in Smiths Station, Alabama, on April 29.
Bobbi Leggon and Sudie Carter work to salvage items from a friend's home in Tupelo on April 29.
Charles Milam takes a break while searching his destroyed home in Tupelo on April 29.
Carnesha Bennett, right, cries on a friend's shoulder after touring what remains of her mother's child care center in Louisville on April 29.
The remains of a large truck rest amid debris in Vilonia on April 29.
Kevin Barnes searches the remains of his home in Tupelo on April 29.
Constance Lambert embraces her dog after finding it when she returned to her destroyed home in Tupelo on Monday, April 28.
Residents walk along a Tupelo street on April 28.
Workers assist a resident in Louisville on April 28. A nursing home and the Winston Medical Center, Louisville's major hospital, were among the buildings hit.
Jimmy Sullinger watches lightning as a storm approaches the gas station where he works in Berry, Alabama, on April 28. Alabama Gov. Robert Bentley declared a state of emergency for all counties.
Justin Shaw, left, helps Nick Conway erect a flagpole April 28 at his destroyed home in Vilonia.
John Smith reacts after seeing what's left of his auto repair shop in Mayflower, Arkansas, on April 28.
Dust and debris fly as workers flip a fallen wall while searching destroyed homes in Vilonia on April 28. Arkansas Gov. Mike Beebe said the storm was one of the worst to hit the state in recent memory.
Residents of Baxter Springs, Kansas, view damage on April 28. A tornado estimated to be three blocks wide rumbled through Baxter Springs, said Cherokee County emergency manager Jason Allison.
People walk between destroyed houses on April 28 in Mayflower.
The remains of a home are seen in Baxter Springs on April 28. Sixty to 70 homes and at least 20 businesses there were reported destroyed, Allison said.
A tornado touches down in Baxter Springs on Sunday, April 27.
A funnel cloud is seen near Baxter Springs on April 27.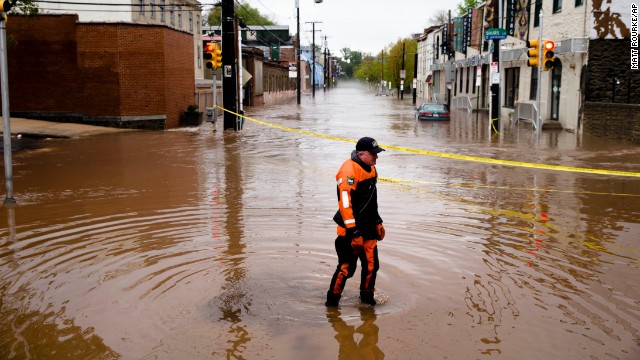 Photos: Storm system brings tornadoes, flooding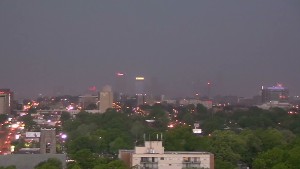 Watch storm sweep across Memphis
"I can't even get down the main street down to the middle of town," Vilonia Mayor James Firestone said.
"I am trying to make my way through the downed trees and power lines. What I am seeing, it is a lot of damage. I've been listening to the rescue folks. They're saying people have to be extracted from vehicles. ... It looks pretty bad. From what I understand, there has been a subdivision that's been leveled."
In Mayflower, overturned, smashed cars were visible along the freeway as search and rescue teams combed the area.
Video from CNN affiliate KARK showed a decimated building in Mayflower surrounded by scattered debris and emergency vehicles.
Interstate 40 was shut down as authorities removed debris from the highway after the tornado struck Mayflower, said Arkansas State Patrol spokesman Bill Sadler. Mayflower is roughly 25 miles northwest of Little Rock.
The National Weather Service's Little Rock office tweeted a series of messages warning of tornadoes, reporting damage and telling residents to take cover.
A tornado crossing I-40 "was reported to be as much as a half-mile wide," the weather service said. Officials reported overturned semi-trucks and destroyed homes, the weather service said.
Witnesses also spotted a twister in the Oklahoma town of Quapaw on Sunday, an emergency official said, as severe weather slammed into parts of the central United States.
Joe Dan Morgan, emergency manager in Ottawa County, Oklahoma, said ambulances had deployed after reports of a funnel on the ground in Quapaw, and rescuers were working in an area where a concrete wall crashed onto a car.
Numerous buildings in the town were damaged, said Keli Cain with Oklahoma Emergency Management.
Kelly Flecks, an emergency dispatcher in Ottawa County, also said a tornado hit the town.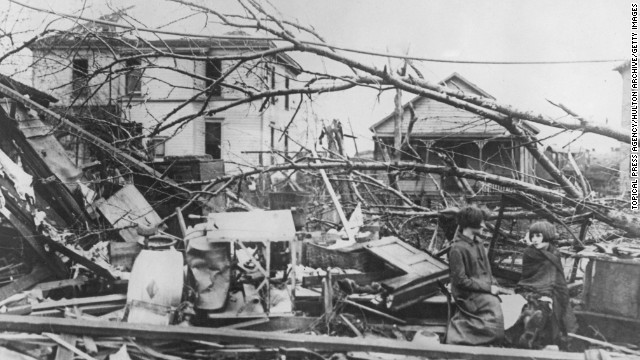 1.The "Tri-State Tornado," which killed 695 people and injured 2,027, was the deadliest tornado in U.S. history, according to the National Oceanic and Atmospheric Administration. The tornado traveled more than 300 miles through Missouri, Illinois and Indiana on March 18, 1925, and was rated an F5, the most powerful under old Fujita scale (winds of 260-plus mph).
2. The "Natchez Tornado" killed 317 people and injured 109 on May 6, 1840, along the Mississippi River in Louisiana and Mississippi. The official death toll may not have included slaves, according to the Federal Emergency Management Agency.
3. The "St. Louis Tornado" killed 255 people and injured 1,000 on May 27, 1896, in Missouri and Illinois. It had winds of between 207 mph and 260 mph.
4. The "Tupelo Tornado" killed 216 people and injured 700 on April 5, 1936, in the northeastern Mississippi city.
5. The "Gainesville Tornado" was a pair of storms that converged April 6, 1936, in Gainesville, Georgia, killing 203 people and injuring 1,600. The tornado destroyed four blocks and 750 houses in the northern Georgia town.
6. The "Woodward Tornado" wreaked havoc across parts of Texas, Oklahoma and Kansas on April 9, 1947 killing 181 people and injuring 970. The funnel cloud reportedly was more than a mile wide in places.
7. The tornado that struck Joplin, Missouri, on May 22, 2011, killed 158 people and injured more than 1,000. The storm packed winds in excess of 200 mph and was on the ground for more than 22 miles.
8. The "Amite/Pine/Purvis Tornado" killed 143 people and injured 770 on April 24, 1908. The storm left only seven houses intact in Purvis, Mississippi, and also caused damage in Amite, Louisiana.
9. The "New Richmond Tornado" killed 117 people and injured 200 on June 12, 1899, in New Richmond, Wisconsin.
10. The "Flint Tornado" killed 115 people and injured 844 on June 8, 1953, in Flint, Michigan. The tornado was the deadliest twister ever recorded in the state.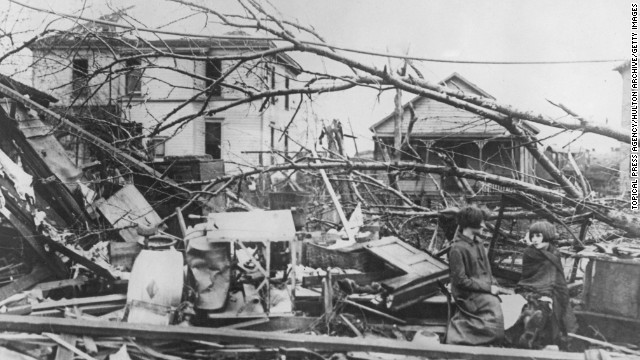 Photos: 10 deadliest U.S. tornadoes
"Search and rescue is under way involving several agencies," she said. "Please tell the public to stay away so they can do their jobs. We can't confirm anything else at the moment.
Quapaw is in the northeastern part of the state, near the borders with Kansas and Missouri.
Also Sunday evening, a tornado emergency was declared for Maumelle, Arkansas, the weather service said. Maumelle is also northwest of Little Rock in central Arkansas.
Storm spotters were tracking a confirmed tornado with reports of damage, the weather service said. A tornado emergency is issued when a storm is producing a life-threatening, confirmed tornado capable of significant destruction.
Strong tornadoes, damaging winds, and large hail were expected for parts of the Central Plains and along the Mississippi River Valley on Sunday, CNN meteorologists said.
Forecasters from the weather service warned that numerous tornadoes could hit, "with a few intense tornadoes likely." Large hail and damaging winds are also possible, forecasters said.
Storm chasers and witnesses posted images of twisters in several states on social media.
Mike Smith from TeamBCX shared a picture of white funnel spinning against a dark sky near a field in Baxter Springs, Kansas, where there were several reports of damage from a tornado Sunday.
Video: Surprising tornado tidbits
Get the fast facts on tornadoes
North Carolina cleans up from twisters
Video: See a rare tornado in Northern California
CNN's Devon Sayers reported from Mayflower. CNN's Dave Alsup and Matthew Stucker reported from Atlanta. CNN's Chad Myers, Catherine E. Shoichet and Sean Morris contributed to this report.