Miley Cyrus on the mend, plans new concert dates
April 28, 2014 -- Updated 1922 GMT (0322 HKT)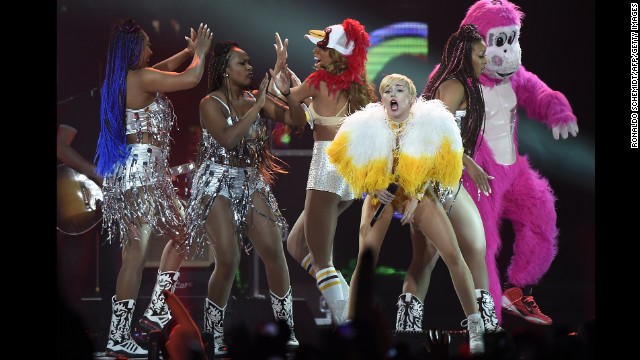 Pop star Miley Cyrus performs in Mexico City during a "Bangerz" tour stop on Friday, September 19. Earlier in the week, Cyrus was criticized for her dance moves during a concert in Monterrey, Mexico. On Mexico's Independence Day, Cyrus' backup dancers used a Mexican flag to spank the oversized fake bum Cyrus was wearing. Mexico's Interior Ministry
opened a federal investigation on the matter
. Here are a few other issues that have cropped up during Cyrus' tour, which she launched in February.
Cyrus tweeted to her Boston fans
in advance of her concert there that she was "beyond miserable." The gift of a new dog from her mother apparently did little to console her, as Cyrus later tweeted that she gave the new dog away to a friend.
Tragedy struck in early April with the death of the singer's favorite pooch, Floyd.
Cyrus tweeted the lip lock
, though the pair later got into a beef about the smooch when Perry questioned
Cyrus' tongue hygiene during a radio interview in March.
They later made up -- via Twitter, of course.
Katy Perry and Cyrus got in some smooching action during a Los Angeles concert in February.
"severe" allergic reaction to antibiotics
and had to cancel some dates. "Kansas I promise Im as (heartbroken) as you are," the singer wrote. "I wanted so badly 2 b there 2night. Not being with yall makes me feel s**ttier than I already do."
Also in April, Cyrus was hospitalized for a
Ups and downs of Miley Cyrus' 'Bangerz' tour
Ups and downs of Miley Cyrus' 'Bangerz' tour
Ups and downs of Miley Cyrus' 'Bangerz' tour
Ups and downs of Miley Cyrus' 'Bangerz' tour
Ups and downs of Miley Cyrus' 'Bangerz' tour
Ups and downs of Miley Cyrus' 'Bangerz' tour
Ups and downs of Miley Cyrus' 'Bangerz' tour
STORY HIGHLIGHTS
Miley Cyrus has rescheduled her postponed U.S. tour
She's added in two new stops to the calendar
The performances are set for early August
She had to postpone April concerts due to an allergic reaction
(CNN) -- Miley Cyrus is back on track after a severe allergic reaction put the pop star in the hospital.
The 21-year-old is scheduled to resume her previously postponed "Bangerz" tour in August after being forced to hold off on the remaining performances due to her illness.
Cyrus' new U.S. lineup features nine stops: seven shows to make up for the ones that she missed, plus an additional two concerts for fans in Pittsburgh and Chicago.
Fans who purchased tickets to her April 7 concert in Charlotte, North Carolina; the April 16 show in St. Louis; and the April 15 show in Kansas City, Missouri; will receive full refunds and be able to purchase tickets to her rescheduled dates -- on August 6, August 10 and August 12, respectively -- starting May 2.
Those who purchased tickets to her April concerts in Uniondale, New York; Philadelphia; Nashville; and Louisville will be able to use them for admission to her August shows in those locations.
The "Wrecking Ball" songstress was initially put out of commission in early April with a flu-like illness, which caused her to pull out of her Charlotte show. Yet after being prescribed the antibiotic Cephalexin her health woes only grew worse; an allergic reaction to the drug left Cyrus hospitalized for more than a week, according to a statement from her representative earlier this month.
By April 25 she seemed back to her old self. If her Instagram photos are to be believed, pancakes were a part of her recuperation.
Cyrus' next "Bangerz" stop will be Amsterdam, as she kicks off the European leg of her tour on Friday.