STORY HIGHLIGHTS
Dani Alves eats banana thrown at him during a soccer match
The Barcelona player was taking a corner at Villarreal's El Madrigal stadium
NEW: FIFA president Sepp Blatter calls incident an "outrage"
NEW: Villarreal find culprit and have banned him for life
Follow us at @WorldSportCNN and like us on Facebook
(CNN) -- Barcelona's Dani Alves reverted to humor when dealing with racist abuse but it has proved no laughing matter for the Villarreal fan who threw a banana at him during Sunday's match after being handed a life ban by the La Liga club.
Villarreal issued a statement Monday saying it "deeply regrets" the incident. "The club has identified the person responsible and has decided to withdraw his membership card and prohibit access to the El Madrigal Stadium for life," it added.
Brazilian international Alves was taking a corner during Barca's 3-2 win when the banana landed at his feet. Maintaining his composure, Alves picked up the banana, peeled it and took a bite and got on with the game.
"Dani Alves owned him," tweeted the Brazilian's teammate Neymar. "Take That bunch of Racists. We are all Monkeys So What."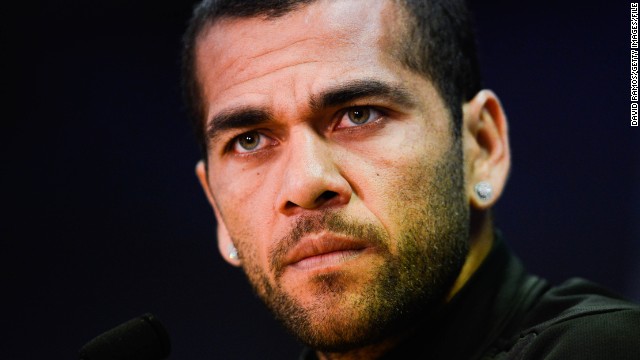 Dani Alves has been applauded for his response to being racially abused during a football match. The Barcelona player had a banana thrown at him during Sunday's game at Villarreal, so he picked it up and took a bite out of it before continuing to play.
Alves' Barcelona and Brazil teammate Neymar was full of praise for his actions. Neymar tweeted: "Dani Alves owned him. Take that bunch of racists. We are all monkeys so what."
AC Milan's Kevin-Prince Boateng suffered abuse from fans friendly match against Pro Patria in January 3, 2013. Boateng stormed off the pitch after being subjected to racist chants.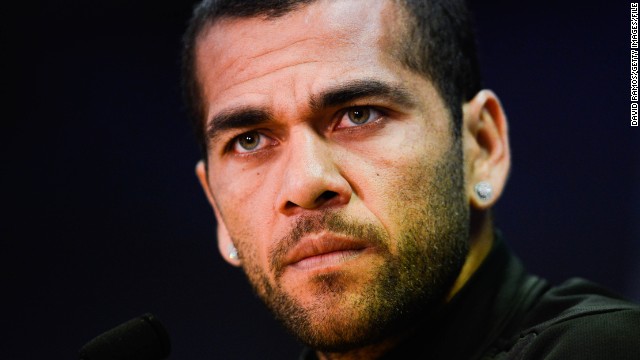 Dani Alves bites back
Former England international Gary Lineker, who played for Barcelona, also applauded Alves' quick thinking. "Utterly brilliant reaction from Alves," tweeted Lineker. "Treat the racist berk with complete disdain."
Storify: Stars show solidarity with Alves
After the match, the 30-year-old Alves posted a clip of the incident on Instagram, joking his father had always told him to eat bananas to prevent cramp.
It's not the first time the Barcelona defender has been targeted -- in January 2013 Alves claimed he was abused during Barca's Copa del Rey semifinal match against archrivals Real Madrid.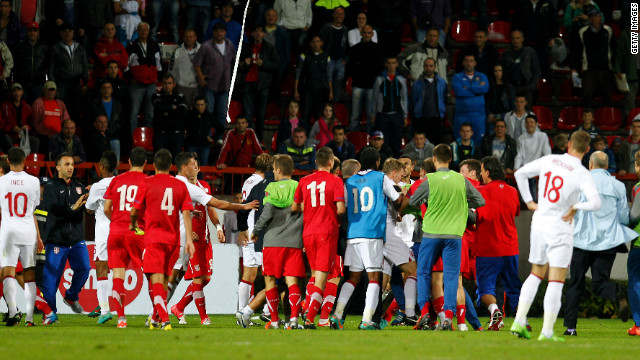 England midfielder Danny Rose claims he was subjected to monkey chants before, during and after the second-leg of their Under-21 Euro 2013 playoff match against Serbia on Tuesday, and had stones thrown at him by the crowd in Krusevac. Fans also ran on to the pitch and scuffles broke out after a 1-0 win secured England qualification for Euro 2013.
The Macedonia FA were fined $26,000 after fans racially abused England trio Ashley Cole, Sol Campbell and Emile Heskey during a qualifying game for Euro 2004.
In September 2011, Bulgaria were fined $55,000 after a small number of fans directed monkey chants at England's Ashley Young, Cole and Theo Walcott during a Euro 2012 qualifier in Sofia.
Russia was hit with a $38,000 punishment after supporters made monkey noises towards Czech Republic defender Theodor Gebre Selassie during Euro 2012
The Croatian FA were ordered to pay a $16,000 fine after their fans were found guilty of "displaying a racist banner and showing racist conduct during the Euro 2008 quarter-final tie against Turkey.
Russia were again in the news for the wrong reasons at Euro 2012 and were fined $39,00 for "the setting off and throwing of fireworks by Russia spectators, displaying of illicit banners and the invasion of the pitch by a supporter," during the Euro 2012 tie against Poland. Russia was also fined $155,000 after clashes between supporters and police during and after their game against the Czech Republic.
Denmark's Nicklas Bendtner was given a one-match ban and a $126,000 fine after he lifted his shirt to reveal a betting company's logo on his underwear while celebrating a goal against Portugal in a Euro 2012 group game.
Porto were hit by a $27,000 fine after their fans were found guilty of subjecting Manchester City forward Mario Balotelli to monkey chants during a Europa League game in February 2012. It took UEFA six weeks to finally hand out a punishment. But questions were raised after UEFA also fined City $40,000 after the club were found guilty of coming back out on to the field of play late after the halftime interval.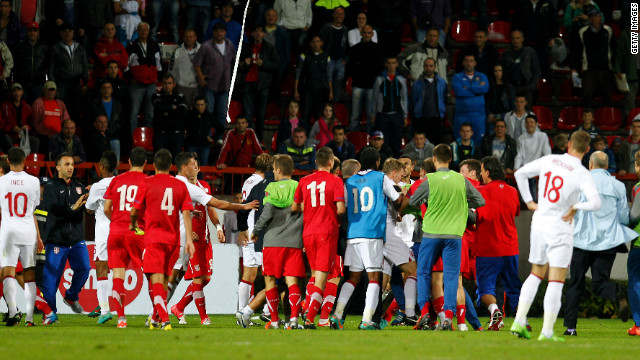 Soccer racism in Eastern Europe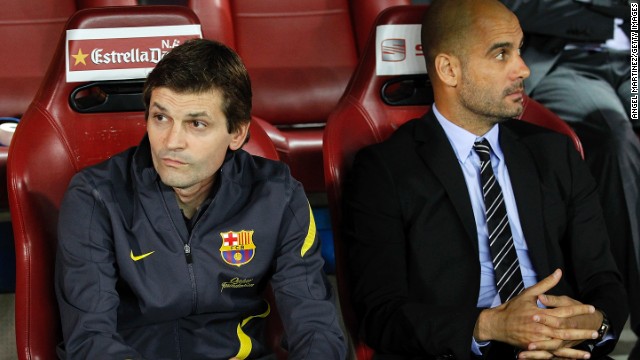 Tito Vilanova worked under Pep Guardiola as his assistant at Barcelona between 2008-2012. The pair helped transform the team into one of the greatest of all time, winning a whole host of trophies, including two Champions Leagues and three Spanish La Liga titles.
After Guardiola's departure, Vilanova took over the reins at Barca in 2012. He had to step down midway through the season to undergo surgery for cancer, but returned to the dugout to guide the club to the Spanish La Liga title.
Vilanova and Eric Abidal, who had been diagnosed with a liver tumor, share the honors as they lift the trophy for Barca's 22nd league title.
Vilanova and his assistant Jordi Roura celebrate as Barcelona win La Liga with a total of 100 points - the highest total in the club's history.
Vilanova's battle against cancer inspired support from the sporting world. In this photograph Real Madrid players show their support before a league game in 2012.
Vilanova was still leading Barcelona's training in July 2013 but was forced to resign his position later that month because of his ill health. Gerardo Martino succeeded him as Barcelona manager.
Vilanova was admitted to hospital Thursday, before news of his death, aged 45, broke Friday 25th April, 2014.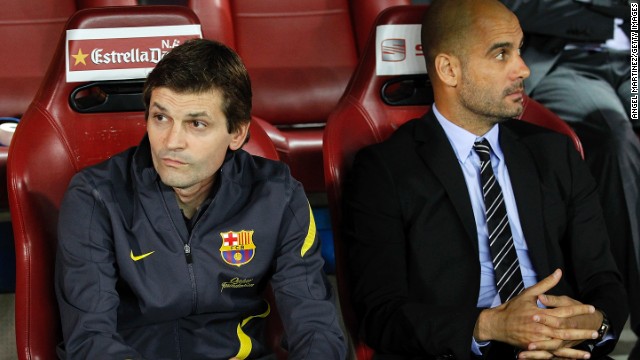 Tito Vilanova dies aged 45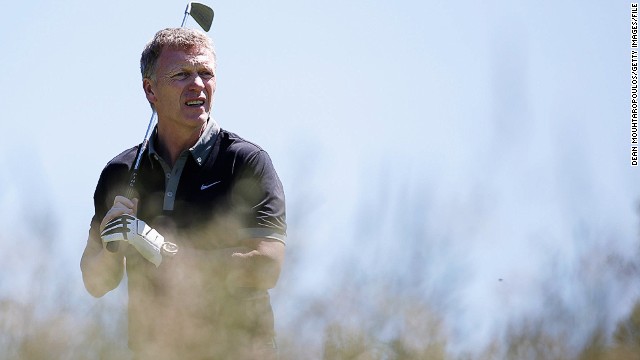 David Moyes is back in football management after agreeing a deal to coach Spanish club Real Sociedad. It is the Scot's first job since being sacked by Manchester United in April after being hand-picked to take over at the club by his predecessor Alex Ferguson.
Moyes was Ferguson's personal choice to succeed him at Old Trafford and he urged the fans to get behind their new manager. The then-Everton boss signed a six-year deal on May 9 and took over the reins on July 1.
Moyes opened his United account with a 2-0 win against Wigan in August to secure the English Charity Shield -- a match played between the league champions and the FA Cup holders -- while also becoming the first United manager since Walter Crickmer in April 1931 to start life with a victory.
Although Moyes followed up that success with a convincing 4-1 win at Swansea in the opening game of the English Premier League season, September brought defeats by rivals Liverpool and Manchester City, while West Bromwich Albion recorded its first victory at Old Trafford for 34 years.
Consistency proved to be a problem for United under Moyes. Back-to-back home defeats to former side Everton and Newcastle in December were then followed by six straight wins, only for the club to be knocked out of both domestic cup competitions in January.
Moyes oversaw the club-record signing of Juan Mata from Chelsea in January for £37.1 million ($61 million). The Scot often stated that similar big-money signings were set to follow this summer, with the board believed to be giving him time to rebuild his squad.
One of the bright sparks during Moyes' time at United was the form of Wayne Rooney, who the Scot worked with at Everton. Rooney hit 17 goals last season and signed a new five-and-a-half-year contract in February worth £300k ($500k) per week.
Perhaps the high point of Moyes' time at the club was the Champions League last-16 defeat of Olympiakos as United turned around a 2-0 first-leg deficit to progress as 3-2 winners in March. The European adventure came to an end at the quarterfinal stage as holders Bayern Munich ultimately proved too strong.
Despite guiding United to the Champions League quarterfinals, March proved to be a miserable month for Moyes in the league. The pain of suffering a 3-0 loss at home to famous rivals Liverpool was compounded by the 3-0 derby defeat to Manchester City at Old Trafford just nine days later.
Despite the club's troubles under Moyes, many fans continued to back Ferguson's chosen successor. Patience soon started to wear thin, however, and one group of supporters even arranged for an aircraft to fly over Old Trafford during the 4-1 win against Aston Villa at the end of March, carrying a banner reading: "Wrong One -- Moyes Out."
Despite reiterating that he would be given more time, Moyes' final game in charge proved to be the 2-0 loss against former club Everton in April -- the Scot's first return to Goodison Park since departing last summer. United announced Moyes' sacking just 10 months into his six-year contract.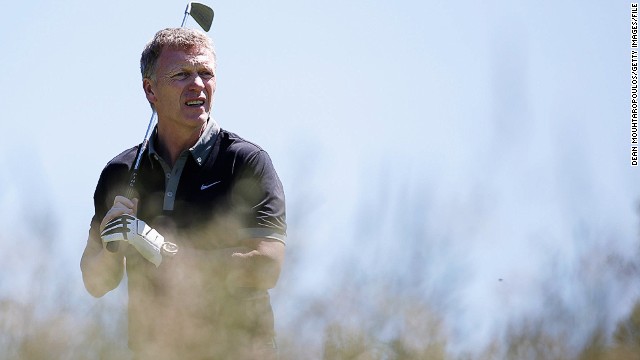 David Moyes: The story of his season
"We have suffered this in Spain for some time," he told reporters. "You have to take it with a dose of humor."
"We aren't going to change things easily. If you don't give it importance, they don't achieve their objective."
As well as banning the culprit, Villarreal also said they would act swiftly again if a similar incident occurred in the future.
"Villarreal football club again states its firm stance in favor of respect, equality and good sportsmanship and a clean game both on the playing field and off it, and states its total rejection of any act that goes against those principles, such as violence, discrimination, racism or xenophobia."
Sunday's match was Barca's first game since the death of former coach Tito Vilanova on Friday.
Barca went 2-0 down against seventh-placed Villarreal before launching a stirring fightback in the final half hour.
A Gabriel Paulista own-goal on 65 minutes gave Tata Martino's team hope before a second own goal, this time from Mateo Mussachio, levelled the match with 12 minutes remaining.
Argentina star Lionel Messi won the match for Barca in the 83rd minute to leave the Catalan club four points behind La Liga leaders Atletico Madrid with three matches left to play.
The two teams meet on the final day of the season.
Read: Advantage Atletico after Valencia win
During 2013 European football was hit by several incidents of racism, notably when Kevin Prince-Boateng walked off the pitch during a friendly match between his then club AC Milan and a lower-league Italian side.
That incident prompted FIFA to introduce tougher sanctions for racist abuse and the president of the world governing body, Sepp Blatter, was quick to condemn the treatment accorded to Alves.
He tweeted: "What @DaniAlvesD2 tolerated last night is an outrage. We must fight all forms of discrimination united. Will be zero tolerance at WorldCup."
If you don't give it importance, they don't achieve their objective
Dani Alves
Under the sanctions, punishments for first offenses bring a warning, fine or clubs being forced to play games in empty stadiums. A second offense, or one deemed "serious," could result in demotion, a deduction of points or expulsion from a tournament.
Liverpool's Luis Suarez was banned for eight matches in December 2011 after he was found guilty of racially abusing Manchester United's Patrice Evra.
A second lengthy ban was imposed on the Uruguayan towards the end of the 2012-13 season after Suarez bit Chelsea's Branislav Ivanovic, meaning he missed the first five games of the current Premier League season.
But since his return, Suarez has been sensational. He has scored 30 league goals to spearhead Liverpool's title challenge and on Sunday his contribution was recognized after he was named the Professional Footballers' Association Player of the Year.
It was a bittersweet day for Suarez with the award coming hours after Liverpool's 2-0 defeat against Chelsea.
The defeat ended Liverpool's 11-match winning run and handed the initiative to Manchester City in the race for the championship.
Read: Ronaldo brace in Real Madrid romp
Read: Ryan Giggs off to a winning start