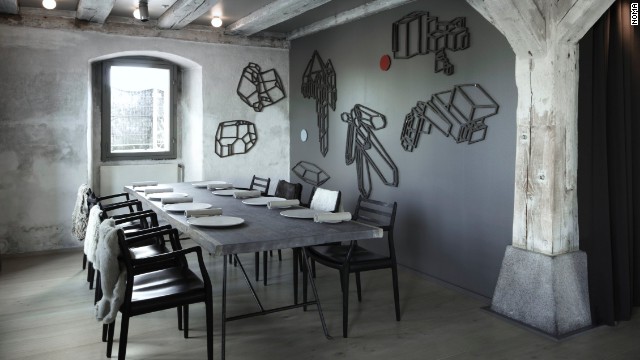 Copenhagen's Noma restaurant won top honors in the prestigious San Pellegrino World's 50 Best Restaurant Awards, bumping last year's winner, Spain's El Celler de Can Roca, into second place.
The 2013 winner, an ultra-modern restaurant in the industrial town of Girona, is owned by three brothers who are known as jokers as well as clever cooks.
Chef Massimo Bottura has put the Italian town of Modena firmly on the dining map. His Osteria Francescana has won three Michelin stars.
Swiss chef Daniel Humm has helped this New York restaurant skyrocket, leaping into the competition's top 10 last year and holding firm in 2014.
Blumenthal's restaurant at London's Mandarin Oriental hotel recreates traditional British recipes dating to the 14th century.
Chef Andoni Luis Aduriz is known for creating weird-looking dishes in the foodie Spanish city of San Sebastian.
At D.O.M., chef-patron Alex Atala makes use of traditional local fare, such as palm hearts and cassava, in his Sao Paulo restaurant.
The second San Sebastian restaurant to make the list, Arzak serves classic Basque dishes with random surprises.
Grant Achatz, a pioneer in molecular gastronomy, has helped propel Chicago's Alinea restaurant into a top 10 debut this year.
Chef Brett Graham heads a two Michelin-starred kitchen at the Ledbury, in London's Notting Hill.
Winner: Noma (Denmark)
Second place: El Celler de Can Roca (Spain)
Third place: Osteria Francescana (Italy)
Fourth place: Eleven Madison Park (New York)
Fifth place: Dinner by Heston Blumenthal (London)
Sixth place: Mugaritz (Spain)
Seventh place: D.O.M. (Brazil)
Eighth place: Arzak (Spain)
Ninth place: Alinea (Chicago)
Tenth place: Ledbury (London)
STORY HIGHLIGHTS
San Pellegrino World's 50 Best Restaurant Awards seen as Oscars of fine dining industry
Noma returns to top place, knocking last year's winner, Spain's El Celler de Can Roca, into second
Awards are now viewed by some as more influential than coveted Michelin stars
London (CNN) -- Get dialing for your reservation now: Noma in Copenhagen has been named the world's best restaurant at a ceremony revealing the planet's top 50 dining venues.
To raucous cheers, high fives, hugs and kisses, team Noma took to the stage in a packed London venue in jubilant scenes that wouldn't be out of place at the World Cup in Brazil later this year.
Noma's top honor in the prestigious San Pellegrino World's 50 Best Restaurant Awards -- viewed as the Oscars of fine dining -- was the fourth win for minimalist Danish pioneer of foraged menus.
The award was presented late Monday at a ceremony in central London attended by some of the world's leading chefs.
"It's too (expletive deleted) crazy!" said Noma's head chef, Rene Redzepi, picking up the award. "Thank you for believing in us.
"In the last year (after the restaurant was awarded second place) my staff and I looked into each others' eyes and said 'let's just really really work hard.' We made a plan and said 'let's make this the best year we've ever had.'"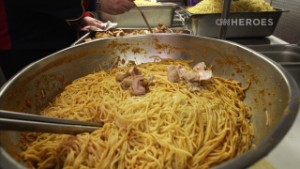 Bruno's secret ingredients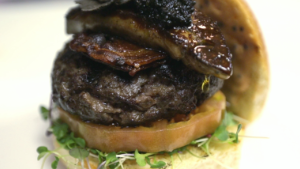 What's in this $250 hamburger?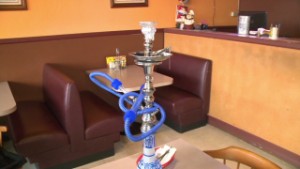 Have a hookah delivered with your pizza
"But to have this is a whole surprise, none of us expected it."
The list, now in its 12th year, is dominated by European venues, but there were prizes for restaurants from around the world, including Asia's first top 20 entry.
The biggest climber was Lima, Peru, restaurant Central, which jumped from No. 50 last year to No. 15 this year.
The highest debut entry was Gaggan from Bangkok, which came in at No. 17.
MORE: Best airport restaurants around the world
Highly influential
There were few changes in the list's top 10.
Last year's winner, Spain's El Celler de Can Roca, was bumped to second place, with Italy's Osteria Francescana holding steady at number three.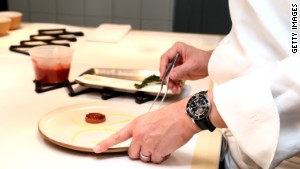 Eleven Madison Park: The highest ranked U.S. restaurant
Despite the repeat victory for Noma, it's still yet to match the record of Spain's El Bulli, which claimed four successive wins before head chef Ferran Adria closed its doors in 2011.
Other winners in the top 10 were, in fourth place New York's Eleven Madison Park, followed by Spain's Mugaritz, Brazil's D.O.M., London's Dinner by Heston Blumenthal, Spain's Arzak, Chicago's Alinea and The Ledbury, another London restaurant.
Noma, which celebrates its 10th anniversary this year, was praised for its "fresh approach and energy."
The restaurant's menu serves diners with a series of "snacks" largely sourced from the Nordic landscape -- dishes that include sea urchin toast and a beef tartar that includes ants.
Most of the winners -- a total of 28 -- were from Europe, with Spain claiming seven top 50 positions.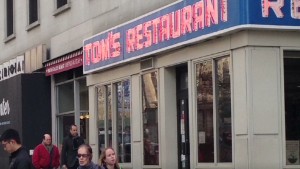 What are 'Seinfeld' stars doing HERE?!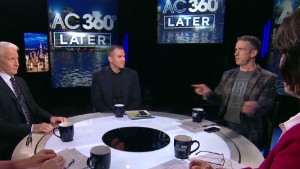 'Baby ban' in restaurants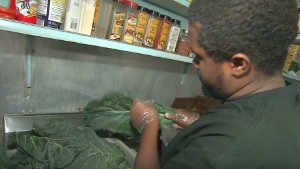 BBQ joint offers life lessons for youth
Nahm, a Thai restaurant in Bangkok that earlier this year was named Asia's best, made it to number 13 in the list -- the region's highest entry.
Organized by UK-based Restaurant Magazine and sponsored by Italian drinks manufacturers San Pellegrino and Acqua Panna, the awards are seen as highly influential in the fine dining industry.
Noma's first win in 2010 is credited with catapulting the restaurant to international stardom.
Reputedly, the day after winning, it received enough online reservations to fill its 45 seats for a decade -- thankfully, it only takes bookings for a few weeks in advance.
Some observers say the awards now hold greater sway over a restaurant's financial success and bookings than coveted Michelin star rankings, often transforming them into major travel destinations.
'Beauty contest'
"This is the big one," contest chairman Richard Vines told CNN ahead of the awards. "Although you can argue about the list, everyone wants to be on it."
MORE: Great Copenhagen restaurants not named Noma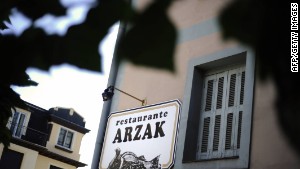 Arzak, one of seven Spanish top 10 winners.
Vines said the list isn't a rival to Michelin's "systematic" assessments, describing it as a spontaneous "beauty contest for restaurants."
The list was decided by votes compiled from 900 restaurant industry figures.
The winning names were closely guarded ahead of this year's ceremony after details were leaked prior to announcement in 2013.
British chef Fergus Henderson received a lifetime achievement award at this year's event.
Henderson's St. John restaurant in London has championed "nose-to-tail" eating that utilizes every part of an animal.
San Pellegrino World's 50 Best Restaurants for 2014
1. Noma, Copenhagen, Denmark
2. El Celler de Can Roca, Girona, Spain
3. Osteria Francescana, Modena, Italy
4. Eleven Madison Park, New York
5. Dinner by Heston Blumenthal, London
6. Mugartiz, San Sebastian, Spain
7. D.O.M., Sao Paulo, Brazil
8. Arzak, San Sebastian, Spain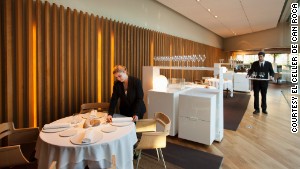 El Celler de Can Roca was bumped into second place.
9. Alinea, Chicago
10. The Ledbury, London
11. Mirazur, Menton, France
12. Vendome, Bergisch Gladbach, Germany
13. Nahm, Bangkok
14. Narisawa, Tokyo
15. Central, Lima, Peru
16. Steirereck, Vienna
17. Gaggan, Bangkok
18. Astrid y Gaston, Lima, Peru
19. Fäviken, Järpen, Sweden
20. Pujol, Mexico City
21. Le Bernardin, New York
22. Vila Joya, Albufeira, Portugal
23. Restaurant Frantzén, Stockholm
24. Amber, Hong Kong
25. L'Arpege, Paris
26. Azurmendi, Larrabetzu, Spain
27. Le Chateaubriand, Paris
28. Aqua, Wolfsburg, Germany
29. De Librije, Zwolle, Netherlands
30. Per Se, New York
31. L'Atelier Saint-Germain de Joel Robuchon, Paris
32. Attica, Melbourne, Australia
33. Nihonryori RyuGin, Tokyo
34. Asador Etxebarri, Atxondo, Spain
35. Martin Berasategui, Lasarte-Oria, Spain
36. Maní, Sao Paulo, Brazil
37. Restaurant Andre, Singapore
38. L'Astrance, Paris
39. Piazza Duomo, Alba, Italy
40. Daniel, New York
41. Quique Dacosta, Dénia, Spain
42. Geranium, Copenhagen, Denmark
43. Schloss Schauenstein, Fürstenau, Switzerland
44. French Laundry, Yountville, California
45. Hof Van Cleeve, Kruishoutem, Belgium
46. Le Calandre, Rubano, Italy
47. The Fat Duck, Bray, UK
48. The Test Kitchen, Cape Town, South Africa
49. Coi, San Francisco
50. Waku Ghin, Singapore
One to Watch Restaurant: Saison, San Francisco
Best Restaurant in Africa: The Test Kitchen, Cape Town, South Africa
World's Pastry Chef: Jordi Roca, El Celler de Can Roca, Girona, Spain
Sustainable Restaurant Award: Azurmendi, Larrabetzu, Spain
Best Restaurant in Australasia: Attica, Melbourne, Australia
World's Best Female Chef: Helena Rizzo, Mani, Sao Paulo, Brazil
Chef's Choice Award: Alex Atala, D.O.M., Sao Paulo, Brazil
Highest Climber: Central, Lima, Peru
Highest New Entry: Gaggan, Bangkok
Best Restaurant in Asia: Nahm, Bangkok
Lifetime Achievement Award: Fergus Henderson, St. John, London
Best Restaurant in South America: D.O.M., Sao Paulo, Brazil
Best Restaurant in North America: Eleven Madison Park, New York
MORE: In Bangkok, the 'world's best' Indian restaurant