STORY HIGHLIGHTS
"Hill Street Blues" paved the way for a generation of novelistic TV series
Show was no sure thing -- it was poorly rated and confused audiences
But series hung on and proved tremendously influential
Complete series is available on DVD Tuesday
(CNN) -- "Sopranos" fan? "Breaking Bad" binge-watcher? "Mad Men" admirer?
Take a moment to thank "Hill Street Blues."
"There is no 'Sopranos' without 'Hill Street Blues,' " says Syracuse University pop culture professor Robert Thompson, who wrote a book tracing "Hill Street's" influence. "Matt Weiner ('Mad Men') and Vince Gilligan ('Breaking Bad') and David Chase ('The Sopranos') and all these people ought to wake up every morning and send a note to 'Hill Street Blues.' "
Graphic: The children of 'Hill Street'
The entire seven-season run of the groundbreaking series comes out on DVD Tuesday.
It wasn't a success that could have been predicted. When it premiered on NBC in January 1981, "Hill Street" was unlike anything else on American television.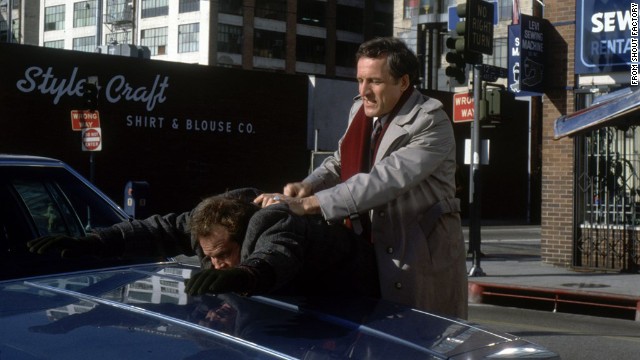 The cast of "Hill Street Blues" was a colorful collection of acting veterans. Many have continued rich careers since the show left the air in 1987. Daniel J. Travanti, right, played Capt. Frank Furillo, head of Hill Street Station, on the show.
Travanti, seen on stage with Adam Green in the 2007 play "The Last Word ...," has had a number of guest roles since "Hill Street" ended, including work on "Criminal Minds" and "Grey's Anatomy." He also had a regular role in the Starz series "Boss."
Veronica Hamel played district attorney Joyce Davenport, Furillo's love interest (and later wife) on "Hill Street." Prior to "Hill Street," Hamel was a model -- and in 1971, she appeared in the very last cigarette commercial ever aired on national television.
Hamel's post-"Hill Street" acting career includes several TV movies and recurring roles on the shows "Philly," "Third Watch" and "Lost." On the latter, she played the mother of Jack Shephard (Matthew Fox).
Before "Hill Street Blues," Michael Conrad was a highly regarded character actor who had appeared on dozens of TV series. As Lt. Phil Esterhaus on "Hill Street," known for his line "Let's be careful out there," he became a star. Conrad died during the show's fourth season, on November 22, 1983, of cancer.
Charles Haid played Officer Andy Renko on "Hill Street." He was originally supposed to die in the opening episode, but audience popularity kept him alive -- and he lasted the entire run of the show.
Haid has become a noted director since his "Hill Street" days. His credits include episodes of "ER," "NYPD Blue," "Nip/Tuck" and "Criminal Minds." He won a Directors Guild award for his work on a first-season "ER" episode.
Michael Warren played Renko's partner, Bobby Hill, on "Hill Street Blues." Prior to the show, Warren's credits included "Adam-12," "S.W.A.T." and "Charlie's Angels" -- not to mention two NCAA basketball championships as a member of the UCLA Bruins in the late '60s.
Warren has had roles in "A Different World," "Murder One," "Soul Food" and "Lincoln Heights" (here with Tina Lifford) since "Hill Street" ended in 1987.
Kiel Martin played Detective J.D. LaRue, a self-styled ladies' man, on "Hill Street Blues." The role followed appearances in many TV series, including "The Virginian" and "Gunsmoke." After "Hill Street," Martin's career continued with performances in "L.A. Law," "Murder, She Wrote" and "Miami Vice." Martin died December 28, 1990, of lung cancer.
Rene Enriquez, center, another well-established character actor, played Lt. Ray Calletano on "Hill Street." In the '80s, he was a rare example of a Hispanic character on network television. Enriquez died March 23, 1990, of cancer.
Ed Marinaro had just a few roles to his credit -- including a stint on "Laverne & Shirley" -- when he was cast in "Hill Street" as Officer Joe Coffey. The character almost died in the first season and then was shot to death in Season 6 when Marinaro decided to move along to other things.
Marinaro followed "Hill Street" with roles on "Falcon Crest" and "Dynasty" and then nabbed a regular gig on "Sisters" for four years. His Spike show "Blue Mountain State" has a cult following, enough to possibly lead to a movie.
Betty Thomas, a veteran of Chicago's Second City comedy troupe, played Coffey's partner, Officer Lucy Bates, on "Hill Street."
Though she continued acting after "Hill Street's" finale, Thomas really found her calling as a director. Her credits include "The Brady Bunch Movie," the TV movie "The Late Shift" and "28 Days." She's a member of the Directors Guild of America board.
Taurean Blaque played Detective Neal Washington, LaRue's partner, on "Hill Street Blues." Prior to the show, Blacque was in "Rocky II" and "House Calls," not to mention several TV shows.
Blacque, bottom row center, joined producer Steven Bochco, top row left, and members of the "Hill Street" cast at the Emmys in 1998. Since the show ended, he has done a number of TV shows but also plenty of stage work, including performances with Atlanta's Alliance Theatre.
Sikking jokes that everybody asks about "Hill Street," on which he played Lt. Howard Hunter, but nobody asks about his participation in such TV dogs as "My Mother, the Car" and "O.K. Crackerby." Indeed, Sikking was all over the tube before "Hill Street" came along, acting in such series as "M*A*S*H," "The Mod Squad" and "The Rockford Files."
Sikking, a longtime friend of "Hill Street" creator Steven Bochco's, had major roles in some post-"Hill Street" Bochco productions, including "Doogie Howser, M.D." (he played Doogie's father) and "Brooklyn South." You can also see him in the famed "Curb Your Enthusiasm" episode "The Car Pool Lane."
As Henry Goldblume, Joe Spano was "Hill Street's" community outreach specialist, a role that sometimes earned him needles from his fellow cops. Spano had a small role in "American Graffiti" and appeared in several TV series.
Spano has worked steadily since the end of "Hill Street." He's had major roles in "NYPD Blue" and "Murder One," but audiences today probably know him best for his role as FBI Agent T.C. Fornell in "NCIS." He appears here with "NCIS" co-stars Michael Weatherly, left, and Sean Murray.
Bruce Weitz played a lot of doctors and accountants before getting the part of Detective Mick Belker, "Hill Street's" cigar-chewing, foul-mouthed, occasionally bite-happy undercover man.
Weitz had a long run on "General Hospital" (here with Brandon Barish) from 2007 to 2012. He's also been in "CSI," "JAG," "Grey's Anatomy," "ER" and "The West Wing." He wouldn't mind the right job -- "I hate to use the word 'retired,' " he told CNN -- but loves spending his time raising vegetables and chickens in Reseda, California.
Dennis Franz (center, with Michael Pasternak and Parker Whitman) actually had two roles on "Hill Street Blues": crooked cop Sal Benedetto and the slovenly but effective Norm Buntz. The latter character was spun off into the short-lived "Beverly Hills Buntz" after "Hill Street" ended.
Franz went on to greater fame as Andy Sipowicz on "NYPD Blue," a role he played from 1993 to 2005. He's devoted the last few years to his family -- and remains equally devoted to his hometown Chicago Cubs.
Robert Prosky came to "Hill Street" from a long stint with Washington's Arena Stage, as well as appearances in "Christine" and "The Natural." He played Sgt. Stanislaus "Stan" Jablonski, who took over from Michael Conrad's Esterhaus.
Prosky had roles in several TV series and films after "Hill Street" ended, including spots in the movies "Mrs. Doubtfire" and "Dead Man Walking." He died December 8, 2008, of complications from heart surgery.
Barbara Bosson played Fay, Furillo's ex-wife, on "Hill Street Blues." Her role was intended to be small, but the network liked her so much it was expanded -- easy enough to arrange, since she was married to Bochco at the time.
Bosson starred as the mayor in Bochco's post-"Hill Street" misfire, "Cop Rock," but later earned an Emmy nomination for her performance in another Bochco show, "Murder One." "Star Trek" fans may recognize her for her role in a "Deep Space Nine" episode, "Rivals."
Jeffrey Tambor (right, with Kiel Martin) made occasional appearances on "Hill Street" as the eccentric, cross-dressing Judge Alan Wachtel.
After "Hill Street," Tambor played "Hey Now!" Hank Kingsley on "The Larry Sanders Show" and, shown here, George Bluth Sr. on "Arrested Development." His IMDb page shows at least a half-dozen projects due or being produced in 2014 alone.
George Wyner, not be confused with the equally balding Jeffrey Tambor, played assistant D.A. Irwin Bernstein on "Hill Street."
Wyner has continued his string of lawyers, judges and doctors, with appearances in "The Mentalist" (shown here) as a coroner, "Desperate Housewives" as a doctor and "Days of Our Lives" as a judge. He was also the camp director in "American Pie 2."
Peter Jurasik kept his hair as slick as his persona as Sid "the Snitch" Thurston in "Hill Street Blues," frequent purveyor of information to Norm Buntz.
After following Franz's Buntz to L.A. in "Beverly Hills Buntz," Jurasik went on to "Babylon 5," "Sliders" and "Dawson's Creek," as well as parts in the movies "Runaway Jury" and "42."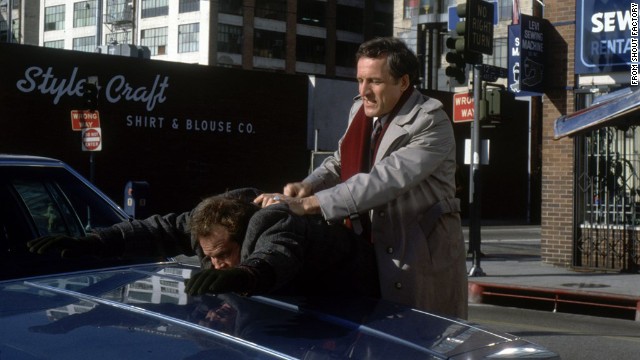 'Hill Street Blues': Where are they now?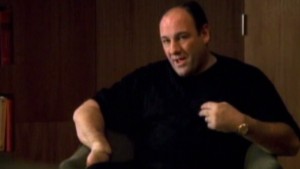 2007: 'The Sopranos' TV legacy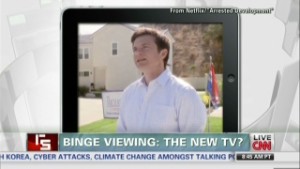 Binge viewing: The new TV?
It was a serialized mixture of drama and comedy featuring diverse, colorful and three-dimensional characters -- the policemen and policewomen of the rundown Hill Street Station. It was well-written, boldly directed and creatively revolutionary.
Still, initial ratings were poor and audiences were confused. It stayed on through a combination of key corporate support, determination and a little bit of luck.
The result? Two decades of dominance for the Peacock Network -- "Hill Street" was the first cornerstone of its Thursday lineup -- and the bounty of novelistic TV series we see today.
"It just changed the rules of TV," its producer, Steven Bochco, said in an interview.
Here is "Hill Street's" story. Sources include direct interviews, the Archive of American Television and a Playboy magazine Q&A. (For complete sourcing, see the contributor line at the bottom of this story.)
In the beginning ...
NBC was in last place. Its shows, such as the flop "Supertrain," were the butt of jokes. Even "Saturday Night Live" was having its worst season ever.
Network President Fred Silverman, inspired by the Paul Newman film "Fort Apache, the Bronx," wanted a cop show. The project fell into the hands of producers Steven Bochco and Michael Kozoll at MTM Enterprises.
Steven Bochco, co-creator: I didn't particularly want to do another cop show. Mike Kozoll didn't particularly want to do another cop show. But they were insistent that that's what they wanted.
Michael and I agreed that we would do it on one condition: We'll do this pilot for you on the condition that you'll leave us completely alone to do whatever we want. And (the network) said "OK." Now we're stuck with it.
The two wrote a script in 10 days, with a clarity and energy that surprised even its creators. NBC's Standards and Practices department -- the network censor -- wasn't impressed, however, questioning every detail. Bochco and Kozoll met with the network brass.
Bochco: At the end of the meeting, I got up and said, 'We can't do this project. This project will not be what you wanted us to do -- and what we want to do -- if we have to accommodate all these ridiculous notes.' And I left. They went berserk. They called Grant Tinker.
Tinker stood up for Bochco.
Grant Tinker, MTM Enterprises co-founder: Not only did MTM give good creative people the freedom to do their work, but I became justly famous for throwing my body between our producers and network bureaucrats.
Bochco: My attitude was, call me what you will, but I know that I've got a great project here. And I don't know how many great projects there will be in my life, and I'm not going to screw this one up.
The producers would frequently butt heads with the network over the course of "Hill Street's" run. But Bochco never flinched.
Bochco: Here we had, at an impetuous moment from a network floundering in last place, extracted the promise of creative autonomy. And I knew I had something unprecedented in terms of that kind of control and I wasn't going to give it up. I knew if I gave it up, I'd never get it back.
Assembling the cast
Bochco: I had this whole group of actors squirreled away in my brain I wanted to work with.
One of them was James B. Sikking, who had appeared in a number of Bochco-written shows. On "Hill Street," Sikking played Howard Hunter, the martinet head of the station's SWAT-like squad, the Emergency Action Team. Hunter was often the show's comic relief. Sikking, however, saw his humanity.
Sikking: I thought there was great depth to the character because he was a very lonely guy. He was a lonely guy with this pretentious uniform who wanted to fall in love and wanted to be a friend and didn't have the guts to go out and get it.
Bochco also wanted to cast Charles Haid. But Haid was a busy man with a recent role in the film "Altered States" and a medical pilot in the works.
Haid: Steven said, "I'm doing a show over at MTM. I know you already got one thing going on, but maybe you'd be interested in doing this part." The original part was a guy named Flannery who was going to be Furillo.
I'm doing these movies and I've got this other thing lined up. So they said, "Why don't you try this character here, this guy Renko." He gets killed in the first episode. I said, that's perfect.
Then things got complicated.
Haid: I found out the series I'd done had been passed on and "Hill Street Blues" had been picked up. (NBC) told me the character had tested so well, they didn't want him to die.
Haid used his leverage to get a "really good deal" to play the good-ol'-boy officer.
Haid: That's why it said (in the credits), "Charles Haid as Renko."
Bruce Weitz was also tapped.
Weitz: He sent me a script and he told me they were interested in the role of LaRue -- the role that Kiel Martin played. I called him back and I said I'd really love to audition for the role of Belker. I was doing mostly doctors, lawyers and accountants. Anything with a tie and a white shirt.
Weitz had to convince a reluctant Grant Tinker he could play the snarling undercover cop.
Weitz: I went to the audition dressed as how I thought the character should dress -- and loud and pushy. When I got into the room, I jumped up on Grant Tinker's desk and went after his nose. I heard he said afterwards, there's no way I can't offer him the job.
Kiel Martin was cast as LaRue, a slick detective. Not his usual role, he told Playboy in 1983.
Martin: It was the first time in my career I played a part where I wasn't some terrible creep. I'd killed every G--damned thing in America, including nuns and babies. Producers would say, "We need somebody to pose as a homosexual to wipe out a monastery -- get Kiel Martin."
Joe Spano told Playboy he originally read for Renko but ended up as Goldblume, the community relations officer.
Spano: I wasn't the Goldblume type. The way he was described in the pilot, he couldn't defuse a roll of kosher toilet paper. That was not my style. But I was always disappointed that I didn't end up playing Renko.
Ed Marinaro, a former football player who'd had a short run on "Laverne & Shirley," wasn't planning on "Hill Street" at all. He was at MTM to audition for a movie about male strippers. But he had excellent timing.
Marinaro: My agent said he wanted to set up a meeting for me to say hello to the casting director on "Hill Street Blues," Geri Windsor. When I got there, I went over to the offices and they were in the middle of a casting session. While I'm standing here Geri Windsor walks in -- who is a woman -- and I introduce myself. She said, "Ed, we'll have to reschedule because I have this meeting." I said OK. There are all these actors waiting around.
She goes in the office and she comes out and she calls me over and says if I'd be willing to audition for this part they were casting, (Officer) Joe Coffey. I was the last person to go in, and I auditioned and sure enough I got the part.
Other cast members included Michael Conrad (Phil Esterhaus), Michael Warren (Bobby Hill), Betty Thomas (Lucy Bates), Taurean Blacque (Neal Washington), Veronica Hamel (Joyce Davenport), Rene Enriquez (Ray Calletano) and Barbara Bosson (Fay Furillo).
The hardest part to cast was the police captain, Francis X. "Frank" Furillo. He was capable of being tough but also calmly diplomatic. He could twist arms and pat backs. Daniel J. Travanti, who ended up with the part, had played mostly bad guys.
Travanti: They said I was the first guy they called in. And the first guy in our business never gets the job.
NBC wasn't thrilled with the way things were going.
Bochco: We bring them all over, and I hear that (NBC head of casting) Joel Thurm has said, they're all too dark. I'll see this cast and this show over my dead body.
Marinaro: We were described once as the most unattractive cast on television, which was I guess a compliment.
Bochco: So I said to them, fold it. This is my cast.
Bochco got his way. Then he had to deal with it.
Bochco: By the time this thing went on the air, I think we had 11 regulars. Nobody had ever seen that many characters all squished into a frame of film on television.
'What is the key to everything? Good. Writing.'
Travanti: When Barbara Bosson read the pilot, she said (to Bochco, her husband), "This is the best thing you've ever written."
Sikking: When you got the first script you went, "Oh, yippee. We're going to have some fun here."
Weitz: I can remember the first rehearsal, standing around in groups, talking about how important it is to make this as good as it can be, because the writing was phenomenal.
Travanti: What is the key to everything? Repeat after me: Good. Writing.
The script was incredibly detailed.
Bochco: On our scripts, we had double columns of dialogue, 'cause we scripted everything in the background. EVERYTHING in the background. We realized we had so many characters that the only way to service all those characters was to have multiple storylines. The only way to service multiple storylines was to let them spill over into subsequent episodes. So half the time, things that were going on in the background were in fact the elements of stories and character relationships that would emerge in the foreground two episodes from now. So we scripted everything. We left nothing to chance.
Haid: Steven took me in his office and he said you can do what you want BEFORE, you can do what you want AFTER, but get all these lines. That was important.
Weitz: Occasionally they'd see me do something in dailies and add it to the script. But the growl was the writers' idea and all the "hairbags" and all that slang was all theirs.
Bochco: We created a euphemistic language that suggested the raunchiness of the cop world, and it worked.
Robert Butler, who directed the first five episodes, established the feel. Not that the actors didn't contribute in certain ways.
Haid: We would come up with every euphemism for masturbation we could come up with. Every single thing. I would say, "Well, stroke my bishop. Well, whack my monkey, Bobby Hill!" We would go on and on. Buff my Oscar! Anything we could come up with. It was great. And they didn't know.
From the ashes
From a 1980 NBC memo:
"The pilot of 'Hill Street Blues' was tested both at the ASI Theater and on cable. Results of both tests were generally negative. ... The main characters were perceived as being not capable and having flawed personalities. ... Audiences found the ending unsatisfying. There are too many loose ends. ... 'Hill Street' did not come off as a real police station. ... There was too much chaos in the station house, again reflecting that the police were incapable of maintaining control even on their home ground."
Bochco: We did stuff in that show I'd never seen before anywhere. We stuck intensely powerful melodrama side by side with almost slapstick farcical fall-down clowning. It took audiences a full year to figure out what the hell we were doing. Once they got it, we were off to the races.
The show received 21 Emmy nominations its first season.
Haid: We really did not know what was going on and how popular it was until we got all those Emmy nominations. Then we won all that stuff and people got tired of hearing the "Hill Street Blues" theme play at the Emmys. We won everything.
Travanti: We won eight (Emmys). We should have won 10.
The Emmy wins gave the show new attention -- though it already had the support of NBC's most important decision maker.
Bochco: Fred (Silverman) was great. He picked the show up early, which was unheard of for a show as lowly as we were in the rankings. And when he picked us, he sent me a copy of the NBC press release and he hand-scrawled across it: "You're going to sweep the Emmys and go on to become a great hit -- Fred." That's exactly what happened.
The trappings of success
With rising ratings came the joys -- and pitfalls -- of fame.
Haid: We went from a bunch of schmucks to be at the top of your class. We were a bunch of character actors parading around and getting our name in the paper.
Conrad (to Playboy, 1983): My greatest joy was sitting in a restaurant with these good-looking guys -- Ed Marinaro, Michael Warren, Chuck Haid and Bruce Weitz -- when this mature lady came up and said to me, "I just love you."
Haid: We got kicked out of the Playboy Mansion -- the Bunny House. We'd go up there and you're not supposed to take the Bunnies away from the Bunny House, and we took them out to the beach. You're not supposed to do that.
Bochco: Talk about the early '80s. Cocaine was rampant. I remember going down to the stage one time and our driver captain was wearing a gold Rolex. Where does a Teamster make the kind of money to have a gold Rolex? He was the guy selling drugs. It took us a year or so to clean all that stuff up.
Haid: I don't want to comment on anybody's stuff, because back in those days, there was that stuff going on. But take my word for it -- it did not go onto the set. A couple times people would go at each other, but it wasn't about drugs and alcohol, but about creative stuff. Was it a handful, that kind of creativity? Abso-friggin-lutely. But if you see the episodes, you see how much fun we were having. It was happy, it was sad, it was crazy, it was mean -- it was nuts.
Weitz: It's not real. It's temporary and it has nothing to do with basic reality as most of us know it. So if you get swept up by it in the beginning, that's one thing. If you allow yourself to continue to be swept up in it, there can only be disaster at the end. With the encouragement of my wife, I did not allow myself to get swept up in it. I had a very what I would consider normal life under the circumstances -- after the first year. First year, I went a little nuts.
Bochco: Personalities were just so volatile. Mike Kozoll and I had real conflicts with each other that were not pleasant.
Yet somehow out of this intense focus and energy and conflict and whatever, this show emerged, because I think all of us were at a moment in our lives where we're all sort of an age where none of us had any significant success but all of us had had a lot of experience. And the collective was extraordinary. The sum was truly greater than its parts.
Life on the 'Hill'
Indeed, the show was exhausting but also intensely creative. And it was everybody versus the network suits.
Sikking: We had (punning) titles on all of our shows. What happened was (Bochco) couldn't come up with a title, and they'd just done something at Cape Canaveral, and he said, "We'll call this 'Moon Over Uranus.' " And he sent it in and Standards and Practices called up, "No, no, no."
Steven said, "Why do I have to change the title? The title is never broadcast. Nobody will ever see it." But (Standards) said, "You've been so successful, it could get an Emmy: 'And the winner is "Hill Street Blues" segment "Moon Over Uranus." ' We can't have that." And Steven said, "Good-bye."
Haid: So the next one was called, "Moon Over Uranus, Part II."
Sikking: The guy called up, he was screaming, "You can't put that on there." Steven said, "I can, too. Don't bother me." And the third one came out and Steven wrote, "Moon Over Uranus: The Final Chapter." Just to stick it in their ears.
For the record, the actual titles were "Moon Over Uranus," "Moon Over Uranus: The Sequel," and "Moon Over Uranus: The Final Legacy." They all aired consecutively in Season 3. None won Emmys.
The writers, too, were experts at getting material past the censors. In one episode, Belker was undercover at a butcher shop. A woman walks in ...
Weitz: She walked up to the counter and said, "I'd like a chicken, please." Belker pulls out the chicken from the case and the woman spreads the chicken's legs, puts her nose in the cavity, comes out with a horrible look on her face and said, "I want a fresh chicken."
Belker puts the chicken away, picks up another chicken. She does the exact same thing.
Belker looks at her and said, "Lady, could you pass a test like that?"
And they left it on the air, and it was my favorite moment ever.
The writers occasionally mined the actors' actual experiences for "Hill Street" stories: alcoholism, ethnic stereotyping, sexual politics. Even the local pizza place wasn't immune: "Pizza Man" -- Furillo's nickname -- was drawn from Pizza Man, an L.A. chain.
Martin (to Playboy, 1983): The writers are very perceptive reporters. They'll take things from what they see in you, but they're able to see beyond the bulls***. It's the most well-intentioned exploitation imaginable.
Remembering Michael Conrad
One of the saddest events of "Hill Street's" run involved Michael Conrad. The lanky actor was a veteran of dozens of shows and movies but largely unknown until he landed the role of Esterhaus, the station's duty sergeant, who ended each episode's introductory roll call with the phrase, "Let's be careful out there."
Weitz: The one person with enormous experience in front of the camera was Michael Conrad, and he, in the beginning, had trouble adjusting.
Travanti: He added a great deal to that character. Kind of isolated loner actor. Many actors are.
Bochco: For sport, Kiel would poke at Michael Conrad just to provoke him.
Haid: Michael Conrad -- talk about old school. Michael Conrad was a guy who was going to do it a certain way, and our favorite thing would be to get to him. They'd always shoot him first. And we'd react a little bit off camera. Then they'd turn the camera around on us and he'd have to do it again. I remember one day, he just stopped. He said, "Stop it. Are you going to do it that way?" And we all said yeah, what about it? He just couldn't stand it.
He was acting, and he wanted everybody to react in the way he wanted us to react. And we knew, once you find out a guy's got thin skin, he's toast. So we used to just brutally go after Michael. God bless him.
Early in the show's run, Conrad developed cancer.
Haid: He didn't let us know for a long time. Then he knew and he said to everybody. And everybody started crying.
Weitz: It was devastating. It was a tremendous loss personally for everybody, professionally ... and especially a man like that who was like a block of granite. If you thought one person in the world ever was not going to die, it was Michael Conrad.
Haid: This guy died with his boots on, literally. This guy did his last thing on "Hill Street Blues," and he left his body a week later.
Conrad died on November 22, 1983, during the series' fourth season. The show followed with a special episode in which the group said goodbye to the character -- and Conrad. "Hill Street" being "Hill Street," though, it wasn't without a wicked twist.
Haid: The goodbye to Esterhaus was one of the most brilliant moments in television.
Sikking: We had a funeral for Esterhaus on camera. The cremation canister was given to the stationhouse and everybody went by and shook it and did things like that. But we decided Hill Street should have some kind of service. A character said, "Let's take him down to the worst part of Hill Street. And we'll all say a prayer and we'll sprinkle it on the street." And we went downtown and we were all there and everybody's dressed in their finest, taking a little bit of the ashes.
Haid: They take his ashes and put them in the street and say, "Bye, Sarge."
Sikking: The last car door shuts and the cars drive away, and you hear beep ... beep ... beep ... beep. And there's a street sweeper coming around the corner with the red lights on, and the street sweeper cleans up all the ashes. That's "Hill Street."
The end and the legacy
By the mid-'80s, the show was an established hit. Actors and producers started to turn over. Robert Prosky replaced Conrad. Dennis Franz joined the cast. Bochco left after Season 5. Actors came and went: Ken Olin, Mimi Kuzyk, Megan Gallagher, Lisa Sutton. Marinaro decided he was done in Season 6.
Marinaro: I asked to leave. It wasn't about the money. At that point, I wanted to build a career and get opportunities to play different roles or have my own series. I was young and dumb and took a shot there. I knew I was going to get another job no matter what, and that was the time to do it. Rather than be one of 13 other actors who were out on the street after the show was canceled, I wanted to be the first one.
Haid: We collectively made a decision that it was seven (seasons) and out. We chose that. You wear out your welcome. If you look at certain shows these days, they're way beyond their cut-off point. If you think it's boring watching them, you ought to try directing them.
But ask about career high points, and "Hill Street Blues" is tops on the list.
Weitz: It gave me my career out here in Los Angeles. It's absolutely the high point. Without question -- the high point of my professional life.
Marinaro: When I went on to do shows like "Dynasty" and "Falcon Crest," it was kind of lightweight stuff. It was great -- people loved these shows -- but it wasn't "Hill Street Blues."
Haid: I owe my career to Steven Bochco. Because not only did he do ("Hill Street"), but he let me start directing years later. My mentor came out of that -- Gregory Hoblit. You don't work with guys like Bob Butler and Gregory Hoblit and don't learn something.
Marinaro: We were way ahead of our time. All the shows that became popular were hybrids of what we did.
Bochco: It was a teeming world. It was extraordinary in its time. It just changed the rules of TV.
Cast members Charles Haid, Ed Marinaro, James B. Sikking and Bruce Weitz spoke with CNN on the phone. Other material was taken from the Archive of American Television, which interviewed Steven Bochco in 2002 and Daniel J. Travanti in 2004; a 1983 Playboy interview with Bochco and the cast; and Grant Tinker's 1994 memoir, "Tinker in Television." The quotations have been edited and condensed.