STORY HIGHLIGHTS
The Donald Sterling controversy was Adam Silver's first major test as NBA commissioner
Analyst: Silver handled the scandal over Sterling's racist comments "spectacularly"
A key part of Silver's philosophy: No individual is greater than the team
Silver grew up as a New York Knicks fan and has worked for the NBA for 22 years
(CNN) -- At 6'3", he's tall enough to slam dunk, and supporters say that's exactly what Adam Silver did when he announced a $2.5 million fine and banned Los Angeles Clippers owner Donald Sterling for life from the NBA.
Silver, 52, is just three months into his tenure as NBA commissioner, and the scandal over Sterling's racist comments is the first major test he's faced as the league's leader.
In an interview with CNN's partner website Bleacher Report earlier this year, Silver described himself as a subdued basketball fan who was more likely to quietly observe than shout at the court.
But he was anything but subdued on Tuesday, leaving no room for interpretation as he announced Sterling's punishment and firmly declared that the Clippers owner's views "have no place in the NBA."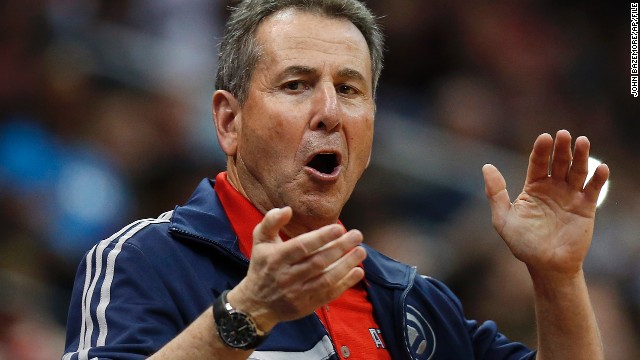 Atlanta Hawks controlling owner Bruce Levenson announced he will sell the team in light of an offensive email he sent. Levenson is not the first sports team owner to face the consequences of his actions:
The NBA's suspension and $2.5-million fine for Los Angeles Clippers owner Donald Sterling sent shockwaves through the sports world.
Bleacher Report has dubbed Mark Cuban the "King of NBA fines. The notoriously vocal Dallas Mavericks owner has been forced to pay more than $1.8 million in fines since he bought the team in 2000, many of them for colorful language and criticism of referees.
Former Cincinnati Reds owner Marge Schott was suspended from Major League Baseball in 1993 and 1996 for several controversial comments, among them racial epithets against players. In a 1996 interview, she said this about Adolf Hitler: "Everybody knows that he was good at the beginning, but he just went too far." She was forced to sell her controlling interest of the Reds in 1999.
Before the announcement about Sterling's suspension, Minnesota Timberwolves owner Glen Taylor was the only owner suspended in the NBA in 68 years. The league suspended Taylor in 2000 for a season after the Timberwolves made a secret deal with a star player to circumvent salary cap rules. Now, Taylor is chairman of the NBA board of governors, which Commissioner Adam Silver has asked to vote on stripping Sterling's ownership of the Clippers.
The NFL suspended San Francisco 49ers owner Eddie DeBartolo Jr. for his role in a racketeering scandal tied to riverboat casino licenses. DeBartolo pleaded guilty in 1998 to felony charges of failing to report an extortion case, according to Bleacher Report. By 2000 he was forced to cede control of the team to his sister.
As former Los Angeles Dodgers owner Frank McCourt's bitter divorce became a cloud over the franchise, his financial turmoil forced Major League Baseball to take over the day-to-day operations of the team in 2011. League Commissioner Bud Selig accused McCourt of "looting" the club of $190 million to fund an extravagant lifestyle. McCourt filed for bankruptcy later that year. During bankruptcy proceedings, McCourt agreed to sell the team under a bidding process.
The late New York Yankees owner George Steinbrenner was suspended from baseball for making illegal campaign contributions to Richard Nixon in 1974. He was banned for life in 1990 after paying a gambler $40,000 to get damaging information about a player, but Major League Baseball reinstated him three years later.
The NBA said Miami Heat owner Micky Arison had been fined in 2011 for posting about the league's collective bargaining process on Twitter. The amount of the fine was not disclosed, but several media reports said it was $500,000.
The NBA slapped Aubrey McClendon, partial owner of the Oklahoma City Thunder, with a $250,000 fine in 2007 after he told an Oklahoma newspaper that he hoped to move the team, then known as the Seattle SuperSonics, to Oklahoma.
The NBA fined former Los Angeles Lakers owner Jerry Buss $25,000 and suspended him for two games in 2007 after his conviction on a misdemeanor drunk driving charge. Buss died in 2013.
The outspoken CNN founder and former Atlanta Braves owner Ted Turner was suspended for a year in 1977 for negotiating a deal with a player who was under contract to play for the San Francisco Giants.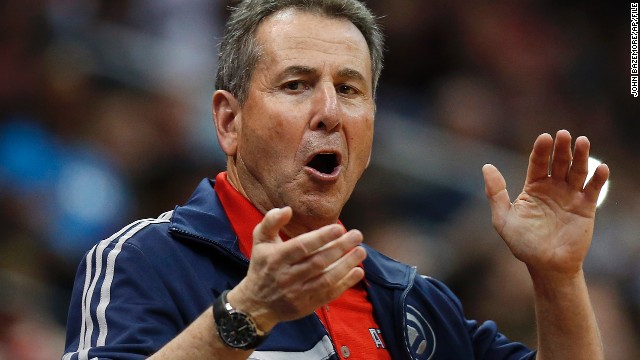 Team owners behaving badly
From inside and outside the league, praise for Silver's swift, decisive move came as fast as the condemnation of Sterling's comments.
"Kudos to Adam Silver," Grantland editor-in-chief and sports commentator Bill Simmons said in a Twitter post. "That was such an important moment for the NBA (and for him, too) and he handled it spectacularly."
Silver is known within the league as a consensus builder, and he commanded respect in various roles with the organization over the past 22 years, according to Bleacher Report.
One key part of his philosophy: Basketball is a team game.
Growing up a diehard New York Knicks fan, he remembers watching players like Earl Monroe, Bill Bradley and Clyde Frazier play at Madison Square Garden.
"You thought about them as a team," Silver told Bleacher Report. "There was no sense that any individual was greater than the team back then."
Learning from great coaches and general managers over the years has reinforced that idea, he said.
"I believe I've developed a true appreciation of the team concept and one that, sort of as the new commissioner-slash-CEO of this organization, I'm really hoping to put into practice," he told Bleacher Report.
Silver's also known for favoring transparency.
"As deputy commissioner, he was a driving force behind the decision to publicly announce blown referee calls," Bleacher Report's Howard Beck wrote. "The NBA's move to post videos explaining the league's most misunderstood rules also stemmed from Silver's advocacy."
Silver grew up outside New York City and graduated from Duke University and the University of Chicago Law School.
He told The New York Times earlier this year that he never imagined a career in professional basketball.
"I loved basketball, but I never dreamed about playing in the NBA or certainly working for the NBA," he told the newspaper.
Silver worked as a law clerk and a corporate lawyer before his career took the unexpected turn.
He joined the NBA in 1992 as a special assistant to then-Commissioner David Stern. From there, he served as the NBA's chief of staff, senior vice president and chief operating officer of NBA Entertainment and president and chief operating officer of NBA Entertainment. He became the league's second-in-command in July 2006.
Silver may have a background as a lawyer and a businessman, but underneath it all, friends say, he's a basketball fan.
"He loves the game," Duke coach Mike Krzyzewski, who has worked extensively with Silver, told Bleacher Report. "People can know the game, like the game, but then there are those who love the game. ... He's very proud of the game and his part in the game. He knows he's part of something bigger than him."
Silver has consulted with coaches about changes and made them feel included, Dallas Mavericks Coach Rick Carlisle told Bleacher Report.
"It breeds a real trust with him coming into this as the main guy now," said Carlisle, president of the National Basketball Coaches Association.
The youngest of five siblings, Silver never played basketball competitively but says he sometimes shot hoops on a basket mounted on the side of his house growing up.
"David Stern always says that 'Adam's a facilitator, because he's the youngest child,'" Silver told Bleacher Report. "I think I've always been the defender of whoever it is being yelled at, at that moment."
What the ban means for Clippers' finances
CNN's Rachel Nichols contributed to this report.