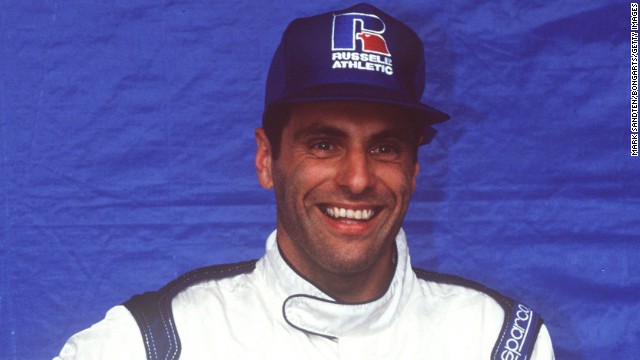 It is two decades since the death of Roland Ratzenberger at Italy's Imola circuit. The Austrian Formula One driver was killed on April 30 1994, 24 hours before three-time world champion Ayrton Senna lost his life.
Ratzenberger crashed at about 200 mph during qualifying for the San Marino Grand Prix at the Imola race track and died as a result of his injuries.
Ratzenberger had been battling for years to get into F1 but finally got his break at the Brazilian Grand Prix in 1994.
His sole race finish came at the Pacific Grand Prix in Aida, Japan where he crossed the line in 11th place -- two weeks before his death at Imola.
Ayrton Senna (left) -- seen here talking to to then F1 medical chief, Sid Watkins -- had planned to unfurl an Austrian flag in his honor at the end of Sunday's race.
F1 drivers paid tribute to both Senna and Ratzenberger following the double tragedy. Left to right -- Britain's Nigel Mansell, Jean Alesi of France, Germany's Heinz-Harald Frentzen and Michael Schumacher, Briton Damon Hill and Aguri Suzuki of Japan.
The life and times of Roland Ratzenberger
The life and times of Roland Ratzenberger
The life and times of Roland Ratzenberger
The life and times of Roland Ratzenberger
The life and times of Roland Ratzenberger
The life and times of Roland Ratzenberger
STORY HIGHLIGHTS
Roland Ratzenberger died in qualifying on the same tragic weekend as Ayrton Senna
The 33-year-old hit a wall at 200 mph at the Imola circuit
His former friend and rival Johnny Herbert calls him 'the forgotten man of F1'
Austrian driver's parents plan return to Imola to mark the 20th anniversary of his death
Follow us at @WorldSportCNN and like us on Facebook
(CNN) -- Just four Formula One drivers turned up to Roland Ratzenberger's funeral after his death during qualifying for the San Marino Grand Prix on April 30 1994.
The 33-year-old Austrian driver's passing was overshadowed by events that took place 24 hours later when three-time world champion Ayrton Senna was killed in Sunday's race at the Imola circuit.
On the 20th anniversary of that tragic weekend, it's Senna's death that still haunts the sport while Ratzenberger's fate has largely been ignored.
"He's the forgotten man of Formula 1," said former track rival Johnny Herbert, who was one of the drivers at Ratzenberger's funeral. "Forgotten to many, but not to me."
I miss him even now. I think about him at certain points particularly at the European races. Monaco's always one.
Johnny Herbert
Ratzenberger was competing in only the third grand prix of his F1 career when the mountings on his Simtek car's front wing became dislodged on his warm-up lap after hitting a curb in qualifying.
Exiting the Tamburello corner, which would become synonymous with Senna's fatal accident, on the next lap, the wing broke and he went careering into a concrete wall at the Villeneuve Curve head on at 200 mph.
While Senna's death spawned all manner of books and an eponymous documentary of his life, Ratzenberger's was a mere snapshot in that superb film.
And while an estimated three million people flocked to the streets of Sao Paulo for Senna's funeral, about 250 people were in Salzburg as Ratzenberger was laid to rest.
Herbert was among them, paying his respects to a friendship that first started in 1985 when the pair were vying for victory in the prestigious Formula Ford Festival in England.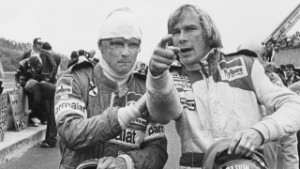 Niki Lauda on F1's most dangerous years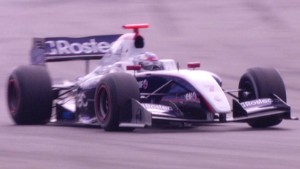 How do drivers get to F1?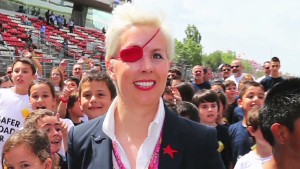 Remembering Maria de Villota
"I always think about Roland," three-time grand prix winner Herbert told CNN. "I miss him even now. I think about him at certain points particularly at the European races. Monaco's always one.
"The year before he died we had a nice dinner there -- then he was trying to get into F1. I remember him saying he was the better driver and I'd only got into a drive with money. I was like 'bad luck, I'm here you're not', that's just the kind of craic we had.
"He was a good friend, and we'd spoken of our dreams for many years. I'd got to F1 before him but that season it was great to see him. He had this very happy face, he had that 'I got there' face."
Family tragedy
Rudolf and Margit Ratzenberger moved into their son's Salzburg flat after his death as a way of ensuring their son's memory is not forgotten.
The home is littered with motorsport trophies from the junior formulae in Japan, Germany and England, pictures of their seemingly ever-smiling son on the mantelpiece.
The couple have been to Imola just once since their son's death 20 years ago to see the place where he lost his life but they will return this year for a four-day memorial to their son and Senna.
"It's still heavy," says Rudolf in broken English, "but this year we return. It's a celebration of his life, a memory. Yeah, it will be difficult to go back.
I've never wished that he didn't do Formula 1, no, because that was what he wanted to do, that was his dream.
Rudolf Ratzenberger
"It's 20 years since, 20 years of Roland living in that moment. But we live in his flat so Roland is always by us.
"But we also say goodbye to Senna, whose death was very difficult for us too, very heavy, especially when we heard he had the red flag of Austria in his car he planned to fly from the cockpit for the win for Roland.
"That's a very special moment for us amid the sadness."
Rudolf admits time has been a healer and that there is no bitterness towards the sport.
"We were just happy that he'd achieved his dream to be a driver in Formula 1," he added.
"It had been a long time driving in Japan, Germany and England to get there. I didn't see one of his grands prix.
"I've never wished that he didn't do Formula 1, no, because that was what he wanted to do, that was his dream. We were very happy for him, it was what he loved to do."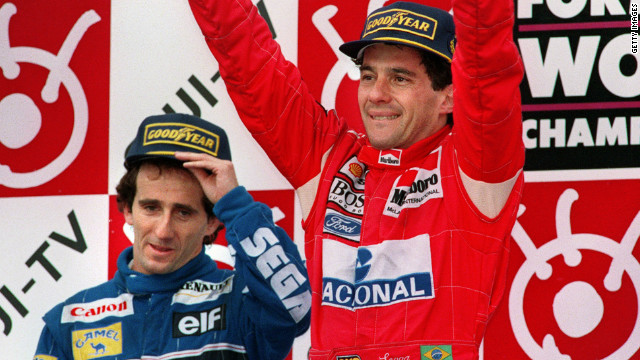 Ayrton Senna and Alain Prost were long-time rivals before they became teammates at McLaren.
Prost and Senna (No.1) clash at the Japanese Grand Prix at Suzuka in 1989. Prost clinched the title after the Brazilian was controversially disqualified after winning the race.
As they both battled for world titles at McLaren, Prost and Senna's relationship came under great strain.
Stand off: Senna and Prost walk away after the early crash at Suzuka in the final race of the 1990 season which left the Brazilian as world champion.
Prost's time with McLaren proved the most fruitful of his career as he captured three world titles.
Prost earned the nickname 'The Professor' for his thoughtful and studied approach to Formula One racing.
Prost competing in wet conditions at the Monaco Grand Prix which he won four times during his glittering career.
Prost and Senna formed a united team in 1988 as the latter won the championship for McLaren.
The medical team at Imola tend to the stricken Senna after his fateful crash in the San Marino Grand Prix in 1994.
Prost joined a pantheon of Formula One greats at Senna's funeral in Sao Paulo in 1994.
In the latter part of career Prost had to battle with the youthful exuberance of future seven-time champion Michael Schumacher.
Prost is a keen cyclist and is pictured here at the end of the 2009 L'Etape du Tour. The race enables 8,500 amateur cyclists to attempt a mountain stage of the Tour de France each year. The 2009 event was staged between Montelimar and Mout Ventoux, with Prost finishing 258th.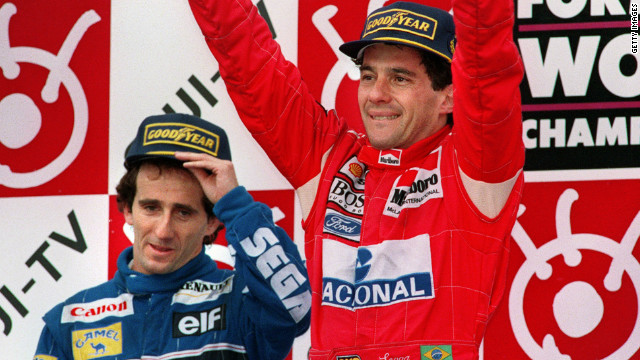 United in rivalry: Prost and Senna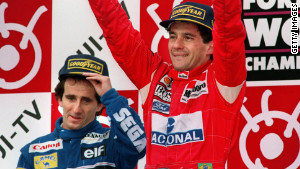 Who is the greatest F1 driver ever?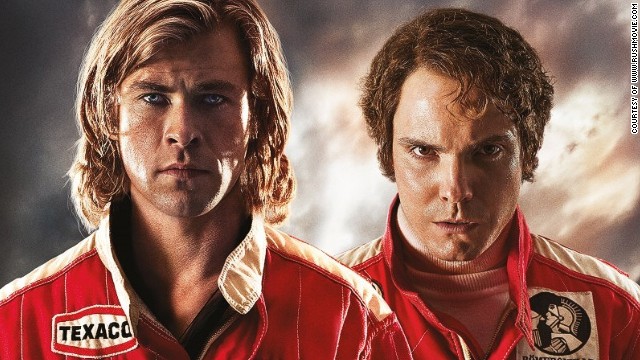 A promotional image for the new Formula One film "Rush." Australian actor Chris Hemsworth plays the hedonistic James Hunt (left) while Daniel Bruhl plays his on-track nemesis Niki Lauda.
Lauda (left) and Hunt seen here during their heyday in the 1970s. Their battle during the 1976 season is one of motorsport's most compelling dramas and has now been dramatized in "Rush" -- which was released this September.
McLaren driver Hunt poses before the 1976 British Grand Prix at Brands Hatch. The Briton, who died of a heart attack in 1993 aged 45, was one of F1's great characters. He earned the nickname "Hunt the Shunt" for his habit of crashing into fellow competitors.
By contrast, Austrian Lauda had a meticulous nature on and off the racetrack. The clash of personalities made for a compelling rivalry on and off the track during the 1976 season.
Lauda's crash at the Nurburgring at the beginning of August was the defining moment of the 1976 season. He suffered horrific burns and nearly lost his life but somehow found the courage to return to the track at Monza just 43 days later. The Ferrari driver conquered his fears and finished fourth to the amazement of everyone and the delight of the Tifosi.
Lauda attends the world premiere of "Rush" at London's Leicester Square. "I was happy to stay alive," he says of the crash at the Nurburgring. "Normally you get killed in this kind of accident. Then it was clear that the challenge now is to see can you ever comeback ... So I fought my way back five weeks later in Monza. I only had Hunt as a target and make sure he will not win the championship."
Lauda's return to the racetrack at Monza took "courage in its rawest form," says "Rush" director Ron Howard. "Both (Hunt and Lauda) were so truthful and so competitive. They just did things their way. And they would have scars of some of those decisions but they also got to own their own triumphs. You have to admire that. To me, that's the nobility of the story."
Current McLaren driver Jenson Button also attended the London premiere. Lauda's comeback was "amazing," the 2009 world champion said. "It's obvious how tough he found it ... You are going to be (scared) after a massive, scary incident. Things have changed in terms of safety over the last 40 years but there are still dangers involved. We understand that as drivers. As soon as you step into the cockpit you know that."
Hunt's son Tom attended the premiere. He said it was "surreal" watching the film for the first time. "There were so many different emotions. For me, it's easy in one way because I know it's not Dad up there and it's a Hollywood film. Ron and his team have done a fantastic job."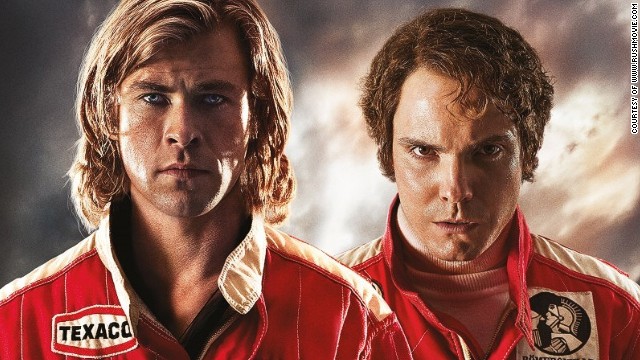 Rush movie premiere
Ratzenberger, who was so delighted on making it to F1 he handed out pin badges with his helmet on it to supporters, is buried in the family grave with a small replica of his helmet and a picture of him on the tombstone, with the final words summing up his father's aforementioned words translating as "he lived for his dream."
Horror crash
The couple were at home having just returned from holidaying in Mexico and were watching qualifying in bed when the tragedy struck.
They watched as their son came to a halt, his head slumped to one side, part of the car's monocoque ripped aside before later footage showed his heart being pumped by the medical crews.
"I remember his head being sloped to one side and part of the monocoque was open," recalled Herbert. "I remember thinking I'd just hoped he'd been knocked out. Sadly that wasn't to be.
"It was so sad as he was such a nice guy but at least he died doing what he loved doing. I know he knew the risks, we all did.
"If that had happened to me, he would have wanted the others to carry on, which we did in the end. Yes, he died too early and it was so unfair but it was something we accepted although you never thought about it."
Author and journalist Maurice Hamilton was commentating at the time of the crash for BBC Radio.
The mood was absolutely terrible. I'd been in the sport long enough to have experienced deaths before but it was still such a shock.
Maurice Hamilton, motorsport journalist
"I'd only met Roland once at the previous race weekend in Aida in the Austrian TV commentary box," said Hamilton.
"I was struck by his nice smile, he was very handsome. It doesn't take long to get a first impression of someone and mine was very good.
"When the crash happened, it looked bad, it was such a vicious crash. There wasn't a lot you could say at the time in commentary.
"I then went back to the press room to write it up for the Observer newspaper and it was then the announcement was made. I remember the mood was absolutely terrible.
"I'd been in the sport long enough to have experienced deaths before but it was still such a shock, the first F1 driver death for 12 years."
Herbert, Gerhard Berger, Heinz-Harald Frentzen and Karl Wendlinger were the only F1 drivers of that time to attend Ratzenberger's funeral, along with then FIA president Max Mosley.
In defense of his F1 peers, Herbert says, "no one really knew him but also people had different ways of dealing with things.
"Eddie Irvine for example decided not to go to either Ayrton or Roland's funerals. I decided it was important to pay my respects to a guy I don't think had a single enemy".
Herbert continued: "He was almost a gentleman racer of a bygone era. In those early days, he was the driver, team boss and mechanic all in one. He deserved his break in F1 and he got it.
"It's just such a tragedy even today."
The sport paid its respects at the subsequent race in Monaco, with a Brazilian flag laid out and an Austrian flag painted in the front-row grid positions.
The Simtek team, meanwhile, committed to the rest of the season with the words 'For Roland' written on the car's airbox.
But whereas Senna is understandably still revered and often talked about, Ratzenberger's memory has faded over the past two decades to all but a few.
Read: Remembering Senna - king of Monaco
Read: Ayrton Senna's greatest F1 moments