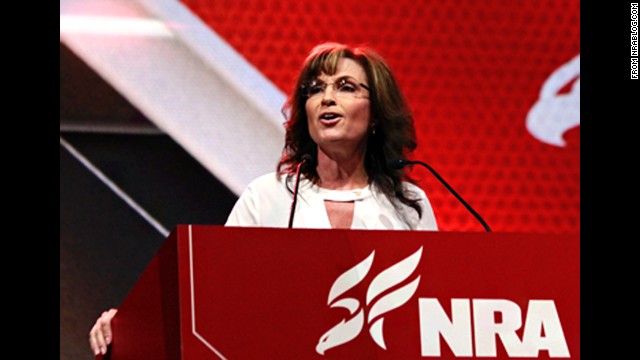 In this photo from the NRA's blog, Sarah Palin addresses the crowd at the 2014 National Rifle Association's annual meeting on Saturday, April 26. She shocked both liberal and conservative commentators when she said, "Well, if I were in charge, they would know that waterboarding is how we baptize terrorists."
In the middle of the Republican presidential primaries in February 2012, Palin told the Conservative Political Action Conference that the party needs a candidate who "can instinctively turn right," a dig at eventual GOP nominee Mitt Romney.
Palin stands in the rain in Anchorage in August 2006 as she campaigns for the Republican gubernatorial nomination. Palin defeated incumbent Frank Murkowski and former state legislator John Binkley win the race.
Gubernatorial candidate Sarah Palin stands beside then-Republican candidate for lieutenant governor Sean Parnell as they talk about their plan for a natural gas pipeline during a news conference in Anchorage. Parnell became governor when Palin stepped down in July 2009.
Sarah Palin holds her daughter Piper as she watches results on election night in November 2006. The former mayor of Wasilla became Alaska's first female governor.
Sarah Palin signs her oath of office document as Lt. Gov. Sean Parnell, left, and Superior Court Judge Niesje Steinkruger look on after her swearing-in ceremony in Fairbanks in December 2006.
Republican presidential candidate John McCain stands with newly announced running mate Sarah Palin in August 2008 in Dayton, Ohio. McCain made the Palin announcement the day after Barack Obama accepted the Democratic presidential nomination.
Sarah Palin's family, from left to right, son Track; daughter Bristol; Bristol's then-fiancee Levi Johnston; daughter Willow; daughter Piper; husband Todd and infant Trig, on stage after her speech to the Republican National Convention in September 2008.
Sarah Palin and her husband, Todd, leave City Hall after she voted in her hometown of Wasilla on Election Day in November 2008. The Palins then flew to Arizona to join presidential candidate John McCain.
Sarah Palin and her husband, Todd, join Republican presidential candidate Sen. John McCain and his wife Cindy as McCain concedes the presidential race to Democrat Barack Obama in November 2008.
The title of Palin's bestseller "Going Rogue" is a play off a remark a John McCain campaign staffer made to CNN about her straying from the McCain playbook.
Sarah Palin signs copies of her second book "American by Heart" at Dillon's Marketplace in Andover, Kansas, in November 2010.
Sarah Palin and Donald Trump walk toward a limo after leaving Trump Tower for a dinner meeting in the city in May 2011 during the Palin bus tour that fueled speculation she would run for president the next year. She didn't.
Sarah Palin was mobbed at the Iowa State Fair in Des Moines in August 2011, a familiar campaign stop for presidential hopefuls, during her "One Nation" bus tour.
Sarah Palin speaks during the Tea Party of America's "Restoring America" event in September 2011 in Iowa. Supporters had hoped that she would use the event to announce that she was running for president.
Sarah Palin drinks a "Big Gulp" soda during the Conservative Political Action Conference in March 2013 to mock New York Mayor Michael Bloomberg's push against large, sugary drinks.
Wearing a shirt that reads "Women hunt," Sarah Palin blasts President Barack Obama and gun control advocates for "exploiting" recent mass shootings as she speaks to the National Rifle Association Convention in Houston in May 2013.
Sarah Palin fires up a rally of veterans, their families and supporters at the World War II Memorial in Washington during the partial government shutdown in October 2013.
Sarah Palin: Gone rogue
Sarah Palin: Gone rogue
Sarah Palin: Gone rogue
Sarah Palin: Gone rogue
Sarah Palin: Gone rogue
Sarah Palin: Gone rogue
Sarah Palin: Gone rogue
Sarah Palin: Gone rogue
Sarah Palin: Gone rogue
Sarah Palin: Gone rogue
Sarah Palin: Gone rogue
Sarah Palin: Gone rogue
Sarah Palin: Gone rogue
Sarah Palin: Gone rogue
Sarah Palin: Gone rogue
Sarah Palin: Gone rogue
Sarah Palin: Gone rogue
Sarah Palin: Gone rogue
STORY HIGHLIGHTS
Sarah Palin told NRA meeting, "Waterboarding is how we baptize terrorists"
Interfaith group of religious leaders called on her, NRA to repudiate those remarks
David M. Perry: Equating torture with religious sacrament evokes horrors of the past
He says Palin's divisive rhetoric evokes persecution of Jews and Muslims
Editor's note: David M. Perry is an associate professor of history at Dominican University in Illinois. He writes regularly at his blog, "How Did We Get Into This Mess?" Follow him on Twitter. The opinions expressed in this commentary are solely those of the author.
(CNN) -- Last Saturday, Sarah Palin stood before the huge crowd at the 2014 National Rifle Association annual meeting and condemned liberals for coddling terrorists. She loaded her speech with religious metaphors, claiming that true leaders would put "the fear of God in our enemies." She said, "They obviously have information on plots to carry out jihad. Oh, but you can't offend them, can't make them feel uncomfortable, not even a smidgen. Well, if I were in charge, they would know that waterboarding is how we baptize terrorists."
Palin's invocation of forced baptism shocked both conservatives and liberals, inspiring few defenders. Christian commentators, in particular, focused on her link between torture and baptism.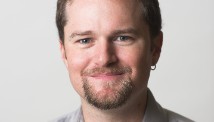 David M. Perry
On Wednesday, the National Religious Campaign against Torture released a powerful condemnation of the speech. To Palin, the organization's executive director wrote, "Your statements play into a false narrative conveying that somehow, the conflict between the United States and the terrorist cells is a conflict between Christianity and Islam, or Islam and 'the West.' "
The group's letter to the NRA, signed by 17 faith leaders from many different religions and denominations, reads, "For Christians, baptism is a profoundly holy act. It is in stark contrast to the abhorrent act of waterboarding. Equating baptism to an act of torture like waterboarding is sacrilegious -- and particularly surprising coming from a person who prides herself on her Christian faith."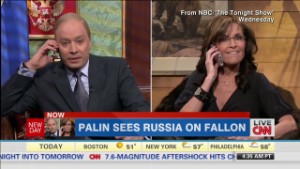 Inside Politics: Palin v. Putin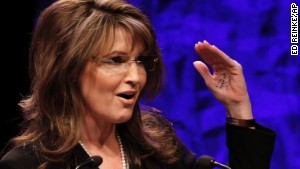 Inside Politics: Palin's Full Magazine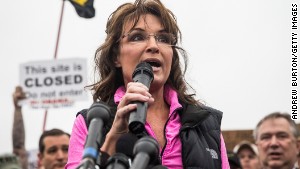 Palin to Obama: Put down the 'race card'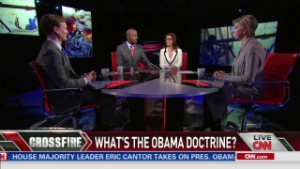 What is Obama's foreign doctrine?
But it's not actually all that surprising. Palin's public rhetoric relies on crafting existential binaries between "us" and "them," creating a kind of sacred empowered victimhood among her listeners. She draws from the language of militant Christianity to claim the status of both persecutor and persecuted. This is not an accident, and I do not believe she will repudiate her remarks.
I'm an historian. While people of faith such as the National Religious Campaign against Torture are concerned about blasphemy, I worry about history. When powerful Christians such as Palin start speaking about forced baptism to a cheering throng, they evoke, intentionally or not, some of the worst episodes in Christian history. Here's one.
On Valentine's Day 1349, the citizens of Strasbourg, Germany, rose up against the Jewish population of their city. The Chronicle of Mathias of Neuenburg describes it as follows:
"And so, on the following Saturday (February 14), the Jews were conducted to the cemetery to be burnt in a specifically prepared house. And 200 of them were completely stripped of their clothes by the mob, who found a lot of money in them. But the few who chose baptism were spared, and many beautiful women were persuaded to accept baptism, and many children were baptized after they were snatched from mothers who refused this invitation. All the rest were burnt, and many were killed as they leaped out of the fire."
This is just one of the many examples of forced baptism of Jews and Muslims under threat of massacre. Notice the specifics. The Jews were forced into a building, stripped, robbed and burned alive. Their only pathway out was through baptism and rape. As parents died, babies were taken from their mothers to be baptized.
The church condemned these practices, but if someone went into a church and was baptized, even under threat of death, it counted. Such issues led to the terrible excesses of the Spanish Inquisition in which forcibly converted Jews and Muslims were held under constant scrutiny and suspicion.
When Palin stood before the huge crowd of mostly white people, she told her audience to be afraid and to be prepared for civilian violence. She spoke about "that evil Muslim terrorist Maj. (Nidal) Hasan ... his Allah Akbar (sic) praising jihad." She said, "Ammo is expensive, don't waste a bullet on a warning shot." She divided the world between "us" and "them," with no room for dialogue. At one point she pretended to apologize for saying all liberals were hypocrites, then joked, redrawing the divisive line, "I'm kidding, yes they are."
Finally, she said, "If I were in charge," and paused to let crowd cheer. Then, with great deliberation, she linked a torture method that makes the sufferer feel like they are dying to the ritual of Christian inclusion. The crowd went wild. "Thank God," she said, "more and more Americans are waking up." I don't read her invocation of a deity as accidental. For Palin, this is a holy struggle.
Last Sunday wasn't the first time Palin used rhetoric invoking one of the worst chapters of Christian history. In January 2011, in the wake of the Gabrielle Giffords shooting in Arizona, she and some right-wing defenders used the term "blood libel" to describe those linking the shooting to Palin's martial rhetoric. (She had used on her website a map with cross hairs on Giffords' district).
Blood libel refers to the medieval myth that Jews murdered Christian children in religious rituals and baked their blood into matzos for Passover. It's a myth that has resulted in massacres of Jews for centuries.
I appreciate the efforts of the National Religious Campaign against Torture and others to contest this language in public. We can't pretend, though, that Palin's invocation was an aberration or that her status as a failed politician makes her irrelevant. The crowd was cheering; then they went into the exhibition hall to buy weapons.
Sarah Palin and her followers want it both ways. They are the persecuted chosen people of God, targeted by lies and threatened with violence by those who do not share their faith. They are also the Christian triumphalists, ready for a Day of Reckoning in which all will be converted or destroyed.
This is not a joke or an accident. This is not new rhetoric. And it never ends well.
Follow us on Twitter @CNNOpinion.
Join us on Facebook/CNNOpinion.