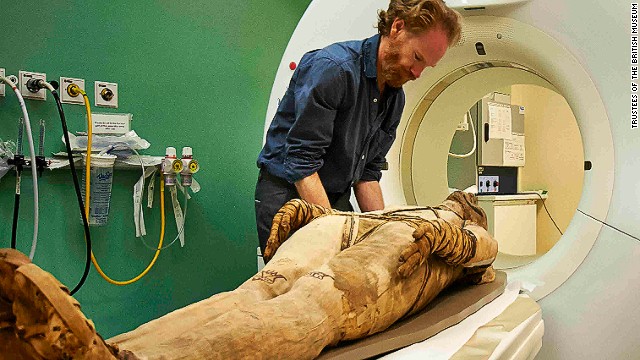 The British Museum has started scanning several mummies from its collection using a CT scanner from the Royal Brompton Hospital in London.
Egyptologists at the museum also use the same 3-D design software employed by car companies to create models of the mummies, including that of an unknown man (pictured).
The unknown man, who died around 600 BC, was originally stored in a coffin meant for a female. CT scans revealed that the mummy was in fact male, and likely put in the coffin by accident.
The museum uses a dual-energy CT scanner, which can create images of thick areas, like bone, and thin textures, like skin and fabric.
The modeling software allows researchers to virtually 'strip away' not only the fabric encapsulating the mummy, buts its skin as well.
The scan of the unknown man revealed evidence of dental abbesses and the loss of several teeth, which would have meant he likely was in severe pain in the lead up to his death.
The scan also revealed that Egyptian embalmers botched the job. A chunk of his brain (in blue) was left in the skull, along with a piece of the spatula used to extract the organ (in green).
The unknown man was discovered in Thebes. Scans revealed he likely died around age 35.
Egyptologists also scanned the remains of a priestess named Tayesmutengebtiu, or Tamut for short.
In the 19th century, Egyptologists would sometimes remove the wrappings physically, which often damaged the corpse underneath. Now, researchers can view the mummy in incredible detail without touching it.
Thanks to the 3-D visualization software, researchers were able to see the placement and detail of the amulets that decorated Tamut's corpse for the first time.
CT scans have also enabled the museum team to establish Tamut's approximate age at the time of her death (which they place between 30 and 50) by allowing them to examine her pelvis.
They were also able to see plaque build-up in her arteries, which could have put her at risk for a stroke or heart attack.
For the first time, museum staff are able to discern the inscriptions on Tamut's amulets, as well as their significance based on their placement on her body.
As well as a priestess, Tamut was a singer, and likely served at the temple of Amun-Re at Karnak in Luxor, Egypt.
Underneath a mummy's wrappings
Underneath a mummy's wrappings
Underneath a mummy's wrappings
Underneath a mummy's wrappings
Underneath a mummy's wrappings
Underneath a mummy's wrappings
Underneath a mummy's wrappings
Underneath a mummy's wrappings
Underneath a mummy's wrappings
Underneath a mummy's wrappings
Underneath a mummy's wrappings
Underneath a mummy's wrappings
Underneath a mummy's wrappings
Underneath a mummy's wrappings
Underneath a mummy's wrappings