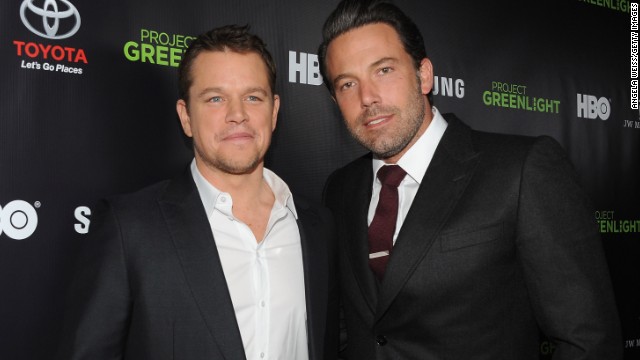 Matt Damon and Ben Affleck are the poster boys of bromance. In fact, when Affleck was cast as Batman, there were jokes about
Damon playing Robin
. After their Oscar-winning script for "Good Will Hunting," the pair continued to work together in movies like "Dogma." Now they have teamed up again for Syfy thriller "Incorporated." See more of our favorite male besties ...
Jonah Hill and Channing Tatum are a winning pair on and off the big screen. The "21 Jump Street" co-stars and off-screen pals are reviving their bromance with the comedy "22 Jump Street," which opens June 13. Of their bond, Tatum told CNN, "we just got really lucky."
.
In a new interview with
AARP magazine
, McKellen said that Stewart is "straightforward," but "his nature is a very sweet one. And we spend much of our time laughing." The way all bros should.
Co-workers and good friends, "X-Men" stars Ian McKellen and Patrick Stewart have perfected the art of the bromance
Kanye West and Jay-Z go way back. West was a producer on Jay-Z's albums 13 years ago, and Jay-Z returned the favor, appearing on West's albums. The ultimate collaboration came in 2011 with the pair's wildly successful album "Watch the Throne."
Emerson told CNN
, "We were both the oldest guys on that show. We had many more things in common: small town Midwestern backgrounds, and we both moved to big cities to pursue the unlikely dream of being an actor. We both ended up accidentally on a big series. We had some of the same work habits. We had so many things in common." The pair hope to work together again in the future.
Though they may have played enemies on "Lost," Terry O'Quinn and Michael Emerson ("Person of Interest") became good friends while filming the show.
For some fans, the relationship and competition between Blake Shelton and Adam Levine are big reasons to watch "The Voice." The show has played up the pair's bromance, but that hasn't made them less competitive, often needling each other along the way. Levine won the first season and Shelton has won every season since.
spoke at length
about their relationship, praising Newman's social responsibility and his sense of fun.
The film "Butch Cassidy and the Sundance Kid" was one of the highlights of a beautiful friendship between Robert Redford (right) and the late Paul Newman. They worked together again in "The Sting." When Newman died in 2008, Redford
Any fan of "Zoolander" will tell you just how great Ben Stiller and Owen Wilson work together. The pair turned up again in "The Royal Tenenbaums," "Starsky & Hutch" and the "Meet the Parents" films.
Most people first met Vince Vaughn and Jon Favreau in the 1996 hit independent film "Swingers." Sure, Vaughn had his Owen Wilson comedies and Favreau had his "Iron Man" movies but these two have kept working together in everything from "Four Christmases" to "Couples Retreat."
Maguire called DiCaprio
"one of my best friends." All together now: Awww...
Their bromance didn't start with "The Great Gatsby." Tobey Maguire and Leonardo DiCaprio go back to the late 1980s. While doing press for the movie this summer,
have a blast
making those "Ocean's" movies, and the fun has just continued for these two. Clooney even name-dropped Pitt in his Golden Globes acceptance speech last year.
Brad Pitt and George Clooney always seemed to
When you start a band together, it's a special kind of bromance. Big Boi and Andre 3000 have been at it for over 20 years. We just hope to see a new OutKast album one of these days.
"Guy Love"
was only on-screen. It turns out that Donald Faison and Zach Braff are besties in real life, singing
Christmas carols
, one hosting the other's wedding
at their home
, the whole bit. So of course they had to
reunite
on Faison's TV Land show.
You just thought that "Scrubs" characters Turk and J.D.'s
"The Barry Gibb Talk Show"
on "Saturday Night Live" -- and couldn't help but crack each other up -- you knew it was a bromance waiting to happen. Timberlake is now basically a regular on "Late Night with Jimmy Fallon," most recently as part of
"Timberlake Tuesdays"
this September.
As soon as Jimmy Fallon and Justin Timberlake did
Since their "Freaks and Geeks" days, Seth Rogen and James Franco seem to make every effort to work together, most famously in "Pineapple Express," and most recently in "This is the End." They'll return in the upcoming comedy about North Korea (yes, you read that right) titled "The Interview."
Hollywood's best bromances
Hollywood's best bromances
Hollywood's best bromances
Hollywood's best bromances
Hollywood's best bromances
Hollywood's best bromances
Hollywood's best bromances
Hollywood's best bromances
Hollywood's best bromances
Hollywood's best bromances
Hollywood's best bromances
Hollywood's best bromances
Hollywood's best bromances
Hollywood's best bromances
Hollywood's best bromances