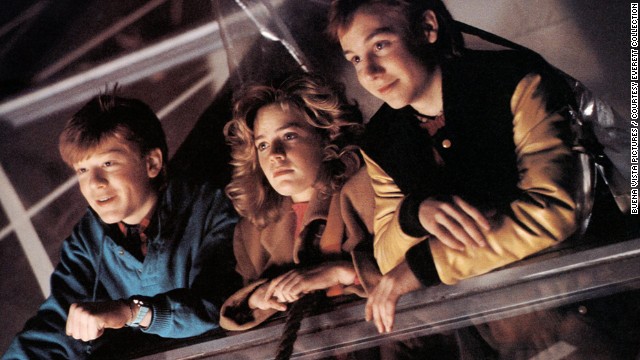 Netflix and Amazon are adding so much streaming content in May we're not sure the month's 31 days is enough time to sift through it all. You can kick off your movie and TV bingeing with "Adventures in Babysitting," which is now available on Netflix.
"Forrest Gump" (1994) -- Life is like a box of ... . This film stars Tom Hanks as a child-like man who stumbles into some of the biggest moments in history. (Netflix)
"Boys Don't Cry" (1999) -- The film based on the tragic story of Brandon Teena won Hilary Swank an Academy Award for best actress. (Netflix)
"Hook" (1991) -- Robin Williams is a the now grown-up Peter Pan who must save his children from his arch-enemy Captain Hook in this fantasy film. (Netflix)
"Gladiator" (2000) -- Russell Crowe and Joaquin Phoenix star in this Ridley Scott-directed film about a Roman general who is enslaved and forced to fight as a gladiator. (Netflix)
"Broadway Idiot" (2013) -- It's not every musician that can go from being a platinum-selling punk rocker to Broadway star. This documentary about Green Day front man Billie Armstrong tells the story of his journey. (Netflix)
"Kill Bill" Volumes 1 and 2 (2003, 2004) -- The body count is high in these Quentin Tarantino movies as Uma Thurman's character The Bride seeks her revenge in the martial arts flicks. (Netflix)
"Kiss the Girls " (1997) -- Based on the James Patterson novel, this thriller stars Morgan Freeman and Ashley Judd. (Netflix)
"La Bamba" (1987) -- The story of teenage Chicano rock star Ritchie Valens who died with Buddy Holly and The Big Bopper in a 1959 plane crash made Lou Diamond Phillips a star. (Netflix)
"Legend of Bagger Vance" (2000) -- Will Smith stars as a caddy to Matt Damon's golfer who is in need of some help with his game. (Netflix)
"Mr. Smith Goes to Washington" (1939) -- This film starring James Stewart is both a political film and a comedy. It is directed by Frank Capra who also teamed up with Steward for the classic Christmas film "It's a Wonderful Life."
"The Big Chill" (1983) -- Come for the movie, stay for the soundtrack. An all-star ensemble including Kevin Kline, Glenn Close, Jeff Goldblum and William Hurt come together for this drama about a group of Baby Boomers who reunite for a trip after the suicide of a friend. (Netflix)
"The Prince of Tides" (1991) -- Barbara Streisand and Nick Nolte star in this emotional romance. (Netflix)
James Bond movies: The 1963 James Bond movie "From Russia With Love" (1963) is just one of many Bond flicks now available on Netflix. A few other selections include 1973's "Live and Let Die," 1983's "Never Say Never Again" and 1964's "Goldfinger."
Godzilla movies: "Godzilla" will be in theaters starting May 16, but you can find even more of the monster on Netflix. The streaming service has four Godzilla movies from the mid '50s and '60s now available.
HBO programming: Amazon is your new favorite place to watch HBO shows (other than HBO, obvs). The website has lined up full and partial seasons of lots of original HBO programming, including "Flight of the Conchords."
"The Spectacular Now" (2013) -- Miles Teller and "Divergent" star Shailene Woodley navigate teen love in this drama. (Amazon)
"Much Ado About Nothing" (2012) -- Joss Whedon directs this modern retelling of the Shakespeare classic starring Amy Acker and Alexis Denisof. (Netflix and Amazon)
"Pain and Gain" (2013) -- Crime, comedy and weightlifting come together in this based-on-a-real-life story about a kidnapping gone awry starring Mark Wahlberg, Dwayne "The Rock" Johnson and Anthony Mackie. Michael Bay directs. (Netflix and Amazon)
"Eddie Murphy: Delirious" (1983) -- Five words for you: "Uncle Gus and Aunt Bunny." Before he was the voice of Donkey in "Shrek" Murphy was a red leather clad comic stalking the stage in this stand-up film. (Netflix)
"Star Trek Into Darkness" (2013) -- Trekkies rejoice! JJ Abrams directs the latest of this franchise which stars Zachary Quinto, Zoe Saldana and Benedict Cumberbatch. (Netflix and Amazon)
"Scandal" Season 3 (2013) -- Fans of the ABC series will find this season memorable, if for no other reason than watching how hard they worked to hide star Kerry Washington's pregnancy. (Netflix)
"Machete Kills" (2013) -- This sequel to the 2010 "Machete" stars Danny Trejo, Jessica Alba and Michelle Rodriguez. Lady Gaga shows up too. (Netflix)
"Leviathan" (2012) -- You kind of just have to watch this documentary about the fishing industry to get it. It engages the senses. (Netflix)
"Vanishing of the Bees" (2009) -- This documentary looks into the dwindling population of honey bees around the world. (Netflix)
"Escape from Tomorrow" (2013) -- Disneyland was not happy with the unauthorized scenes in this film about a man unraveling while on family vacation to the Happiest Place on Earth. (Netflix)
"Brave Miss World" (2013) -- Linor Abargil was an Israeli beauty pageant contestant who was raped right before she went on to win Miss World. The documentary explores the case. (Netflix)
"These Birds Walk: (2013) -- The documentary follows the lives of philanthropist Abdul Sattar Edhi and a young Pakistani runaway. (Netflix)
"Derek" Season 2 (2014) -- Ricky Gervais stars in this British comedy television series. (Netflix)
"Wicker Park" (2004) -- Josh Hartnett, Rose Byrne and Diane Kruger star in this psychological thriller. (Netflix)
"Annie Hall" (1977) -- Woody Allen wrote this iconic New York love story for Diane Keaton, whom he was romantically involved with at the time. (Netflix)
New movies for May
New movies for May
New movies for May
New movies for May
New movies for May
New movies for May
New movies for May
New movies for May
New movies for May
New movies for May
New movies for May
New movies for May
New movies for May
New movies for May
New movies for May
New movies for May
New movies for May
New movies for May
New movies for May
New movies for May
New movies for May
New movies for May
New movies for May
New movies for May
New movies for May
New movies for May
New movies for May
New movies for May
New movies for May
New movies for May
New movies for May