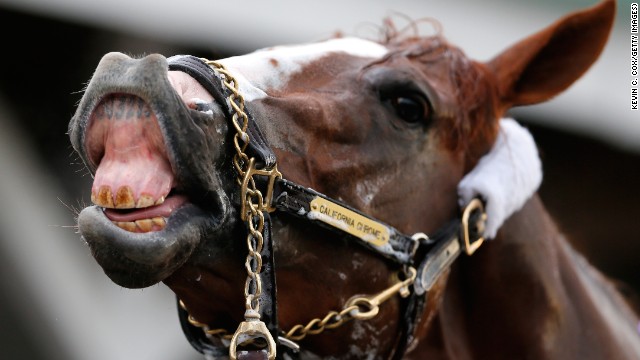 Introducing racing's "rock star."
California Chrome has arrived at Louisville for the Kentucky Derby build-up and remains the favorite to win the famous trophy.
A crowd of 150,000 is expected to flock to Churchill Downs to see the field leave the stalls for the 140th Kentucky Derby.
Last year's winner of a race billed as "the fastest two minutes in sport" was Orb, ridden through the mud to victory by jockey Joel Rosario.
This year's favorite when they enter the first turn is California Chrome, a horse that cost its owners a mere $10,000 to breed.
California Chrome, pictured with mother Love the Chase as a foal, was a huge bargain -- the mare costing $8,000 and breeding with sire Lucky Pulpit for just $2,000.
The colt has become a surprise hit in thoroughbred racing, upstaging far more costly rivals in something of a fairy tale.
All eyes in the U.S. will be on Kentucky from dusk until dawn as the world's best horses battle it out for the $2 million purse.
Star jockey Gary Stevens returned to the sport before last year's Kentucky Derby and is targeting a fourth win in the prestigious race on Candy Boy.
The stands will once again be full to the brim for the key occasion of American thoroughbred racing.
Flamboyant hats are never far away on major race days.
Spectators come in all shapes and sizes each, including a quartet of AXE astronauts in attendance at the event a year ago.
Colorful head pieces are always a feature on race day and, in the case of this punter, hopefully lucky horseshoe sunglasses.
Last year the rain came down but those gathered for the event remained undeterred by the mud underfoot. Who will the sun shine down on in 2014?
'The fastest two minutes in sport'
'The fastest two minutes in sport'
'The fastest two minutes in sport'
'The fastest two minutes in sport'
'The fastest two minutes in sport'
'The fastest two minutes in sport'
'The fastest two minutes in sport'
'The fastest two minutes in sport'
'The fastest two minutes in sport'
'The fastest two minutes in sport'
'The fastest two minutes in sport'
'The fastest two minutes in sport'
'The fastest two minutes in sport'
'The fastest two minutes in sport'
STORY HIGHLIGHTS
California Chrome cost just $10,000 and is shock favorite for Saturday's Kentucky Derby
Trainer Art Sherman, who has been involved with classic since 1950s, calls him a "rock star"
His owners recently turned down a $6m offer for a half-share in the horse
California Chrome has been called a modern-day Seabiscuit and the "people's horse"
Follow us at @WorldSportCNN and like us on Facebook
(CNN) -- Welcome to the world of rock and roll racing.
"He loves the noise, he knows he's a star, he poses for the photographs," trainer Art Sherman --part of the team behind California Chrome, favorite for Saturday's Kentucky Derby -- tells CNN. "Pure and simple he's a rock star."
California Chrome's joint owner Steve Coburn is even more effusive.
"We've got one elderly gentleman who comes to the races who has a jackass tattoo on his shoulder," explains Coburn, a nod to the jackass on California Chrome's racing silks.
"Fans don't do that unless you're a rock star. People flock where he goes."
You can have all the money in the world to buy every single grain of sand on a beach but you can't buy this story
California Chrome co-owner Steve Coburn
The equine equivalent of a musical superstar is also the main protagonist in a fairytale on a par with the great Seabiscuit, the diminutive thoroughbred racehorse which defied the odds and delighted a depression-hit U.S. and whose story was turned into a movie 11 years ago.
California Chrome must surely have Hollywood executives salivating at the prospect of how events might unfold at at Churchill Downs' historic dirt track in Louisville this weekend.
The three-year-old colt's remarkable tale began in the womb of Love the Chase, a mare that Coburn and co-owner Perry Martin bought for $8,000 with a view to breeding.
They bred her to the stallion Lucky Pulpit for a reduced fee of $2,000, the first breeding the novice pair had ever undertaken.
It could have been a case of first time lucky as their offspring has earned Coburn and Perry more than $1 million in prize money and chalked up illustrious wins at the Santa Anita Derby, San Felipe Stakes and California Cup Derby.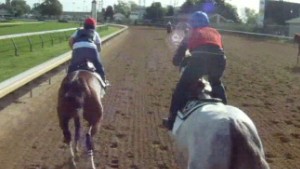 Jockey cam: Horse racing on dirt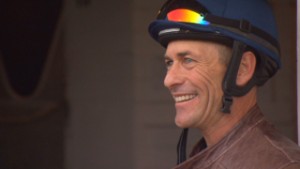 Gary Stevens' successful Derby return?
His recent run of success -- four wins in his last four outings -- has marked California Chrome out as a pre-race favorite for the Kentucky Derby -- the first race in horse racing's coveted Triple Crown, which also includes the Preakness Stakes and the Belmont Stakes -- in the chase for a purse of $2m.
Understandably, the horse's value has rocketed, and is now estimated to be around $12m. Coburn and Martin were recently offered $6m for a controlling 51% stake in the horse, which they turned down.
The whole story is so fanciful that the horse-owning partnership goes under the name Dumb Ass Partnership or DAP Racing, hence the jackass on their colors.
"When Perry and I bought the filly, one of the barn hands said we must be dumb asses to get into this game and hence the name," Coburn explains to CNN.
But through every strand and sinew there is a heart-warming tale behind California Chrome.
For a start, he races in the purple and green, the favorite colors of the duo's respective wives.
Then there's the location where the horse has been stabled.
His neighbours at Los Alamitos racecourse in Orange County are predominantly quarter horses, named for the quarter mile horse races that are regularly held at the track where California Chrome is exercised at 7.30 am every morning.
If California Chrome wins the Derby he will also become the first California-trained horse to win since Decidedly's success in 1962.
Then there is the small matter of his 77-year-old trainer Sherman, who has just 15 horses in his yard but whose history with the Derby dates back to 1955.
Back then, Sherman acted as the exercise rider for race winner Swaps, who also happens to feature in the distant bloodline of California Chrome.
Sherman, far younger and more energetic than his years would suggest, recalls: "I was barely 18 years old and my memories are a little bit different now. Back then I was so young, it didn't mean so much.
"I've put 60 years into this business and I thought my chance in the Kentucky Derby had gone. You never say never.
"Now I've got another chance. It's a fairytale and I do believe in fate. He'll be the horse to beat. He's been awesome these last four races, we just hope he has five in him. But it's a different ball game when 150,000 people are screaming at you. But he's a rock star isn't he? That shouldn't be a problem.
"He just loves to run, he'll run all day long. We just need some luck, that plays a big part in such a story. His story is just like that of Seabiscuit isn't it? It'd be a hell of a book or a movie if he pulls it off."
Sherman's first win as a jockey aptly came at Hollywood Park in 1957, where his current wonder horse first announced himself in the big time with victory in last year's King Glorious Stakes.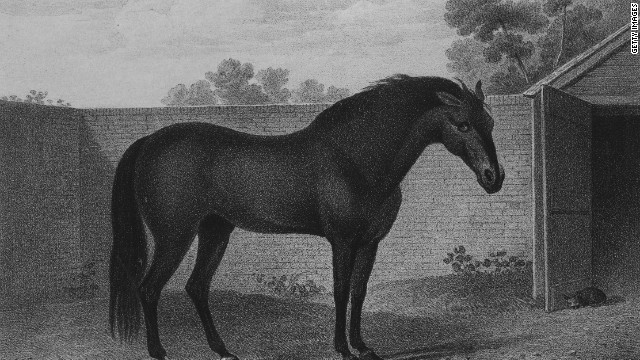 Every thoroughbred horse can be traced back to one of three stallions, and 95% of those go back to one -- the Godolphin Arabian, pictured. Named after his owner, Earl Francis Godolphin, the stallion lived from 1724-1753 and sired some of the greatest racehorses in history, with Seabiscuit and Man o' War just two of his direct descendants.
Sired by the Darley Arabian --one third of the thoroughbred stallion trifecta, along with the Godolphin Arabian and the Byerly Turk -- Flying Childers is often credited as the first true "great racehorse."He was retired to stud after winning all six of his races in the early 18th century. His British owner, the Duke of Devonshire, once reportedly received an offer to buy the stallion for the price of its weight in gold.
Grand foal of the Godolphin Arabian, Eclipse is perhaps the greatest thoroughbred ever to race. After 18 wins from 18 starts in only 17 months, Eclipse was retired to stud in 1771 due to lack of competition, as nobody would bet on the other horses. The Eclipse Stakes at England's Sandown Park are a testament to his legacy.
Potoooooooo (often spelled "Pot-8-Os") is responsible for a key element of horseracing -- that of abstract and often ludicrous naming. Sired by the great Eclipse, he was originally to be "Potatoes" but after a stableboy misspelled his name on a feedbin the horse's breeder -- the 4th Earl of Abingdon -- found the mistake so humorous he decided to keep it that way.
In 1878 Wilfrid Scawen Blunt, pictured, and his wife Lady Anne Blunt established what would become Britain's foremost thoroughbred stud farm. Crabbet Arabian Stud was founded after the Blunts decided -- while on holiday in Syria -- to bring back some of the best Arabian horses for breeding in England. Now, 90% of all Arabian horses can be traced back to Crabbet.
Persimmon, depicted here with his owner King Edward VI, is the first horse to be captured on film. The 1895 filming of the Epsom Derby fast became a worldwide cultural phenomenon, with thousands of people flocking to exhibitions to witness racing on film for the first time. Persimmon accumulated what would be $3.5 million in on-track prize money by modern standards.
American horse Man o' War won 20 of 21 races he started, raking in more than $7.5 million in today's equivalent prize money. For six races as a two-year-old, his handicap of 130 pounds was one of the heaviest ever carried.
Black Caviar, pictured, is the most successful sprinter in the world with a unbeaten record of 22 wins. There have been rumors the Australian mare has been promised to champion stallion Frankel, who has a record of 12 wins undefeated. If true, then their offspring could well be a racehorse with the genetic potential to be even better than Man o' War or Eclipse.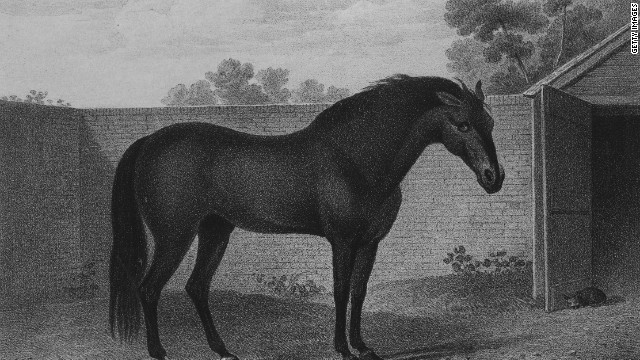 A history of the thoroughbred
That he should have ever got here bred by Martin, who works for a consumer safety firm, and Coburn, whose company JCP Enterprises makes the magnetic strips on credit cards, is remarkable, bearing in mind this is the first horse that Coburn has ever raced.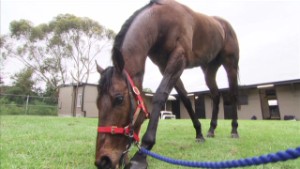 Rags to riches horse stuns racing world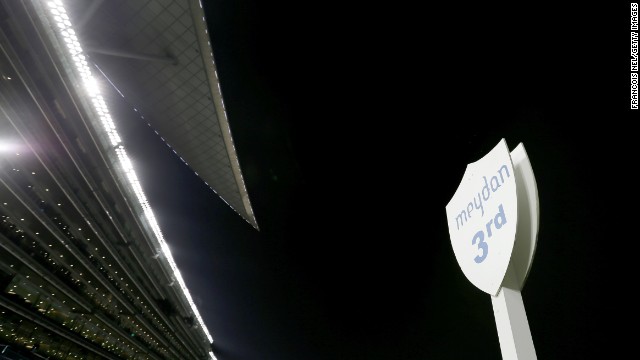 The flat racing season is up and running, notably in Dubai, which is gearing up for the "richest race in the world" in March. Racing's racecourses contain some of sport's most majestic architectural structures, with no expense spared to give punters a grandstand view...
The grandstand at the Meydan Racecourse in Dubai is an awe-inspiring structure which stretches for a mile (1600m) and can accommodate over 60,000 spectators. The racecourse complex, opened in 2010, covers 7.5 million square meters and includes a luxury five-star hotel, business and conference facilities, a marina and nine-hole golf course. It hosts the Dubai World Cup Carnival of racing which is highlighted by the prestigious Dubai World Cup in March.
Aintree is best known for hosting the world-renowned Grand National, introduced to the English course 10 years after its opening in 1829. The grandstand was built by William Lynn, who even placed a full bottle of sovereign gold coins in the footing of the foundation stone, which remains untouched more than 180 years later.
Ascot recently celebrated its 300th birthday, having been opened by Queen Anne in 1711. It is still technically property of the British royal family, although Parliament passed a special act in 1813 to ensure that the course remain public. For all of the grandstand's beautiful aesthetics, its $250 million makeover in 2004 was much maligned as patrons claimed they could not see the race clearly from some points. A further $15 million was spent two years later to raise the lower levels.
Home of America's most famous race, the Kentucky Derby, Churchill Downs is named after the site's original owners John and Henry Churchill. They leased the land to their nephew Meriwether Lewis Clark Jr. -- grandson of legendary explorer William Clark, one of the first two men to travel across North America. Originally created to replace two earlier, defunct Louisville racecourses, the Downs fast became the nation's most popular track. In 1986 it was designated a National Historic Landmark.
The largest construction contractor in Britain, Wilmott Dixon, was tasked in 2009 with creating a new stand for the 300-year-old course, which hosts the Epsom Derby. The result was the $35 million Duchess' Stand, which can hold up to 11,000 spectators and even contains a 10,000-square-foot function hall.
Australia's premier racecourse, Flemington, is home to the Melbourne Cup -- the country's richest race. After multiple renovations its three grandstands boast a total capacity of 130,000 people. The current appearance of the stands come courtesy of a $55 million revamp in 2000. Flemington even has its own railway branch line, shuttle bus and tram route to transport its huge crowds.
Happy Valley Racecourse was originally constructed in 1845 to provide horseracing to Britons living in Hong Kong. Due to the island's hilly terrain the only suitable area was on Happy Valley's swampland, and the government prohibited local farmers from growing rice in the immediate vicinity to allow the course to be built. Modern day Hong Kong is now a populous metropolis, providing a unique backdrop to one of Asia's greatest racecourses.
'Glorious' Goodwood stands out visually when compared to the world's other beautiful courses due to its surroundings. The view from the main grandstand, pitched high above rural Sussex in southern England, is spectacular. Its proximity to the coast means heavy fog often enshrouds the track, a scene unlike any other course in Britain.
The Greyville Racecourse in Durban is home to top-class racing in South Africa and surrounds a championship golf course. It has spectacular views from its main grandstand of the city of Durban and the hotels on its Golden Mile. Residents of the city can access the course via a direct road which passes under the course.
Simply put, there is no racecourse in the world quite like the Piazza del Campo in Italy. With origins dating back to medieval times, when public games were hosted in Siena's central piazza, the first racing events held were originally on buffalo. The first horse race took place in 1656. Since then the surroundings have barely changed, with the course lined with spectators on all four sides and in the central part of the piazza as the race takes place on the ring formed around it. Traditional sandstone buildings form the course's stands, and rural Tuscany forms the backdrop.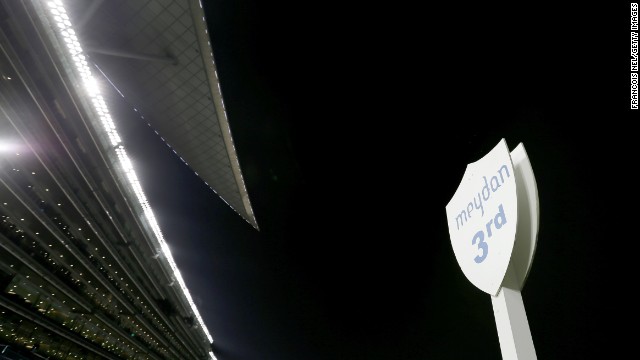 Top 10 grandstand views: The world's most beautiful racecourses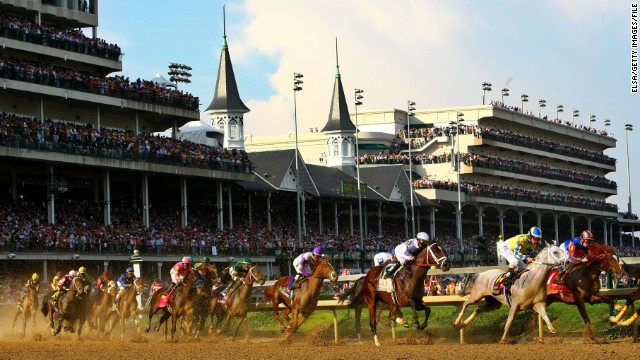 America's most prestigious horse race, the Kentucky Derby kicks off this Saturday. But who will scoop the 139th edition of the premier competition?
For jockey Kevin Krigger, the answer is simple: him. If successful, the 29-year-old from the Virgin Islands will be the first black man to win the race in 111 years. Regardless, he'll be the first African American rider to compete since Marlon St. Julien in 2000.
Jimmy Winkfield was the last black jockey to win the Kentucky Derby, taking the title back-to-back in 1901 and 1902. Many of the first African American jockeys had been slaves in the South, working as stable hands and becoming skilled horse handlers.
Today, Latin American jockeys dominate the sport. Mario Gutierrez (pictured)won last year's derby on I'll Have Another. This weekend, the favorite to win the race is Puerto Rican John Velazquez, with Krigger second favorite.
The Kentucky Derby is as well known for its colorful crowd as the actual sporting event, with around 165,000 filling the Churchill Downs stands each year.
This year's race will be the first major sporting event in the U.S. following last month's Boston Marathon bombings and security will be on high alert. Coolers, cans, fireworks and camcorders are among the items banned from the infield.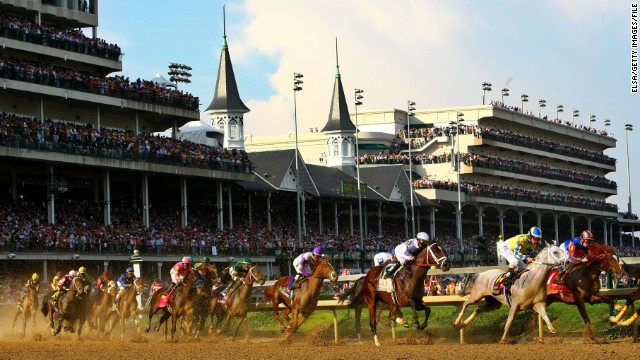 Black jockey's Kentucky dream
"One of the things on mine and my wife's bucket list was to go to the Kentucky Derby," he says. "I'll board the plane this year but I never imagined I'd do it with a horse I own.
"This whole thing is a fairytale coming true, it's a dream. It's better than a movie script because it's coming true. People spend millions on horses each year and we've spent basically $10,000."
The horse's name was also literally picked out of a hat as the two owners and their spouses each put a name into a hat for a waitress at a Californian restaurant to select.
The Derby favorite could just as easily have been called Lucky at Love or Big Chapter but Coburn's pick, California Chrome -- a nod to the white markings that are called chrome by horse racing aficionados -- proved the selection.
Whatever the name, the owners more often than not just call him junior but Coburn believes if he succeeds at Churchill Downs Saturday the he could become known as the "people's horse" too.
"I do believe he's that, like Seabiscuit," Coburn adds. "He became the people's horse in the depression because he was the little guy kicking the big guy. We're doing that in the same kind of way.
"No one ever gave it any credence and we shouldn't be where we are now. This isn't a blue-blooded horse, he's a proper red-blooded colt.
"We're just two guys that worked hard and still have our days jobs. We get up at 4.30am every morning to go to work. Well, I can't retire as I'd be in my wife's way and I think she'd shoot me! But we still work hard. We're not guys who could buy whatever we want."
Dream ending
The unnamed purchaser who offered $6m, however, clearly was. Surely Coburn was tempted to give in?
"It felt like a slap in the face after all we'd done," he says. "You can have all the money in the world to buy every single grain of sand on a beach but you can't buy this story.
"We've worked hard for this, similarly Love the Chase, which someone offered $1.5m for. This isn't about the money, this is about the dream and we want to finish off that dream."
Whether that dream reaches fruition in Illinois this weekend is another matter. Some pre-race rain is a slight concern for Sherman and his team but Coburn has never once wavered in his expectation.
"If he gets a clean run, he'll win," he says. "I've said that before and I've been told I'm bold and arrogant. I'm not either of those. I'm just a man that loves this horse and believes in the fairytale."
Saturday also happens to be Coburn's 62nd birthday, could that be when his fairytale comes true?
Read: Orb wins 139th Kentucky Derby