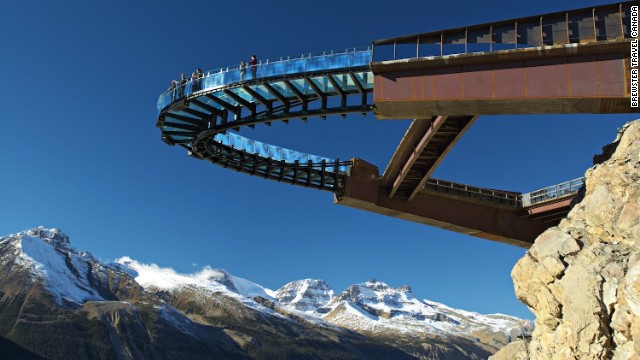 Canada's stunning new Glacier Skywalk pops 35 meters out the side of a cliff in Alberta's Jasper National Park. The glass-floored observation walkway hangs 280 meters above Sunwapta Canyon.
A Discovery Trail cliff-edge walkway leading to the glass platform includes six interpretive stations and an audio tour focusing on the glaciology, biology and ecology of Canada's Columbia Icefield region.
Owned by Brewster Travel Canada, the Skywalk took two years to build -- work could only be carried out seasonally due to Jasper National Park's cold winters. It reportedly cost CAD$21 million ($19 million) to construct and will be open May through October.
Skywalk opponents are concerned about the ecological impact of the project and the privatization of a national park site.
Glacier Skywalk
Educational experiences
Fair-weather attraction
Skywalk criticism
STORY HIGHLIGHTS
Canada's new Glacier Skywalk hangs 280 meters above Sunwapta Canyon in Jasper National Park
Skywalk reached by cliff-edge walkway filled with multi-sensory interactive experiences
Alberta Wilderness Association says such developments don't belong in national parks
(CNN) -- The global list of incredible viewing platforms designed to elevate your heart rate continues to grow, with Canada's Glacier Skywalk the latest gravity-defying walkway to welcome tourists.
Jutting 35 meters out the side of a cliff on Jasper National Park's Icefields Parkway, the glass-floored observation walkway hangs 280 meters above Sunwapta Canyon.
It opened to tourists May 1 after five years of design, two years of seasonal construction and a reported cost of CAD$21 million ($19 million).
In addition to the incredible views, owner Brewster Travel Canada says the attraction has an educational side.
A 400-meter-long Discovery Trail cliff-edge walkway leading up to the glass platform includes multi-sensory interactive experiences centered around the glaciology, biology and ecology of Canada's Columbia Icefield region.
MORE: How to pretend you're Canadian when you travel
Visitors must take a five-minute bus transfer from the Columbia Icefield Glacier Discovery Centre to access the Skywalk, which is an hour from the town of Jasper in the Canadian Rockies.
The Glacier Skywalk is open daily, May through October.
Price of tickets is CAD$24.95 for adults and CAD$12.50 for children.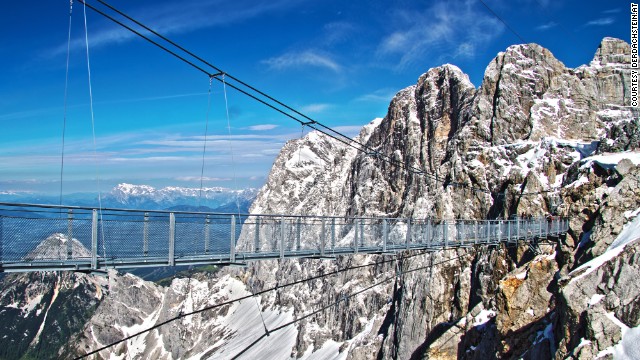 Visitors to Dachstein's Stairway to Nothingness must first cross Austria's highest bridge, which is 328 feet (100 meters) long and straddles a drop of 1,300 feet (396 meters). Then they face 14 steps that descend from the cliff face and which are surrounded by glass walls.
The Alpspitze viewing platform comprises two steel beams, both of which measure 79 feet (24 meters) in length. Visitors brave enough to walk to the end of the glass-walled platforms can look 3,281 feet (1,000 meters) down into the valley.
The Skywalk extends 624 feet (190 meters) into the Kinzua Gorge. Glass panels allow visitors to peer into the gorge below.
Located on the roof of the CN Tower's restaurant at a height of 1,168 feet (356 meters), the EdgeWalk in Toronto allows visitors to slip into climbing harnesses and walk around the edge of Canada's tallest structure. There's also a glass floor 1,122 feet (342 meters) above ground level, and although this glass is only 2.5 inches thick, it's strong enough to hold 14 hippos -- if they could fit in the elevator.
Visitors who step into one of the Ledge boxes in Chicago can see for 50 miles across four states. Six million people have ventured into the boxes since 2009, 500 people have proposed in them and visitors can now even get married in them.
The Cliffwalk is a 700-foot (213-meter) walkway attached to a granite cliff face above the Capilano River in British Columbia. The highest point is 300 feet (90 meters) above the river.
The Shard in London is the tallest building in Western Europe. The View From The Shard is located on floors 68, 69 and 72. The best panoramas are from floor 72, at a height of 800 feet (244 meters). This open-air observation deck offers 360-degree views of the city.
The lookout, commissioned by the Norwegian Highway Department as part of a project to improve the appearance of the country's tourist routes, allows visitors to look straight down into the Aurlandsfjord, 2,000 feet (609 meters) below.
The Tokyo Skytree is the world's third-tallest structure, with a height of 2,080 feet (634 meters), and has Japan's two highest observation decks. The lower one is located at 1,148 feet (350 meters). The upper one, which has floor-to-ceiling windows and 360-degree views of the city, is perched at 1,476 feet (450 meters).
The Top of Tyrol viewing platform was completed in 2008 and provides visitors with spectacular views over 103 peaks. All of the parts -- including 19 tons of steel -- were lowered into place by helicopter.
The Dachstein Glacier actually comprises eight glaciers and a visit to this high-altitude, glass-bottomed walkway is a great way to see them all. On a clear day, the Triglav mountains of Slovenia and the forests of the Czech Republic can be seen.
The best views of Italy's Merano region are from this binocular-shaped viewing platform, high above the gardens' huge oak forest. The viewing platform is just one of several within the gardens, which were recently named Italy's most beautiful gardens.
This steel and glass, horseshoe-shaped walkway extends 70 feet (21 meters) over the lip of the Grand Canyon, almost one mile above the valley floor. Apollo astronaut Buzz Aldrin was the first person to step onto the Skywalk, which cost $30 million to build.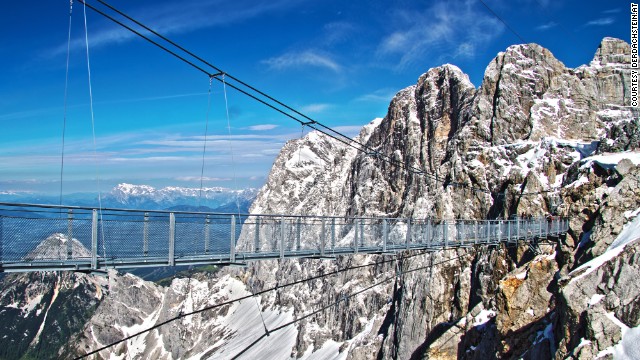 13 scary-but-awesome viewing platforms
To see how it stacks up against other global viewpoints, check out the gallery on the left.
Environmentalists oppose commercial development
Not everyone is thrilled with the Glacier Skywalk.
Canada's CBC website quoted Sean Nicholson of the Alberta Wilderness Association as saying this type of development doesn't belong in national parks.
"They represent almost a taking over of the management of the park in a sense by commercial interests, which we don't think is a good thing for the wildlife that live there and the ecosystem in general," Nicholson said.
MORE: 10 things Canada does better than anywhere else
Prior to the build, Brewster Travel Canada says it commissioned a 169-page environmental assessment, including a study on wildlife and vegetation.
"The assessment was reviewed by Parks Canada officials and was deemed acceptable within Parks Canada's policy framework governing the management and protection of our national parks," said the company.
The motivation behind approving the Skywalk was to make the area more attractive to tourists, said Parks Canada in a statement.
"Parks Canada needs to become more relevant to more Canadians by providing services and activities that respond to a broader range of visitor needs and expectations," it said.
That sentiment is perhaps behind the recent news that the government body is planning to bring WiFi hotspots to at least 50 of its parks this year, claiming visitors want to be able to stay connected even in the great outdoors.
Responding to widespread negative reaction to the plan, a Parks Canada official told CTV news that the wireless zones would be restricted to visitor centers and campgrounds -- "not in the wilderness, and not in the back country."
MORE: 13 scary-but-awesome viewing platforms