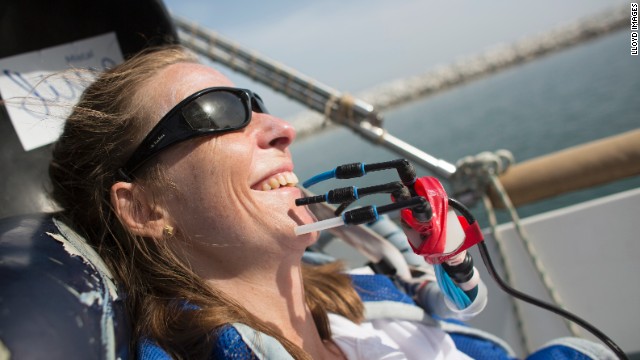 British quadriplegic sailor Hilary Lister is paralyzed from the neck down but, despite her disability, sails using three straws and has undertaken a litany of challenges.
Her most recent voyage was to sail across the ocean from Mumbai in India to Muscat in Oman with Omani sailor Nashwa Al Kindi on board.
Lister's journey is all the more remarkable as 11 years ago she had decided to take her own life. She now says sailing is the thing that makes life worth living.
She sails the sea with no limbs
She sails the sea with no limbs
She sails the sea with no limbs
STORY HIGHLIGHTS
Hilary Lister had decided to take her own life back in 2003 but then took up sailing
The quadriplegic's passion for the high seas has, she says, given her a reason to live
Able bodied in her youth, her degenerative disease has seen her lose movement
She sails using straws and her dream voyage is to travel solo across the Atlantic
(CNN) -- Hilary Lister had had the difficult conversation with her husband -- a few times in fact. The quadriplegic had finally made the decision to end her life, had prepared to say goodbyes to Clifford and the rest of her family.
"It got to a point where I evaluated my life," Lister told CNN. "I had to decide whether the space that I take up on the sofa [which unable to move she had done for hours and days on end] was still worth inhabiting.
"I came to the conclusion it wasn't. I was at a very, very low point.
"I knew if and when my condition got any worse I would end my life. That was a decision myself and my husband were both aware of. You don't make that decision on your own, you have to prepare yourself."
It was to be a pre-ordained death with rules.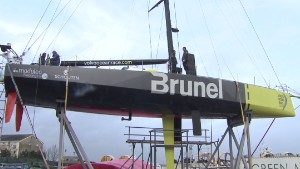 Putting Bekking's boat to the test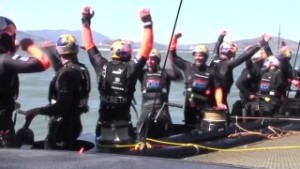 The changing face of America's Cup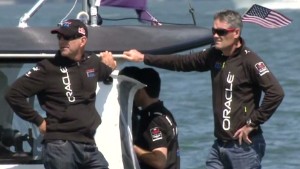 Russell Coutts' big challenge
"Basically, I wouldn't allow myself to take my tablets any more if I got much worse or got depressed or whatever," Lister added.
"But I also set parameters to make sure that it wasn't a spur of the moment thing. I have wonderful friends and family, who made sure they did everything to make sure my life was worth living."
For all their collective positivity, though, nothing worked, until a friend lured Lister to an outing on the water at Westbere Sailing Club, her local club in southern England.
"It wouldn't overstate it to say that sailing saved my life," said Lister.
"It just gave me a little glimmer of thinking that space I was taking up on the sofa was worth inhabiting after all, particularly as someone had managed to get me off it to get on the water.
"It was like 'gosh, I've found a reason to live.'"
That was 11 years ago.
Since that Damascene conversion she has sailed single handed across the English Channel, circumnavigated Great Britain and most recently sailed the 1,500 kilometers across the Arabian Sea from Mumbai to Muscat, her first proper offshore expedition.
It made her the first paralyzed women to complete the voyage while also on board was Omani yachtswoman Nashwa Al Kindi, the first Arab woman to complete the trip.
Muscle waiting disease
Lister suffers from reflex sympathetic dystrophy, a muscle wasting disease caused by a genetic blip that now prevents her from using her arms and legs.
With her sole movement in her head, Lister's boat for that voyage -- a 28-ft Dragonfly trimaran -- was rigged up for her to sail it using innovative methods originally designed in the United States.
"I have three straws with which you register positive or negative pressure - so puff or suck," she explains.
"That turns the winch one way or the other. The magic thing on the latest trip is that I was able to turn port and starboard in opposite directions at the same time thanks to reversible winches and thus fully tack the boat rather than doing it slowly, slowly bit by bit."
The 41-year-old hasn't always lacked mobility and it wasn't until the age of 11 that she noticed there might be something awry.
"I came off the hockey pitch with really sore knees," she recalls. "I thought it was growing pains and would go away. By 13, it was hurting walking up and down stairs but again I thought it would go away."
It didn't. By the age of 17, she had lost the use of her legs, though she refused to give up on her ambition to become a biochemist -- an ambition she says she had from the age of three, which she achieved with a university degree followed by a PhD.
Working in a lab on her PhD she had to concentrate on not dropping things.
One day, though, three months of work and £12,000 worth of samples slipped out of her hands.
She never returned to the lab and a complex operation, which involved blood drained from her arms with an injection to stun painful nerve ends, did not work.
"Life isn't always straightforward," reflects Lister. "You just have to be grateful for what you have when you have it."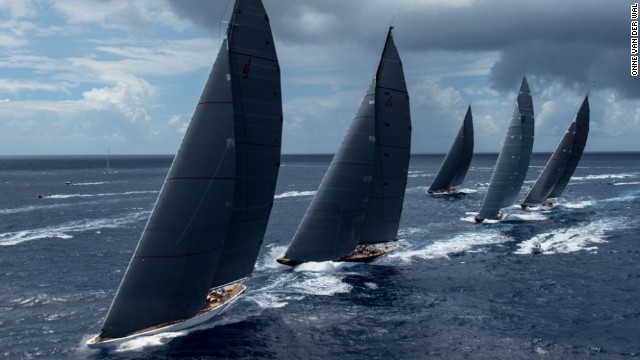 The world's 20 best yacht racing photographs have been shortlisted for the Mirabaud Yacht Racing Image of 2013, an eclectic mixture of photographs on the high seas.
In total, 82 photographers from 19 different countries entered, including American Jen Edney -- who here snaps Michele Sighel as he checks his crew on their passage from Honolulu to the Philippines.
The shots span the globe -- in this instance Keel Week Race in Germany, where photographer Ainhoa Sanchez Vidales observed: "Feel the control of the sailor to dominate all the elements."
The award is handed out on December 11 at the World Yacht Racing Forum in Gothenberg, Sweden, where all the photographs are on show -- including this dramatic drop in the ocean.
Competitor Biljard Guus focuses on the waves ahead during the 2.4-meter fleet racing in the World Paralympic Sailing Championships at Kinsale, Ireland.
Here Stefano Rizzi poses as he waits for the start of the International Moth class's Italian Open Championship at Lake Garda. He went on to win a relatively wind-less event.
This overhead shot off the coast of Saint Tropez captures a crew in action away from the sun-kissed French Riviera beaches, highlighting the elegant nature of the vast yachts in action.
Some pictures highlight the treacherous nature of the seas -- not that the yachtsman in question here looks unduly concerned as he appears to dip into the water on-board the sailboat Elena.
Photographer Max Ranchi captures one of the competitors in May's Trofeo Conde de Godo race near Barcelona, as he explains in his own words, "coming out of the weather mark, bearing away and ready to set gennaker."
Here, the vessel Virbac-Paprec MOD70 looks a nanosecond away from capsizing as she masters a course at speed during June's La Route des Princes race from Spain to France via Ireland and the UK, as taken by Josep Sanchez.
A spectacular offshore picture taken of Spanish boat Desafío Mapfre near Portugal during February's bid to break the Atlantic Ocean crossing record along the "Route of Discovery" traveled by Christopher Columbus in 1492.
The physicality of sailing is summed up with aplomb here during August's 420 European Junior Championships in Pwllheli, Wales, with winds of 20 knots.
It's hard to see where exactly the sea ends and the boat begins in Guillaume Grange's image taken with a Canon 5D MKIII during the Mini Transat race in Douarnenez, France.
Dheer Singhi, of Chennai, tackles winds of 23 knots during a race at India's Topper class national championships. He went on to tie with Vishnu Sujeesh but had to settle for silver on a countback.
The notorious Sydney to Hobart race has had its tragedies, but this time it was comfortably won by Wild Oats XI, owned by Bob Oatley, in a new record of one day, 18 hours, 23 minutes and 12 seconds.
Photographer Rick Tomlinson, snapping the all-female crew of Team SCA's ocean racing venture, described it as a "photo session with many good shots, it was hard to chose which one to enter into the competition."
A glorious blue sky is almost entirely filled by this monstrous 129-foot yacht, with its hard-working crew toiling on a big wave on an upwind leg during the Les Voiles de Saint Tropez race, which ended October 6.
A boat is immediately in the thick of the action at the Celtic Regatta in Wales' Cardigan Bay, where a strong southwesterly wind over the tide caused a large swell. Photographer Andy Green piloted his own boat and took pictures at the same time.
An out-of-focus yellow buoy bobs on the surface of the water as, in a distance, Pachakis Ioannis glides over the water in October's Cretan Union Cup, captured on a Pentax 450mm.
British sailor Mark Andrews powers upwind in the Finn class of May's Delta Lloyd Regatta at Medemblik. Andrews beat Dutch favorite Pieter-Jan Postma following a thrilling medal race.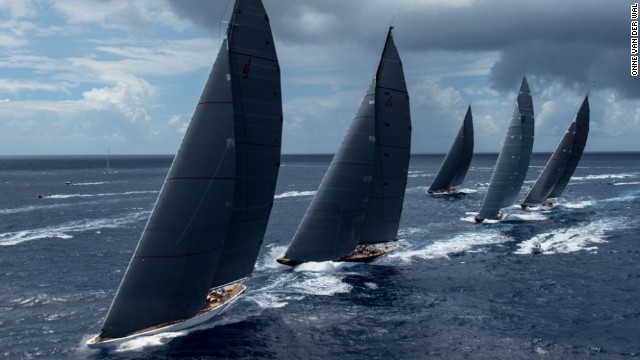 The 20 best sailing images of 2013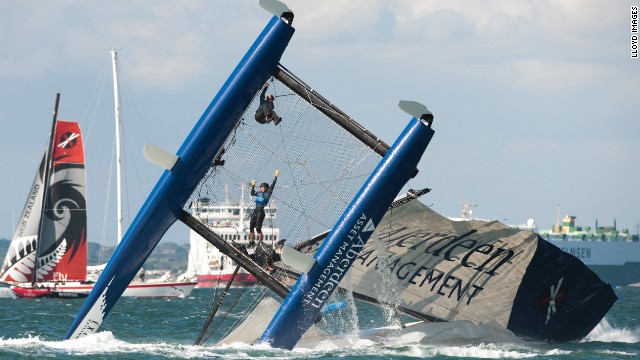 The Extreme Sailing Series provides volatile racing action, as the Aberdeen Asset Management crew found when capsizing in Cowes, England.
Sailors are stretched to their limit throughout the events. Here, Realteam bowman Thierry Wasem holds on by his feet as he tries to keep his crew on track.
The series is about close, stadium racing, enabling boats such as Holmatro (pictured) to get tight to rivals and spectators alike.
The margins between triumph and disaster tend to be very fine, as BT Betterworld's crew know all too well.
Among the competitors are a host of well-known teams, including former America's Cup winner Alinghi.
Perhaps the most high-profile entrant this year is America's Cup winner Ben Ainslie, who will skipper his own crew when the competition starts in Singapore.
For all his experience, though, Ainslie has been warned about the perils of the series, where crashes and damage to multimillion-dollar catamarans are not uncommon.
Unlike many other top-class sailing events, fans and spectators are able to get up close and personal with the competitors.
The series travels to all manner of venues across the globe after the first "act" (as each regatta is known) in Singapore starting February 20.
No venue is too small, apparently, with crews even battling it out on the narrow canals of Amsterdam, Holland, in recent years.
The series plays host to a variety of breathtaking backdrops, such as this one in Portugal last season.
The man to beat this year is British skipper Leigh McMillan, who is targeting a hat-trick of series titles with his boat The Wave Muscat.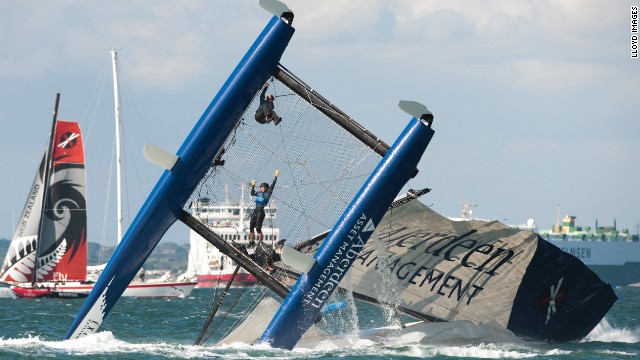 Sailing in the extreme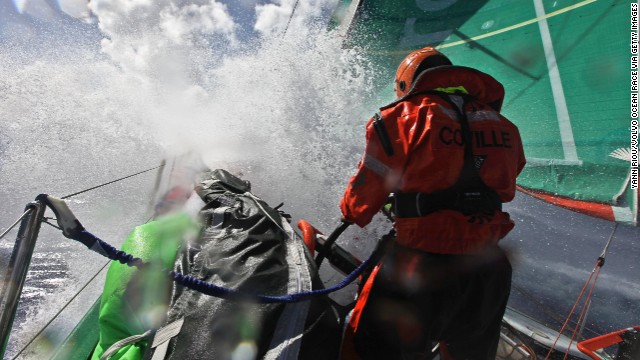 French skipper Thomas Coville is the latest yachtsman trying to tackle the round-the-world solo record in his trimaran Sodebo.
In February 2009, Michel Desjoyeaux became the first -- and still only -- man to twice win the Vendee Globe, considered by many the pinnacle of ocean racing.
The world's leading yachtsmen marvel at the often glorious skyline on their various solo voyages -- here the sun sets on British skipper Alex Thomson.
Sailors are left to spend months at sea on their own with only satellite phones and the occasional helicopter flying overhead to keep them company.
The end of each voyage is traditionally met by huge fanfare with tens of thousands of spectators. Here Francis Joyon celebrates his record of 57 days for circumnavigating the globe.
Britain's Robin Knox-Johnston was the first man to perform a singlehanded nonstop circumnavigation of the globe, in 1968.
In 2007, nearly four decades after his last circumnavigation and aged 68, Knox-Johnston once again sailed solo around the world in the VELUX 5 Oceans Race, being the oldest to ever enter the event.
Not all voyages, however, have gone to plan. Desjoyeaux's latest trip in the Transat Jacques Vabre ended up with him dismasting just 140 miles (260 kilometers) from the finish.
Steve White (second from right) with other Brits in the 2008-09 Vendee Globe and Knox-Johnston (second from left). White faced a battle just to fund his entry but finished a creditable eighth.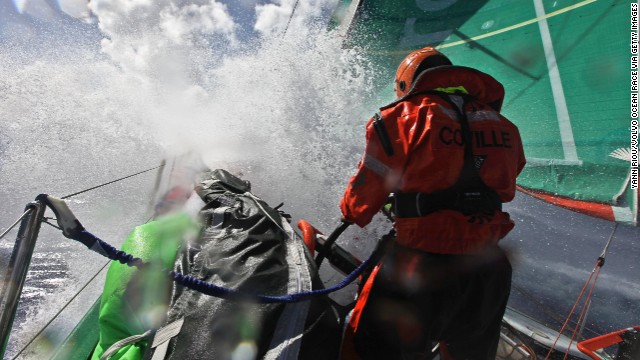 Sailing on the high seas around the world
For her, that is out on the water.
"It's such a liberating place, it's where you feel free. Once on the boat I can sail it as well as anyone really. I can forget about work or home life, anything in fact.
"You just think about the next wave and the next puff of wind coming. The wheelchair's not there, I'm a sailor and it's a huge feeling of freedom.
"But it's more than that. It's there that the pain dissipates. It doesn't entirely go away, when you smack a wave, wow, I feel it. But it's like an itch, if there's something else, you forget about it."
Despite her lack of movement, Lister still suffers from crippling pain thought to be caused by one particular fully functioning problematic nerve that sends a feeling of immense pain, heat or cold coursing through her veins.
It's something that has to be treated with a daily diet of opiates and morphine, though the pain never properly vanishes.
It does not, however, stop her from planning new expeditions. There is one dream trip for Lister, who is sponsored by GAC Pindar, that hangs above all others.
"I want a longer crossing and I'm looking at something for next year.
"The dream would be to sail across the Atlantic -- it's something I've been thinking about and looking into for a long time. But we're quite a way off from getting to that point.
"People talk about the dangers but I have a safety boat with me in case I capsize. There are dangers certainly but it's about risk management. There are more people hurt riding horses each year than sailing."
It is such dreams that give Lister hope as she sits back on her sofa thinking of a myriad of oceans still to explore.
Read: F1 on water - the Extreme Sailing Series
Read: A drop in the ocean for stuntman sailor Alex Thomson