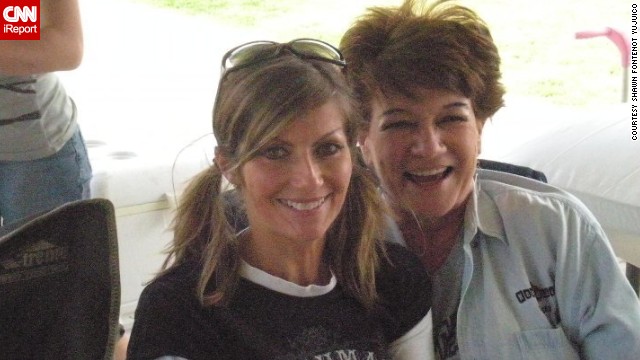 This Mother's Day, CNN readers pay tribute to women who were not their biological mothers but filled a matriarchal role.
Shawn Fontenot Yujuico
, left, was 17 years old when her mom died in a car accident. Stepmother Shirley Fontenot "just flat out loved us. She loved us over our brattiness, our 'You are not Mother,' over our heartbreak. She didn't love us conditionally; she loved us with her whole heart."
Jasmine Clifton
, left, said her older sister, Nicole Pierson, became a second mother to her after they lost their mom to cancer in 2006. Pierson taught her "to believe in myself and to never settle." From relationship advice to swapping recipes, "she is everything that I need and more."
Brenda Olson
says her late Aunt Lucy taught her many things, including how to tell time when Olson was in first grade and the other children made fun of her for not knowing how. "She took out some paper and pointed to the clock on the wall in the kitchen. She diligently explained quarter past, half past and repeated her explanations until I understood."
Trish Deeley-Maynes
, middle, has referred to Trudy Sherwood as "Momma" for as long as she can remember. Sherwood, right, was the mother of Maynes' three half-sisters and always treated Maynes and her sister Jill as though they were her own daughters. Maynes' biological mother was largely absent, she says. Sherwood taught her to always look for the good in people. "She never judged anyone. She was strong as heck, too."
Jhena Vieira-Coffey
, left, was 15 when she came from Brazil to stay with Mariah and Robert Coffey in Michigan as an exchange student. The Coffeys legally adopted her on a state level when she was 17 so she could study as an international student and eventually get her green card. Vieira-Coffey refers to Mariah as her "American mom" and says Mariah made her realize she could aspire to be anything she wanted.
Nicole Sunderlin
, right, met her "other mother" Marirose Lula when they were college roommates. "Although she is only one year and two months older than I am ... she has taught me self worth, and only dating people who are good people. She has helped guide me with my faith, she has taught me how to keep a secret and she has taught me, time and time again, when I needed help, that she is there for me."
Tristessa Osborne
, right, says her life was forever changed at the age of 13, when she went to live with her father and stepmother. Kay DeBolt didn't have biological children of her own but treated Osborne as her daughter, even after she and Osborne's father divorced over 15 years ago.
Randy Carmichael
, right, was a troubled 16-year-old when he went to live with his aunt and grandmother. His Aunt Jean was the one person in his life who made him feel special. "I had a me-against-the-world attitude, and rather than use force or threats, she treated me as an adult, a real person. No one had done that for me ever," he said.
Meet my 'other mother'
Meet my 'other mother'
Meet my 'other mother'
Meet my 'other mother'
Meet my 'other mother'
Meet my 'other mother'
Meet my 'other mother'
Meet my 'other mother'
STORY HIGHLIGHTS
A woman doesn't have to give birth to you to earn the title of "mother"
Sisters, aunts and friends will step in to take care of a child
iReporter's stepmother: "That's what grownups are supposed to do. I knew you were hurting."
(CNN) -- I had absolutely no right to cry over the death of Mrs. Howard. She wasn't family, and I hadn't seen her in more than 20 years. That didn't stop me from crumpling onto the couch and howling like a kitten hurled from a moving car when I heard the news last year.
Between the damp, snotty sobs, I wracked my brain to figure out why word of Mrs. Howard's death had struck me so squarely. I hadn't kept in touch with my mother's friend once I'd graduated from high school and fled my unhappy hometown life.
I poked at the space her loss had left, like examining the socket where a tooth was once firmly lodged. She'd had a dog, Piper, of which I was quite fond. She'd let me practice my piano lessons on her electric organ, and that was awfully nice. She'd taken me to the mother-daughter Girl Scout dinner...oh...
That was the raw nerve causing the ache. She'd filled in during at least one of many school-sanctioned mother-daughter outings when my mom was unable. It's what lots of sisters, aunts, friends, neighbors, teachers do when they see a child in need of care and comfort. And Mrs. Howard did it for me.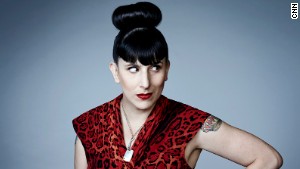 Kat Kinsman
My mother was and is unwell in ways I do and do not understand. It has been this way as long as I can remember. It's not her fault; and it just simply is. And so I've been blessed with women -- like Mrs. Howard, my mother's twin sister and my own sister -- who gracefully slipped in to fill the cracks as much as I'd let them.
I never asked these women to step in -- mothers hold a vaunted role in our social structure, and you go with the one you're given. No matter your circumstance, as a daughter it can sometimes feel like a betrayal to seek the care of another woman. One of the subtle gifts these other mothers give is making it so a child -- of any age -- never has to ask.
When a child's struggles and scars are visible, sympathy is the immediate impulse. I recall walking past a classroom where our gentle-voiced hummingbird of a homeroom teacher was showing my friend Melissa how to sew buttons on shirts. She had lost her brother and her mother to cancer in the course of a few, cruel years.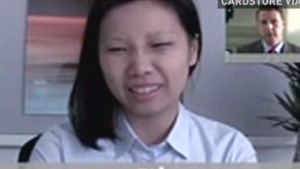 Interviewing for world's toughest job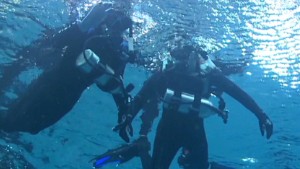 Sharks help Wounded Warrior mom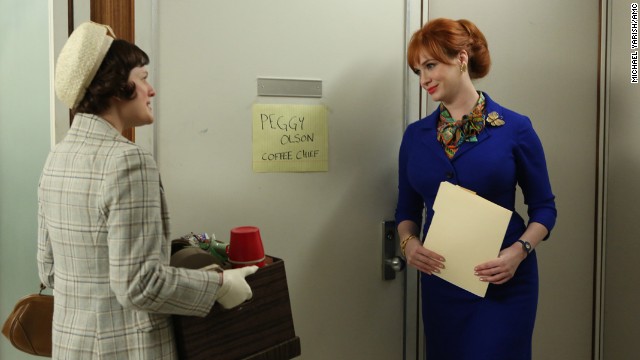 Christina Hendricks, right, as Joan Holloway Harris, who works in advertising, in "Mad Men."
Phylicia Rashad as attorney Clair Huxtable in "The Cosby Show."
Roseanne Barr as Roseanne Conner, who worked in a plastics factory, and later owned a restaurant, in "Roseanne."
Edie Falco as Jackie Peyton in "Nurse Jackie."
Chandra Wilson as Dr. Miranda Bailey in "Grey's Anatomy."
Brett Butler, right, as Grace Kelly, who worked in an oil refinery, in "Grace Under Fire."
Rhea Perlmann as the sassy server Carla Tortelli in "Cheers."
Ana Ortiz as Hilda Suarez, who owns a salon, in "Ugly Betty."
Patricia Heaton as Frankie Heck, a car saleswoman, and later a dental hygienist in "The Middle."
Joanna Kerns as Maggie Seaver, a reporter, in "Growing Pains."
Jo Marie Payton as Harriette Winslow, a security guard and later salesperson, in "Family Matters."
Connie Britton as Tami Taylor, a guidance counselor turned principal, in "Friday Night Lights."
Lori Loughlin as reporter Becky Katsopolis in "Full House."
Lauren Graham, right, as Lorelai Gilmore, who runs and later owns an inn, in "Gilmore Girls."
Jane Kaczmarek as Lois Welker-Wilkerson, who works in a store, in "Malcolm in the Middle."
Julia Louis-Dreyfus as Christine Campbell, who runs a women's gym, in "The New Adventures of Old Christine."
Sara Ramirez as Dr. Callie Torres in "Grey's Anatomy."
Candice Bergen as reporter Murphy Brown in "Murphy Brown."
Anna Gunn as Skyler White, who held many jobs, including writer and bookkeeper, in "Breaking Bad."
Cynthia Nixon, left, as attorney Miranda Hobbes in "Sex and the City."
Meredith Baxter, center, as architect Elyse Keaton in "Family Ties."
Linda Lavin as Alice Hyatt, who works in a diner, in "Alice."
Felicity Huffman as Lynette Scavo, who works at an advertising agency and later runs a pizzeria with her husband, in "Desperate Housewives."
Reba McEntire, center, as Reba Hart, who works as a secretary and later, a real estate agent, in "Reba."
Judy Reyes as nurse Carla Espinosa in "Scrubs."
Julianna Margulies as attorney Alicia Florrick in "The Good Wife."
Amy Brenneman as Judge Amy Madison Gray in "Judging Amy."
Teri Hatcher as Susan Delfino, a children's book illustrator, in "Desperate Housewives."
Janet Hubert as Vivian Banks, an educator, in "The Fresh Prince of Bel-Air."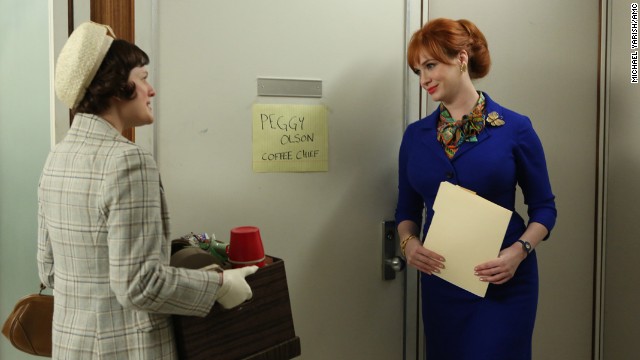 Working moms of television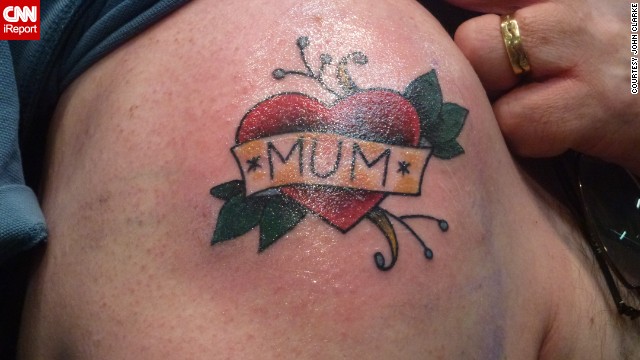 John Clarke got his "mum" tattoo -- his first and only -- on his shoulder at age 50. He revealed it to his mother at her 70th birthday party, despite knowing that she hated tattoos. "Now, many thousands of miles away from home, every time I see the tattoo in the mirror, I can smile about that evening and my mum's shocked expression," he said.
GW Byers went for a less traditional but increasingly common design: a wrist tattoo in her mother's handwriting. Her mom passed away in 2008, and five years later, Byers had a tattoo artist copy the signature and heart her mom had written on her college graduation card. "She had gorgeous penmanship," said Byers.
Samantha Pender also chose to tattoo her mother's writing. It's on her thigh, surrounded with Mickey Mouse hands forming a heart because her mom was a huge Disney fan. She "would get teary-eyed watching a commercial for Walt Disney World," said Pender. Her dad, brother, and sister-in-law all have similar Disney-themed tattoos in memory of her mom -- although Pender says her mom would probably "roll her eyes" if she knew. "She never understood the point" of tattoos, Pender said.
Mary Johnston and her brother have matching tattoos in their mother's handwriting. The "Mom" signature and heart were taken from a birthday card. "We both had the tattoo placed on our left shoulder blade because Mom always had our backs," said Johnston. She later added the two daises, "one for mom and one for me. We each carried them in our bridal bouquets."
Judy Jordan asked her mother to write out the words "strength," "courage" and "wisdom" so that she could have them tattooed on her arm in her mom's handwriting. The words come from the title of an India.Arie song. "Since my mom had to raise my brother and myself on her own, I felt that these words described her perfectly," said Jordan. "I can see it constantly and when I get bogged down thinking how hard being a single parent is, I see my tattoo and realize that I am my mother's daughter, so I'm bound to have some of her strength, courage, and wisdom."
Kyle Divine honors both his moms with a tattoo he got on his arm on Mother's Day in 2006. "My moms were the best role models I had while I was growing up, regardless of sexual orientation," he said. "I got the tattoo to show them and the world that I am proud to have them as my parents." It also has a more subtle meaning: "Without actually saying it, the tattoo says that I am a supporter of gay rights." Divine says both his moms love the ink.
Emily Kirouac wanted the perfect image for her mom tattoo. After much thought, "I chose a lighthouse" on her calf for two reasons: "One, because as long as I can remember, she has collected lighthouses. Two, because my mama is the biggest inspiration in my life," she said. "She is the light of my life." Kirouac says her mom isn't a big fan of tattoos, but when she saw it, "she had a tear in her eye and said it was beautiful. That meant everything to me."
Emily's husband Robert Kirouac also has a mom tattoo on his arm. His mom said that if he was going to get a tattoo, he had to get a "mom" one. Additionally, it had to look like singer Adam Levine's mom tattoo, because "she watches him on 'The Voice' and she thinks he's hot," said Kirouac. This was the result -- compare it with Levine's in the next frame. "I proudly wear my mom tat because it is exactly what she wanted, and I love to keep my mom happy," said Kirouac.
Levine's mom tattoo near his elbow.
Rachael Sauceda's ink tribute to her mom is probably the most unconventional of the bunch. Her mother grew up on a pig farm, and Sauceda used to have a shirt with this design as a kid. It's now tattooed on her upper arm. She and both her brothers have matching pig tattoos in honor of their mom. "She cringes every time we show up with another tattoo," says Sauceda, who has 14, "but she has confessed that she does like this one."
Brad Allison paid tribute to his parents by inking their portraits on his forearm. He chose a wedding photograph of his mother and his father's senior picture, and the tattoo artist combined them to create the final design. When Allison got his first tattoo -- he has seven -- his mom "had a fit." But when he got this one, his third, he says she cried. The tattoo is especially precious to Allison because his father died five years ago, and "it looks as if my mother is watching over him."
Amanda Clifton and her mom have matching tattoos on their feet of a mother and daughter forming a heart. They had talked about the idea for a while, and finally decided to make it a reality during a mother/daughter vacation in Florida. "My mom is my BFF," said Clifton. "When you have so much love for a person, it's hard not to show some love with ink." She says she gets lots of compliments on the tattoo and that people frequently remark they "want to do the same thing with their own moms."
Joanne Asbury wanted a tattoo to remember and celebrate her mom after she died in 2001. She decided on an image of a daisy, since that was her mom's favorite flower. "I put her tattoo on my ankle, so she is with me every step I take," said Asbury.
Jill Shingledecker's mom is an equestrian, so she decided to honor that part of her life. "She has been showing and riding horses since she was a little girl, so I got a horse with her initials below," said Shingledecker. It's on her right arm "because she is my strength -- I'm right-handed." She also has a tattoo tribute to her dad on her left arm, "close to my heart [because] he was killed in Vietnam when I was a baby."
Kathy Lake also chose an animal motif on her calf to honor her mother's memory. Her mom liked rabbits, and Lake made her rabbit purple to also represent her mom's favorite color. "She had diabetes and had a lot of complications from it, so when I got the tattoo, it may have hurt me for a few minutes, but I toughed it out because I thought about all the pain she dealt with throughout her life and she never complained," said Lake.
Maranda Green's mother passed away from complications of polycystic kidney disease when she was just 14. At 19, Green was diagnosed with the same condition. The meaning of her sunflower tattoo is twofold: It's in memory of her mom, and it's a symbol of her own resolve in fighting the disease. Why a sunflower? "My mom always loved those big, seemingly flowing fields of sunflowers," said Green. The tattoo is, of course, on her lower back -- over the kidneys.
Edith Sanchez describes her mother as her rock. "She always put me first." So, when it came to honoring mom, she decided to go for a less traditional tattoo. She contacted famed tattoo artist Kat Van D and requested a session. To her surprise, she received a response and was able to get a portrait tattoo of her mother. "I think it was fate, I hear all these stories about years on waiting list...in a month I got in," she said.
After Lori Krstich's mother was diagnosed with leukemia seven years ago, Krstich wanted to show her mom she was always in her heart. "I love memorial tattoos, but thought that an even better idea was to show her how much I love her while she's here," she said. She got a tattoo with the words "mom" on her ankle. Her mom loves the design, and is still living strong now that her cancer is in remission.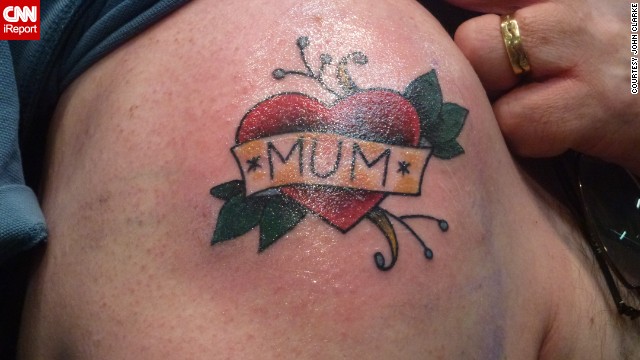 Inked with love
While we, Melissa's friends, fumbled for the words and actions that wouldn't rip the wound wider, an army of women knit themselves around the motherless girl to bear her into womanhood as best they could.
While none of them could ever fully mend the ragged edge left by the loss of her mother, these women taught Melissa to cook and sew and shop for bras and inhabit the turbulent body of a girl entering adolescence. And over time, one of them finally fell so deeply into the rhythms of care, she became a permanent part of the family -- as Melissa's stepmother.
A childhood friend I'll call Janet, so far as she would have any of us believe, sprung fully formed from the earth and as hard as bedrock around the heart. Her mother had bailed on the family when Janet was a very small child, leaving a weird and wounded pair behind in the rubble. But where Janet toughened, her father crumbled, and suddenly at some point in our teenage years, home wasn't a safe and stable place for her to be.
Knowing she'd never ask, our friend Tina's mother simply made an executive decision: Janet, you live here with us now. There are rules to our home and you will follow them, but now it is your home, too.
When iReporter Shawn Fontenot Yujuico was 17, she and her mother were hit head-on by a drunken driver. She survived, but her mother did not. To add insult to grievous injury, Yujuico and her brothers were sent to live with her father and stepmother, Shirley Fontenot, with whom she'd always clashed.
"My mother's death made it hard to accept my stepmother. My younger brothers and I did the classic 'You are not my mom' routine, and we compared the two of them endlessly," she writes.
Fontenot had three children of her own from a previous marriage and could have concentrated all her affection on them and her husband. Instead, she and Yujuico's father did something extraordinary for the sake of their blended family: they remained married, but moved into separate houses to raise their children until all of them had graduated and moved out.
Yujuico explains, "They managed to get together on weekends here and there. And from time to time, they brought us all together and we began to soften. She just flat out loved us. She loved us over our brattiness, our 'You are not Mother,' over our heartbreak. She didn't love us conditionally, she loved us with her whole heart."
And years later, when Yujuico asked Fontenot why and how she'd found the strength to embrace angry stepchildren who were shoving her away at every turn, her answer was simple: "Because you were children and I was a grownup. That's what grownups are supposed to do. I knew you were hurting."
But the need isn't always so clear-cut. iReporter Heather Gornick Jorgensen and her brother were fed, warm and clothed -- but hunger isn't always a physical thing. Their teenage mother was still going about the business of growing up, herself, when they were born. While her children's biological needs were met, Jorgensen's mother simply didn't yet have the level of maturity necessary to sustain the souls of her children, too. Her maternal grandmother, Toni, took the nurturing role.
"The most important lesson I learned from my grandmother is that every child deserves unconditional love," writes Jorgensen.
"While I was filled with insecurities and doubts, she was the one person who made me feel like I was perfect exactly as I was."
Don't miss out on the conversation we're having at CNN Living.
Follow us on Twitter
and
Facebook
for the latest stories and tell us what's influencing your life.
Now in her 80s, Jorgensen's grandmother has been diagnosed with Alzheimer's disease, and Jorgensen is terrified -- of losing one of the most important people in her life and also of her suffering. She is also ready to return the favor, love and lessons her other mother taught her throughout the years.
"I am grateful for the remaining opportunity I have to tell her that I love her, too," Jorgensen said. "Unconditionally."
And this Sunday, I will send my own mother flowers, with a note telling her that I love her, and thanking her for all that she has done for me. She is my mother, and that's what a daughter does on Mother's Day.
But that won't be the only bouquet I send.