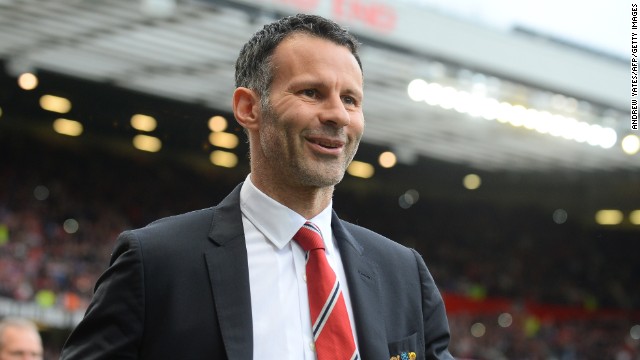 Ryan Giggs; the man who has been at Manchester United as a young player, an established veteran, a captain and now an interim-manager. With the Welshman's temporary spell on the sidelines set to end this week, CNN has a look at the career of a Manchester United legend.
Ryan Giggs celebrated his 40th birthday in November. The midfielder is into the tail end of a playing career which is now in its third decade.
The Welsh winger made his first team debut for United aged just 17, coming on as a substitute in a 2-0 defeat by Everton in 1991.
Giggs quickly established himself as a key member of the United team which went on to dominate English football. Alex Ferguson's team was crowned champions of Europe in 1999, two late goals securing a dramatic 2-1 win over Bayern Munich in the Champions League final.
Along with David Beckham, Paul Scholes, Nicky Butt and Gary and Phil Neville, Giggs was part of a group known as the "Class of 92." The name refers to the year United won the FA Youth Cup, with that group of players forming the core of United's Champions League-winning side.
In recognition of his services to football, Giggs was made an Order of the British Empire (OBE) by Queen Elizabeth in 2007.
In 2008 United were once again in the Champions League final, this time against Chelsea. The match was level at 1-1 after extra time, Giggs scored his penalty in the shootout as Alex Ferguson's team went on to lift the European Cup once more.
AC Milan stalwart Paolo Maldini is another player who spent his entire career at the top level. The rock-solid defender retired aged 40 in 2009 after 24 years with the Rossoneri.
Brazil striker Romario kept going into his 40s. The aging striker, the star of Brazil's 1994 World Cup winning team, eventually retired in 2008, before a brief comeback in 2009, saying he was struggling to regulate his weight.
Goodbye Giggs?
40 and counting
Teen sensation
Kings of Europe
'Class of 92'
Royal approval
On the spot
Peerless Paolo
Samba star
STORY HIGHLIGHTS
Ryan Giggs' spell as interim Man Utd manager ends on Sunday
The Welshman replaced David Moyes after the Scot was sacked last month
The veteran midfielder has been in the United first team for 24 years
Giggs' playing contract expires at the end of the season
Follow us at @WorldSportCNN and like us on Facebook
(CNN) -- He is Manchester United's man for all seasons.
As a mainstay of the team that won 13 Premier League titles and two European Cups under retired manager Alex Ferguson, Ryan Giggs provides a vital link to United's illustrious recent past.
During 23 years with the Old Trafford club, he has continually reinvented himself to remain a key figure in English football's most successful team.
From a pacey winger in the early 1990s to a yoga-practicing 21st century professional, Giggs' status as a revered veteran of United's golden age made him the only logical choice to step into the managerial hotseat vacated prematurely by Ferguson's replacement David Moyes last month.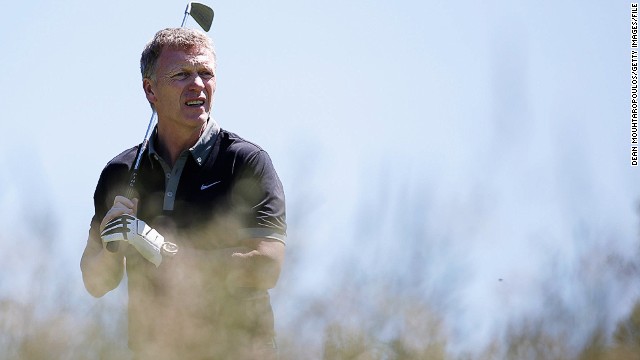 David Moyes is back in football management after agreeing a deal to coach Spanish club Real Sociedad. It is the Scot's first job since being sacked by Manchester United in April after being hand-picked to take over at the club by his predecessor Alex Ferguson.
Moyes was Ferguson's personal choice to succeed him at Old Trafford and he urged the fans to get behind their new manager. The then-Everton boss signed a six-year deal on May 9 and took over the reins on July 1.
Moyes opened his United account with a 2-0 win against Wigan in August to secure the English Charity Shield -- a match played between the league champions and the FA Cup holders -- while also becoming the first United manager since Walter Crickmer in April 1931 to start life with a victory.
Although Moyes followed up that success with a convincing 4-1 win at Swansea in the opening game of the English Premier League season, September brought defeats by rivals Liverpool and Manchester City, while West Bromwich Albion recorded its first victory at Old Trafford for 34 years.
Consistency proved to be a problem for United under Moyes. Back-to-back home defeats to former side Everton and Newcastle in December were then followed by six straight wins, only for the club to be knocked out of both domestic cup competitions in January.
Moyes oversaw the club-record signing of Juan Mata from Chelsea in January for £37.1 million ($61 million). The Scot often stated that similar big-money signings were set to follow this summer, with the board believed to be giving him time to rebuild his squad.
One of the bright sparks during Moyes' time at United was the form of Wayne Rooney, who the Scot worked with at Everton. Rooney hit 17 goals last season and signed a new five-and-a-half-year contract in February worth £300k ($500k) per week.
Perhaps the high point of Moyes' time at the club was the Champions League last-16 defeat of Olympiakos as United turned around a 2-0 first-leg deficit to progress as 3-2 winners in March. The European adventure came to an end at the quarterfinal stage as holders Bayern Munich ultimately proved too strong.
Despite guiding United to the Champions League quarterfinals, March proved to be a miserable month for Moyes in the league. The pain of suffering a 3-0 loss at home to famous rivals Liverpool was compounded by the 3-0 derby defeat to Manchester City at Old Trafford just nine days later.
Despite the club's troubles under Moyes, many fans continued to back Ferguson's chosen successor. Patience soon started to wear thin, however, and one group of supporters even arranged for an aircraft to fly over Old Trafford during the 4-1 win against Aston Villa at the end of March, carrying a banner reading: "Wrong One -- Moyes Out."
Despite reiterating that he would be given more time, Moyes' final game in charge proved to be the 2-0 loss against former club Everton in April -- the Scot's first return to Goodison Park since departing last summer. United announced Moyes' sacking just 10 months into his six-year contract.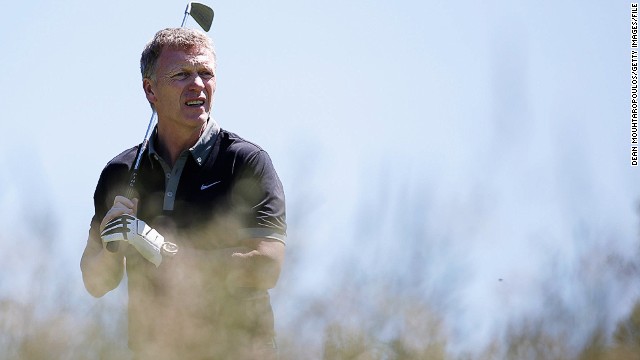 David Moyes: The story of his season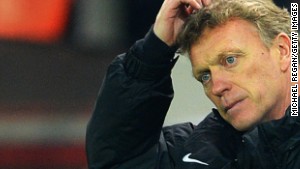 David Moyes: Paying the price of failure
Giggs was appointed manager on an interim basis, his four-game spell in the dugout coming to an end with Sunday's trip to Southampton.
Read: James Wilson stars in Man Utd victory
The 40-year-old's playing contract also expires in June, meaning for the first time in nearly a quarter of a century, the club could be absent from the life of Ryan.
Current Dutch national team coach Louis van Gaal is the man expected to take control of United on a full-time basis, but whether the former Ajax boss will retain the services of Giggs as a player or a coach is unclear.
In a press conference last week Giggs hinted that, should Van Gaal arrive as is widely expected, he could pursue a coaching career at another club.
But for one former member of Ferguson's coaching staff, retaining the services of Giggs is essential if United are to bounce back from failing to qualify for the European Champions League for the first time since 1995.
"What's important is that Ryan stays at Old Trafford," Rene Meulensteen, who was Ferguson's assistant manager at United between 2007 and 2013, told CNN.

David Moyes has endured a torrid start to life as the manager of Manchester United since replacing Alex Ferguson at the end of last season, with his side a long way behind the English Premier League title contenders.
The Red Devils take on Greek side Olympiakos in the second leg of their Champions League last-16 tie, needing to overturn a two-goal deficit -- having been thrashed 3-0 at home by Liverpool last weekend.
Manuel Pellegrini and his Manchester City side hope to usurp United as champion of England, and can take a big step by winning next week's derby at United. City, already knocked out of Europe, won this season's home encounter 4-1 back in September.
United signed Spain playmaker Juan Mata from Chelsea for $61 million in January to help bolster Moyes' attacking options. Mata, pictured left with Robin van Persie, has struggled to find any success so far, while Wayne Rooney has also failed to reach his potential.
Olympiakos' players will fancy their chances of progressing to the quarterfinals of the Champions League for the first time since 1999 at Old Trafford on Wednesday.
Former France star Christian Karembeu, now an adviser at Olympiakos, believes the Greek side can pull off one of the greatest triumphs in its history by dumping out United.
Moyes' Manchester United misery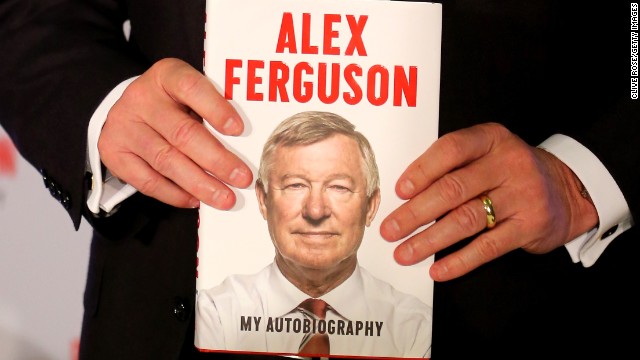 Just what did former Manchester United manager Alex Ferguson think about Wayne Rooney, Roy Keane, David Beckham and Cristiano Ronaldo? Read on......
England striker Wayne Rooney joined Manchester United from Everton in 2004. "Wayne Rooney is a slow learner and he struggles to stay fit," says Ferguson of the England international in his autobiography.
Roy Keane played for Manchester United between 1993 and 2005, but the Republic of Ireland midfielder fell out spectacularly with the Old Trafford manager after he criticized his teammates on the club's television channel. "What I noticed about him that day as I was arguing with him was that his eyes started to narrow, almost to wee black beads. It was frightening to watch. And I'm from Glasgow," writes Ferguson.
There is no mention of David Beckham's wife Victoria -- Posh Spice -- in the chapter of the book that Ferguson devotes to the player. "The big problem for me ... he fell in love with Victoria and that changed everything," said Ferguson in his press conference to promote the book.
In 2011 Manchester United defender Patrice Evra complained he had been racially abused by Liverpool striker Luis Suarez, who was subsequently handed an eight-match ban by the English Football Association. "Liverpool wore those T-shirts supporting Suarez, which I thought was the most ridiculous thing for a club of Liverpool's stature," writes Ferguson.
"In all the times I'm asked I find it impossible to definitely say which is the better player -- Cristiano Ronaldo or Lionel Messi -- because to relegate either to second place would feel wrong," writes Ferguson.
"Messi has something magical about him when the ball touches his feet," writes Ferguson. "It's as if it's landed on a bed of feathers. His low sense of gravity is devastating."
Ferguson says he was twice asked to manage England. "It wasn't a bed of nails I was ever tempted to lie on," writes the former Manchester United manager.
Sven-Goran Eriksson took charge of the England team between 2001 and 2006. "I remember asking Paul Scholes one day: 'Scholesy, what's Eriksson got?' but Scholesy could shed no light."
Ferguson is full of praise for Chelsea manager Jose Mourinho, who is now in his second spell at Stamford Bridge. "Jose was one of those guys on a surfboard who can stay longer on the wave than anyone else," says the Scot.
Sergio Aguero's stoppage-time goal in a 3-2 win against Queens Park Rangers ensured Manchester City won the 2011-2012 English Premier League title. "We were champions for 30 seconds," writes Ferguson. "When our whistle blew -- against Sunderland -- we were champions. In fairness to our players, they knew they had ballsed it up. There were no excuses."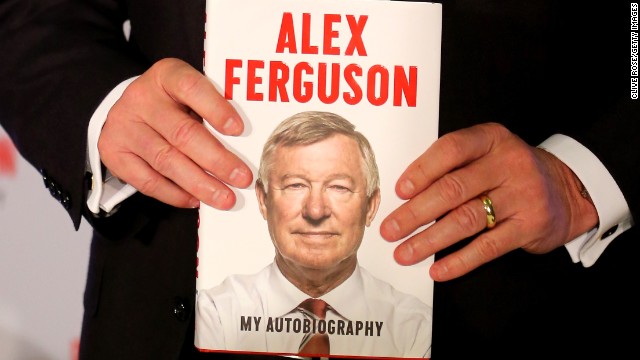 Alex Ferguson's book: 10 things not to miss
Blog: Is Man Utd the impossible job?
Meulensteen, who was sacked as manager of Fulham in February, thinks Giggs is a figure of such stature within football that he could afford to skip a couple of rungs on the career ladder.
"I don't think he should go and manage a club in the Championship (English football's second tier), for example," he explained. "Ryan is an exception to that rule."
It is a common refrain within the game that great players don't necessarily make great coaches.
Argentine Diego Maradona, for example, is rated by many as the finest footballer of all time but as a coach he struggled in charge of his native Argentina.
A counter to such perceived wisdom is Maradona's compatriot Diego Simeone, who was well-regarded as a combative midfielder and is now on the brink of leading Atletico Madrid to a Champions League and Spanish title double.
"It would be a transition both for the club and Ryan but you have to give it time," said Meulensteen when asked if Giggs should be appointed on a full-time contract.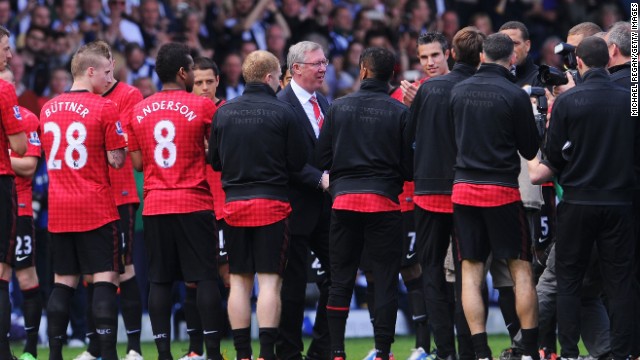 Alex Ferguson receives a guard of honor from his Manchester United players to mark his 1500th and final game in charge of the new EPL champions.
Manchester United's triumphant players celebrate Alexander Buttner's goal to put them 3-0 ahead at the Hawthorns.
Romelu Lukaku spoiled Alex Ferguson's farewell with a hat-trick as WBA hit back to draw 5-5 with Manchester United.
Laurent Koscielny celebrates his vital winner for Arsenal at Newcastle as they clinched fourth spot in the EPL.
Gareth Bale celebrates after his stunning late winner for Tottenham against Sunderland but it was to no avail as his side had to settle for fifth.
Paul Scholes enters the field for his 718th and final appearance for Manchester United in their 5-5 draw at WBA.
Jamie Carragher is applauded on to the pitch for his final game for Liverpool against Queens Park Rangers.
Rafael Benitez is appreciated by a section of the Chelsea supporters as his spell as interim manager ends with a flourish.
Michael Owen warms up before making a late appearance as a substitute for Stoke in his farewell to top flight football.
Alex Ferguson applauds the crowd as he says farewell after his 1500th game in charge of Manchester United.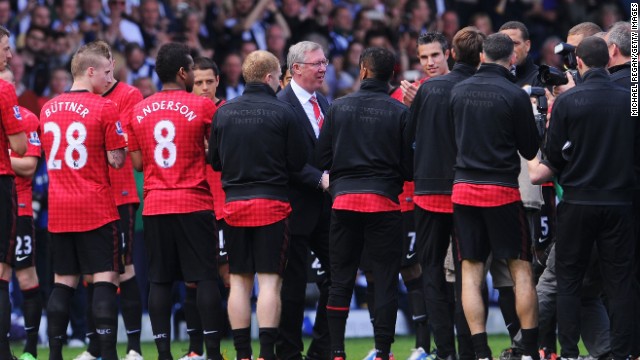 Ferguson era ends with goal fest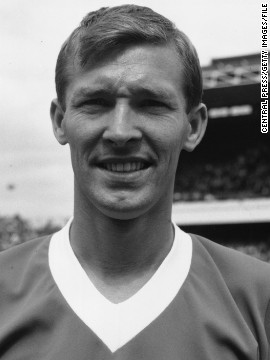 As a player, Alex Ferguson enjoyed a moderately successful career. A prolific striker, he scored 170 goals in 317 appearances including 25 goals in 41 appearances for Glasgow Rangers.
Ferguson was appointed manager of Aberdeen in 1978. In addition to three Scottish First Division titles, Ferguson guided the club to an impressive triumph over Real Madrid in the 1983 European Cup Winners' Cup.
Ferguson was assistant to Scotland coach Jock Stein during the qualifying campaign for the 1986 World Cup. Scotland secured a 1-1 draw against Wales in their final game to reach the tournament, but Stein collapsed and died following the final whistle in Cardiff.
A late winner from substitute Mark Robbins in an FA Cup replay against Nottingham Forest in January 1990 allegedly spared Ferguson the sack. United went on to beat Crystal Palace at the second attempt in the final, giving Ferguson his first trophy at Old Trafford.
The Scot originally planned to retire from management at the end of the 2001-02 season. But, after helping the team recover from a slip in form which saw them drop as low as ninth in the Premier League table, Ferguson reversed his decision in February 2002 and signed a new three-year contract.
A boot flew into the face of Manchester United's star midfielder David Beckham after Ferguson lost his temper following a 2-0 FA Cup defeat to Arsenal in February 2003. Beckham had to be held back following the incident and he joined Real Madrid ahead of the following season.
Ferguson's finest hour arrived in Barcelona in May 1999, when his United team came from 1-0 down in the 90th minute to beat Bayern Munich 2-1 in the European Champions League final. The win completed an historic treble of titles won during the 1998-99 season, which included the Premier League title and the FA Cup.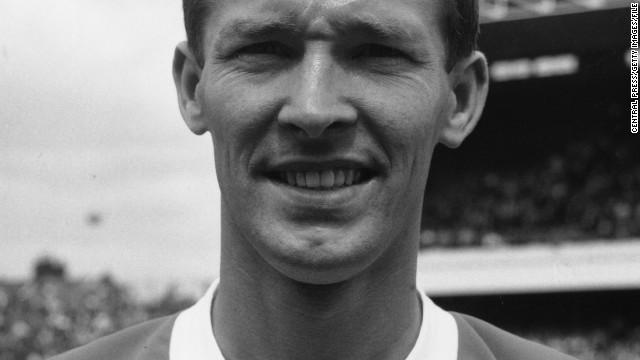 The seven moments which define Alex Ferguson
"Giving Ryan the job provides the chance to re-establish the Alex Ferguson dynasty. That is the only way to do it if the club wants to try that route.
"But if they go for Van Gaal, Ryan can learn from him."
By spending almost his entire playing career under Ferguson, Giggs had the opportunity to learn from a giant of the game.
The principles ingrained in Giggs by the ruthless Scot, who brought the curtain down on his own career in May 2013, could serve him well should he inherit his mentors old job in the near -- or distant -- future.
"All his life Ryan has shown he can manage his position on the playing field, but now he has to show he can manage everyone's position at the club," added Meulensteen, reflecting on Giggs' credentials.
"He has to decide what team to pick and what tactics to use -- he has to drop people that he has played with. But again I don't see him having a problem with that.
"Most important -- can he manage the training? Ferguson always stressed that what you do in training manifests itself in matches."
If what Giggs achieved as a player manifests itself during his coaching career, United fans could have a lot to look forward to.
Read: Pele expects "fantastic" World Cup
Read: Is racism "endemic" in Spanish football?