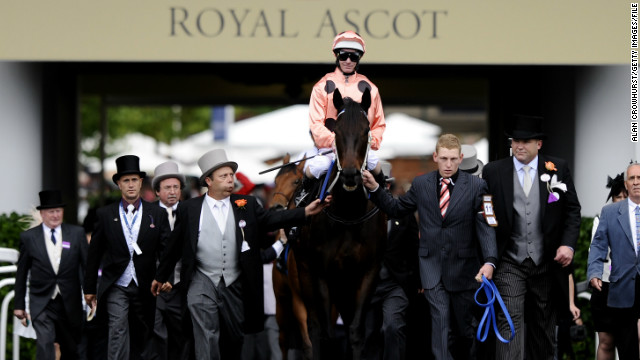 So how did wonder mare Black Caviar travel 17,000 kilometers from Australia to Britain's Royal Ascot?
By plane, of course. Champion Australian race horse Black Caviar wore a special compression suit during her 30-hour journey from Melbourne to London. No expense was spared for the celebrity mare traveling in a $50,000 first-class airborne stable.
Each year thousands of race horses are flown across the world to compete in international competitions. It's a major operation, with horses first loaded into stables on the ground before being put onto the plane via a scissor lift.
German Olympic gold medal winning equestrian rider Ludger Beerbraum's horse, Goldfever, is cared for by staff at Frankfurt's international airport. The airport boasts one of Europe's largest animal lounges; around the size of a football pitch.
Much like humans, race horses require passports to travel, though instead of a photo they include a silhouette with details of markings, the names of owners, and vaccine records.
Each International Racehorse Transport (IRT) flight includes an on board vet. The stables range from $17,000 for three-horse economy, £30,000 for two-horse buisiness class and $50,000 for a single horse to fly first class.
IRT flew many of the equestrian horses to London during the 2012 Olympic and Paralympic Games. "Do they get jetlag? To be honest, we've got no idea because they can't tell us," said Chris Burke, IRT co-owner.
Long before air travel was the norm, horses were transported by ship. However this came to a halt in 1972 when diseases such as African Horse Sickness and the Venezuelan Equine Encephalitis caused both the Suez and Panama Canals to ban horse traffic.
Before Black Caviar stormed Britain's Royal Ascot, that other great Australian champion race horse, Phar Lap, traveled to the U.S. by ship to compete. It would also be the place of his death, after he was found poisoned.
Fresh off the plane
If the suit fits
Catch a lift
Horses first
Pony passport
Class of their own
Olympic effort
Ship-shape travel
Adventurous Australians
STORY HIGHLIGHTS
The world's top horses fly in the region of 80,000 kilometers a year in relative luxury
Surprisingly, show jumpers rather than racing horses clock up the most equine miles
There are always those that misbehave, "like drunks on a plane" says one expert
Jakkalberry arguably the most traveled race horse before his retirement last month
Follow us at @WorldSportCNN and like us on Facebook
(CNN) -- The air miles don't accrue, there's no free holiday to aspire to at the end of it, and the flights are seemingly never ending.
It is the world of equine travel and, with its ever-expanding global appeal, be it equestrianism or horse racing, events are increasingly dotted over all pockets of the world, meaning more and more miles for the most accomplished and sought-after steeds.
Is it possible to ascertain the world's most traveled horse? To pinpoint it to one specific creature may be something of a mission impossible but in equine transport, it is the show-jumping horses that would be the holders of the gold card, the three-day events the silver, and somewhat surprisingly horse racing horses, relatively under-traveled in comparison, the bronze.
American showjumper Beezie Madden is a two-time Olympic gold medalist, and today generally regarded as one of the world's best riders. Her leading mounts are Simon and Cortes C and, as such, there are few if any horses on the planet that are currently better traveled.
"Sadly there's no air miles for horses," she says with a rueful laugh. "Although I'd like that. It would help. But seriously, I think you'd struggle to find better traveled horses than those two."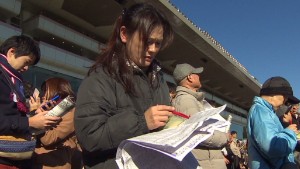 World's biggest horse racing fans?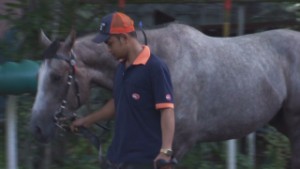 Is Singapore the best place to own horses?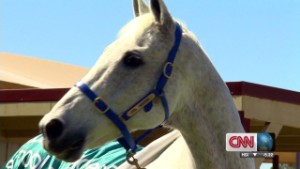 Meet an ambassador of horse racing
Their current remit is such that they are relatively sedentary at the moment, Madden having flown them to Florida for a few months for both training and competition.
But from there, the journeys begin in earnest -- they will fly to Calgary, Canada, for a $1m grand prix before returning to Florida for a $1.5m GP before jetting off to Europe to compete in the second week of April for the World Cup final in Lyon, France.
From there it's back to New York before a flight to Calgary in May and then a second seasonal sojourn in Europe for the World Equestrian Games in Normandy. After that, it's back to Calgary once more for a $1.5 million GP before a return to Europe for the Nations Cup final in Barcelona, Spain.
"And that's not all of it," explains Madden. "That's just the flying. They'll probably travel by road across the country at least three times this year. As for how many miles that would equate to, I really have no idea but it's running into thousands."
Even at a relatively conservative estimate, it is comfortably 80,000 kilometers for each horse. Luckily, the cost of the travel is met by a wealthy benefactor Abigail Wexner, who owns Madden's horses, particularly considering the manner in which her horses travel, and the fact a top-notch flight from America to Europe can cost as much as $25,000 a horse.
Like human air travel, there is very much a hierarchy of luxury. Each 'stable' on a plane can take up to three horses, the equivalent of which is economy class. Some of the wealthy race horses, like Australian champion Black Caviar, will travel in these stables alone (first class).
Madden's mounts are usually in between that in business where two horses tend to share one allocated space.
Despite the number of miles mounting up each year, Madden remains obsessed with her horses' welfare. "I always make sure I get a call whenever the horses land to know they're safe," she says. "I say 'I don't mind, I want to know even if it's the middle of the night'."
To date, none of her horses have had major problems traveling, and the last resort of tranquilizers has not had to be resorted to. The big concern, though, is that the lungs can fill up with fluid leading to cases of bronchitis despite the stable lads on hand.
While show jumpers may be king, the sport of kings, horse racing, has produced its own well-traveled nags. Arguably the most worldly wise was Jakkalberry, an Australian owned horse trained by Marco Botti and based in Newmarket in England.
Stick a pin in a map and the chances are that Jakkalberry, whose last five races were in the UAE, Japan, Australia, the United States and England, has raced there.
"He is absolutely one of the most traveled horses out there," explains Botti. "He's traveled around the world and he's done so well in so many different countries. You don't find many horses that travel that well. He's so consistent at so many different tracks.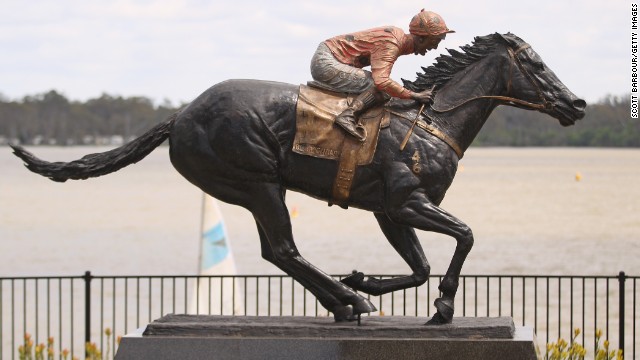 Champion racehorse Black Caviar has been immortalized in bronze in its hometown of Nagambie in the Australian state of Victoria. The mare retired following a stellar racing career in which it won all 25 of its races.
The sculpture, by artist Mitch Mitchell, is lifesize, right down to the horses famous rump.
Black Caviar's exploits on the racetrack earned it a legion of loyal fans in Australia, many of whom turned up for the unveiling.
The crowd, sporting the iconic salmon pink and black polka dots which adorned jockey Luke Nolen's silks, were delighted to learn that Black Caviar is pregnant. The sire is stallion Exceed and Excel.
Nolen stands alongside the sculpture of the horse which he rode to 22 of her 25 victories.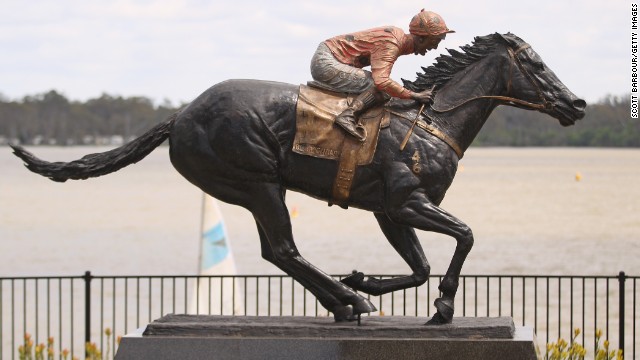 Black Caviar statue unveiled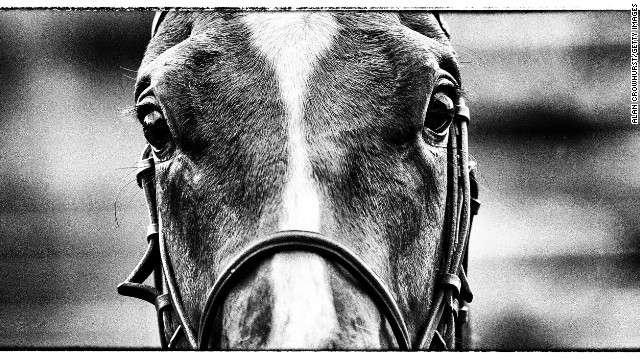 Alan Crowhurst has been training his camera lens on horses for 30 years. Here, the British photojournalist explains how he goes about capturing all the varied action at a day at the races.
As Crowhurst's images reveal, a race meeting is as much about the drama off the track as it is on it. The photographer was at Longchamp in Paris for the Prix de l'Arc de Triomphe -- European racing's richest prize -- on Sunday to capture the windmills and hats as well as the racing.
Crowhurst started taking pictures as a way of making money rather than losing it. "I used to gamble when I started work ... but then I bought a camera. I loved the idea that I gave up gambling but could still go to the races and take pictures instead," he told CNN.
Royal Ascot, Ascot, Berkshire, UK: "At the start, I'll probably go to the pre-parade ring just to have a look to see if there are any shadows. I'll just watch the horses go round (trying to capture) something you might not notice," Crowhurst says.
Royal Ascot, Ascot, Berkshire, UK: Jockeys leave the weighing room during day two of Royal Ascot. "Before the race, depending on where I am, I'll have a wander around the weighing rooms, among people looking at newspapers ... just little things that you wouldn't possibly have time to do during the races," Crowhurst says.
Royal Ascot, Ascot, Berkshire, UK: Everything is on Crowhurst's radar. A steward clasps stable lad's armbands.
Royal Ascot, Ascot, Berkshire, UK: Top hats and tails are the order of the day for men attending Royal Ascot. The five-day meeting takes place every June and is one of the UK's most prestigious sporting events.
Royal Ascot, Ascot, Berkshire, UK: "I like Royal Ascot a lot because there are so many people and so many things to see. It's like shooting fish in a barrel," says Crowhurst.
Royal Ascot, Ascot, Berkshire, UK: A vintage piece of Americana parked amid Ascot's starched shirts and racing silks.
Royal Ascot, Ascot, Berkshire, UK: Runners pass the grandstand in the Ascot Stakes during day one of Royal Ascot. "You can't really go too far wrong. It's always nice colors, smart clothing," added Crowhurst.
Royal Ascot, Ascot, Berkshire, UK: A packed grandstand watches a tightly-bunched group of runners during a race at Royal Ascot in June.
Ascot, Berkshire, UK: Irish jockey Johnny Murtagh riding Novellist celebrates winning The King George VI and Queen Elizabeth Stakes at Ascot. "For the bigger races, I usually position myself after the winning line. I like looking head on because you might get a reaction from the jockey -- a wave of the whip, a punch of the air," says Crowhurst.
Royal Ascot, Ascot, Berkshire, UK: Jockey Jospeh O'Brien riding Leading Light in the winning enclosure after the Queen's Vase during day four of Royal Ascot.
The Grand National, Aintree, Liverpool, UK: A bookmaker taking bets on the Grand National in April. The first official running of the world's most famous handicap steeplechase took place in 1839.
Aintree, Liverpool, UK: Runners making their way past the grandstand at Aintree. Crowhurst prefers jump racing because of its unpredictable nature. A horse that is 10 lengths clear can always fall at the last, he says.
Aintree, Liverpool, UK: Horses and jockeys negotiate the famous Bechers Brook fence during The John Smith's Foxhunters Steeple Chase. Crowhust took four cameras to Aintree in April, this year. "I had three remote cameras and one in hand which sets off the other three. They're only jumping once, so you've got to make the most of the oportunity," he says. "You get nice shapes in jumping as well when (the horses) stretch."
Cheltenham, Gloucestershire, UK: This curious image of a racegoer at Cheltenham taken in November 2012 is one of Crowhurst's favorites. "I just happened to see him," Crowhurst says of the man whose head is all but invisible behind his cupped hands and binoculars.
Cheltenham, Gloucestershire, UK: Barry Geraghty rides Bobs Worth to victory at the Gold Cup in March 2013. Cheltenham racecourse is Crowhurst's favorite place to take pictures of jump racing. "The sun's the right way, you get good horses and good quality races and it's out in the country -- you can shoot against the Coltwolds."
Punchestown, Ireland: Runners make their way through "Joe's Water Splash'"at Punchestown racecourse in April.
"If it's there, I'll try and do something different. The beauty of working for Getty (Images) is that they allow you to do it," says Crowhurst. To view more of Alan Crowhurst's portfolio click here.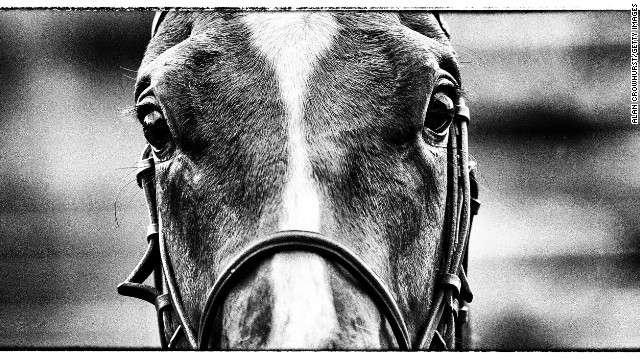 Photo finish: A day at the races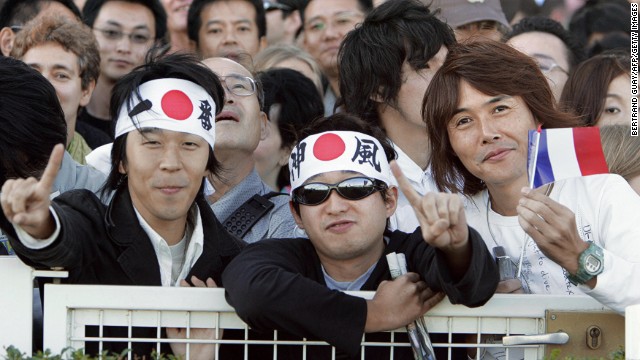 Some 5,000 Japanese fans, with individual fan clubs for horses and riders, traveled to Longchamp in Paris for last year's Prix de l'Arc de Triomphe. A similar contingent is expected this weekend.
Japan's enthusiasm for the sport is growing. Its biggest annual horse race, the Japan Cup, attracts thousands of fans -- on the whole much younger than those in Europe -- to Tokyo Racecourse in November, from early in the morning.
Japan's most famous jockey is Yutaka Take, who has been likened to the David Beckham of his sport. Here the veteran is on board a golden replica of Oguri Cap, which won four Grade One races.
One of the nation's most famous horses is Deep Impact (center), ridden by Take, which came within a whisker of winning the Prix de l'Arc de Triomphe in 2006 -- when Britain's Rail Link snatched the race honors.
Japan's best bet at Longchamp this year is Orfevre, which has competed there before and is among the favorites to win a race that has become an obsession for his country's punters.
Much of the improvement in Japanese racing is down to wholesale purchases of some of Europe's best horses, with a view to improving breeding programs. Teruya Yoshida, right, is one of the leading owners.
Arguably the best known Japanese trainer is Yasuo Ikee, who looked after Deep Impact among others before he retired in 2011. His son, Yasutoshi, has taken over the family work.
British riders are increasingly heading over to Japan to make their mark. Three-time champion jockey Ryan Moore is among the foreigners to have raced in Japan in 2013.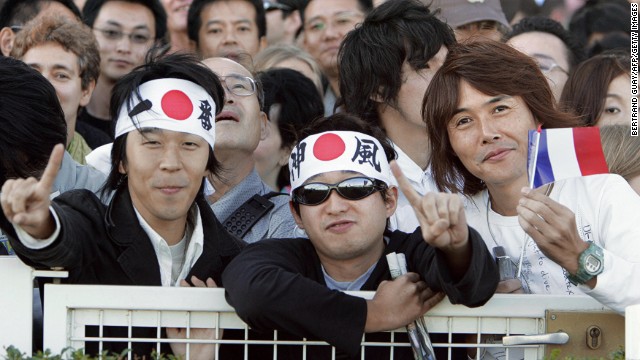 Japan's love affair with horse racing
"He just loves to travel, I can't explain it. Some horses enjoy it more than others. He relaxes when he travels, he likes to be in different places. He's a horse that just loved it, that was very versatile and adaptable."
Jakkalberry retired last month with an injury although nothing to do with a tough traveling schedule, Botti, but due to a freak incident of being kicked in the stalls by another horse at a race in Dubai.
There is a sense of irony that such a glittering career, that has earned him $2 million for his owners, should end with a victory in the slightly less glamorous surroundings of Wolverhampton in the English midlands, just a mere 100 miles away from his home.
His next step is to go to stud but, for now, Botti admits he is struggling to keep him entertained. "He gets very fresh, I think he misses the travel but he deserves his retirement," he says. "We've had some very good times with him, and he's done very well for us."
Flying horses all over the world, whether involved in equestrianism or horse racing, is big business. Peden Bloodstock Ltd are world leaders for equestrian air transport and have been responsible for the equine freight to the Olympics and World Championships in recent years.
Read: Transporting horses from cattle to first class
Henry Bullen is in charge of the day-to-day shipping in the UK office and argues that the showjumpers are comfortably the lead in global traveling in the equine world.
"I'd easily say it's the showjumpers number one, then the dressage and three-day eventing horses second, with the horse-racing ones third," he explains.
"The thing is the majority of their racing will be in the UK where the others travel all over the world at any given time. They're traveling a hell of a lot."
Peden sends horses off with trained grooms, equine air stewards and stewardesses if you like, to ensure the safety and smooth travel of these horses, many of whom have high price tags.
Bullen explains they travel in luxury -- "they usually travel exceptionally well" and that most travel calmly. But he points out that even the best traveled can go awry. "You always get a rogue," he adds. "I liken it to a drunk on a plane. And it doesn't matter how much they've traveled, they can have their moments".
The idea of a horse with air rage at 30,000 feet doesn't bear thinking about, and there are times when things have gone wrong although usually more to do with logistics, out of Peden and Bullen's hands, than a fired-up stallion.
Bullen would not hazard a guess how many miles the most traveled nags will go in a given year. But it would put even the most ardent business traveler to shame.
Read more: Can ballet teach the world to love dancing horses?