Italian island of Elba marks 200th anniversary of Napoleon's exile
May 6, 2014 -- Updated 1527 GMT (2327 HKT)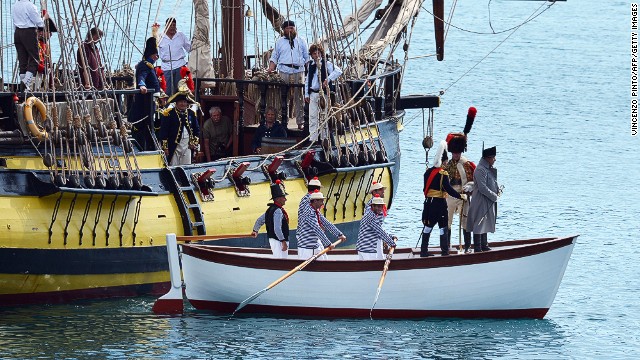 The Italian island of Elba celebrates the 200th anniversary of Napoleon's exile to the island with a large-scale reenactment of the emperor's arrival.
A ship modeled on the one that carried Napoleon to Elba was used in the reenactment at Portoferraio harbor on Elba.
Did everyone get the funny hats memo? The arrival reenactment is hosted on Elba every year. In 2014 it is just one of a series of celebrations in honor of the bicentennial.
Actors and Napoleon enthusiasts in full period costume await the arrival of the emperor on the island.
No one mention Waterloo. The new sovereign is greeted with cheers from the crowd and a cannon salute.
Napoleon is remembered fondly by the people of Elba. While his rule, like the man himself, was short, it had a large impact on the island's development.
The Villa dei Mulini was Napoleon's main residence in Portoferraio, and is now one of Elba's main attractions.
Upcoming events include a walking festival, the hosting of Napoleon's Regatta and an exhibition featuring Napoleon's field tent.
The Tuscan island -- the third biggest in Italy -- came into the regional spotlight after Napoleon's famous exile.
Napoleon left Elba after 300 days of exile and returned to lead France once more into battle.
Elba's Napoleon complex
Small emperor, tall ship
Heading for a new home
French revolution
Napoleon's dynamite
Two hundred-year-old legacy
Napoleon's main residence
Steering towards more celebrations
Elba's rise to fame
France or bust
STORY HIGHLIGHTS
Tuscany's Elba Island is celebrating 200th anniversary of Napoleon's exile to Elba
Reenactment of emperor's arrival is one of many events for the bicentennial
The people of Elba remember Napoleon's legacy fondly
(CNN) -- It figures that the only person who couldn't leave the Tuscan island of Elba fast enough is the one locals seems to love the most.
Italy's third largest island celebrated the 200th anniversary of Napoleon Bonaparte's arrival on Sunday.
Hundreds of Napoleon enthusiasts traveled to Elba to reenact the diminutive emperor's arrival at the prow of a large row boat.
Dressed in period costume, they milled about the island awaiting the highlight of the day -- when "Napoleon" himself finally showed up to the salute of cannons and cheers.
Happy 200th Mister Bonaparte
Elaborate reenactments are staged annually on the island, but have been ramped up for 2014 to mark Napoleon's bicentennial on Elba.
The French emperor was exiled here following his forced abdication of the throne in 1814.
He ruled as the island's sovereign for 300 days before escaping back to France.
10 things Italy does better than anywhere else
The people of Elba recall his legacy fondly -- he's credited with improving the lot of the islanders and locals still say Mass for him each May 5 at the island's Chiesa della Misericordia (Church of Mercy).
Upcoming events for the bicentennial include the exhibition of a large field tent from which Napoleon directed military operations during his campaigns.
There's also the Napoleon's Regatta yacht race, which arrives in Portoferraio on June 13, and a walking festival visiting Napoleon-related sites on the island.
Roman holidays
Elba is a popular vacation island with Romans in particular and its most famous attractions are Napoleon's former cribs.
The Villa dei Mulini was his primary pad on the island while the Villa Napoleonica di San Martino was his summer residence -- apparently just the one summer though.
Both are now museums.
Portoferraio isn't short of classy hotels, but the down-budget Albergo Ape Elbana might be more of interest given that it once received Napoleon's guests.

Today's five most popular stories
Part of complete coverage on
October 28, 2014 -- Updated 0149 GMT (0949 HKT)

Luxury Action will turn your travel scripts into reality and film them. As long as you're willing to travel to this country ...
October 27, 2014 -- Updated 0913 GMT (1713 HKT)

As entertainment capital of the world, Los Angeles draws some of the best comic talent on the planet. Here's where to see it live.
October 27, 2014 -- Updated 0342 GMT (1142 HKT)

Not many people choose flights based on the quality of an airline's catering -- but those who do should check out Saveur's Culinary Travel Awards.
October 27, 2014 -- Updated 0251 GMT (1051 HKT)

On the island of rice, curry, tropical fruit and fresh seafood, eating is an honor to the taste buds.
October 23, 2014 -- Updated 1558 GMT (2358 HKT)

Sparsely populated (by humans at least), this East Africa country offers so much more than just Mt. Kilimanjaro.
October 24, 2014 -- Updated 1432 GMT (2232 HKT)

It's crowded and outdated, but Berlin's hexagon-shaped Tegel air hub has won a place in the city's heart.
October 23, 2014 -- Updated 0847 GMT (1647 HKT)

Shrine to a dead cat and a homage to fromage among Dutch capital's eccentric exhibitions.
October 22, 2014 -- Updated 0603 GMT (1403 HKT)

Slovenian Kickstarter project encourages travelers to hop on their suitcase and cruise through terminals to connecting gates.
October 20, 2014 -- Updated 1808 GMT (0208 HKT)

The guidebook asked staff, contributors and authors for well-known and lesser-known recommendations.
October 20, 2014 -- Updated 1607 GMT (0007 HKT)

An airport in Asia has stolen the crown from Manila's Ninoy Aquino, voted 'world's worst' three years in a row.