Russia increases military flights in Pacific, U.S. general says
May 7, 2014 -- Updated 1433 GMT (2233 HKT)
STORY HIGHLIGHTS
Russian bombers fly off Guam, California, general says
Increases related to tensions in Ukraine, Air Force commander says
Russians gathering intelligence, showing capabilities, general says
(CNN) -- Russia has stepped up military activity in the Pacific, including sending long-range bombers on flights off the coast of California and around the island of Guam, as tensions have risen in Ukraine, a top U.S. Air Force general said Monday.
"What Russia is doing in Ukraine and Crimea has a direct effect on what's happening in the Asia Pacific," Gen. Herbert "Hawk" Carlisle said in a presentation to the Center for Strategic and International Studies in Washington.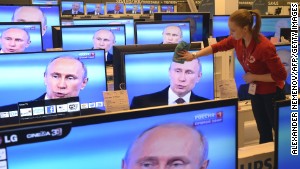 Russia's president annexes ... words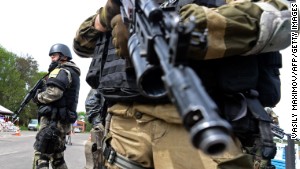 Heavy clashes reported in Ukraine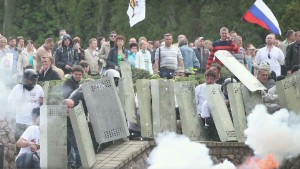 Analysis: Putin has already gone too far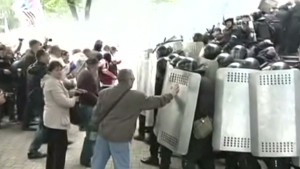 Pro-Russian militants gain ground
"They've come with their long-range aviation off the coast of California; they circumnavigated Guam," Carlisle said, showing a picture of a U.S. F-15 fighter "intercepting" a Russian Tu-95 "Bear" bomber off the Pacific island.
Guam is home to Andersen Air Force Base, which has been used by the U.S. military for flights of B-2 and B-52 bombers across the Pacific.
Flights around Japan and the Korean peninsula have also "increased drastically," as well as naval activity in that area, Carlisle said.
The Russian planes have stayed in international airspace, and such flights are not unusual, but the increase has U.S. commanders keeping a wary eye.
"It's to demonstrate their capability to do it; it's to gather intel" from U.S. military exercises with allies in the region, Carlisle said of the reasons for the Russian activity.
"We relate a lot of that to what's going on in the Ukraine," he said.
Pro-Russian separatists have taken control over swaths of Ukraine near its borders with Russia.
Ukraine's government and many in the West believe that the separatists are backed by Russia and fear that Russian President Vladimir Putin is fomenting trouble to increase his influence in the region.
Unrest has simmered in Ukraine since street protests forced out pro-Moscow President Viktor Yanukovych in February. The interim government scheduled presidential elections this month, but pro-Russian activists in the eastern part of the country refuse to accept Kiev's authority.
Russia annexed Crimea from Ukraine this year after sending troops into the region.
Since the Ukraine crisis began, the U.S. and its NATO allies have moved some troops, aircraft and ships closer to the area as a signal of alliance solidarity.
The Russian bomber flights are not unique to the Asia Pacific region. In late April, fighter jets from the Netherlands intercepted two Tu-95s that had flown a half-mile into Dutch airspace. The Dutch F-16s escorted the Russian aircraft out of Dutch airspace without incident.

Today's five most popular stories
Part of complete coverage on
U.S. military
November 5, 2014 -- Updated 0146 GMT (0946 HKT)

A combination of old and new hooked up off the coast of San Diego Monday to give the U.S. Navy a glimpse into its future.
October 13, 2014 -- Updated 0020 GMT (0820 HKT)

The U.S. Navy is getting ready to "swarm" its adversaries.
October 3, 2014 -- Updated 1914 GMT (0314 HKT)

The U.S. Navy's oldest nuclear aircraft carrier has given a piece of itself to one the younger carriers in the fleet.
October 2, 2014 -- Updated 0839 GMT (1639 HKT)

A winged piece of history sits parked at a small airport.
September 11, 2014 -- Updated 1657 GMT (0057 HKT)

When a flight of military helicopters descended into a field in the small village of Gruta, Poland, on Tuesday, residents had reason to be alarmed.
August 22, 2014 -- Updated 1735 GMT (0135 HKT)

A storied former U.S. Navy aircraft carrier is on its final voyage Friday, a slow voyage from Rhode Island to a scrapyard in Texas.
August 27, 2014 -- Updated 1123 GMT (1923 HKT)

Call it part tank, part boat and part beer cooler. But it's unquestionably all cool.
April 10, 2014 -- Updated 1810 GMT (0210 HKT)

Imagine ships that use lasers to destroy threats at the cost of about a dollar a shot, and vessels making fuel from the very seawater in which they're floating.