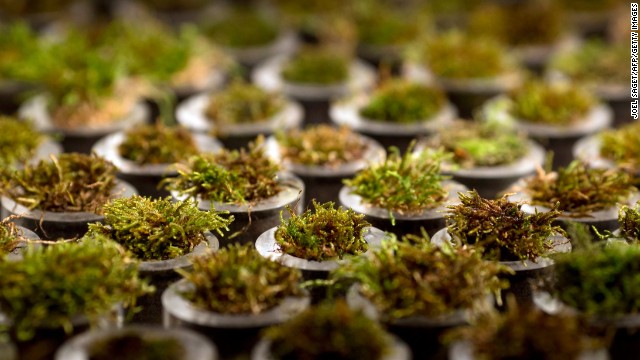 Could the secret to the next big technological breakthrough be all around us -- slithering, crawling or flowering among our natural surroundings? More than ever, scientists and designers are looking to nature to emulate the ingenuity of the living world. They call it "
biomimicry.
"
Geckskin, inspired by Geckos ability to walk up sheer glass windows and hang upside down on wooden doors. The scientists looked to these scuttling reptiles toe pads -- lined with microscopic hairs that create an adhesive effect -- for the secret.
Imagine sellotape so powerful that an index card-sized piece can hold up over 300kg. Researchers at UMass Amherst have developed
Artificial Leaf
uses nothing but the suns rays to split water into hydrogen and oxygen, much like
plants
have been doing for countless millennia. Where plants store these energy sources in leaves and roots and fruit and vegetables, Nocera plans for everyone to one day have
a personal hydrogen cell power plant in their home
.
Nature has known a way to produce clean, cheap, carbon-negative energy for over 400 million years -- and humans might be about to catch up. Scientist Daniel Nocera's
Mirasol
smartwatch display
that takes advantage of the same phenomenon
, and Morphotex uses it to make dresses shine. Each cite the shimmering
Morpho butterfly
as inspiration.
Some colors, like the the slick sheen of oil on water, owe their hue to curious physical properties. Microscopic gaps in the surface of the material creates interference when reflecting light that can give off a variety of colors. Electronics manufacturers Qualcomm has developed the
Aquaporin Inside technology could turn seawater into drinking water and let dirty water run clean. It's based on the water-transporting proteins found in all organisms. Aquaporins allow only water through hourglass-shaped channels into and out of an organism's cells.
A thin membrane lined with
BionicKangaroo
improves the efficiency of legged robots by
emulating the jumping behavior of Australia's bounciest residents
. Researchers hope that
kangaroos'
ability to effectively store energy from one leap to the next can show them how to recover energy in industrial processes.
No prizes for guessing what inspired this roo-bot. The
Fastskin was briefly allowed in competition, world records fell and regular humans couldn't keep up. At the Beijing Olympics in 2008, every event in men's swimming was won by a competitor wearing a body suit lined with performance enhancing fabric. Advertisers claimed it was inspired by sharks' unique physiology: great whites skins are covered with a fine layer of "dermal denticles" -- tiny teeth pointing backwards toward the tail -- to smooth the flow of water.
Natural design is so good it's illegal: when
BioBatteries
which run off sugary liquids
can now rival lithium-ion cells in energy storage
. This little car, made by Sony and toy manufacturers Tomy, runs off fizzy soda. Nearly all living organisms generate energy from glucose, and now your appliances can too.
eSkin "adaptive building skins" which respond to their surroundings. They want buildings to behave more like organisms and are interested in probing the human body for design models.
The Sabin Design lab at Cornell University are developing
Shinkansen Bullet Trains got their distinctive beak-shaped noses? It's not just about smooth aerodynamics. Older trains caused a build-up of pressure in tunnels, which resulted in ear-cracking noises as the train burst out. Engineer Eiji Nakatsu was inspired by a kingfisher's smooth entry into the water to catch prey for his novel design.
Ever wondered how Japan's super-fast
Super Ball Bot
is an experimental structure for planetary landing and exploration, which could
use a rustling martian breeze
to roll its way across the Red Planet's surface. The design owes a debt to the lowly
tumbleweed
.
NASA's brightest idea for exploring far-away planets could take design inspiration from one of earth's dumbest organisms. The
Velcro. Swiss engineer George de Mestral returned home one day to find his dog covered in prickly burdock burrs from plants it had walked past and decided to examine them under a microscope. Seeing that they were covered in tiny hooks -- which locked into his pet's fur -- he was inspired to create the fastening fabric.
The best known piece of biomimetic design is surely
Concentrated solar plants
-- where rows of mirrors reflect the suns rays into a central generator tower -- already work a lot like a field of flowers. As the sun tracks across the sky, the shining mirrors rotate to follow it. But researchers at MIT have found that plants have more to offer -- and the secret is in the center of a
sunflower
. They tried to find the most efficient layout for a field full of mirrors and found their strange spiral-shaped answer
matched the arrangement of sunflower seeds in the head of the plant
.
Mick Pearce was commissioned
to design the
Eastgate Centre
mall and apartments in Harare, Zimbabwe he looked for an alternative to energy-consuming air conditioning in natural systems that circulate air
passively
. He struck on inspiration in an unlikely animal's home:
termite mounds
, which include long flues that vent through the top and sides of the mound, and wind-catching features at the top.
It's not just individual plants and animals that humans are learning from, either. When architect
Biomimicry: inspired by nature
Biomimicry: inspired by nature
Biomimicry: inspired by nature
Biomimicry: inspired by nature
Biomimicry: inspired by nature
Biomimicry: inspired by nature
Biomimicry: inspired by nature
Biomimicry: inspired by nature
Biomimicry: inspired by nature
Biomimicry: inspired by nature
Biomimicry: inspired by nature
Biomimicry: inspired by nature
Biomimicry: inspired by nature
Biomimicry: inspired by nature