STORY HIGHLIGHTS
Monica Lewinsky has many regrets
She's bracing for Hillary Clinton 2016
She had thoughts of suicide
Her "history" has cost her jobs
(CNN) -- Even before hitting newsstands, Monica Lewinsky's essay in Vanity Fair provoked its share of reactions across social media, from shrugs to bemusement to outright hostility. The reactions are easy to understand when you're talking about a former White House intern whose affair with Bill Clinton threatened to bring down his presidency.
Now that her essay is out, it reveals a woman still haunted by the events of nearly two decades ago. It also offers insights into someone who has moved on.
Here are the six major takeaways: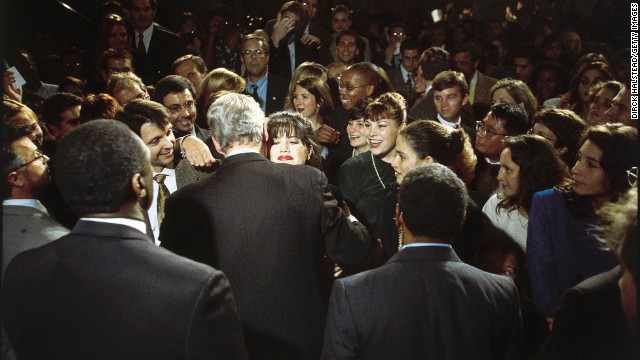 Monica Lewinsky embraces U.S. President Bill Clinton at a Democratic fundraiser in Washington in October 1996. Lewinsky, the White House intern who had a sexual relationship with Clinton during his time in office, has finally broken her silence on the affair in a Vanity Fair article.
Lewinsky sits in a car after meeting with her lawyers in 1998.
Lewinsky is escorted by police officers, federal investigators and attorney William Ginsburg, second right, as she leaves the Federal Building in Westwood, California, in 1998. She was there submitting evidence on her relationship with Clinton, who was impeached by the House of Representatives on charges of perjury and obstruction of justice. He was later acquitted.
Lewinsky's father, Bernard, hugs her in front of his home in Brentwood, California, in 1998.
In 1998, Lewinsky arrives at her attorney's office in Washington, where her immunity agreement with independent counsel Kenneth Starr was announced.
Lewinsky poses for a photo with President Clinton in this image submitted as evidence by Starr's investigation and released by the House Judiciary Committee in September 1998.
Another image submitted as evidence in September 1998 shows Lewinsky meeting President Clinton at a White House function.
Another photograph submitted as evidence shows Lewinsky working in the White House office as President Clinton looks on.
Lewinsky, far left, is seen with President Clinton at the White House.
Lewinsky is pushed in a crowd of reporters after meetings with her attorneys in Washington in 1999.
Lewinsky speaks with young fans as she signs copies of her autobiography, "Monica's Story," in 1999.
Lewinsky gestures during her deposition in a video shown during Clinton's impeachment trial in 1999.
Lewinsky appears in a "Ladies Man" skit with Tim Meadows on "Saturday Night Live" in 1999.
Lewinsky laughs with actor Ian McKellen at the 2002 GQ Men of the Year Awards in New York City.
Lewinsky watches a collection presentation during the 2002 Mercedes-Benz Fashion Week in New York City.
Lewinsky poses for a photo with rapper Cam'ron, left, and businessman Damon Dash in 2002.
Lewinsky and literary agent Luke Janklow attend a benefit for the American Cancer Society in 2011.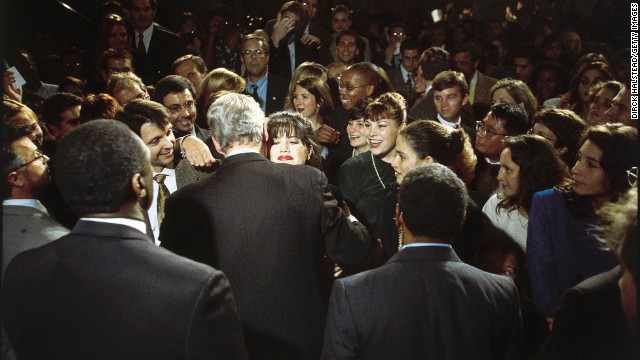 Monica Lewinsky: Life in the spotlight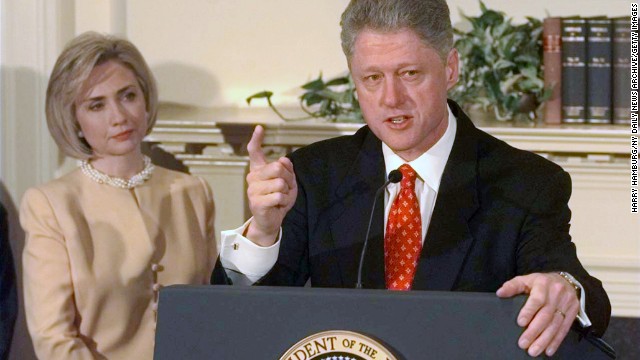 President Bill Clinton speaks about the Monica Lewinsky scandal at the White House on January 26, 1998, as First Lady Hillary Clinton looks on. Fifteen years ago, on January 7, 1999, the U.S. Senate began its trial of Clinton, who was accused of lying under oath, obstructing justice and abusing his presidential power in an effort to conceal a sexual relationship with Lewinsky. He was acquitted a month later. The following images are from around that time period 15 years ago.
Lewinsky, a White House intern, embraces President Clinton at a Democratic fundraiser in Washington on October 23, 1996.
In this image taken from a video, Lewinsky watches Clinton as he greets staff at the White House during a re-election celebration in November 1996.
This photograph of Lewinsky meeting Clinton at a White House function was released by the House Judiciary Committee and submitted as evidence against Clinton by Special Prosecutor Kenneth Starr.
Lewinsky and Clinton pose for a photo at the White House. This photo was also used as evidence.
On January 22, 1998, Starr stands before the media outside the Justice Department, answering questions about his investigation into Clinton and Lewinsky.
Robert Bennett, Clinton's personal attorney, makes his way through a crowd of photographers as he arrives at federal court in Washington on March 5, 1998. Starr's grand jury was questioning witnesses in the Clinton/Lewinsky scandal.
Lewinsky and her attorney, William Ginsburg, head to their car in Philadelphia on April 6, 1998.
Linda Tripp, the Pentagon employee whose secret tape recordings of Lewinsky triggered the criminal investigation, speaks to reporters in Washington following her grand jury appearance on July 29, 1998.
Clinton sits in the White House Map Room before delivering his speech to the nation about the Lewinsky controversy.
Clinton responds to a question during his grand jury deposition on August 17, 1998. The video was shown during a presentation by House members to the Senate on February 6, 1999, during the trial phase of impeachment proceedings.
On August 18, 1998, Chelsea Clinton walks with her parents on the White House grounds. The President is walking the family dog, Buddy.
House Judiciary Committee Chairman Henry Hyde presides over the panel's Clinton impeachment hearing November 19, 1998. Starr was the opening witness.
Starr testifies during Clinton's House impeachment hearings.
Clinton delivers a statement on the impeachment inquiry in the White House Rose Garden on December 11, 1998. Clinton apologized for his conduct and said he would accept a congressional censure or rebuke.
Democrats take a symbolic stand by walking off the House floor December 19, 1998, during the vote to impeach Clinton over the Lewinsky scandal. They later returned.
In this television image December 19, 1998, Speaker Pro Tempore Ray LaHood, R-Illinois, prepares to announce the House vote of 228-206 to approve the first article of impeachment.
On December 19, 1998, President Clinton makes a statement at the White House as the first lady looks on. Clinton thanked Democratic members of the House who voted against impeachment, and he vowed to complete his term.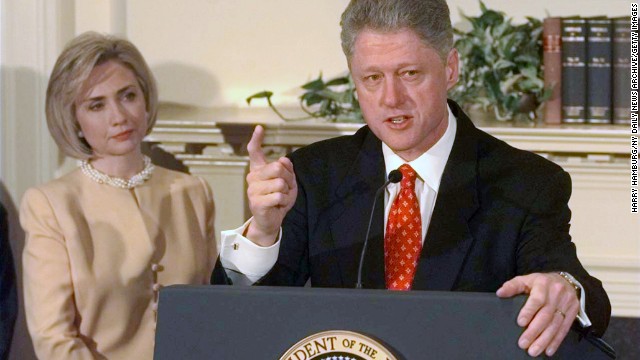 The impeachment of Bill Clinton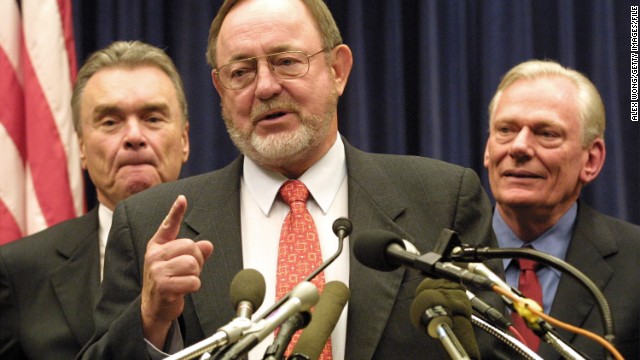 Earlier this week, U.S. Rep. Don Young of Alaska used an ethnic slur when referring to immigrant workers, telling a Ketchikan Public Radio station: "My father had a ranch. We used to have 50 to 60 wetbacks to pick tomatoes. ... It takes two people to pick the same tomatoes now. It's all done by machine." The slur "wetback" is a reference to those who illegally enter the United States by crossing the Rio Grande on the Mexican border. The 21-term Republican, who is currently facing an ethics probe related to campaign finances, isn't the first politician to stick his foot in his mouth. Here are a few others:
During his impeachment trial, President Bill Clinton denied lying to staff about his affair with intern Monica Lewinsky by arguing that "It depends on what the meaning of the word 'is' is." While his parsing words were ridiculed, he was acquitted by the Senate in February 1999.
In response to presidential candidate Jerry Brown's charge that then-Arkansas Gov. Bill Clinton was funneling state funds through his wife's law firm, Hillary Clinton replied: "I suppose I could have stayed home and baked cookies and had teas, but what I decided to do was to fulfill my profession, which I entered before my husband was in public life." The 1992 campaign trail quote not only pegged Hillary as a feminist but also led to a cookie recipe competition that has lasted through subsequent presidential elections.
During a 1995 interview with a group of radio broadcasters, former U.S. Rep. Dick Armey referred to homosexual Massachusetts Rep. Barney Frank as "Barney Fag." The Texas Republican later apologized, calling it a "slip of the tongue."
As George H.W. Bush accepted the Republican nomination for president in 1988, he famously said, "Read my lips, no new taxes." A little over a year into his presidency, Bush signed a congressional budget agreement that, indeed, raised income and other taxes.
Asked if sexting photos that surfaced on Twitter were of him, former U.S. Rep. Anthony Weiner, a New York Democrat, replied: "You know, I can't say with certitude." Weiner resigned his seat in Congress over the matter in 2011.
Speaking before the U.S. Chamber of Commerce in 1983, Interior Secretary James Watt referred to the diversity of his special advisory council by saying: "We have every mixture you can have. I have a black, a woman, two Jews and a cripple." He resigned soon after.
On live television, Vice President Joe Biden was picked up on a microphone congratulating President Barack Obama on the 2010 passage of health care reform, saying: "This is a big f---ing deal."
In 1984, Democratic presidential candidate Rev. Jesse Jackson made offensive remarks about Jews in a conversation with a reporter. References to them as "Hymie" and to New York as "Hymietown" later appeared in the Washington Post. Jackson apologized during a speech at a New Hampshire synagogue.
While Senate minority leader, Trent Lott praised Sen. Strom Thurmond at a retirement party for the South Carolina Republican in 2002. "When Strom Thurmond ran for president, we voted for him. We're proud of it. And if the rest of the country had followed our lead, we wouldn't have had all these problems over all these years, either," Lott said. Thurmond ran for president in 1948 as a segregationist. Lott, a Mississippi Republican, later said the his statement was intended to endorse Thurmond as a man, not his beliefs. Lott resigned his leadership post over the controversy and since left the Senate.
Addressing the National Association for the Advancement of Colored People (NAACP) during his 1992 presidential campaign, Perot made the mistake of referring to his mostly black audience as "you people." Perot later apologized, declaring that he hadn't intended to offend anyone.
Vice President Spiro Agnew made more than one racially insensitive gaffe during his time in the public eye. On separate occasions during the 1968 presidential campaign, Agnew referred to a Japanese reporter as a "fat Jap" and to Polish-Americans as "polacks."
Former Republican presidential candidate Herman Cain demeaned the country of Uzbekistan during an interview with the Christian Broadcasting Network in 2011. In reference to receiving "gotcha" questions from the media, Cain said: "I'm ready for the 'gotcha' questions and they're already starting to come. And when they ask me who is the president of Ubeki-beki-beki-beki-stan-stan, I'm going to say, 'you know, I don't know. Do you know?'"
Former U.S. Senate candidate Todd Akin of Missouri made provocative comments in regards to rape in 2012. While speaking to a St. Louis television station, the Republican congressman said, "If it's a legitimate rape, the female body has ways to try to shut that whole thing down." Akin's comments caused widespread controversy and led to several fellow Republican candidates to condemn his statement. He lost is bid for higher office.
While running for U.S. Senate in Indiana in 2012, Richard Mourdock made inflammatory statements on rape and conception. At a debate, the Republican state treasurer said: "I think even when life begins in that horrible situation of rape, that's something God intended to happen." He lost his race.
At a campaign rally in 2006, former U.S. Sen. George Allen made an insensitive racial remark to an Indian-American staffer from his opponent's campaign, referring to him as "Macaca." The Virginia Republican continued by implying the rally-goer was not native to the United States, saying that: "This fellow here, over here with the yellow shirt, macaca, or whatever his name is. He's with my opponent. He's following us around everywhere. And it's just great ... Let's give a welcome to macaca, here. Welcome to America and the real world of Virginia." The remark effectively cost Allen, the state's former governor, re-election.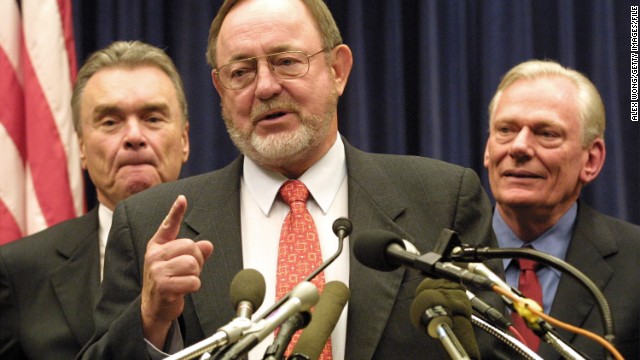 Politicians with their foot in their mouth
1. She regrets the affair.
Lewinsky devotes considerable ink to her various forays into the job market. We all know about the handbags she peddled in the late 1990s and her stint as a Jenny Craig spokeswoman.
In her essay, she spells out awkward conversations in offices from Portland, Oregon, to London, hearing rejection upon rejection due to "what my potential employers so tactfully referred to as my 'history.'"
Lewinsky recalls an interview in 2008, in which fear of entanglements with the Clintons torpedoed her chances.
"There is a 25 percent chance that Mrs. Clinton will be the next president," she recounts being told. "We would first need a Letter of Indemnification from the Clintons."
"I gave a fake smile," she writes, a skill she apparently cultivated over 16 years of infamy, "and said 'I understand.'"
Lewinsky clearly holds her notoriety responsible for these difficulties -- from finding meaningful work to emotional and romantic struggles.
"I look back now, shake my head in disbelief, and wonder: what was I -- what were we -- thinking? I would give anything to go back and rewind the tape."
2. She's dreading a Hillary 2016 run.
"Despite what some headlines will falsely report about this piece, this is not about Me versus the Clintons," Lewinsky writes.
Then why speak out now? Because this ain't her first rodeo.
"In 2008, when Hillary was running for president, I remained virtually reclusive," she writes.
"When I hear of Hillary's prospective candidacy, I cannot help but fear the next wave of paparazzi, the next wave of 'Where is she now?' stories, the next reference to me in Fox News' coverage of the primaries," Lewinsky says in her essay.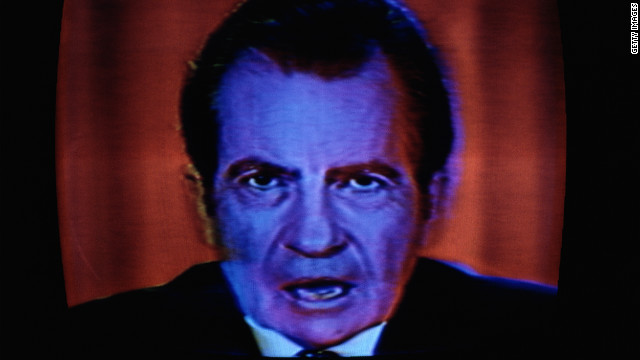 Richard Nixon, who resigned as president after the Watergate scandal, famously said during a 1973 press conference: "In all of my years in public life, I have never obstructed justice. ... People have got to know whether or not their president is a crook. Well, I'm not a crook."
Bill Clinton, who was impeached in 1998 and then acquitted by the Senate, narrowly denied having "sexual relations with that woman," former intern Monica Lewinsky.
After being confronted with allegations of a mistress and child, John Edwards, the one-time presidential hopeful told The National Enquirer: "The story is false. It's completely untrue, ridiculous."
Then-Rep. Anthony Weiner, D-New York, who got caught up in a Twitter photo scandal, told CNN's Wolf Blitzer: "I had no idea what happened that night. ... Sometimes a prank is a prank."
Eric Massa, the former congressman from New York who resigned facing an investigation over allegations of inappropriate conduct with male staffers, first said he didn't grope staffers but had been involved in a "tickle party." Later he told CNN's Larry King, "No, it is not true. Period. I don't know how else to answer your question."
Rod Blagojevich, the one-time Illinois governor who was convicted of political corruption charges, left, denied he tried to sell a vacant U.S. Senate seat once held by Barack Obama: "I will fight until I take my last breath. I have done nothing wrong."
Former Rep. William Jefferson, a Louisiana Democrat, was convicted of corruption charges after the FBI found $90,000 in his freezer. "The $90,000 was the FBI's money," he said.
Edwin Edwards is a former Louisiana governor who served nine years after being convicted of 17 counts of fraud and corruption. "I did not do anything wrong as a governor," he once said. Edwards announced in March 2014 that he would run for the House seat in Louisiana's 6th Congressional District.
Kwame Kilpatrick is the former Detroit mayor who pleaded guilty to obstruction of justice after investigators showed text messages between him and his mistress involving sex that he said never happened. In response to her text about whether he missed her sexually, he replied: "Hell yeah! You couldn't tell. I want some more." In October 2013, Kilpatrick was sentenced to 28 years in prison after his conviction on two dozen federal charges, including racketeering, extortion and the filing of false tax returns.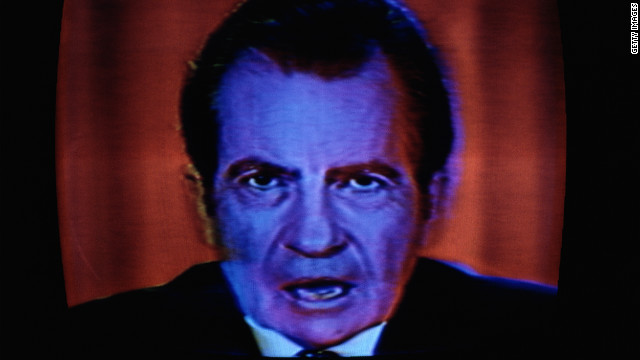 Photos: Political lies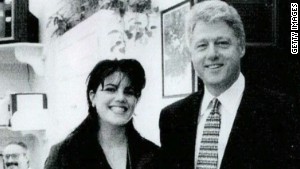 Lewinsky's revealing Vanity Fair article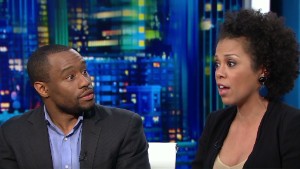 'She's the one who has been slut-shamed'
But despite her doubts, she decided to go on the record because she didn't want to wait "another 8 to 10 years" and because "I turned 40 last year" and because "I'm determined to have a different ending to my story."
3. At times, she had "suicidal temptations."
Another motivation for Lewinsky to write the piece: A young man named Tyler Clementi.
The 18-year-old's suicide in 2008 brought back memories for Lewinsky and her mother of some of the darkest times following the scandal, she writes.
The Rutgers freshman took his own life after his roommate streamed a video, surreptitiously recorded, of him kissing another man.
Clementi's death struck a chord with Lewinsky's mother
"It was an unbearably tragic event," Lewinsky writes, but "I couldn't quite grasp why my mom was so distraught."
After the news of the affair broke, her mom "stayed by my bed, night after night, because I, too, was suicidal. The shame, the scorn and the fear that had been thrown at her daughter left her afraid that I would take my own life -- a fear that I would literally be humiliated to death."
Lewinsky adds that she never attempted suicide but that she had "strong suicidal temptations several times during the investigation and one or two periods after."
4. She was a "foolish" 24-year-old.
Throughout the essay, Lewinsky acknowledges her own complicity in her misery, but also steps back to mull over the spectacle of the affair, which she says was consensual.
"At the time -- at least from my point of view -- it was an authentic connection, with emotional intimacy, frequent visits, plans made, phone calls and gifts exchanged," she writes. "In my early 20s, I was too young to understand the real life consequences."
Looking back, Lewinsky muses on how difficult it was for her to move on. "Unlike the other parties involved, I was so young that I had no established identity to which I could return."
"If you haven't figured out how you are, it's hard not to accept the horrible image of you created by others," she observes. And also one of frustration "I remained 'stuck' for far too many years."
5. She dates.
"Yes. I date!"
6. She's penned a compelling essay.
Many may only read the headlines but that's a mistake. The whole piece is worth consideration.
Lewinsky's story is, for better or for worse, part of America's political history.
Opinion: Stop judging Monica Lewinsky
Clintons' relationship with media still testy after all these years
In political extramarital affairs, the mistress rarely emerges unscathed