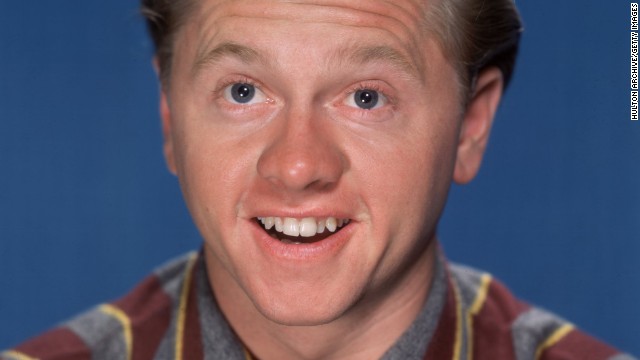 Mickey Rooney, who started as a child star in vaudeville and went on to star in hundreds of movies and TV shows, has died at the age of 93.
Rooney circa 1927 in a three-piece suit. The actor got his start in his parents' vaudeville show.
Rooney, center, is seen with fellow young Hollywood actors Jackie Cooper, right, and Freddie Bartholomew circa 1930.
Mickey Rooney stars with Judy Garland and Ronald Sinclair in a scene from the comedy "Thoroughbreds Don't Cry."
Rooney is seen in 1938 in a portrait shot for "Out West with the Hardys."
Rooney garnered acclaim for his role in 1938's "Boys Town" with Spencer Tracy.
Rooney hold hands with Garland in a 1940 still from the film "Andy Hardy Meets Debutante."
Rooney talks with Lana Turner in the late 1930s.
Rooney and his first wife, American actress Ava Gardner, in the early 1940s.
Rooney dressed as Pinocchio for a 1957 television movie.
Rooney took a two-year break from making movies while he served in World War II.
Rooney made his directorial debut in 1951's "My True Story."
Rooney earned an Oscar nomination for his role in the World War II film "The Bold and the Brave" in 1956.
Rooney played the title role in 1957's "Baby Face Nelson."
In 1961, Rooney took on the infamous role as an Asian landlord in "Breakfast at Tiffany's."
Rooney appeared in 1977's "Pete's Dragon" with Sean Marshall.
Rooney co-starred in 1979's "The Black Stallion" with Kelly Reno.
Rooney tries on a feathered hat in his dressing room during a run of the play "Sugar Babies" in October 1979. He was nominated for a Tony for the role.
Rooney is seen with Raquel Welch in 1980 from the ABC series "Raquel."
Rooney appears in 2006's "Night at the Museum" with Dick Van Dyke and Bill Cobbs.
The long career of Mickey Rooney
The long career of Mickey Rooney
The long career of Mickey Rooney
The long career of Mickey Rooney
The long career of Mickey Rooney
The long career of Mickey Rooney
The long career of Mickey Rooney
The long career of Mickey Rooney
The long career of Mickey Rooney
The long career of Mickey Rooney
The long career of Mickey Rooney
The long career of Mickey Rooney
The long career of Mickey Rooney
The long career of Mickey Rooney
The long career of Mickey Rooney
The long career of Mickey Rooney
The long career of Mickey Rooney
The long career of Mickey Rooney
The long career of Mickey Rooney
The long career of Mickey Rooney