Tornadoes hit Colorado, Minnesota
May 9, 2014 -- Updated 1248 GMT (2048 HKT)
STORY HIGHLIGHTS
NEW: Five tornadoes touch down in Colorado and Minnesota
Storm chaser sees one hit near St. James, Minnesota, but there is no damage
Storms will hit Arkansas to Indiana on Friday, with rain continuing into Saturday
(CNN) -- A line of widely scattered strong storms brought tornadoes to Colorado and Minnesota on Thursday and damaging high winds as far south as Texas.
Three tornadoes stuck Minnesota. One hit near rural St. James. Kholby Martin, a storm chaser with KDR Media, said it was a couple of hundred yards wide but it wasn't fully condensed.
Officials said no one was hurt, nor was there any structural damage.
Two tornadoes touched down in Colorado.
There was still a possibility of tornadoes in south central Minnesota and central Iowa on Thursday night.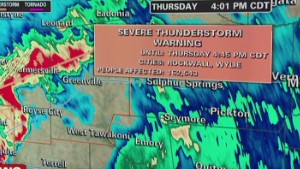 Dallas braces for severe weather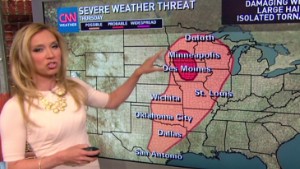 Millions in the path of severe storms
Dallas County in Texas saw an hourlong tornado warning Thursday afternoon as the system moved through, bringing winds of up to 70 mph, the National Weather Service said. Students at Southern Methodist University were told to shelter in place.
That was followed by a flash flood warning for several counties in the area through the early evening hours.
CNN affiliate WFAA reported that five boys were rescued from a creek after fast-moving waters moved in. Emergency responders found the boys clinging to whatever they could find along the shore, the station said.
There was wind damage around the Dallas-Fort Worth metroplex. In one neighborhood in west Dallas, residents told WFAA that when the storm hit they saw debris flying through the air and heard transformers popping.
Deborah Drake came home to find the glass in an entrance door to her home shattered by some of that debris.
"You just heard this noise (like a train whistle) then it just shook the house," said a neighbor who was helping her clean up broken glass. "I ran in the bathroom and got in the bathtub."
Some areas of South Dakota near Harrisburg were pelted by quarter-size hail, according to the National Weather Service in Sioux Falls. Winds were blowing as fast as 50 mph.
On Friday, strong storms will probably strike from Arkansas to Indiana, with rain in the Midwest, South and Northeast as the system moves east. That blustery, wet weather could affect as many as 14 million people, CNN meteorologist Sherri Pugh said. Saturday should bring more rain for those areas, too.
Mobile, Alabama, and Pensacola, Florida, will also get wet as 1 to 3 inches of rain is forecast. The area has been dealing with recent heavy rains, so the risk is high in those areas for flash flooding, and there's been a flash flood watch issued.
Tired of reading about rain? Sorry, there's more.
Rain will begin drenching the Pacific Northwest on Thursday, with the system moving to the Northern Rockies on Friday and Saturday.

Today's five most popular stories
Part of complete coverage on
Severe weather
April 26, 2014 -- Updated 1358 GMT (2158 HKT)

Here are 10 facts about one of nature's most powerful forces.
August 7, 2013 -- Updated 1446 GMT (2246 HKT)

Get a glimpse of the weather events happening around the world by clicking through our photo gallery.
February 9, 2013 -- Updated 1057 GMT (1857 HKT)

In our increasingly digital world, a mobile phone or other portable device is often a one-stop communication device.
July 3, 2014 -- Updated 2339 GMT (0739 HKT)

Water jugs and batteries are not the only things to consider when extreme weather threatens.

All you need to know about keeping your food safe to eat and what to have on hand in the event of a weather emergency.
April 3, 2014 -- Updated 1453 GMT (2253 HKT)

Getting the latest warnings when tornadoes are headed your way and knowing what to do before, during and after one hits are all key to staying safe. A handful of apps can help you stay on top of impending dangerous weather.
May 30, 2013 -- Updated 1531 GMT (2331 HKT)

You've just that heard a tornado is headed directly toward you. You don't have a safe room, and you're not near a shelter. Do you hunker down and hope for the best or do you flee?
April 27, 2014 -- Updated 1531 GMT (2331 HKT)

Here are the 10 deadliest tornadoes to touch down in the United States, according to the National Oceanic and Atmospheric Administration:
July 17, 2013 -- Updated 2307 GMT (0707 HKT)

Weather experts agree: When lightning strikes, it's best to go indoors.
April 2, 2014 -- Updated 2011 GMT (0411 HKT)

A tornado is a funnel-shaped cloud that forms under thunderclouds and contains rapidly rotating air.