Dear stranger, thank you for being the 'other mother' in my life
Join the conversation
CNN iReport
May 9, 2014 -- Updated 1325 GMT (2125 HKT)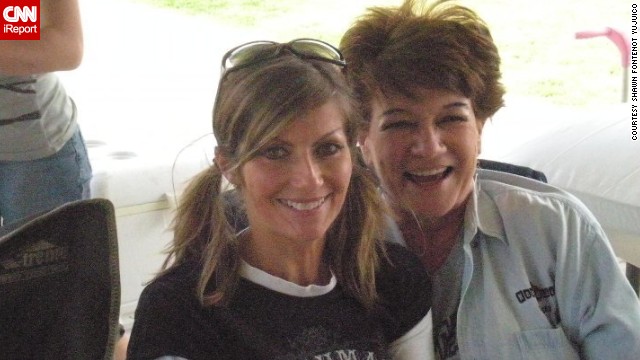 This Mother's Day, CNN readers pay tribute to women who were not their biological mothers but filled a matriarchal role.
Shawn Fontenot Yujuico
, left, was 17 years old when her mom died in a car accident. Stepmother Shirley Fontenot "just flat out loved us. She loved us over our brattiness, our 'You are not Mother,' over our heartbreak. She didn't love us conditionally; she loved us with her whole heart."
Meera Vijayann
, pictured standing next to her grandmother and younger sister, spent much of her childhood in Kollam, a small port town along the country's southern coast. As a young girl she was brought up to respect her elders, a common occurrence within Indian culture. As a result, she developed a deep bond with her grandmother. She explains: "As a child, she was my source of strength, a vision of wisdom and womanhood so powerful..."
Indian iReporter
Nicole Sunderlin
, right, met her "other mother" Marirose Lula when they were college roommates. "Although she is only one year and two months older than I am ... she has taught me self worth, and only dating people who are good people. She has helped guide me with my faith, she has taught me how to keep a secret and she has taught me, time and time again, when I needed help, that she is there for me."
Jhena Vieira-Coffey
, left, was 15 when she journeyed to Michigan as an exchange student and never left. Mariah and Robert Coffey legally adopted her on a state level when she was 17 so she could study as an international student and eventually get her green card. Vieira-Coffey refers to Mariah as her "American mom" and says Mariah made her realize she could aspire to be anything she wanted.
Randy Carmichael
, right, was a troubled 16-year-old when he went to live his aunt and grandmother. His Aunt Jean was the one person in his life who made him feel special. "I had a me-against-the-world attitude, and rather than use force or threats, she treated me as an adult, a real person. No one had done that for me ever," he said.
Kathy Bautista
, right, has known Nelly since she was a little girl when she was a housekeeper for her family. Today she still helps Bautista in her own home and business. "Since my mother died in 2000, she was there to assist me in household chores, in helping out in decision-making, in dealing with family issues and stress," she says.
Maya Hoffman
about her mom, Louise, who adopted her when she was 5 years old. In 2007, Louise, who was also a teacher, took a group of students to India. The trip (pictured) provided Maya an opportunity to return to where she was born for the first time in 13 years and will always look back on the trip with the fondest of memories.
"She was always helping others. She always like to help her students, fellow colleagues, strangers," says
When
Tashi Wangmo
's parents separated, she moved in with her maternal aunt, Kezang Tshomo for five years. Tshomo taught her many of life's vital lessons as well as the little things. Today she continues to be incredibly thankful for her aunt's guidance and hopes to one day return the gesture. "My favorite memory of my aunt is when she dressed me up for my first dance concert. First she gave me a bath and started to make my hair and do my makeup."
Jasmine Clifton
, left, said her older sister, Nicole Pierson, became a second mother to her after they lost their mom to cancer in 2006. Pierson taught her "to believe in myself and to never settle." From relationship advice to swapping recipes, "she is everything that I need and more."
Elisa Monterroso
. left, was hired as a medical assistant by Patty Desande two days after her graduation, and over the five years they have worked together, she says Patty has always been there for her. In January, Monterroso needed to have surgery to remove a benign tumor growing on her acoustic nerve. Unsurprisingly, her "other mother" was right by her side. "Patty and my husband both hugged me seperately" and "quietly in my left ear said 'I love you.'"
When
Coni Russo Szemis
' mom left, she was just 11 years old. In her absence, Szemis' father put on the "mom" hat guiding her through puberty and relationships all while continuing to work as a pipe fitter and supporting her three brothers. "He always gives so generously to us all, even if we don't deserve it! He's the best mom this girl could ever wish for," she says.
Celebrating our "other mothers"
My hero, my grandmother
My college roommate
My student exchange parents
My aunt
My housekeeper
My adoptive mom
My aunt
My sister
My office manager
My dad
STORY HIGHLIGHTS
CNN puts a spotlight on women who have raised children not biologically their own
iReport submissions highlight grandmothers, colleagues and sisters who have stepped up
Leave your "other mother" tributes in the comment section below
Leading Women connects you to extraordinary women of our time. Each month, we meet two women at the top of their field, exploring their careers, lives and ideas.
(CNN) -- She's the woman who raised you. Walked you to school on the first day. Cheered louder than all the other parents as you played soccer. Wiped the tears from your face when your heart broke for the very first time.
Each lesson she's imparted upon you has been stored away so that one day you might pass it on to your own children when the time is right. Except there's one thing, she is not your mother. She's not even biologically related to you.
They say that blood is thicker than water. But perhaps that proverb doesn't always hold true. Every year we celebrate the remarkable mothers who have taught us right from wrong -- but what about the other women who stepped up to the plate when times were tough?
Ahead of Mother's Day on May 11, CNN is honoring the world's "other mothers." Women who have provided care, guidance and support for children who are not biologically their own.
From stepmothers who made incredible sacrifices to teachers who sought to inspire beyond the classroom, we highlight your iReport tributes to the women that made you who you are today.
Continue the conversation in the comments below and share the memories of these wonderful women.
Read: Famous daughters reveal lessons learned
Opinion: The plight of stepmoms on Mother's Day
Read: Mother's Day ... when mom is gone

Today's five most popular stories
December 17, 2014 -- Updated 1419 GMT (2219 HKT)

Jane Fraser is often cited as one of the most powerful women in banking. She tells CNN's Poppy Harlow how women lead differently.
December 3, 2014 -- Updated 1743 GMT (0143 HKT)

Women's-only private members clubs are becoming more popular, offering spaces to work, socialize and relax, albeit with hefty membership fees.
November 28, 2014 -- Updated 1515 GMT (2315 HKT)

A new social network for women claims to be 'troll-proof' and was created by Karen Cahn, former Google, YouTube, Aol executive.
November 27, 2014 -- Updated 1418 GMT (2218 HKT)

She's the daughter of a Beatle and counts Kate Moss among her friends, but she had to create her own mark in the fashion world.
November 18, 2014 -- Updated 1743 GMT (0143 HKT)

Alli Webb always loved having her hair done, so she decided to bring that happy feeling to millions of women worldwide with her business, Drybar.
November 17, 2014 -- Updated 1324 GMT (2124 HKT)

NASA's chief scientist Dr Ellen Stofan wants to land humans on Mars by 2035, but there are some serious challenges to overcome before then.
November 4, 2014 -- Updated 1041 GMT (1841 HKT)

The Design Museum hosts a power dressing exhibition, from Joan of Arc's short tunics, to Joan Collins' eye-gouging shoulder pads.
October 30, 2014 -- Updated 1520 GMT (2320 HKT)

Opinion piece from architect Zaha Hadid on growing up in a very different Iraq, to close Leading Women's month of STEM coverage.
October 30, 2014 -- Updated 1227 GMT (2027 HKT)

Leading Women ran an iReport assignment which resulted in some amazing images of girls in STEM from our readers.
October 29, 2014 -- Updated 1108 GMT (1908 HKT)

Robots can be many things -- knowledgeable, dexterous, strong. But can they ever be genuinely laugh-out-loud hilarious?
October 27, 2014 -- Updated 1830 GMT (0230 HKT)

Victoria Beckham has come a long way from Posh Spice. She has now been named Britain's top entrepreneur, by magazine Management Today.
October 27, 2014 -- Updated 1447 GMT (2247 HKT)

Just one in seven engineers are female. STEM experts share their ideas on how to get more girls into the industry.