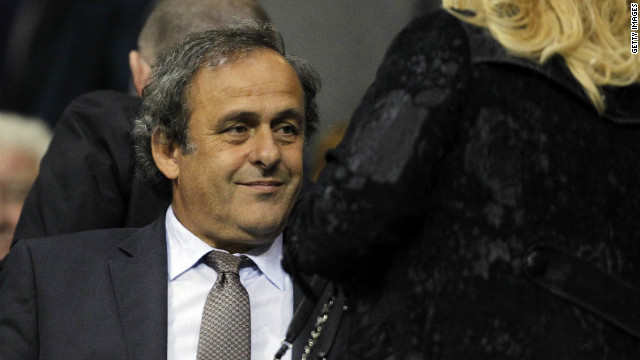 UEFA President Michel Platini has been steadfast in his commitment to FFP and will come down hard on those who fail to meet the requirements.
Manchester City is funded by Sheikh Mansour, the deputy prime minister of the United Arab Emirates. Mansour, who purchased City in 2008, has bankrolled the club to the Premier League title and into the Champions League.
Nasser Al-Khelaifi is the President of Paris Saint-Germain, a club which is owned by QSI -- Qatari Sports Investment, a firm linked to the Qatari government. PSG has won the French title in 2013 and 2014. It reached the quarterfinals of this year's Champions League.
PSG's millions have been able to lure top players such as Zlatan Ibrahimovic to French football.
PSG's riches has attracted the likes of Ezequiel Lavezzi and Edinson Cavani from Napoli -- making it the outstanding team in France.
Javier Pastore cost $63 million when he arrived in Paris from Palermo in 2011. One of several big name signings made courtesy of Qatari investment.
Sergio Aguero arrived at Manchester City in July 2011 following a $64 million move from Atletico Madrid. The Argentine striker helped the club win the Premier League title in 2012.
Yaya Toure arrived from Barcelona in a $40 million move in July 2010. The Ivory Coast midfielder has since established himself as one of the best midfielders in European football.
Spanish club Malaga, which reached the quarterfinals of the Champions League in 2013, was banned from European competition by UEFA for a year after failing to pay its bills.
Malaga fans protested against UEFA president Michel Platini over threats to refuse the club permission to play in European competition. The protests were ignored and despite appeals to the Court of Arbitration for Sport, Malaga was handed a one-year ban.
Platini's plan
City slicker
Quids in for Qatar
Star talent
Firepower
Money talks
City riches
Toure talent
Malaga misery
Failed protests
STORY HIGHLIGHTS
Manchester City and Paris Saint-Germain set to face UEFA fines
UEFA to crack down on clubs who fail to meet FFP budgets
Plans criticized for helping elite clubs and hindering smaller teams
UEFA President Michel Platini to send out strong statement of intent
Follow us at @WorldSportCNN and like us on Facebook
(CNN) -- Three small letters striking like a dagger to the heart of football's richest football clubs.
FFP, known as Financial Fair Play, was introduced by European governing body UEFA to prevent clubs going bankrupt and increase competition in European football.
But like so much in life, will it just make the rich get richer and the poor poorer?
Both Manchester City and Paris Saint-Germain are reportedly facing heavy fines for flouting FFP regulations -- two teams which have risen up the football ladder following huge investment over the past few years. PSG have just won the league title in France; City are close to doing it in England.
UEFA has so far refused to comment.
One leading football finance expert argues FFP is the perfect way to protect the status quo from the threat of clubs such as City and PSG, which were propelled into the upper echelons of the game by billionaire investors.
"The European Club's Association established by the biggest clubs in Europe, had an interest in a closed shop and to prevent more sheikhs and oligarchs blast into the top of European football as Roman Abramovich and Sheikh Mansour did," Ouriel Daskal, referring to Chelsea and City owners, told CNN.
"Their reasoning was that it disrupted the market and has a corrosive effect over it," added Daskal, who has written for the The Bliezzard and a range of leading newspapers. "UEFA president Michel Platini wanted to 'counter financial doping.' However, the main benefactors of FFP are the ones who have more money than others.
"There's regulation on expenditure and external income (from the pockets of the rich) but there's no regulation on income -- media rights, transfer market, prize money and matchday income.
"So what happens right now is that clubs who have money can take out more money and therefore make more money. This has resulted in growing gaps between the haves and have-nots, which is a lot more disruptive and corrosive than financial doping."
UEFA's reputation is on the line over FFP and Platini is determined for the rules to be enforced.
But there are reservations within the game at Platini's desire to impose the policy across European football, despite clubs slowly adjusting to the idea.
"At the start, some clubs were outraged by the proposals," Tor-Kristian Karlsen, former chief executive of French club Monaco, told CNN.
Financial Fair Play -- what is it?

Introduced in principle in 2009, FFP started properly in 2011 with clubs which had qualified for UEFA competitions needing to prove "they do not have overdue payables towards other clubs, their players and social/tax authorities throughout the season."

The plan allowed for losses of up to $55.5 million during the 2011-12 and 2012-13 seasons which would be reduced to £37 million between 2015 and 2018.

According to the rules, there are several areas of expense which are exempt from FFP, including spending on youth development and infrastructure.

The creation of the CFCB, the Club Financial Control Body, allows UEFA to monitor the finances of all the clubs playing within its competitions.

The CFCB comprises of two separate chambers -- one which investigates and another which adjudicates.

According to its findings, 76 teams were at risk of flouting FFP rules this season following an examination of their accounts by the investigation body -- of which Manchester City and PSG are two.

The adjudication chamber then passes punishment once it has considered the facts of the case.


"People are now slowly getting to grips with all and perhaps are not as resistant. On one side, it's positive because it makes clubs behave in a more responsible manner.
"But it's the actual fairness of the concept where it's debatable because it gives certain clubs advantages -- there's no doubt about that.
"It makes it difficult for the smaller teams because to be profitable you have to enjoy success on the pitch.
"It's a vicious circle. To be more successful you have to spend and if you spend and become successful, you'll bring in more money, more sponsors, attract larger crowds and sell more seats."
Introduced in principle in 2009, FFP started properly in 2011 with clubs which had qualified for UEFA competitions needing to prove "they do not have overdue payables towards other clubs, their players and social/tax authorities throughout the season."
The plan allowed for losses of up to $55.5 million during the 2011-12 and 2012-13 seasons which would be reduced to £37 million between 2015 and 2018.
According to its findings, 76 teams were at risk of flouting FFP rules this season following an examination of their accounts by the investigation body -- of which Manchester City and PSG are two.
"I'm surprised UEFA imposed financial punishments and fines rather than sporting sanctions," Ed Thompson, another FFP specialist, told CNN.
"Fining them, if it doesn't count towards the FFP tests and means that the ruler of Qatar in PSG's case and the ruler of Dubai in City's case, will put their hand in their pocket, put it into the club and that will go to UEFA.
"I can't see the owners being too upset given their resources. These could be world record sporting fines the like which we've never seen before.
"It will send out a signal that something has happened which is wrong and that is probably why they're doing it."
Malaga, which reached the quarterfinals of the 2013 Champions League, has already felt the full force of UEFA's wrath and was banned for a year from playing in European competition after failing to pay its bills.
City's situation is different, with UEFA concerned about the club's sponsorship deals with Etihad, an airline which is based in Abu Dhabi, home of the ruling family which also runs the club.
The deal, which was signed in 2011 and encompasses stadium and shirt sponsorship is worth around $628 million over 10 years.
But UEFA says that deal, like PSG's $167-million-a-year sponsorship deal with the Qatar Tourism Authority, is an invalid way of balancing books under the break-even rules.
"For the past two years, Qatar Tourism Authority (QTA) has poured up to €200m a year into Paris Saint-Germain under an advertising contract designed only to help the French club meet UEFA's financial fair-play rules," writes Daskal in his blog.
"This deal has no real fair value because tourism deals are usually valued at no more than €5m. It's worth mentioning that the deal with PSG doesn't include shirt sponsorship or stadium naming rights.
"UEFA should not allow this deal help PSG meet FFP rules. If UEFA allows Qatar to artificially inject cash into the club their club, then what stops Roman Abramovich's company Millhouse Capital from spending €100m per year on Stamford Bridge naming rights?
"If Qatar can do it, why can't Abramovich do it? And while we are at it, Stan Kroenke's wife Ann Walton Kroenke can sign a sponsorship contract with Arsenal that will turn The Emirates Stadium into the Walmart Stadium for a cool €500m?"
PSG was not immediately available for comment.
UEFA has been skeptical of these kinds of deals throughout its investigation and a quick glance at its regulations illustrates just why.
According to UEFA: "If a club's owner injects money into the club through a sponsorship deal with a company to which he is related, then UEFA's competent bodies will investigate and, if necessary, adapt the calculations of the break-even result for the sponsorship revenues to the level which is appropriate ('fair value') according to market prices."
An additional punishment which could be handed to City may see the club's Champions League squad reduced from 25 to 21.
It would mean having to include eight locally trained players, four of them club-trained and requiring a number of expensive foreign signings to be left out.
In addition, the likes of Everton, who narrowly missed out on a Champions League place, could theoretically appeal to CAS for City to be expelled from the Champions League.
"My criticism of FFP is that, having started out with good intentions, it has ended up as something entirely different and rather less honorable," Oliver Kay, chief football writer for the Times newspaper told CNN.
"If you go back to 2008, when Platini and David Taylor (former UEFA chief executive) first started talking about, it was about tackling all money of financial excesses: inequalities across Europe, the fact that debt was being used in different ways, whether it was Chelsea benefiting from interest-free loans from Abramovich or Manchester United being exploited by the Glazer families.
FFP, though the name suggests otherwise, isn't necessarily about fairness and is more to do with encouraging clubs spending within their means to ultimately bring a sense of business rationality to club spending.
Daniel Geey, Field Fisher Waterhouse
"I dug out a 2009 quote from Platini saying it would make football more equal, so that 'everyone can win.'
"Somewhere along the line, Platini and UEFA were persuaded by the biggest clubs to turn it into something else -- a crackdown on new money, which by 2009 or 2010 meant Manchester City and PSG, rather than Chelsea.
"I just find it extremely disingenuous for UEFA to have established a set of rules that crack down very heavily on owner-investment but fails to protect clubs from owner-exploitation.
"It ignores the inequalities that exist between one league and another and between clubs in certain leagues, such as Spain, where the distribution of broadcast revenue is so uneven.
"If they had introduced something that would genuinely create a more even playing field -- and I don't mean 'even' like it is in Manchester, where one club has benefited from generous ownership and the other has been hindered by exploitative ownership -- then I would be in favor of it.
"But unfortunately Financial Fair Play isn't financial fair play at all. It looks very much like it's designed to keep the status quo."
One club which has been a steadfast in its commitment to the regulations is Arsenal and its French manager Arsene Wenger.
"There are rules," Wenger told British media this week. "You respect them or you don't respect them. If you don't respect them you have to be punished.
"When UEFA doesn't want to kick the clubs out of the Champions League they have to find a more subtle punishment. To me, and from all of us on the outside, it looks a complicated punishment.
"There's two ways of thinking about the whole process. You can say, 'We don't care, we want the billionaires to buy the big players, they spend what they want', or you say, 'We want to keep things fair'," he added.
"Basically if you say to me tomorrow, we give everybody £100m ($169.53m) in the 20 Premier League clubs, I say, 'okay, I'll take the gamble.' That is a fair competition.
"The unfair thing is the inflation can be too big and it can put too much pressure on the clubs who do not have these resources to overpay their players."
While the scale of punishment is yet to be confirmed, a monetary fine has left some confused at UEFA's approach.
Karlsen, who has worked across Europe with the likes of Bayer Leverkusen and Zenit St Petersburg, believes UEFA could have introduced different punishments such as transfer embargoes instead of something he claims is "more ambitious and complex."
And while he accepts that FFP could rein in excess spending, he still has reservations.
"It's positive that owners will have to be more careful in the running of their clubs and the money they spend on transfers," he added.
"But on the other hand, why should football be so different to real life?
"If an individual is wealthy and has worked hard for his money, why should they not be allowed to spend it how they see fit?"