STORY HIGHLIGHTS
NEW: Flight 4650 on March 22 was a 50-seat jet, according to Flightaware
FAA: The unmanned aircraft looked like a miniature F-4 Phantom jet, pilot said
FAA: A jetliner's pilot reported a near collision with a drone over Florida
Drones getting sucked into jet engines could be "catastrophic," he adds
(CNN) -- A Federal Aviation Administration official warned this week about the dangers of even small unmanned aircraft, pointing specifically to a recent close call involving a drone and a commercial airliner that could have had "catastrophic" results.
Jim Williams, the head of the FAA's Unmanned Aircraft Systems (UAS) office, discussed various potential perils during a presentation Thursday to those attending the Small Unmanned Systems Business Expo. A video of his talk in San Francisco, and those of others, to those who operate, create or otherwise are involved or interested in such unmanned aircraft was posted to YouTube.
After saying "the FAA has got to be responsive to the entire industry," Williams referred to a pair of incidents in which drones caused injuries to people on the ground. One came at an event at Virginia Motor Speedway in which an "unauthorized, unmanned aircraft" crashed into the stands, and in the other a female triathlete in Australia had to get stitches after being struck by a small drone.
Then, Williams segued to a pilot's recent report of "a near midair collision" with a drone near the airport in Tallahassee, Florida. The pilot said that it appeared to be small, camouflaged, "remotely piloted" and about 2,300 feet up in the air at the time of the incident.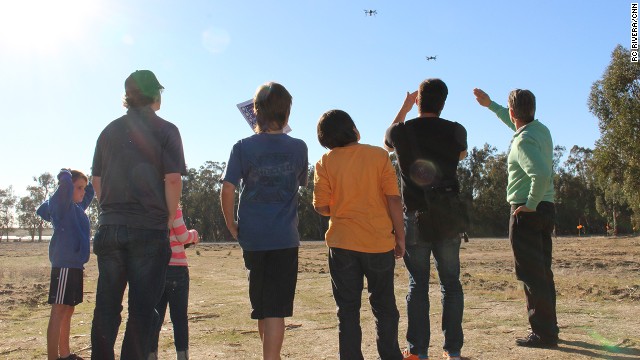 Drone hobbyists watch a pair of the aircraft take to the air at a recent Make Drone "Fly-In" event in American Canyon, California. Click through for more scenes of drones and their human masters.
3D Robotics employee Pablo Lema views live video streamed from the drone above his head. The first-person view is displayed on his goggles, while he steers the device with a hand-held controller.
Chris Anderson, founder of 3D Robotics, holds the company's new Iris drone. The device is designed for aerial photography and will cost $750 when it is released in February.
Fighting Walrus co-founder Andy Brown demonstrates his company's iPad accessory (mounted on the left side of the tablet), a $129 device for controlling and communicating with drones.
Zolie Sarriugarte, 7, gets ready to take a drone for a spin. Sarriugarte likes drones because "if there's a ball stuck up in a tree you can go fly over and knock the ball out."
Live video from a DJI Phantom drone is displayed on an iPhone app. The Phantom controller has a special mount for the smartphone.
A young drone fan checks out the Game of Drones damage-resistant flying vehicle, which can withstand paintball hits, shotgun blasts and baseball bats.
Inventor Glenn Elmore says drones can be used to launch his inexpensive antennas high in the air where they can get better signal strength. The technology could be useful after natural disasters to quickly create temporary communication networks.
An enthusiast takes a drone, outfitted with a camera, for a spin in the test flight area. Aerial photography is one of the most popular uses for smaller consumer drones.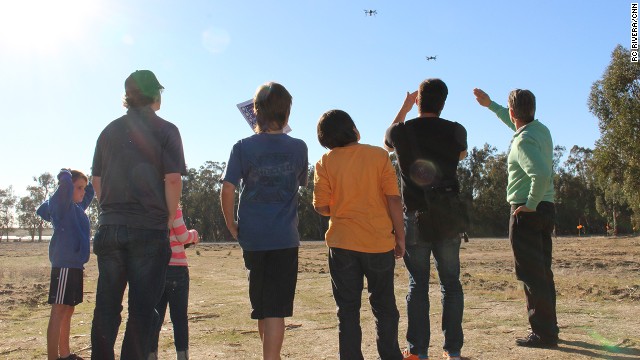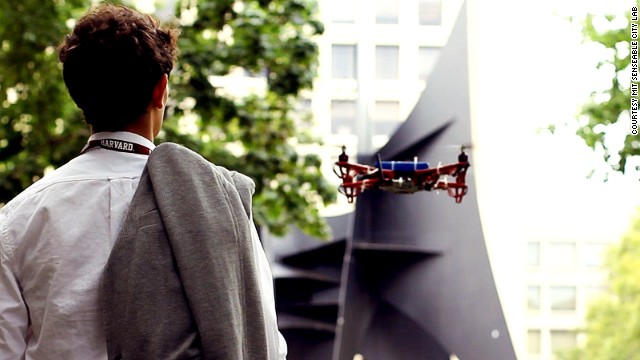 Meet SkyCall, a flying robot that guides you to your destination. Find out how it works...
After downloading the SkyCall app to your smartphone, contact the drone, which has been designed by scientists at the Massachusetts Institute of Technology.
The flying robot uses your phone's GPS location to find you. It also features it's own in-built GPS to find destinations.
Type in your room number, and SkyCall will guide you there, pointing out landmarks along the way via a small speaker. Featuring four propellers, the quadrocopter flies at 6 kilometers per hour and will wait for you, should you fall behind.
Featuring a small in-built camera, it is hoped that one day SkyCall could be used for everything from a tourist guide to a search-and-rescue robot. The footage could be relayed to rescue teams, or link up to your phone to provide a bird's eye view of the journey.
SkyCall delivers you straight to the door. The high-tech robot is the brainchild of researchers at MIT's Senseable City Lab, who are developing ways drones could be used in everyday life.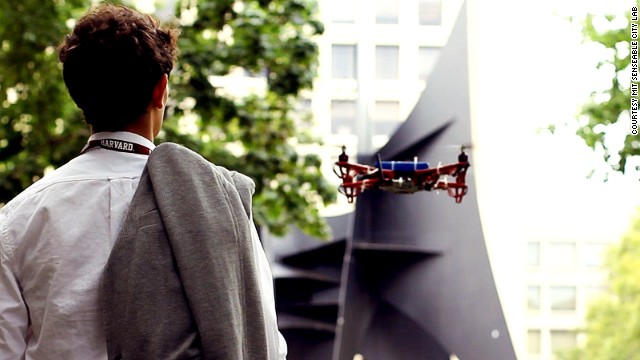 SkyCall: The drone that's your personal tour guide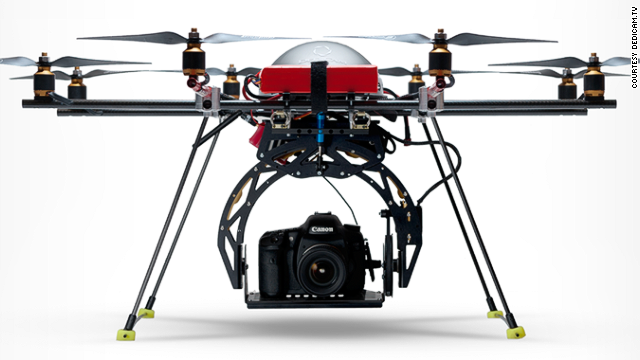 Herding sheep, delivering pizza, guiding lost students around campus -- these are just a few things friendly drones can do. Company and DIY drones are on the rise, and not even Hollywood stars will be safe from them. Soon starlets might be acting in front of drone-mounted cameras or being chased by a UAV paparazzi.
U.S. start-up Matternet aims to create a network of drones capable of transporting potentially lifesaving goods to rural and under-developed areas. The Bill & Melinda Gates Foundation is backing rural drone transport too, funding a project that aims to transport vaccines to hard-to-reach and disaster-struck locations.
In Peru, archeologist are using drones to map archeological sites and protect them from vandals and squatters.
Japanese toy maker Kyosho has developed an infrared controlled drone 'Neon Messenger', which can display LED messages while flying.
Drones turn campus guide at -- where else -- MIT. Skycall is a prototype to help Harvard students navigate around MIT's infamously convoluted landscape. It was developed by an MIT research group called Senseable City Lab.
Drone+stuffed cat = art. Orville is a flying helicopter cat made by Dutch artist Bert Jansen. The remote-controlled quadcopter was first exhibited in Amsterdam and Jansen has since created more taxidermy drones.
German communications provider Deutsche Telekom is tired of people stealing their copper cables. So they contracted a company to tag overhead telephone cables with drones across Germany in an effort to fight theft of the cables, which has shot up in recent years with the value of copper.
Pizza delivery company Domino's has tested the possibility of delivering pizza via the DomiCopter. Other companies are also investigating the possibility of delivering their food via drones.
Drones, often more resilient than humans, make for an ideal search party, as they can be pre-programmed to scan an area inch-by-inch. Los Angeles County Sheriff's Department began experimenting with the SkySeer Search and Rescue drone as early as 2006.
Soon, real farming could be as easy as online farming games. Time-consuming agricultural tasks, such as spraying pesticides, could be left to UAVs, whilst surveillance drones can analyze the land and offer insight into how to boost the harvest. This French drone is scanning crops to help farmers optimize water levels and fertilizer use.
The Burning Man festival in Nevada is often a hotbed of amateur UAV activity. So much so that some look to the event for insight on how to balance freedom of drone use with privacy and safety concerns.
Drones as shepherds? Quadcopters could soon be replacing dogs as herders.
The French Fly-n-Sense company has developed an innovative forest surveillance system which will enable a real-time monitoring of fire outbreaks and the development of flames in French southwestern forests.
Efforts to protect four of the world's last remaining northern white rhinos have been boosted by a $70,000 drone. The Ol Pejeta Conservacy in Kenya is planning to use the UAV to monitor the location of its wildlife and deter poachers from harming the animals.
UAV technology company 3D Robotics has developed the X8, a copter that can take high-resolution videos and photographs, an do detailed mapping. 3D Robotics says the user will be able to create, fly and repeat missions for data measurement.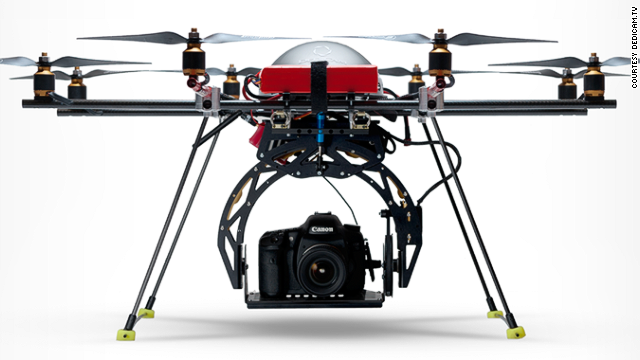 Photos: 15 cool drones
"The pilot said that the UAS was so close to his jet that he was sure he had collided with it," Williams said. "Thankfully, inspection to the airliner after landing found no damage. But this may not always be the case."
According to the FAA, the incident took place on March 22 and involved as U.S. Airways Flight 4650 going from Charlotte, North Carolina, to Tallahassee.
Flightaware.com lists that flight as a CRJ-200, with a capacity for 50 passengers.
The pilot claimed to pass "an unreported and apparently remotely controlled aircraft ... five miles northeast of the Tallahassee airport, according to the federal agency.
Such close calls are rare, the FAA notes.
The pilot reported that the small unmanned aircraft involved looked similar to an F-4 Phantom jet, and not like a helicopter that might hold a camera that many associate more closely with drones. Such planes have gas turbine engines and can fly higher than an average drone, according to the FAA. Neither the drone in this case, nor its pilot, have been identified.
In its own statement, US Airways said that it was aware of this reported "incident with one of our express flights, and we are investigating."
Explaining why this event is significant, Williams referenced to the so-called "Miracle on the Hudson" from 2009, when US Airways Flight 1549 safely crash-landed in New York's Hudson River after striking at least one bird upon takeoff from LaGuardia Airport.
Airplane crash-lands into Hudson River
Such bird strikes are dangerous enough; a drone, even a small one, getting sucked into a jetliner's engine could be even worse, Williams said.
"Imagine a metal and plastic object -- especially with (a) big lithium battery -- going into a high-speed engine," he added. "The results could be catastrophic."
All these incidents speak to "why it is incredibly important for detect-and-avoid standards (for small unmanned aircraft) to be developed and right-of-way rules to be obeyed," Williams said. He added that such standards are in the works.
His agency reiterated this sentiment in its statement Friday.
"The FAA has the exclusive authority to regulate the airspace from the ground up, and a mandate to protect the safety of the American people in the air and on the ground," the agency said. "...Our challenge is to integrate unmanned aircraft into the busiest, most complex airspace in the world. Introduction of unmanned aircraft into America's airspace must take place incrementally and with the interest of safety first."
As to current regulations, Williams noted the FAA has appealed a federal judge's decision in a case involving businessman Raphael Pirker.
Pirker used a remotely operated, 56-inch foam glider to take aerial video for an advertisement for the University of Virginia Medical Center. The FAA then fined him $10,000 for operating the aircraft in a "careless and reckless manner."
A judge on March 6 agreed with Pirker that the FAA overreached by applying regulations for aircraft to model aircraft, and said no FAA rule prohibited Pirker's radio-controlled flight.
Pilot wins case against FAA over commercial drone flight
But on Thursday, Williams said that another judge had stayed this ruling pending the FAA's appeal.
"Nothing has changed from a legal standpoint," he said, "and the FAA continues to enforce the airspace rules."
Drones banned from Yosemite, other parks
CNN's Rene Marsh, Bill Mears, Thom Patterson, Mike Ahlers, Carma Hassan and Chandler Friedman contributed to this report.