CNN exclusive: Nigerian schoolgirl describes escape from Boko Haram
May 12, 2014 -- Updated 1318 GMT (2118 HKT)
STORY HIGHLIGHTS
NEW: Villagers say they were warned that attackers were coming, but police did nothing
NEW: "It's like they were coming for a shopping trip," one witness tells CNN
NEW: CNN team describes difficult trip to village where girls were taken
"We would rather die than go," girl who escaped tells CNN
Editor's note: CNN's Nima Elbagir, Lillian Leposo and Nick Migwe made the dangerous journey to Chibok, Nigeria, to gather firsthand accounts of the abduction of the schoolgirls -- and how people in the northeastern town are still living in fear.
Chibok, Nigeria (CNN) -- The terrifying news began to spread before the gun-wielding Islamist militants made it into Chibok last month. Villagers began to receive cell phone calls that the feared extremist group Boko Haram was on the way.
No one knew what the attack would entail, that it would mean hundreds of schoolgirls plucked from their beds by a group of extremists who would later threaten to sell them.
"It's like they were coming for a shopping trip," a villager who witnessed the attack told CNN.
Some lucky girls managed to escape that night when, after they were loaded into cargo trucks, they made a dash for freedom.
"We would rather die than go," one of the girls told CNN. "We ran into the bush. We ran and we ran."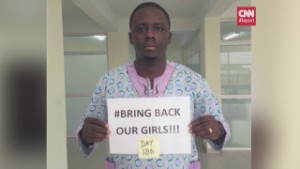 He kept fighting for missing girls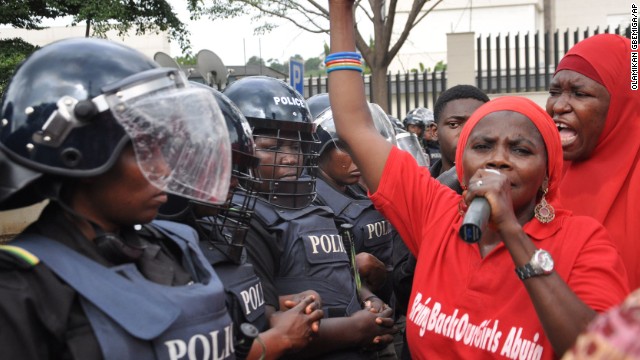 Police in riot gear block a route in Abuja, Nigeria, on Tuesday, October 14, during a demonstration calling on the Nigerian government to rescue schoolgirls kidnapped by the Islamist militant group Boko Haram. In April, more than 200 girls were abducted from their boarding school in northeastern Nigeria, officials and witnesses said.
Women in Abuja hold a candlelight vigil on Wednesday, May 14, one month after the schoolgirls were kidnapped.
People march in Lagos, Nigeria, on Monday, May 12, to demand the release of the kidnapped schoolgirls.
Catholic faithful in Abuja take Holy Communion and pray for the safety of the kidnapped schoolgirls on Sunday, May 11.
Catholic faithful attend a morning Mass in honor of the kidnapped schoolgirls in Abuja on May 11.
Catholics nuns pray in Abuja on May 11.
A woman attends a demonstration Tuesday, May 6, that called for the Nigerian government to rescue the girls.
Community leader Hosea Sambido speaks during a May 6 rally in Abuja.
Brig. Gen. Chris Olukolade, Nigeria's top military spokesman, speaks to people at a demonstration May 6 in Abuja.
Women march Monday, May 5, in Chibok, Nigeria.
People rally in Lagos on Thursday, May 1.
Police stand guard during a demonstration in Lagos on May 1.
Protesters take part in a "million-woman march" Wednesday, April 30, in Abuja.
Obiageli Ezekwesili, former Nigerian education minister and vice president of the World Bank's Africa division, leads a march of women in Abuja on April 30.
A woman cries out during a demonstration in Abuja on Tuesday, April 29, along with other mothers whose daughters have been kidnapped.
A man weeps as he joins parents of the kidnapped girls during a meeting with the Borno state governor in Chibok on Tuesday, April 22.
Mothers weep April 22 during a meeting with the Borno state governor in Chibok.
Four female students who were abducted by gunmen and reunited with their families walk in Chibok on Monday, April 21.
Borno state Gov. Kashim Shettima, center, visits the girls' school in Chibok on April 21.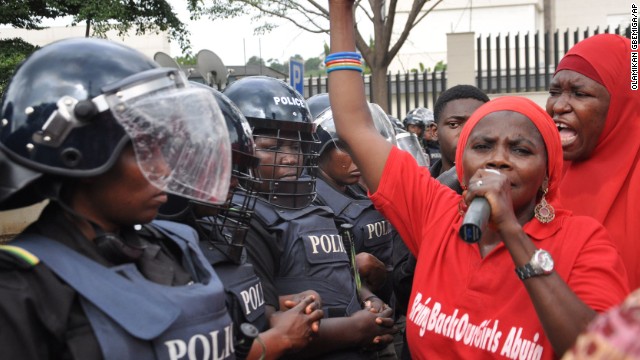 Photos: Nigerians protest over kidnapped girls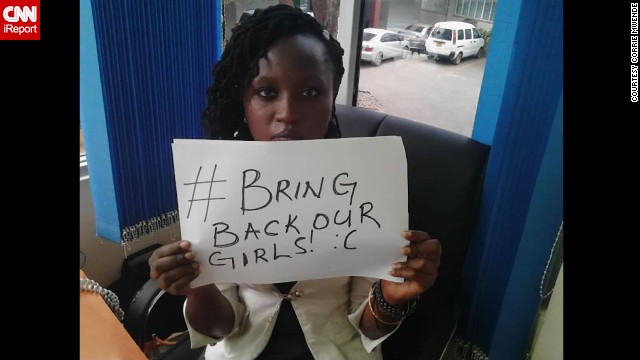 Weeks after the April 14 kidnapping of more than 200 Nigerian girls, worried families and supporters blamed the government for not doing enough to find them. Their cries spread worldwide on social media under the hashtag #BringBackOurGirls. From regular people to celebrities, here are some of the people participating in the movement.
First Lady Michelle Obama tweeted this picture of herself holding a #BringBackOurGirls sign in support of the schoolgirls abducted by Boko Haram in Nigeria.
"We hear it like it's not happening in our region so it doesn't concern us but that's not right," says Milliscent Maduagwu from Port Harcourt, Nigeria. "This fight on terrorism is not just the Commander in Chief's and the army, but ours as well!"
"These girls could have been my sisters or worst still my daughter," says Emmanuel Oleabhiele from Doha, Qatar. "My daughter is 6 months old and I fear for her future as a Nigerian."
Malala Yousafzai, the world's most famous advocate for girls' right to education, says that "girls in Nigeria are my sisters." This photo was posted to the @MalalaFund Twitter account on May 6.
Ify Elueze of Bonn, Germany, asks, "How can the world sit and watch?! It is no longer just the responsibility of the Nigerian government, now it is your responsibility and mine!"
British supermodel Cara Delevingne posted this photo on her Instagram account saying, "Everyone help and raise awareness #regram #repost or make your own!"
"Government should stop playing politics with our sister[s]," says Nigerian Dauda Kaks.
American singer-songwriter Alicia Keys posted this photo on her Instagram account with this message: "I'm so saddened and enraged that these girls are not back where they belong! Safe at home and at school! Safe with their families! Safe to become the incredible leaders and powerful voices they are yet to be."
"You are most likely thinking to yourself, 'What's the point in posting another picture or status to speak about this issue?,"' says Uchenna Mildred Udeh from St. John, New Brunswick. "I can tell you this: it will. Do not underestimate the power of your voice. We have to make this personal."
British singer-songwriter Leona Lewis took a stand to #BringBackOurGirls on her Twitter account on May 7.
"I think it's high time we all start praying for Nigeria and stop complaining," says Lotanna Ugwu from Abuja, Nigeria. "It's only God that can touch the hearts of those who kidnapped the young girls."
Singer Steven Tyler posted this image on both his Twitter and Instagram accounts alonth with the hashtag #RealMenDontBuyGirls.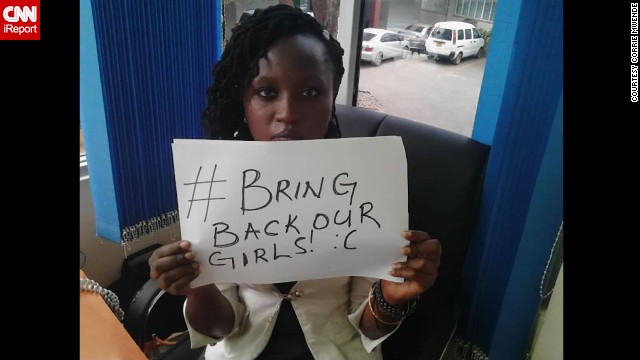 Bring Back Our Girls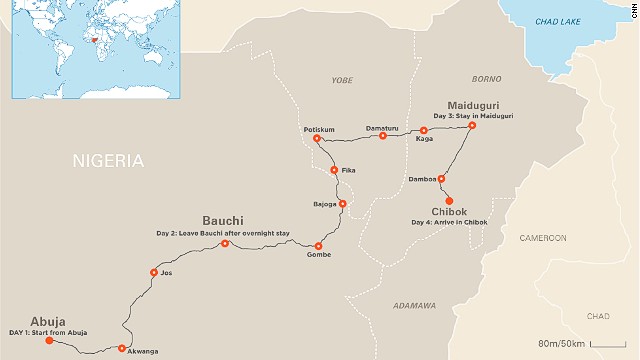 Follow Nima Elbagir's journey to Chibok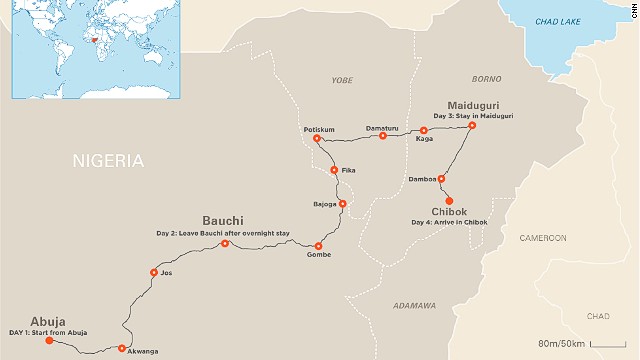 Follow Nima Elbagir's journey to Chibok
With fear in her eyes and voice, the young woman, who asked not to be identified, described the experience to a CNN crew that made the long, dangerous trip to her village.
She said she and two friends who had also escaped saw something on fire and headed in that direction, presuming it was building in the village that had been set ablaze. Normally, Chibok is pitch black at night.
Boko Haram abducted an estimated 276 girls in April from a boarding school in Chibok. Dozens escaped, but more than 200 are still missing.
Villagers said they passed along warnings to local police that the terrorists were on their way that night. They said they received phone calls from family and friends from surrounding villages and were told that there was a convoy of cargo trucks, pickups and motorcycles heading their way.
One villager said he was told, "They are coming for you. Run!"
The villagers said police called for reinforcements, but none came. Everyone, including the police, fled into the bush during the attack. But the girls were asleep in their dorms.
The stories appear to confirm an Amnesty International report that the government couldn't put together enough troops to head off the attack.
The girl who described her escape to CNN was still shaken up by the events. When asked to describe what her kidnappers wore, she responded: "I feel afraid."
Her school is closed, but if it were open, she says, she wouldn't go back.