Solange, Jay Z and Beyonce break their silence on hotel elevator incident
May 16, 2014 -- Updated 1627 GMT (0027 HKT)
STORY HIGHLIGHTS
Solange Knowles, Jay Z and his wife, Beyonce, release a statement
TMZ released video showing an altercation between Solange and Jay Z in an elevator
They say they have "worked through it," saying all families have their problems
The statement refutes that Solange was intoxicated
(CNN) -- We may never know the why -- though there has been no shortage of speculation on the Internet -- but at least now we know what the Carter-Knowles family has to say about their already infamous elevator fight.
Solange Knowles, Jay Z and his wife, Beyonce, have released a statement about surveillance video originally posted by TMZ showing Solange, the younger sister of Beyonce, hitting and kicking her brother-in-law.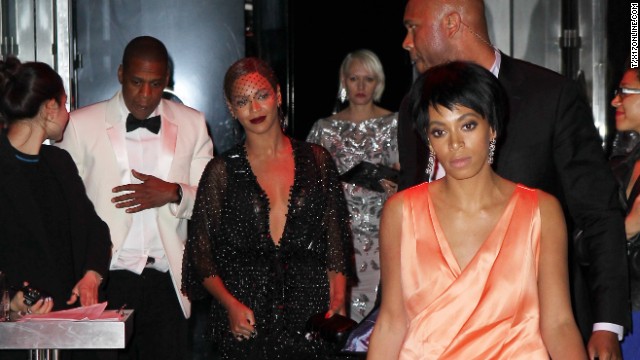 Jay Z and his sister-in-law Solange Knowles, right, reportedly had an altercation at a Met Gala after-party at New York's Standard Hotel on May 5. Security camera footage that appeared on TMZ doesn't tell the whole story, but there are plenty of pictures of the rapper, his wife, Beyonce, and her sister leaving the party. Here's what photographers captured after the alleged tussle:
Jay Z touches his face as he leaves the Standard Hotel with his wife, Beyonce. Earlier surveillance footage from a hotel elevator showed what appeared to be Jay Z's sister-in-law first lunging at him, then swinging and kicking him, while a woman resembling Beyonce stood quietly to the side.
Beyonce placidly faces photographers upon leaving the party as her husband follows. In the video footage, it appeared that the man resembling Jay Z refrained from engaging in the fight.
According to reports, Jay Z and Beyonce, who married in 2008, walked out together but then departed in separate cars. An onlooker told People magazine that Jay Z approached the vehicle waiting for his wife and sister-in-law but then hesitated and "walked down the block and got in a car."
The onlooker also told People magazine that Solange didn't look disheveled but did appear "mad as hell." Beyonce seemed collected, smiling for the crowd outside the hotel.
Beyonce departed the party with her sister following the alleged altercation. It isn't clear what prompted the outburst.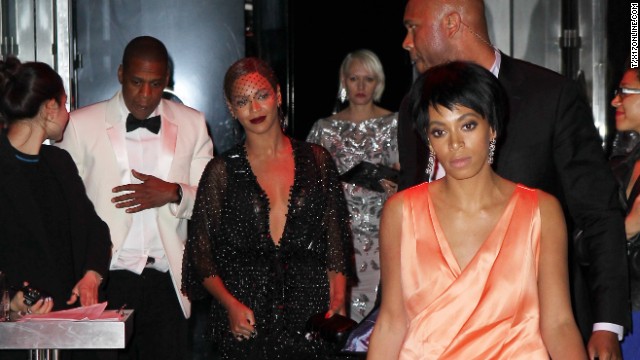 Photos: Jay Z, Beyonce and Solange: Aftermath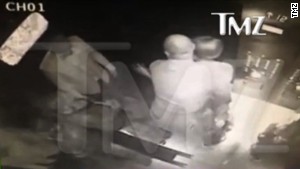 Did Jay Z and Solange brawl in elevator?
The trio had previously not spoken publicly about the incident in an elevator at the Standard Hotel in New York City following the Met Gala held on May 5. But on Thursday, they broke their silence.
The family referred CNN to a statement they previously gave to the Associated Press. The statement says:
"As a result of the public release of the elevator security footage from Monday, May 5th, there has been a great deal of speculation about what triggered the unfortunate incident. But the most important thing is that our family has worked through it. Jay and Solange each assume their share of responsibility for what has occurred.
Jay and Solange each assume their share of responsibility for what has occurred.
Statement given by the trio
"They both acknowledge their role in this private matter that has played out in the public. They both have apologized to each other and we have moved forward as a united family.
"The reports of Solange being intoxicated or displaying erratic behavior throughout that evening are simply false. At the end of the day, families have problems and we're no different. We love each other and above all we are family. We've put this behind us and hope everyone else will do the same."
Following the incident, the sisters were photographed leaving together while Jay Z left in a separate car.