Travel company offers weekend trip to other side of planet
May 19, 2014 -- Updated 1642 GMT (0042 HKT)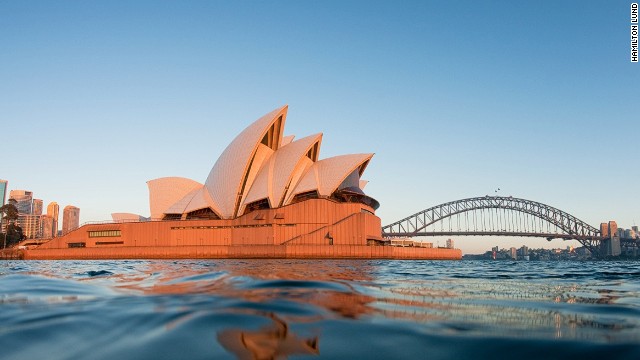 G'night London. G'day Australia. Sydney's landmark Opera House is on the itinerary of a four-day UK-Oz round trip. Not much else is.
There's a visit to the Harbour Bridge. Well worth traveling 46 hours in a plane to see.
Passengers will have to drive 12 hours to Melbourne to make their return flight.
Travelers willing to forgo sleep can add an extra trip to the Yarra Valley. Here they can wander about in a daze, staring mutely into their wine glasses.
And because two solid days in a plane and 12 hours of driving is never enough -- you can add an extra road trip along the Great Ocean Road.
Australia for the weekend? Aye.
Harbour Bridge
Melbourne
Yarra Valley wine region
Great Ocean Road
STORY HIGHLIGHTS
Tour operator says its weekend trips from London to Australia are "intense" but "do-able"
Itinerary includes a 12-hour drive along the coastal road between Sydney and Melbourne
Austravel says it's received several inquiries about the $1,840 whistle-stop round trip
(CNN) -- For those with too much money but not enough time or common sense -- here's the perfect travel solution.
A weekend trip to the other side of the planet.
A UK-based tour operator has begun offering whistle-stop sightseeing excursions from London to Australia that depart Friday afternoon and return "just in time for work" on Tuesday morning.
Austravel -- a specialist in Down Under destinations -- says the 33,800-kilometer (21,000 mile), 46-hour round trip is ideal for anyone trying to maximize vacation time.
Tickets starting at $1,840 include airfare, two hotel nights and rental car for three days.
MORE: Urban glamping in Sydney's zoo
You'll need the car because as well as the time spent cooped up in a jet, there's a 12-hour drive from Sydney to Melbourne to make the return flight.
Austravel's Naomi Moreno-Melgar concedes traveling to Australia for a weekend is "extreme" but insists it's "do-able."
"A trip to the land Down Under does not need take up all of your holiday allowance, but with four time zones, three million square miles and 22 million people, it would be nice," she says.
Forget about sleep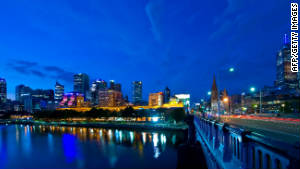 Melbourne at dusk. Or dawn. Travelers won't know the difference.
The itinerary sees passengers depart London on Friday afternoon, arriving in Sydney on Saturday evening.
After a night in a four-star hotel and visits to Sydney's Opera House, Harbour Bridge and tower, they bundle themselves into their rental car and hit the coastal road south.
There's a night and morning in Melbourne, before a return flight that lands in London at 6:40 a.m. on Tuesday.
More: 10 natural wonders of Australia
If that's not enough, Austravel says passengers willing to forgo all sleep can buy "bolt-on" trips to see attractions such as the Great Ocean Road (more driving) or Melbourne's Yarra Valley wine region.
A spokesperson for the tour operator tells CNN it's received "a number of enquiries" about the trip, but was unable to share actual booking figures.
The world may just have gotten a little smaller.
Also, a little more nuts.
Would you travel to the other side of the world for just a weekend? Let us know in the comments

Part of complete coverage on
September 23, 2014 -- Updated 0231 GMT (1031 HKT)

Which cities provide the most memorable party times? A self-proclaimed "nightlife connoisseur" names his top 10.
September 22, 2014 -- Updated 0344 GMT (1144 HKT)

Whether you're looking for a post-meeting pint or a wild night out, creativity is on the menu at these hot Hong Kong venues.
September 22, 2014 -- Updated 1416 GMT (2216 HKT)

Artists and migrants are moving out as a once-crumbling neighborhood goes upscale.
September 20, 2014 -- Updated 0502 GMT (1302 HKT)

They irrigate our farms, are an important means of transport and a source of eco-friendly power.
September 19, 2014 -- Updated 0828 GMT (1628 HKT)

Open House festivals allow snooping in homes and landmarks normally closed to public
September 19, 2014 -- Updated 0422 GMT (1222 HKT)

Ancient competitions held and yurt town set up to rejuvenate nomadic cultures.
September 19, 2014 -- Updated 0102 GMT (0902 HKT)
Playful sea lions, fearless boobies and the only ocean-going lizards in the world -- these islands offer amazing experiences for naturalists and tourists alike.
September 18, 2014 -- Updated 1200 GMT (2000 HKT)

A foreign language can be the best aphrodisiac, so we traveled the world in search of the hottest accents.
September 22, 2014 -- Updated 0212 GMT (1012 HKT)

Hidden from the rest of the world for decades, Myanmar's Lethwei boxing is experiencing a revival globally.
September 17, 2014 -- Updated 1117 GMT (1917 HKT)

This aging cargo work whale makes more than 60 flights each week, carrying parts for all of the Airbus programs.
September 15, 2014 -- Updated 0026 GMT (0826 HKT)

Former brothels, public toilets and war bunkers now provide eccentric watering holes for those willing to drink deep.
September 12, 2014 -- Updated 0338 GMT (1138 HKT)

Whether filled with electric blue sulfur flames or hissing lava, these mega mountains offer incredible vistas.

Today's five most popular stories