IKEA museum set for 2015 delivery
May 19, 2014 -- Updated 0915 GMT (1715 HKT)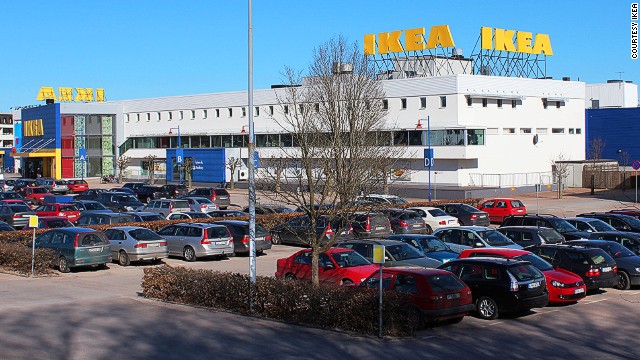 IKEA has filed to build a museum in Almhult, Sweden, on the site of the recently relocated IKEA Almhult store (pictured). This is also the site of IKEA's first store built in 1958. The museum will open in fall 2015.
IKEA was founded by Ingvar Kamprad (pictured) in 1943 as an odds-and-ends company selling products ranging from cigarette lighters to nylon stockings.
IKEA maintains a corporate presence in Almhult, with furniture testing facilities and an exhibition of the company's history entitled "IKEA Through the Ages." This photo shows the first IKEA store in 1959 or 1960.
355 IKEA stores
in 44 countries, including France, where this innovative "bathroom" billboard stands in Paris. The latest store opened in Tachikawa, Japan, in April.
Today, there are
IKEA in Beijing saw a surge in interest from citizens
looking for air-conditioning, comfortable sofas and a good nap.
When record high temperatures hit China in 2013, an
From the IKEA Museum, we expect at least one exhibition devoted to meatballs --
A design history
First store
'IKEA Town'
Disrupting design
Using IKEA to escape a heat wave
Can't forget the meatballs
STORY HIGHLIGHTS
IKEA Museum will be on site of first store in Älmhult, Sweden
The 7,000-square-meter museum will also have a museum shop and food for visitors
Museum expected to draw 200,000 visitors per year
(CNN) -- Why do their cheap meatballs taste so good?
Why are bookshelves named Billy?
Why can't store layouts be normal?
These questions, and more, will no doubt be posed by the visitors who head to the new IKEA Museum opening next year.
Of course, we might need to hammer together our own answers, having wound our way through thousands of irrelevant facts first.
But perhaps a DIY museum experience will be even more satisfying once completed.
The furniture company that changed the affordability of design has filed to build a museum on the site of its first store in Sweden.
Tentatively scheduled to open in fall 2015, the museum will take up 7,000 square meters on the site of the recently relocated IKEA store in Almhult, also the site of IKEA'S first store opened by founder Ingvar Kamprad in 1958.
IKEA town
Almhult is known as "IKEA Town" for being the birthplace of IKEA, which still maintains a strong corporate presence in the city.
While the then-17-year-old Kamprad had already registered IKEA as a business in 1943, selling products ranging from nylon stockings to cigarette lighters, the Almhult site was the first brick-and-mortar store as well as the company's first furniture showroom.
READ: The hotel room you can pack and and bring with you
A small exhibition of IKEA's history, titled "IKEA through the ages," is already in place at the basement of the corporate culture center in Älmhult, but company reps are hoping that the new museum will be a much bigger tourist draw.
"In the IKEA Museum we plan to tell the IKEA story, focusing on range, business and people development over time," said Michele Acuna, managing director for IKEA Tillsammans, the corporate culture center.
"We also plan to have a museum shop and food services for our visitors," said Acuna, adding that the museum is expected to draw "roughly 200,000 visitors annually when it is in full steam."
Would you pay a visit to the IKEA Museum in Sweden? Let us know in the comments.
MORE: Inside the world's biggest furniture fair

Today's five most popular stories
Part of complete coverage on
November 24, 2014 -- Updated 0118 GMT (0918 HKT)

These quirky and beautiful subway stops make standing cheek-to-cheek with 45 strangers almost seem fun.
November 21, 2014 -- Updated 1314 GMT (2114 HKT)

Luxury vintage Land Rover tours explore Bedouin backwaters without bashing up precious dunes.
November 20, 2014 -- Updated 0250 GMT (1050 HKT)

Cities around the world have closed the brew gap, but the Oregon city's innovative scene continues to lead the beer parade.
November 19, 2014 -- Updated 2249 GMT (0649 HKT)

From gourmet hotdogs to Sevillian tapas, the food served in these London restaurants is worth lining up for.
November 20, 2014 -- Updated 1545 GMT (2345 HKT)

Plans are underway to build the world's tallest -- and quite possibly most terrifying -- roller coaster at an Orlando, Florida, theme park due to open in 2017.
November 18, 2014 -- Updated 1932 GMT (0332 HKT)

The 7th Annual Cruise Critic Editors' Picks Awards highlight the top cruise lines for North American travelers in 18 categories.
November 19, 2014 -- Updated 0206 GMT (1006 HKT)

Joining the ranks of pilgrims tackling Adam's Peak rewards with a spiritual awakening, or at least a stunning sunrise.
November 18, 2014 -- Updated 1313 GMT (2113 HKT)

Beautifully designed travel document reveals image of Northern Lights when placed under UV light.
November 18, 2014 -- Updated 0525 GMT (1325 HKT)

New concept offering luxury rooms in ancient dwellings helps spare beautiful villages from falling into ruin.
November 21, 2014 -- Updated 2247 GMT (0647 HKT)

Are you the butcher or the cattle? Tainted meat-obsessed fans are following the tracks of their favorite "Walking Dead" survivors.
November 17, 2014 -- Updated 0521 GMT (1321 HKT)

People never cease to find amazing ways to make water more incredible than it already is. Here are some powerful examples