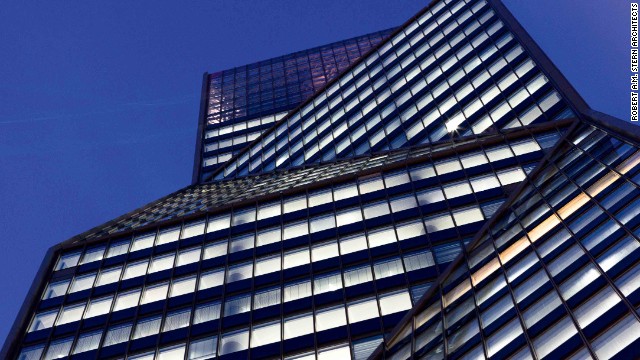 Tying for 10th place in the Emporis Skyscraper Awards, Tour Carpe Diem in Courbevoie, France, uses geothermal wells as an energy source and has a sustainable design strategy that includes solar water heating and a heat recovery system. The bar on the building's rooftop garden offers views over Paris and the Seine. Greenery can also be found inside: The main lobby is augmented by a 17-meter-high winter garden.
Architects:
Robert A.M. Stern Architects, SRA Architectes
Architects: Andrew Bromberg of Aedas
Both buildings in this hospitality and exhibition complex in Guangzhou, China, offer exhibition space on lower floors. One of the buildings is topped by offices, the other by a five-star hotel containing, among other facilities, the city's largest ballroom with an area of nearly 5,000 square meters.
Thirty-meter deep power piles cool this Brno, Czech Republic building in summer and heat it in winter with the help of a heat pump. This is the only building in the Czech Republic using this energy-efficient way of regulating temperature.
Architect:
Architektonická kancelář Burian-Křivinka
From a distance, the Ardmore Residence appears to feature divergent contours. But closer up, openings in the concrete panels of the facade provide a sense of organic mutation and transition, the jury panel said.
Architects:
UNStudio, Architects 61
Architects: Frank Williams & Partners, G.L. Sirota, M.M. Posokhin
The tower collects melt water for use inside and provides 75% of its work spaces with daylight. About 10% of the construction materials came from within a 300-kilometer radius of the construction site. The tallest building in Europe (339 meters) features two high-speed elevators traveling at a maximum speed of seven meters per second.
Architect: HOK
These towers in Baku, Azerbaijan, are completely covered with LED screens that mimic fiery flames and giant torches. The design was inspired by Azerbaijan's history as a land of fire, due to its rich deposits of natural gas. Concrete is the predominant material, while the tops of the three buildings contain a lighter steel structure to create the impression of a flickering flame.
Thanks to the vertical gardens on each floor, this Sydney building gives residents the impression of living in a tree house. The whole Central Park Sydney complex is built around a spacious park. At night, the building serves as a canvas for Yann Kersale's LED art installation.
Architects:
Ateliers Jean Nouvel, PTW Architects
Architects: Skidmore, Owings & Merrill, Khatib & Alami Dubai
This Dubai building is the world's tallest tower featuring a 90-degree twist. The building's shape reduces wind forces on the tower and channels wind in such a way that its forces are unable to organize themselves. Each floor is rotated by 1.2 degrees to achieve the full 90-degree spiral, creating the shape of a helix.
Architects: MAD, Shanghai Xian Dai Architecture Design
About 19,000 LED lights illuminate the facade at night, allowing animated images to be cast on the waters of Lake Tai, near Shanghai. The hotel's ring shape allows all rooms to have balconies and views and receive daylight from all directions.
Since much of this Vienna building's facade is made of glass, daylight is easily used instead of artificial light. The building offers water-saving showers and restrooms, and a variety of local plants, rather than exotic plants, reduce the consumption of water in the green areas of the building. Local materials have been used for the interior design.
Architects:
Dominique Perrault Architecture, Hoffmann-Janz Architekten
Architects: Renzo Piano Building Workshop, Adamson Associates International
The Shard's design features angled-glass facade panels that result in changing reflected light patterns. Its facade is double-skinned and ventilated, reducing solar gain while maximizing light intake. The winter gardens, which the skyscraper provides instead of expensive corner offices, benefit from the building's natural ventilation system.
10.= Tour Carpe Diem (France)
10.= Nanfung Commercial (China)
9. AZ Tower (Czech Republic)
8. Ardmore Residence (Singapore)
7. Mercury City (Russia)
6. Flame Towers (Azerbaijan)
5. One Central Park, East Tower (Australia)
4. Cayan Tower (U.A.E.)
3. Sheraton Huzhou Hot Spring Resort (China)
2. DC Tower 1 (Austria)
1. The Shard (UK)