Lucy Li, 11, becomes youngest U.S. Women's Open qualifier
updated 2:45 PM EDT, Tue May 20, 2014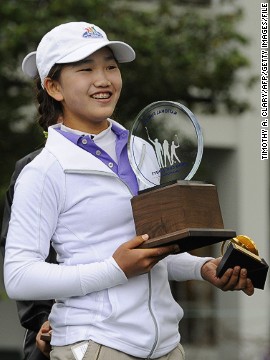 Lucy Li has become the youngest player to qualify for the U.S. Women's Open, aged just 11. She breaks the previous mark held by fellow American Lexi Thompson, who was 12 when she made the cut in 2007.
Li shot rounds of 74 and 68 at Half Moon Bay in her native California to secure a berth at Pinehurst next month. She was one of 17 players to book her place during the first ever round of international qualifying events that were held in America, Europe and Asia.
Li already has one notable victory to her name at the inaugural Drive, Chip and Putt Championship held at Augusta National in April. Now she is heading for her first major tournament.
Li will be part of U.S. Open history with the women's event being held at the same venue as the men's -- Pinehurst in North Carolina -- and starting just a few days later.
Record breaker
Pinehurst bound
Augusta Master
Doing it the Li way
STORY HIGHLIGHTS
Lucy Li becomes youngest ever qualifier for women's U.S. Open aged just 11
The Californian shoots rounds of 74 and 68 at Half Moon Bay event to qualify
She beats previous mark held by Lexi Thompson who qualified aged 12
Women's U.S. Open starts at Pinehurst in North Carolina on June 17
Follow us at @WorldSportCNN and like us on Facebook
(CNN) -- Golfing prodigies just keep getting younger.
The latest name to wow the sport is 11-year-old Lucy Li, who made her own slice of history on Monday.
She is officially the youngest player to qualify for the U.S. Women's Open after securing her place at an event in her native California.
Li, from Redwood Shores, shot rounds of 74 and 68 at Half Moon Bay Golf Club to beat the field by seven shots and book her place at Pinehurst next month.
She beats the previous mark held by fellow American Lexi Thompson, who qualified for the 2007 installment aged 12.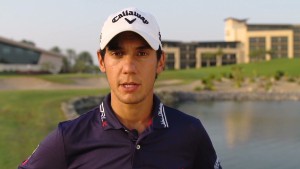 The rise of golf's child stars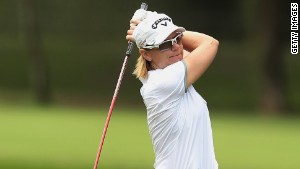 Annika Sorenstam in full swing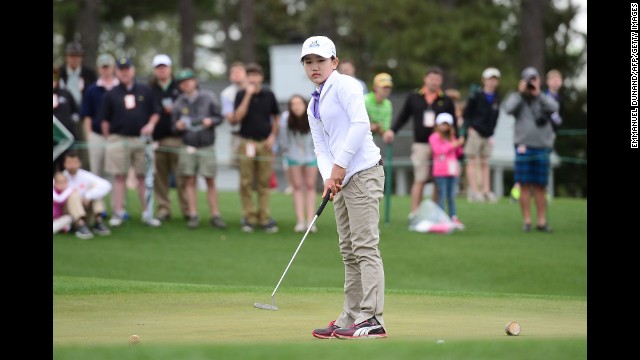 Lucy Li, seen here in April, is now the youngest ever to qualify for the U.S. Women's Open. The 11-year-old Californian will compete in the major tournament in June.
China's Guan Tianlang is the youngest competitor -- at age 14 years and 5 months -- in the 80 years of the Masters, beating the previous record held by then 16-year-old Matteo Manassero.
In 1865, Britain's "Young" Tom Morris set the threshold for youngest player in a major by entering the British Open at 14 years and 4 months. Three years later, the teenager won that tournament by edging out his dad, "Old" Tom Morris.
Michelle Wie made her mark on women's golf in 2000 by qualifying for a USGA amateur championship. The American was 10 at the time and could already drive the ball almost 300 yards. At 13, she became the youngest golfer to make the cut at an LPGA event.
At 16 years and 237 days old, Leicester player George Ford became the youngest professional rugby union player when he made his debut in 2009.
American tennis player Michael Chang won the French Open in 1989 at age 17, becoming the youngest male winner of a Grand Slam singles event.
Madison Keys, at right next to Venus Williams, became one of the youngest players to win a Women's Tennis Association tour match when she beat Serena Williams at age 14.
Long before she was one of the most recognizable figures in women's soccer, Mia Hamm was a youth soccer player in Texas and Virginia. After catching coach Anson Dorrance's eye, she was picked for the national team and in 1987 became the youngest American woman, at 15, to take the field for a World Cup. Before retiring in 2004, Hamm racked up four NCAA championships, two World Cup titles and two Olympic gold medals.
In 2004, at age 14, Freddy Adu became the youngest athlete to appear in a Major League Soccer game. Two weeks after his first appearance, Adu became the youngest athlete to score a goal in MLS.
At age 13, softball player Dot Richardson became the youngest woman to play in an ASA Women's Major Fast Pitch National Championship.
In 1944, when most able-bodied American men were fighting in World War II, a boy in a Cincinnati Reds cap took the mound against the St. Louis Cardinals at Crosley Field. At 15 years, 10 months and 11 days, Joe Nuxhall became the youngest baseball player in modern history. Despite a horrid ninth-inning outing, Nuxhall went on to an impressive career, including a 37-year run as a Reds announcer, before dying of lymphoma in 2007.
Big man Andrew Bynum went from high school to pro basketball, becoming the youngest player in the NBA. The Los Angeles Lakers took him with the 10th overall pick in the 2005 NBA Draft, and Bynum became a pro six days after his 18th birthday.
Skateboarder Nyjah Huston made his debut at the X Games at 11 years and 246 days, making him the youngest athlete to appear at the competition.
Born in Nigeria, Amobi Okoye was used to being the youngest of his peers. After immigrating to Huntsville, Alabama, in 1999, an aptitude test placed him in the ninth grade — at age 12. Four years later, he was in college playing defensive tackle for the Louisville Cardinals. When the Houston Texans took him as the 10th overall pick in the 2007 NFL Draft, the 19-year-old became the youngest player ever drafted.
In 2008, stock car driver Joey Logano became the youngest person to win a NASCAR Nationwide Series race at 18 years and 21 days. A year later, he became the youngest to win a Sprint Cup Series race at 19 years and 35 days.
In 1982, Northern Ireland's Norman Whiteside became the youngest player to take the field in the World Cup when he played in his country's opener against Yugoslavia. He was 17 years and 41 days old. On top of 38 appearances for his country, he also had an impressive club career with Everton and at Manchester United, where he still holds the record for youngest goal scorer.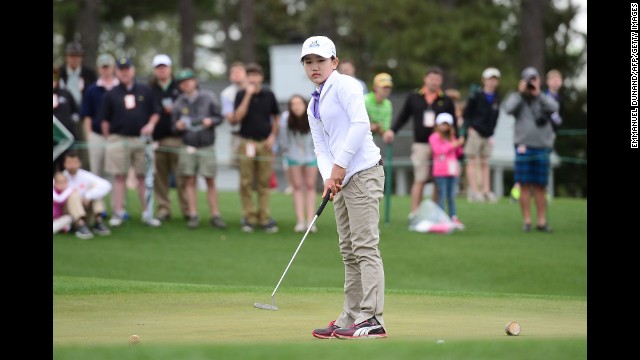 Photos: Youngest athletes in sports
But Li won't be the youngest to compete at the tournament -- that honor is still held by Beverley Klass, who competed in 1967 aged just 10 without having to qualify.
Li already has a victory at the world famous Augusta National under her belt, having won the inaugural Drive, Chip and Putt Championship at the Masters venue in April.
Now she'll be heading to Pinehurst as the third major event of the women's season follows on directly after the men's tournament at the same venue on June 17 for the first time in its history.
Li was one of those to make it from the United States Golf Association's first international qualifying events, which took place in America, England, China, Japan and Korea.
All of the 17 women to qualify will be making their first appearance at the U.S. Open, with another raft of events running right through until the end of May.
At The Buckinghamshire course just outside London, England, 20-year-old Amy Boulden from Wales qualified first just weeks after her first professional win.
"I'm very happy. I played very well today, so I'm very pleased," said Boulden, who was one of eight players to make the cut.
"I knew there were a lot of good players, but I still felt quite confident.
"I've grown up playing with a lot of the girls playing, so I just tried to play my own game and I knew that if you were under par you were probably going to qualify here.
"It's one of the biggest majors, so I'm looking forward to going to the States and playing against the best players in the world."
Read: Ko - Leader of golf's teen pack
Read: 15-year-old Ko wins LPGA event