California Chrome's jockey ready for another shot at Triple Crown
May 21, 2014 -- Updated 0800 GMT (1600 HKT)
STORY HIGHLIGHTS
Victor Espinoza says 2002 has prepared him for this year's Triple Crown attempt
Twelve years ago his horse stumbled out of the gate at the Belmont Stakes
Espinoza says California Chrome likes it when the jockey shows who is boss
(CNN) -- A dozen years ago, jockey Victor Espinoza went into the Belmont Stakes on War Emblem with a chance to win one of sports' great titles, the Triple Crown.
But the horse stumbled out of the gate and finished eighth.
Espinoza, who has been riding professionally since 1993, told CNN that he is excited to get a second chance for greatness on June 7 on California Chrome.
"I am ready for it this time, and I am prepared to get it done," he said Tuesday at Santa Anita Park in California, adding that being in the situation before was a big help.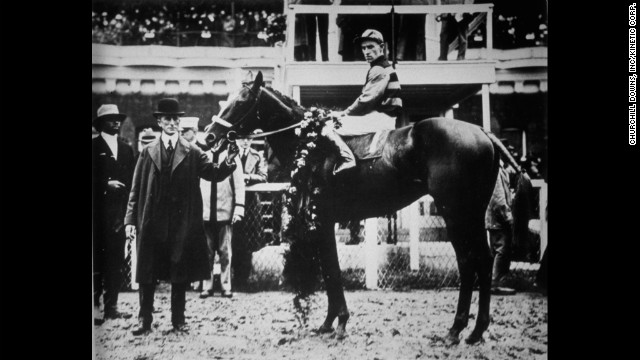 Here's a look back at the 11 horses who've managed the feat. Sir Barton was the first horse to earn the Triple Crown of Thoroughbred Racing, as it would come to be known, by winning the Kentucky Derby, Preakness Stakes and Belmont Stakes in 1919.
More than a decade later, Gallant Fox captured the Triple Crown in 1930.
Omaha -- the son of Gallant Fox -- won the Triple Crown in 1935. Here, jockey Pat Beasley rides the horse in 1936.
War Admiral took the Triple Crown in 1937. He won 21 of his 26 career starts.
Whirlaway (here with horse Robert Morris) won the Triple Crown in 1941 and was named Horse of the Year.
Count Fleet, who won the Triple Crown in 1943, is adorned with a garland of flowers after winning the Preakness Stakes in 1943.
Assault won the Triple Crown in 1946.
Citation at Belmont Park in 1947. He would win the Triple Crown the following year.
Secretariat, left, heads to victory with jockey Ron Turcotte at the Kentucky Derby in 1973. Considered by many to be the greatest racehorse of all time, Secretariat still holds the record for the fastest times in all three Triple Crown races. He won the Belmont Stakes by an astounding 31 lengths.
Jockey Jean Cruguet guides Seattle Slew to the Triple Crown at the Belmont Stakes in 1977.
Jockey Steve Cauthen rides Affirmed to victory at the Belmont Stakes in 1978.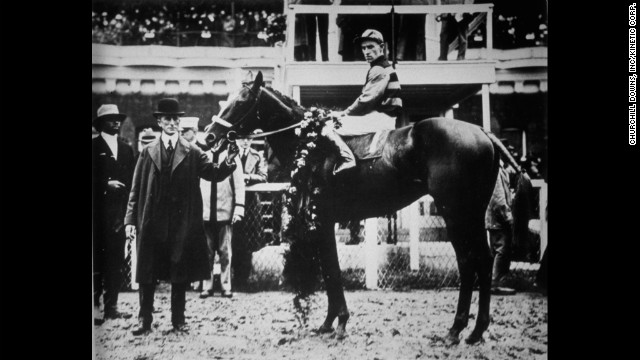 Triple Crown winners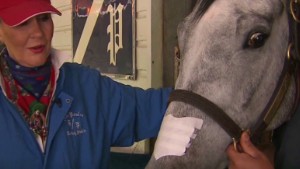 Do nasal strips for horses really work?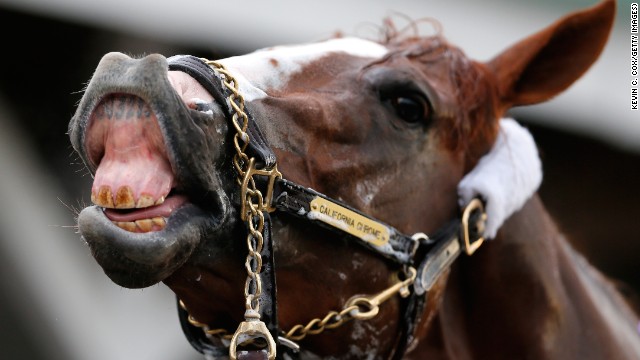 Introducing racing's "rock star."
California Chrome has arrived at Louisville for the Kentucky Derby build-up and remains the favorite to win the famous trophy.
A crowd of 150,000 is expected to flock to Churchill Downs to see the field leave the stalls for the 140th Kentucky Derby.
Last year's winner of a race billed as "the fastest two minutes in sport" was Orb, ridden through the mud to victory by jockey Joel Rosario.
This year's favorite when they enter the first turn is California Chrome, a horse that cost its owners a mere $10,000 to breed.
California Chrome, pictured with mother Love the Chase as a foal, was a huge bargain -- the mare costing $8,000 and breeding with sire Lucky Pulpit for just $2,000.
The colt has become a surprise hit in thoroughbred racing, upstaging far more costly rivals in something of a fairy tale.
All eyes in the U.S. will be on Kentucky from dusk until dawn as the world's best horses battle it out for the $2 million purse.
Star jockey Gary Stevens returned to the sport before last year's Kentucky Derby and is targeting a fourth win in the prestigious race on Candy Boy.
The stands will once again be full to the brim for the key occasion of American thoroughbred racing.
Flamboyant hats are never far away on major race days.
Spectators come in all shapes and sizes each, including a quartet of AXE astronauts in attendance at the event a year ago.
Colorful head pieces are always a feature on race day and, in the case of this punter, hopefully lucky horseshoe sunglasses.
Last year the rain came down but those gathered for the event remained undeterred by the mud underfoot. Who will the sun shine down on in 2014?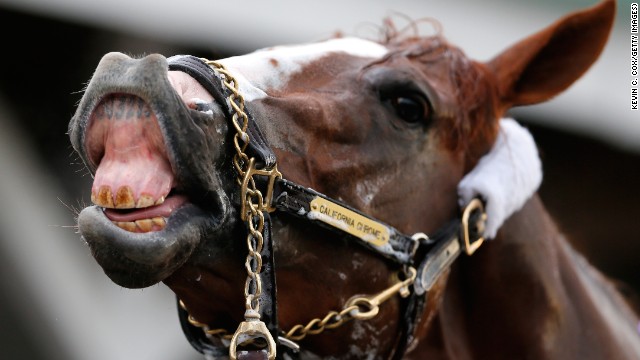 'The fastest two minutes in sport'
Espinoza said he was never worried about whether California Chrome would be able to wear a nasal strip, as he has in his past six races, all wins. That includes wins at the Kentucky Derby and the Preakness Stakes. Stewards in New York voted Tuesday to change the state's policy toward nasal strips on thoroughbreds.
"I think it was very nice of them," he said. "I don't know if it really helps him or not, but he's been running with (them) so why change.
Espinoza spoke of his relationship with the horse, which he has ridden for the six-race winning streak.
"He loves to run, and I think he likes it when I let him know that I am in control," Espinoza said. "I want him to listen to me, what I want him to do during the race, and I think he likes that."
Espinoza said he was taking a few days to "shut down my mind for a little bit." Even with the Belmont representing the biggest race of his life, he said he was even thinking about it yet.
Espinoza, who has more than 20,000 career starts, is scheduled to race twice at Santa Anita on Friday.

September 1, 2014 -- Updated 1323 GMT (2123 HKT)

The going is always soft and the only permanent building is a toilet block. It's the antithesis to the pomp of Royal Ascot ... welcome to Irish beach racing.
August 13, 2014 -- Updated 1107 GMT (1907 HKT)

Each August, over a thousand tents and hundreds of horses converge on Little Big Horn River in Montana for the Crow Fair and Rodeo.
August 1, 2014 -- Updated 0957 GMT (1757 HKT)

Show me the money! Hollywood star Tom Cruise was a big hit when he visited the Glorious Goodwood festival.
July 21, 2014 -- Updated 1241 GMT (2041 HKT)

Little-known outside the tribes of the Rocky Mountains in the American northwest, Indian Relay is a "magical" horse-racing relay.
July 8, 2014 -- Updated 1325 GMT (2125 HKT)

Now in his 50s, one of the world's most successful jockeys explains why he gave up acting to return to the sport that nearly crippled him.

Winning Post's Francesca Cumani is impressed by the all-round multitasking skills of Ireland's champion trainer Aidan O'Brien.
June 7, 2014 -- Updated 0853 GMT (1653 HKT)

More people have walked on the moon than have won the fabled Triple Crown of U.S. horse racing. California Chrome is seeking to square that score.
June 5, 2014 -- Updated 1137 GMT (1937 HKT)

A long history of controversy made him the "enfant terrible" of horse racing, but veteran jockey Kieren Fallon is looking for redemption.
May 27, 2014 -- Updated 1131 GMT (1931 HKT)

With owners ranging from presidents to sheikhs and queens, horse racing is known as the "Sport of Kings" for good reason.
May 12, 2014 -- Updated 1320 GMT (2120 HKT)

Buy for the right price and you could make millions. Get it wrong and it could be one of the most expensive mistakes you ever make.
May 5, 2014 -- Updated 1207 GMT (2007 HKT)

Mine That Bird, the 2009 winner of the Kentucky Derby, is having his incredible story told on the silver screen.
April 4, 2014 -- Updated 1035 GMT (1835 HKT)

Amateur jockey Sam Waley-Cohen is perhaps best known for helping to resurrect Prince William's relationship with Kate Middleton.

Today's five most popular stories