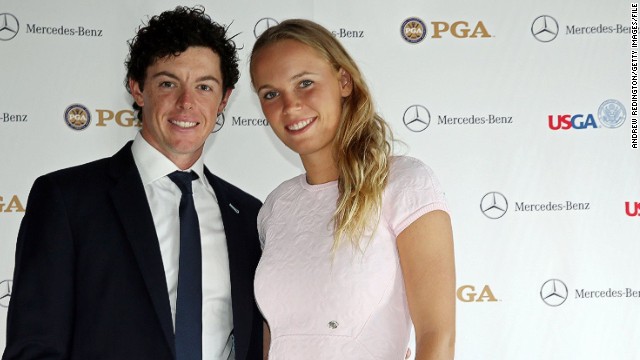 It's official -- double major winner Rory McIlroy and former world No. 1 Caroline Wozniacki are no more. McIlroy says he realized he wasn't ready for marriage when their wedding invitations were mailed out. When it comes to sport, the path of true love rarely runs smooth and in this gallery, CNN looks at sporting couples who have aced their relationships and those who have seen their private lives hit the rough.
American lovebirds Jimmy Connors and Chris Evert won both singles titles at Wimbledon in 1974 and were engaged, but by the time the grass-court grand slam came around in 1975 the wedding was off. Decades after splitting from the eight-time grand slam champion, Evert swapped the tennis court for the golf course...
After the break up of her marriage to British tennis player John Lloyd in 1987 and a divorce from Olympic skier Andy Mill in 2006, Evert tied the knot with Australian golf star Greg Norman. But it would not be a case of third time lucky for Evert as the pair separated in 2009 after 18-months.
Adam Scott followed in the footsteps of his hero Norman by sparking a golf and tennis romance of his own in 2010 with Serbia's Ana Ivanovic. The pair split after both saw their form suffer, before unsuccessfully reuniting in 2011. Scott captured the first major title of his career at the Masters in 2013.
When Australian Lleyton Hewitt began a romance with fellow tennis ace Kim Clijsters in 2000, the former world No. 1's country took the Belgian to their hearts. She was dubbed "Aussie Kim" and it looked like they were set to live happily ever after when a wedding was scheduled. The pair split in October 2004, but Clijsters would still find her happy ending...
Now retired, Clijsters is happily married to former American basketball player Brian Lynch, with whom she has two children.
Like Clijsters, Maria Sharapova found love on the basketball court. The four-time grand slam winner got engaged to former Los Angeles Lakers star Sasha Vujacic, before ending her relationship with the Slovenian in 2012. She is now dating fellow tennis star Grigor Dimitrov.
Radek Stepanek of the Czech Republic knows more than most about the trials and tribulations of a tennis fling. He was engaged to marry former world No. 1 Martina Hingis before the two called off their nuptials in 2007.
Undeterred, Stepanek started a second tennis fling with compatriot Nicole Vaidisova and the couple married in June 2010, but subsequently announced they had filed for divorce. Stepanek has since dated 2011 Wimbledon champion Petra Kvitova but they split in April.
Tennis super stars Andre Agassi and Steffi Graf are living proof that sporting couples can go the distance. The former world No. 1s married in 2001 and have two children together.
'Wozilroy' split
Wimbledon winners
Hooking a 'great white'
Dip in form
'Aussie Kim'
Life with Brian
Sasha split
Stepanek separation
Double fault
The perfect match?
STORY HIGHLIGHTS
Rory McIlroy breaks off engagement with tennis star Caroline Wozniacki
McIlroy issues statement saying he realized he wasn't ready for "all marriage entails"
The pair had announced their engagement via Twitter on January 1
McIlroy says he wishes "Caroline all the happiness she deserves"
Follow us at @WorldSportCNN and like us on Facebook
(CNN) -- One of sport's most high-profile couples are no more.
Golf star Rory McIlroy announced Wednesday that he had broken off his engagement to tennis player Caroline Wozniacki.
The two-time major winner from Northern Ireland said the issuing of wedding invitations over the weekend had made him realize he wasn't prepared for "all that marriage entails."
McIlroy and former world No. 1 Wozniacki, from Denmark, announced their engagement via social media on New Year's Day -- but their three-year relationship is now over.
"There is no right way to end a relationship that has been so important to two people," McIlroy said in a statement reported by the UK Press Association.
"The problem is mine. The wedding invitations issued at the weekend made me realize that I wasn't ready for all that marriage entails.
"I wish Caroline all the happiness she deserves and thank her for the great times we've had.
"I will not be saying anything more about our relationship in any setting."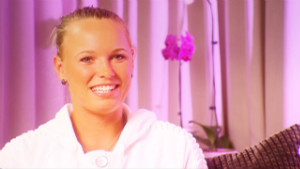 Caroline Wozniacki's biggest year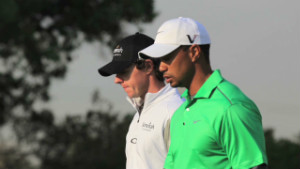 Exclusive: Tiger and Rory's 'bromance'
McIlroy, ranked 10th in the world, is currently preparing for the European Tour's flagship event -- the BMW PGA Championship at Wentworth in England.
He spoke briefly about the split at a press conference ahead of Thursday's opening round, telling reporters: "Obviously (it's) quite a difficult time for Caroline and myself.
"I think the statement really said it all this morning. It was mutual and amicable and we both thought it was the best for us, the best for both of us. Time to move on and I think I've said all that I need to say.
"Now I need to get my head into golf and concentrate on the tournament, keep myself busy and try and have a good week on the course.
"I'm not going to lie. It's going to be very difficult. But you know, at least when I get inside the ropes I can just try and concentrate on the shot at hand. But yeah, it's obviously going to be difficult."
Only on Sunday McIlroy tweeted a picture while the pair were enjoying dinner together at Nobu restaurant in Monte Carlo.
The couple, who were referred to as 'Wozzilroy' by the world's media, began dating in 2011 after meeting at a boxing match.
They had to deal with constant rumors as to their health of their relationship, which were magnified when both suffered slumps in their career during 2013.
But on January 1 they took to their respective Twitter accounts to confirm they were engaged to be married with Wozniacki saying: "Rory and I started 2014 with a bang! ... I said YES!!!!"
McIlroy captured his first major title at the U.S. Open in 2011 and followed it up by claiming the US PGA Championship the following year, but has struggled for form of late.
Wozniacki, who is yet to win a grand slam title but did top the world rankings in 2010, is preparing for the second major of the tennis season -- the French Open -- which starts on May 25.
She made her first response to the split on Twitter Thursday saying, "It's a hard time for me right now. Thanks for all the sweet messages! Happy I support Liverpool right now because I know I'll never walk alone."
Read: McIlroy and Wozniacki engaged
Read: 15-love: Top tennis romances
Read: 'Wozilroy' back in business?