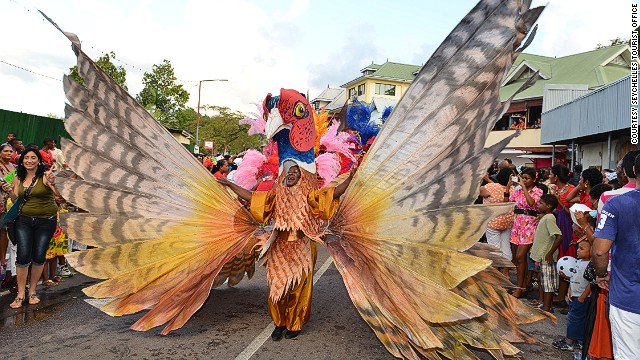 Now in its fourth year, the International Carnival Seychelles has started to attract a slew of international visitors.
Over 1,500 join the festivities, with many designing elaborate costumes.
This year, rain threatened to dampen the spirit. As it turned out, nothing could keep the Seychellois from celebrating.
The Seychelles is made up of 155 islands and has a mere 90,000 inhabitants.
The Seychelles carnival has a very international focus, with participants flying in from five continents to join the festivities.
A lot of attention is paid to the parade floats -- 55 in total. Some folks spend days decorating their platforms.
Nearly half of the floats are international. In fact, this year, China stole the prize for best float.
Miss Seychelles leads the procession.
Costumes, music and food are the order of the day.
Of course, it wouldn't be carnival without a few scantily-clad to join the procession.
This year, the event attracted Chinese acrobats, Himalayan musicians, gold-plated Indonesian spectators and one American country singer.
"In the Seychelles, people come here and we forget our politics, we forget our religion, forget the color of skin," says the country's minister of tourism and culture.
The Seychelles gets colorful
The Seychelles gets colorful
The Seychelles gets colorful
The Seychelles gets colorful
The Seychelles gets colorful
The Seychelles gets colorful
The Seychelles gets colorful
The Seychelles gets colorful
The Seychelles gets colorful
The Seychelles gets colorful
The Seychelles gets colorful
The Seychelles gets colorful