Artifacts from Apollo missions sell at out-of-this-world auction
May 24, 2014 -- Updated 0030 GMT (0830 HKT)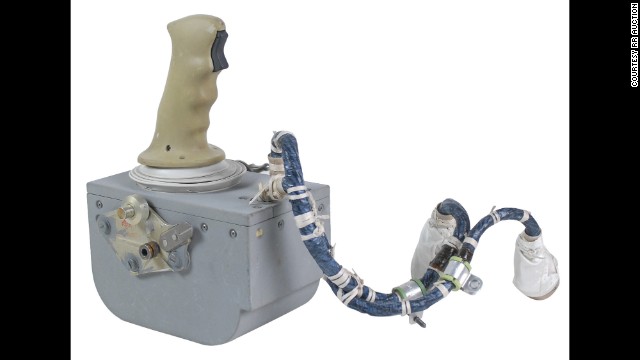 Dozens of artifacts from Apollo lunar missions were auctioned off this week. Among them: This hand controller from the Apollo 15 Lunar Module "Falcon," which was used by Commander Dave Scott to help land him and pilot James Irwin on the moon on July 30, 1971. It was bought by an anonymous European client for $610,063.
This backpack strap held a personal life-support system for Charles "Pete" Conrad, commander of the Apollo 12 mission, during both of his moonwalks in November 1969. The straps were custom-made for each astronaut, and Conrad kept his as a personal memento. It sold for $52,649.
A reproduction of the Declaration of Independence was carried to the moon aboard Apollo 11 in 1969. It includes a handwritten note from pilot Michael Collins. Sold for $31,409.
The sinking of the Liberty Bell 7 capsule in 1961 tarnished the Mercury-Redstone 4 mission and plagued astronaut Gus Grissom, who was initially blamed for the failure. Fellow astronaut Gordon Cooper gave Grissom this Mercury-era controller, mounted on a wooden base, as a show of support. Sold at $1,037.58.
This checklist, carried on the moon (and signed in ink) by astronaut Buzz Aldrin, helped Apollo 11 crews prepare for any eventuality by listing critical steps for an emergency liftoff. Fortunately for Aldrin and Neil Armstrong, those steps weren't necessary. Sold for $31,409.
This nylon glove liner was worn by astronaut Buzz Aldrin under his pressurized gloves on the lunar surface during the historic Apollo 11 mission. His name is stamped in the fabric. Sold for $61,212.
Schematics of lunar rovers were required on the moon in case a vehicle broke down while the astronauts were away from the lunar module. This one was carried by astronaut Charlie Duke during the Apollo 16 mission in 1972. Sold for $25,598.83.
Space artifacts for sale
Space artifacts for sale
Space artifacts for sale
Space artifacts for sale
Space artifacts for sale
Space artifacts for sale
Space artifacts for sale
STORY HIGHLIGHTS
A joystick used by Apollo 15 commander to land on the moon sold for over $600,000
It was among hundreds of aviation and space exploration artifacts sold at auction this week
Many items touched the surface of the moon during multiple Apollo missions
(CNN) -- It may be the next best thing to owning a piece of the moon.
A cloth American flag that was taken to the moon's surface was one of more than 500 aviation and space exploration artifacts sold into private hands at auction this week.
"To be honest with you, there's only 12 men who walked on the moon out of 105 billion people who have walked on this earth since humankind started walking upright," Larry McGlynn, the newest owner of the American flag told CNN on Friday. "These are incredibly rare items."
The 2.5 inch-by-1.75 inch commemorative American flag framed with an Apollo 15 uniform patch—which also went to the moon—was sold to McGlynn for $27,741.35, according to Bobby Livingston, executive vice president of New Hampshire-based RR Auction.
But the biggest seller was a complete Apollo 15 rotational hand controller used by Commander David Scott to fly and land his lunar module on the surface of the moon in 1971. The joystick-like device was purchased by an anonymous European client for $610,063, Livingston said.
"It's a very important hand controller. It was the most used of all the missions," Livingston said, adding that Scott had to manually land with the joystick because he was off-course during his descent onto the moon.
A crewman optical alignment sight, which is similar to a periscope for space, sold for over $126,000, he said.
All three items came from Scott's personal collection.
"These items represent the pinnacle of Apollo-era flown material," said Richard Jurek, co-author of "Marketing the Moon: The Selling of the Apollo Lunar Program."
He added, "While risking their lives during the most critical and historic phases of their mission -- these are the items that the astronauts personally selected to retain as mementos from arguably the greatest technological and engineering achievement of the 20th century."
The market is hot for space items, especially lunar-surface artifacts and prices are continually going up, Livingston said. The weeklong auction was RR Auction's seventh NASA-themed sale.
Seventy items from Apollo 11 -- the first manned mission to land on the moon -- also were offered, including pieces from the personal collections of Buzz Aldrin and Michael Collins.
Many of the collectors, including McGlynn, grew up watching America's space program, and feel a personal connection to the pieces.
"I actually saw an American flag like the one I bought at a geology professor's house years ago," McGlynn said. Though he did not want to identify the professor, he said that the flag was a gift from an astronaut who was advised by the professor.
"These astronauts resonate. People love the heroism and the sophistication," Livingston said. "You have to remember, everyone from Galileo to Einstein to Neil Armstrong looked up to the moon, wanting to figure out how to get there -- and these astronauts were able to get up there and come back down."