Quadruple amputee Travis Mills stuns Mike Rowe: 'I'm not a victim'
May 27, 2014 -- Updated 1505 GMT (2305 HKT)
STORY HIGHLIGHTS
Mike Rowe meets Mills at conference in Washington
Mills' motto is "Never give up - never quit"
Rowe posts on Facebook about Mills to mark Memorial Day
(CNN) -- Travis Mills has no arms or legs. He is an American hero who served three tours in Afghanistan and lost all his limbs when a bomb exploded under him.
"How I survived, I have no idea," he said. "I was yelling at the medic, 'Get away from me,' because I thought I was done."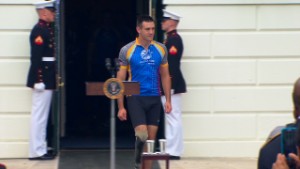 President Obama honors wounded heroes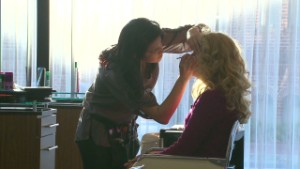 Military wives get free makeovers
The retired United States Army staff sergeant spent months recuperating at Walter Reed National Military Medical Center, but don't dare call him a wounded warrior.
"I'm not wounded any more," he said. "I'm just a guy living life."
Recalling comrades killed in combat, he asks: "How selfish would it be if I gave up?"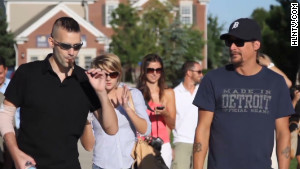 Kid Rock surprises wounded warrior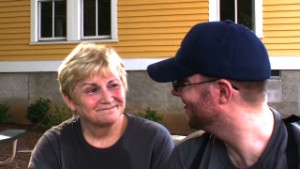 Husband and wife: Triumph over tragedy
He snowboards, bikes and recently jumped out of an airplane with the U.S. Army Golden Knights parachute team.
And now, he has a new admirer in Mike Rowe, the star of "Dirty Jobs" and the upcoming CNN series "Somebody's Gotta Do It." He met Mills a few weeks ago at a conference in Washington and wrote a Facebook post about their exchange to honor him this Memorial Day. As of Monday night, the post had more than 90,000 shares on Facebook.
"He has a motto: Never give up - never quit. He has a Foundation. He's featured in a new documentary. He also has a wife and a kid, and a deeply personal commitment to help other wounded vets cope with their injuries." Rowe wrote. "But when I asked why I hadn't seen him in any of the typical commercials and PSA's for wounded veterans, his answer was stunning. He said he didn't consider himself to be wounded. 'I'm not a victim, Mike. And I refuse to be portrayed that way. Case closed.'"
Rowe ended his candid post by reflecting on the holiday meant to honor America's military fallen.
"That's called a gut-check, and I could use one from time to time. Especially on Memorial Day, when the biggest decisions I face are what to grill and which type of frosty beverage to enjoy. This year, as I resolve these and other important issues, I'll think of Travis Mills."
The toll of war now includes more amputees
CNN's Barbara Starr contributed to this report.

Today's five most popular stories
Part of complete coverage on
Remembrance on Memorial Day
December 4, 2014 -- Updated 1847 GMT (0247 HKT)

Here's a look at what you need to know about Memorial Day, a day honoring American soldiers who died serving the country in wars.
May 26, 2014 -- Updated 1832 GMT (0232 HKT)

USS Cole Cmdr. Dennis Farrell keeps in his cabin a memento of the last time the storied Navy destroyer cruised into New York Harbor.
May 24, 2014 -- Updated 1551 GMT (2351 HKT)

This will be the first Memorial Day since Mike Scotti's friend from the Marine Corps committed suicide last June.
May 27, 2012 -- Updated 1927 GMT (0327 HKT)

They paid the ultimate sacrifice, and they leave behind wives, husbands, mothers, fathers, daughters, sons. Or they returned from war, and carry on for those who did not. All are remembered this day.

Coalition troops from over 20 countries have lost their lives since 2001. In this unique interactive map and timeline, we remember those who have lost their lives serving for their countries.

When many Americans kick off the start of summer with burgers and beers for Memorial Day, one former Navy SEAL will be in the final stretch of a 1,700-mile, month-long cross-country journey.
May 21, 2014 -- Updated 1454 GMT (2254 HKT)

There are countless ways that everyone can help our veterans, who often return home from war to face their most difficult battles.

Family members and friends of fallen service members are invited to share photos, videos and memories of their loved ones. All of those tributes can be found on this page.
August 29, 2014 -- Updated 1337 GMT (2137 HKT)

The hot dog is a staple to American summer holidays. Kick off the season by taking a look at the revered treat in America throughout the years.